34 Landmarks of Belarus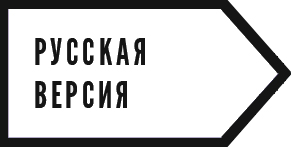 Get ready to your next trip: take a car, train or bicycle and go explore Belarus. Together with guide to Belarus Vetliva we made up a list of the main reasons to ride all over the country: from springs with healing water and ecological routes to impressive objects of military tourism, chamber museums and manors, that haven't lost their greatness.
BREST REGION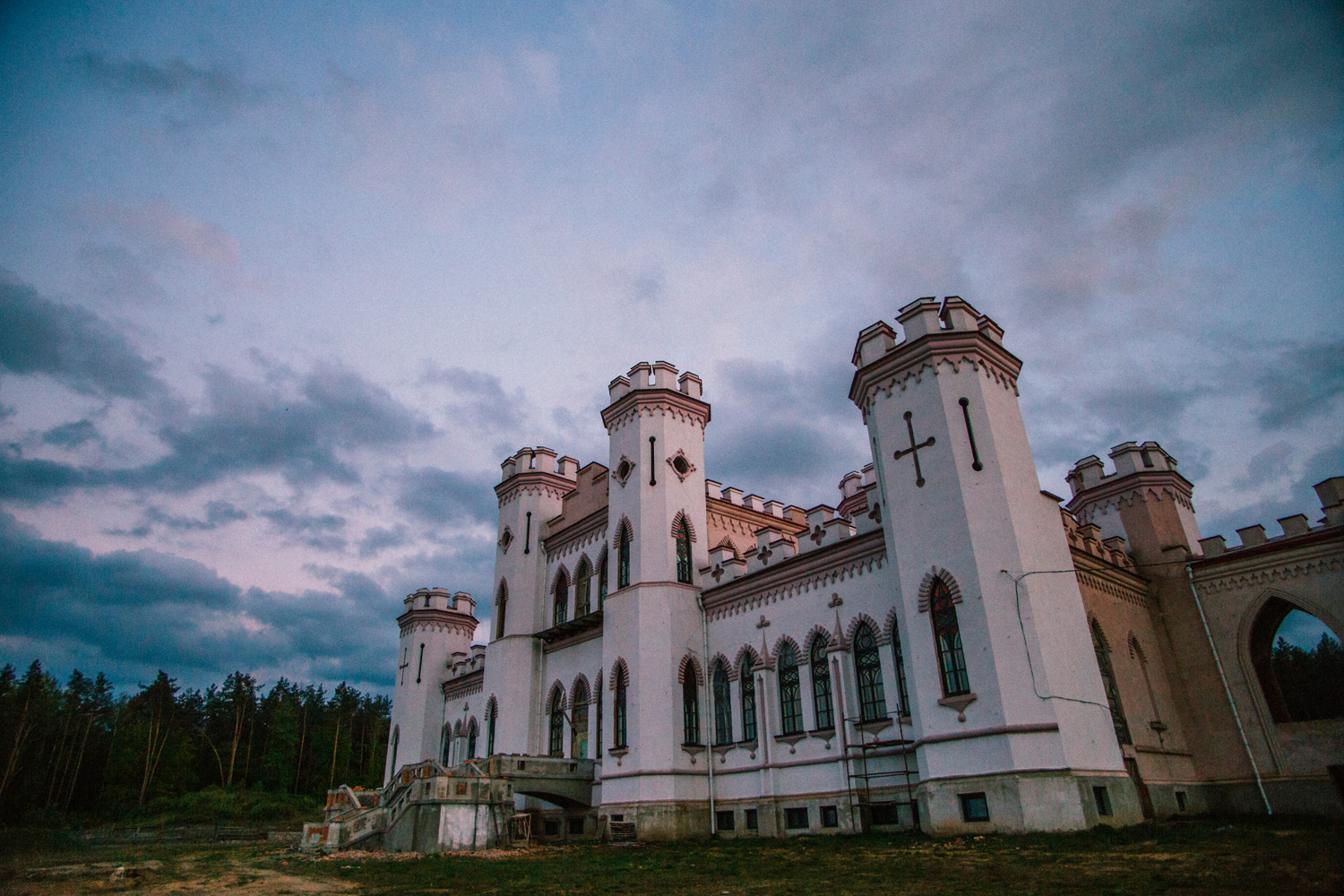 1. Kosava Castle

Ivatsevichy district, Kosava
The Gothic Revival style castle would have looked quite natural in British landscapes; it didn't look typical for Belarus in the early XIX century, when it was built, and neither does it now. The castle was built by Kazimir Puslouski, but his grandson Leon recklessly gambled it away. The building was burnt during the war. According to the plan made up in 2008, it's supposed to be renovated: there will be a restaurant and wedding venue. Luckily, it's still just a plan.
A massive building has 12 towers: one for each month of the year. Summer towers are in the middle and they stand for the richest months (from May till August). Switch on your imagination, because the castle interiors haven't been preserved: you can't see the Black Room for card games, the White Room faced with marble for fancy parties, or the Pink one for concerts. There is no 132 rooms already, and there's no glass floor, under which bright fish swam. What is preserved perfectly, it's a river meadow and the museum of Kastsushka at a walking distance.
How to get? It's kind of a challenge to get there by public transport: for example, you can take a train to Ivatsevichy, but then you'll still need to cover 13 km by bus or car.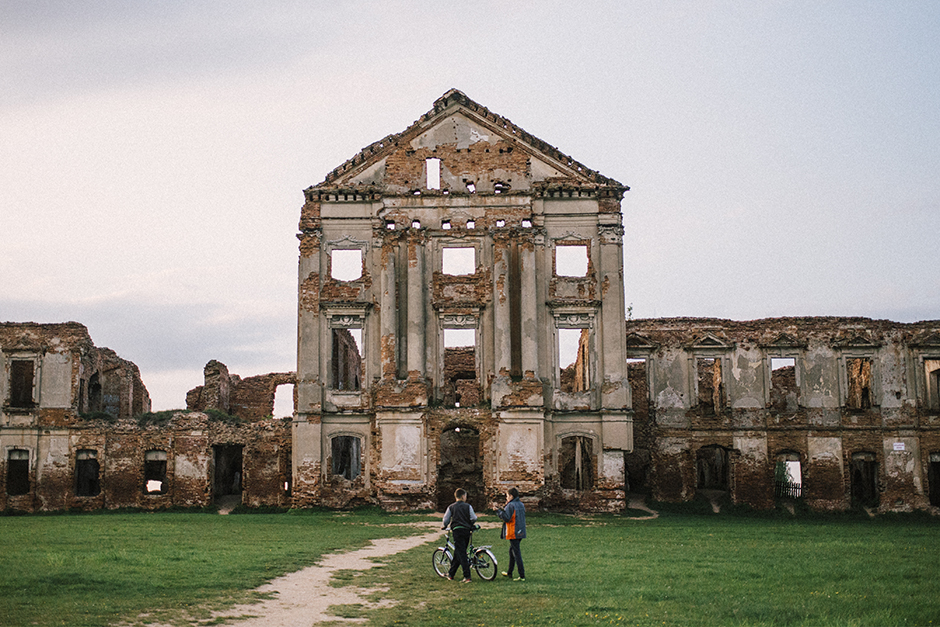 2. The Palace Complex of the Sapegas in Ruzhany

Pruzhany district, Ruzhany
Travel guides call the castle ruins 'belarusian Versailles', but it's not spectacular views or glamourous interios that you should come here for (there is not so much of them left), but strong energy of the place. Just imagine: in the beginning of the 17th century there was founded a castle and the chancellor of the Grand Duchy of Lithuania Lew Sapega took part in it. So as to make life there not only comfortable, but also secure, three massive defensive towers were added to the complex. Important state issues were discussed in here, top managers of those times used to organize balls, also the Sapegas archive and the state treasury were kept in the castle. After the uprising of 1831 was defeated, the Sapegas left the residence and the castle turned into a textile factory. During the WWI the ensemble was set to fire, but after the WWII the idea of restoration was forgotten completely.
Now you can drop by the museum (15а, Urbanovicha vulica) and learn the history of the place: there are 4 rooms and the guide tour at your disposal.
How to get? By bus from Minsk or 244 km by car. In Ryzhany look for the museum (15а, Urbanovicha vulica).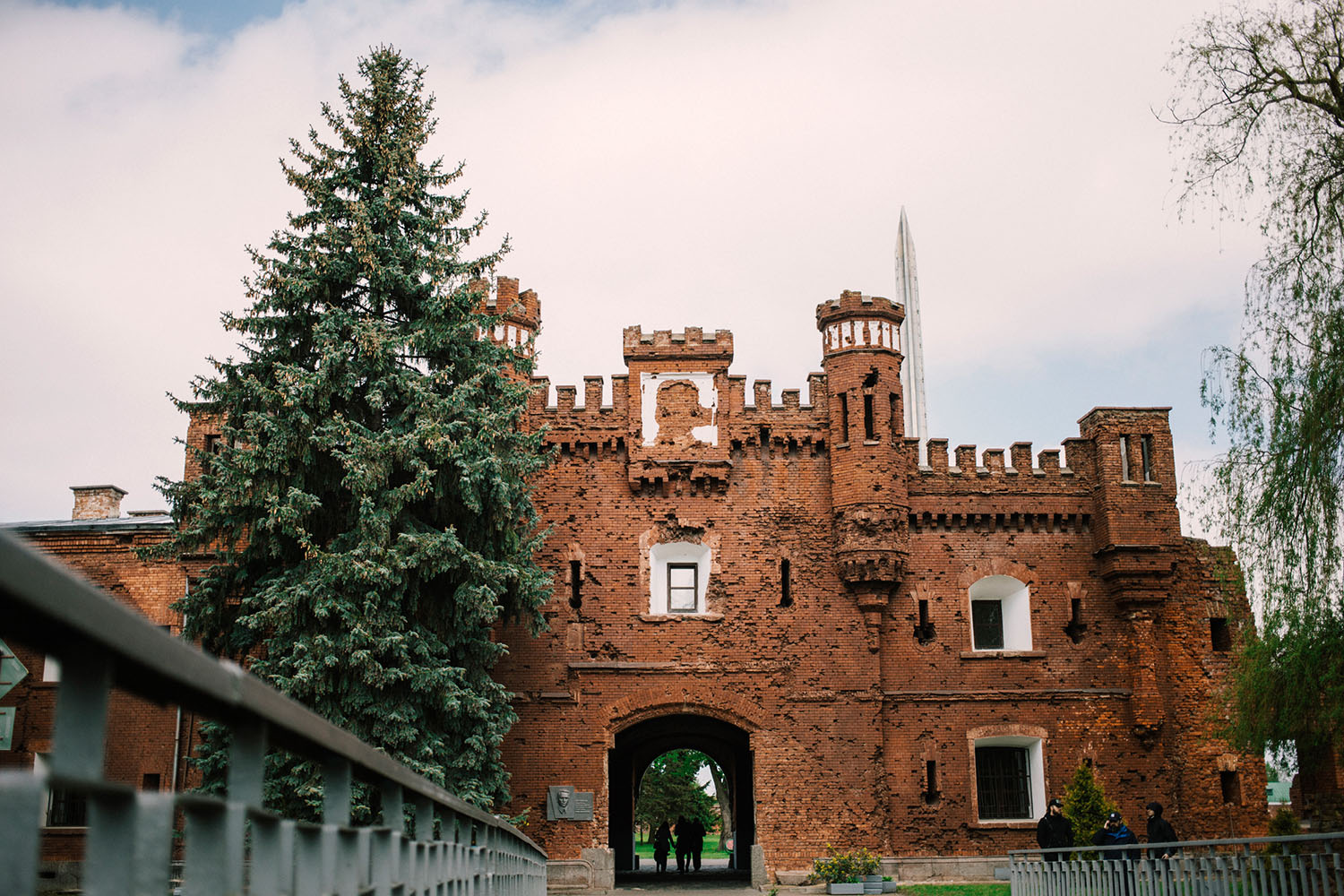 3. Brest Hero-Fortress

Brest
It is a massive defensive construction and an open-air museum of Soviet heroic monumental art. The fortress was built in the 19th century and its histiry is pretty impressive. In 1596 Union of Brest was announced here, much later there was signed the Treaty of Brest-Litovsk that ended the participacion of the Soviet Russia in the WWI. But the fortress became really famous after the heroic events of the WWII.
Don't break the history timeline: start at the Berestse Museum, the archeological excavations where you can explore the remains of the 11-12th centuries buildings, streets and even a few house.
Then head for the Museum of the Defendors of the Brest Fortress. Its territiry is huge, but the most thrilling spot is the Fifth Fort, an abandoned construction with armoured doors, thin shot holes, underground passages, and complete silence. You must be the only tourist there.
How to get? The easiest way is to take a train, it costs € 4-10 and takes 3-4 hours. You can also cover that 350 km from Minsk by bus (€ 7-9) or by car (M1 road).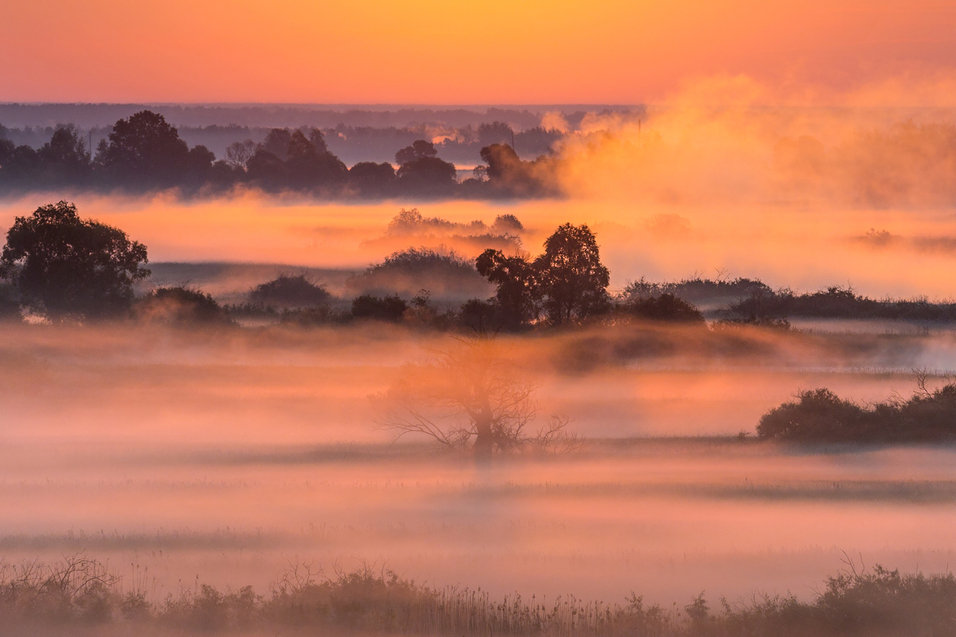 4. Olmanskiye Moors

Stolin district
It´s the only naturally preserved complex of the raised, transitional and lowland moors, which occupies 75% of the territory of Stolin district. That's the dream of any ecologist: 687 spieces of plants, 151 species of birds, and 26 species of mammals live there. It's interesting that in the 60s there was an aviation range, that is why there are still unexploded bombs and shells in the moors.
An ecological route of almost 2 km is of a special interest. It goes along the Vyalikaye Zasominaye lake, which is the natural border with the Ukraine. Another route leads to 40 m high tower, which gives an excellent opportunity to look around the territory and biodiversity. Ask locals where More Gerodota (Gerodot's Sea) is – it's Vyalikae and Malaye Zasominaye and 23 lakes more.
Foreigners will have to pay € 114 in advance for a visit. More information about the tours here.
How to get? The classics: a bus or minibus from Minsk to Stolin.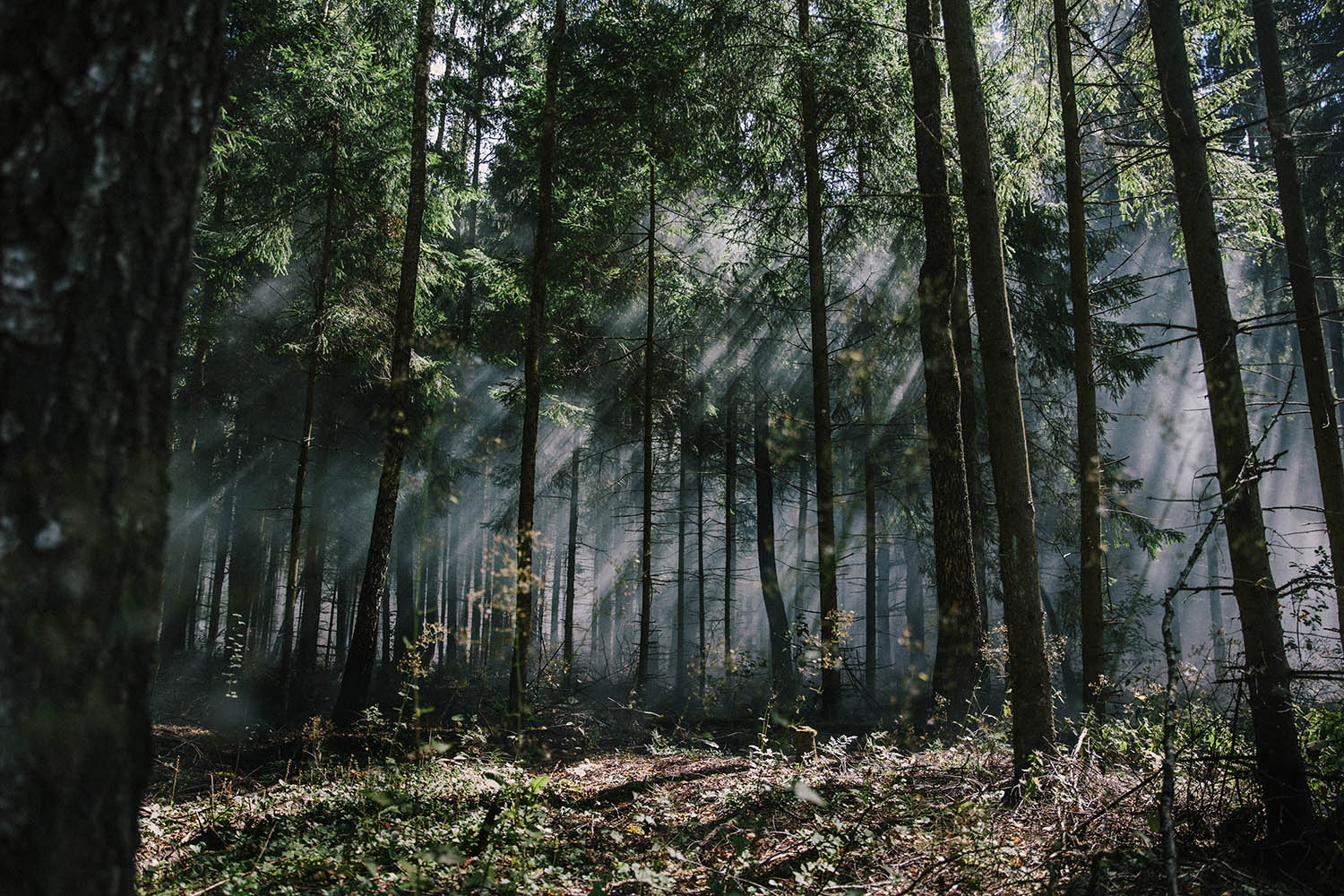 5. Belovezhskaya Pushcha Nathional park
It's the largest and the oldest forest in Europe protected by UNESCO that Belarus is really proud of. Here the agreement that put an end to the Soviet Union was signed. It's right here where belarusian Ded Moroz lives (his residence is open even in summer, he just wears lighter outfit then). Here you can breathe in relict air, ride a bike, feed a bison and go see Kamyanetz Tower, which is already more than 700 years old.
How to get? We recommend going to Brest by train, and then a bus to Kamyanetz. There are also direct minibuses available for the most impacient travellers.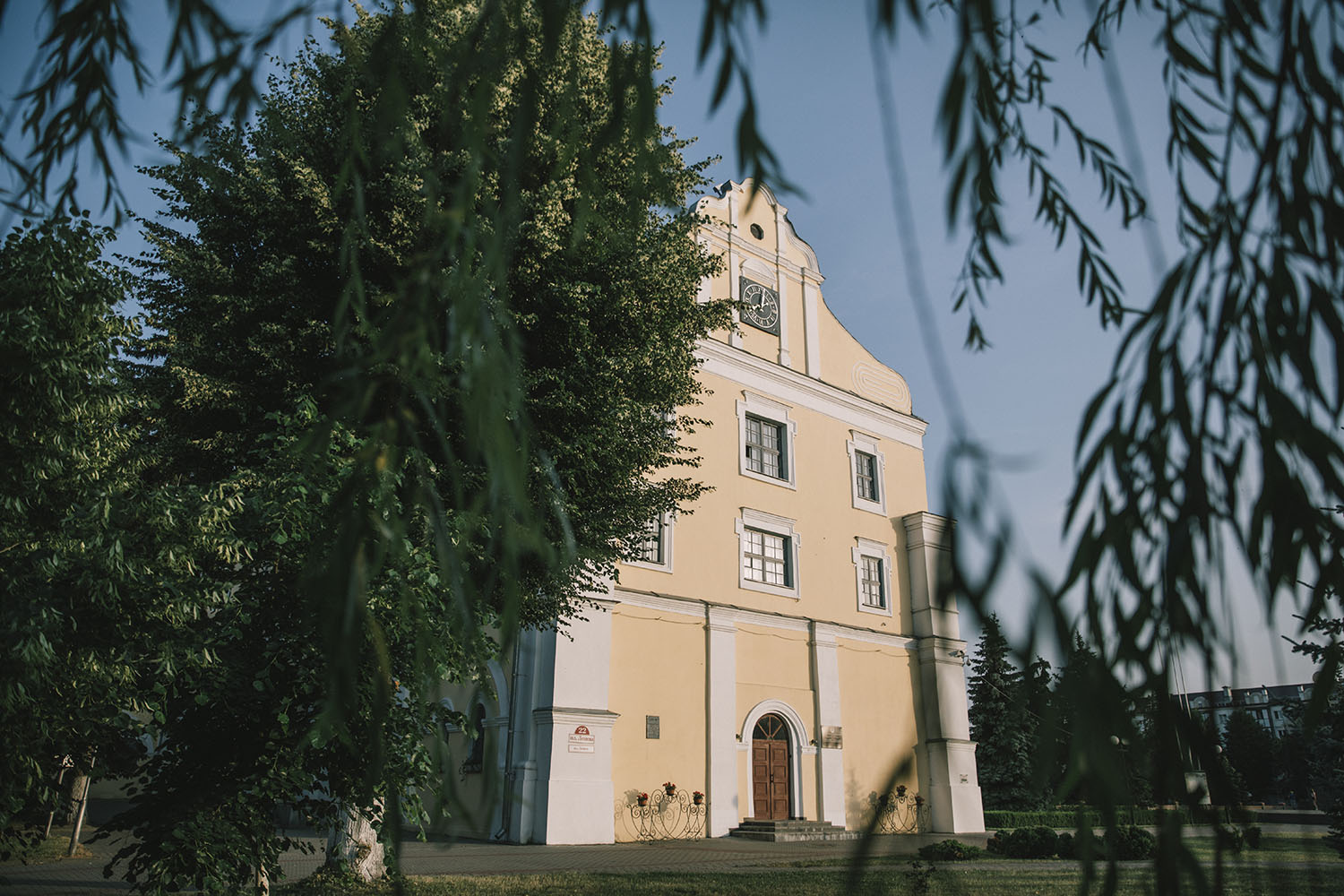 6. Jesus Collegium

Pinsk, 1, Leninskaya vulica
Pinsk is the second after Hrodna belarusian town with the most landmarks preserved. The building of collegium deserves a special attention. Talented students were accepted there regardless of their families' income. If you walk around the building, you'll notice that it looks so much different: like a fortress from the river and like an open book from the backyard. Now it is a nice museum of belarusian Polesie where you can see stuffed animals or have a sit on a wooden bicycle. Then along Lenina Street there is the Franciscan monastery with the Madonna of Pinsk and cool magnets, Palace of Butrimovich, House of Orda and the University of Polesie campus. The river front in town is 2.5 km long, enough space for walks with beautiful view.
How to get? You can go by minibus: the ride takes 3 hours and costs € 3. Two days a week there is also a train; it leaves from Minsk at 17.37 and comes to Pinsk at 22.55.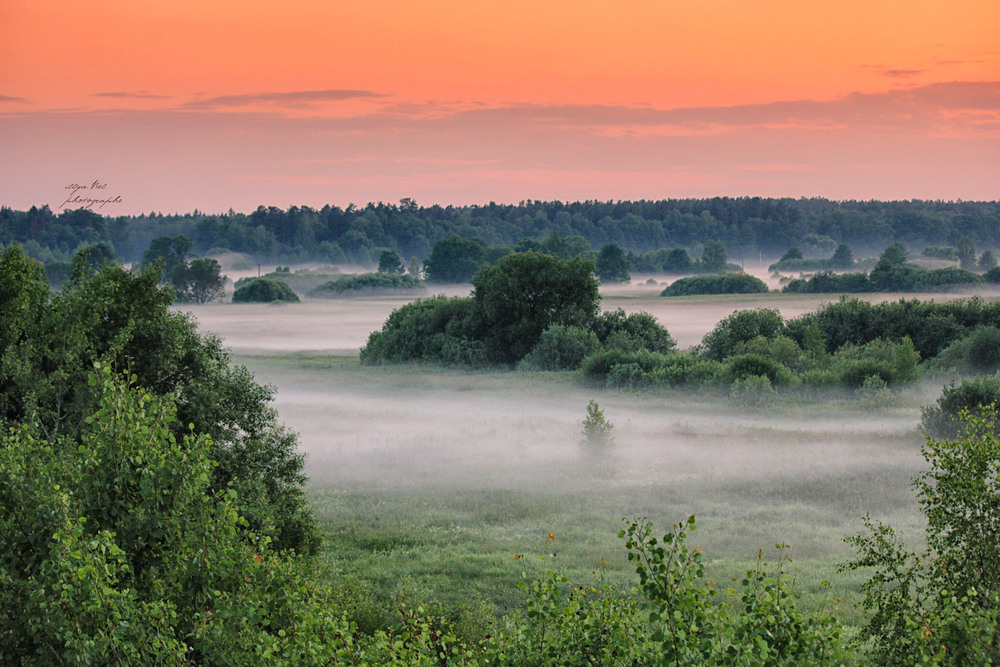 7. Polesie

Brest region
The largest European moor territory that occupies almost 30% of the map of Belarus. Terra incognita has the size of a small country; there are isolated villages and local inhabitants who even speak their own language. To feel all the beauty of living in Polesie you should wait for the spring spate of river Pripyat. A perfect option is to rent a boat and swim along flooded belarusian countryside from Turau to Pinsk.
How to get? You already know how to get to Pinsk.

HRODNA REGION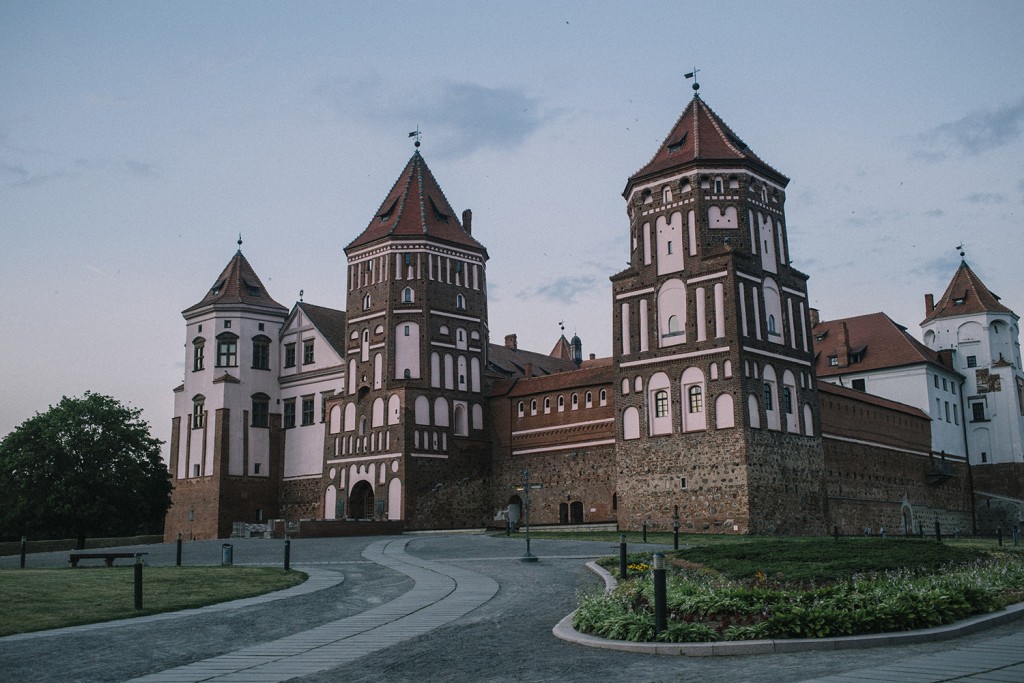 8. Mir Castle

Mir, 2, Chyrvonaarmeiskaya vulica
True classics! The castle was supposed to become the residence of an aristocratic family Ilyinichys which began construction it in 16th century. Then the Radziwill family got the land and turned it into a merry multilayered cake. According to the legend, they also built an underground three-lane passage between Mir and their second residense, the Neswizh castle. Knyaz Mirsky was the last owner of the place. His father died under mysterious circumstances: he drowned in the moat he had ordered to dig. During Sovietic times there was a labor association, then ghetto and camp for war prisoners in the years of occupation. In 2000s the castle went through a major renovation, got plastic windows, a business center and a hotel.
Try to catch any event there, at least the concert of belarusian pop singers. Better alternative would be Mirum Music Festival: decent bands play there and you can stay for a night in a camping under a heavy castle wall.
How to get? Find all the options here.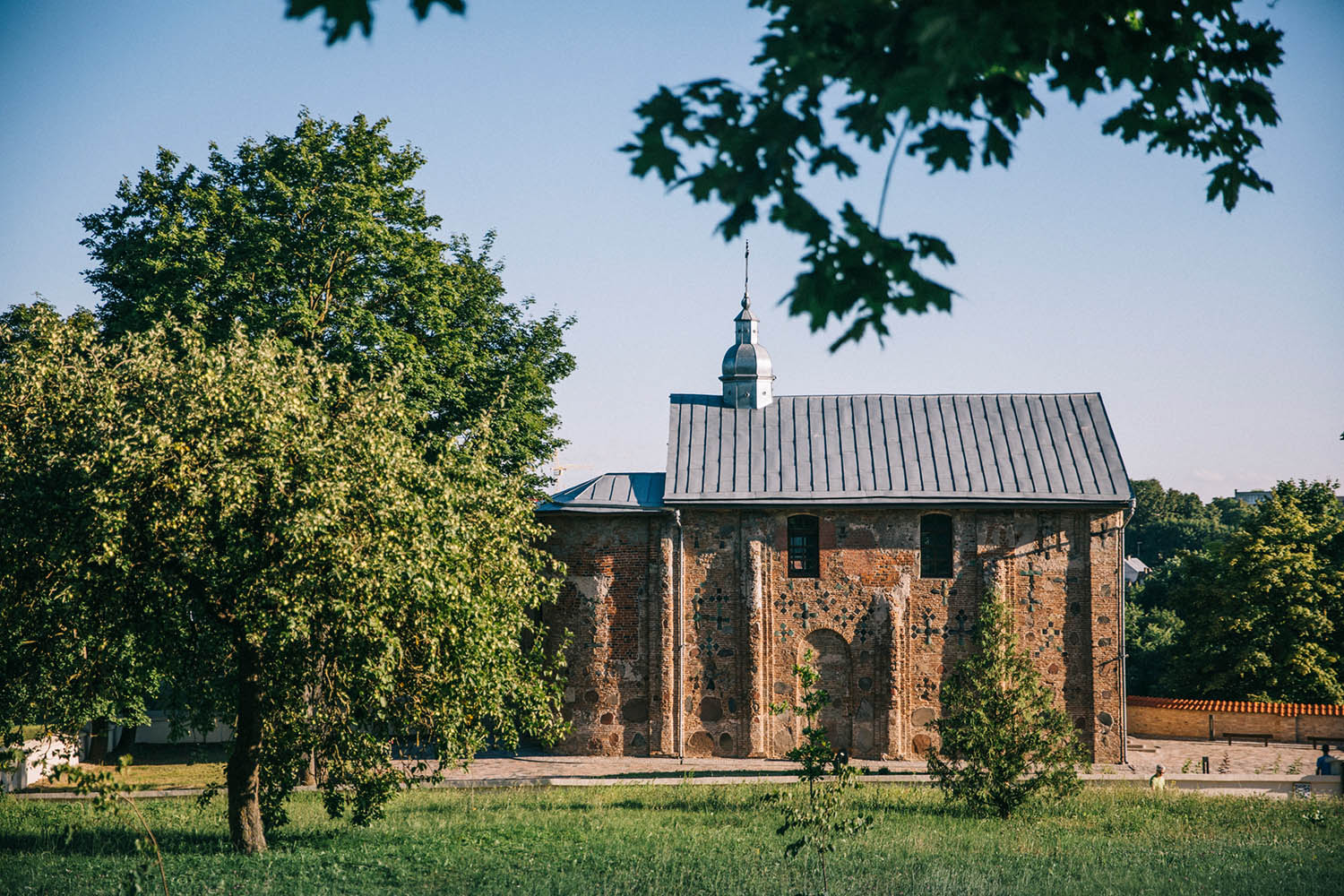 9. Kalozha Church

Hrodna, 6, Kalozha vulica
Kalozha Church, or the Church of Sts. Boris and Gleb, appeared on the pagan temple at the Castle Hill in Hrodna already in the 11th century. It's an Ancient Rus period building, although it was reconstructed. The church is not plastered, so you can look at all engineering solutions of those times. The church stands on an abrupt bank of the river Neman.
How to get? By train (from any belarusian town), bus or minibus (€ 7).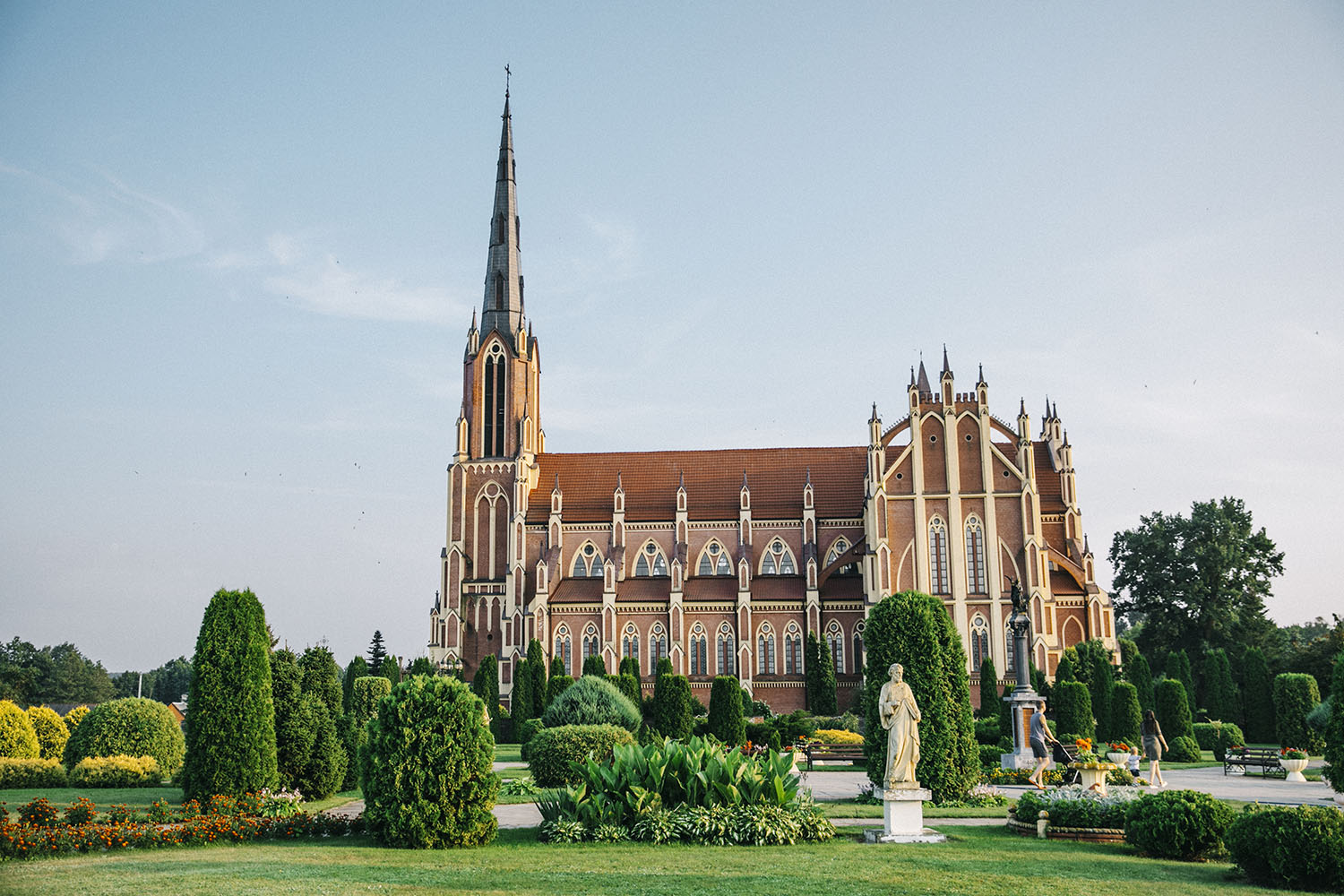 10. Trinity Church in Gervyaty village

Astravets district, Gervyaty village
It's the highest cathedral in Belarus – 61 m (24 floor building!) and the only one created according to the all neogothic canons. It was erected at the site of a wooden church of the 16th century. A brick works was organized for construction purposes only, and also eggs were collected from all over the neighborhood (they were added to the grout to make it stronger. The slate was brought from Germany. Here you can learn how arc-boutant looks: it's
a semi-arch that distributes load from the main wall and stands separately (remember Notre-Dame de Paris), which is not typical for Belarus. Make sure to attend the service, it's in Belarusian, Polish and Lithuanian, and go for a walk in the park, which is probably even cooler than the church.
How to get? The best variant is to drive, of course. If there' no such opportunity, go to Astravets and then to Gervyaty (through Varnyany).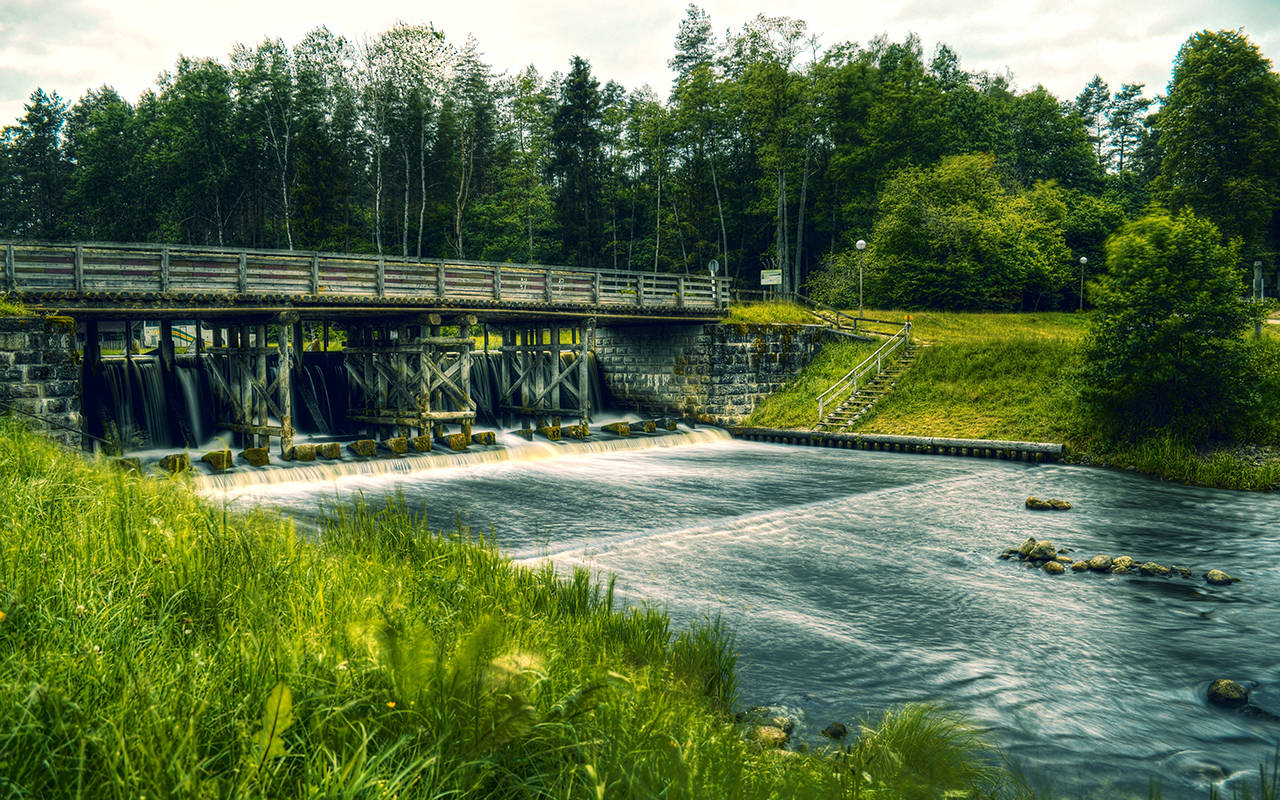 11. Augustousky Canal

Hrodna district, Nemnava
A navigable canal was built in the 19th century to connect the Black and Baltic seas. There are just two constructions in the world that were built so long ago and so elaborately and that are preserved in so good condition: in Great Britain and in Sweden. The length of the canal is 101 km, 22 km goes through the belarusian border territory with the lightened visa control. Locks, opening bridges, columns – everything is so well-coordinated and thoroughly thought through. You can get on a boat called Neman, walk along on foot, visit the museum, go kayaking, see a survived manor in Svyatsk built in the 18th century according to the project by Italian architect Giuseppe de Sacco.
How to get? Start from Minsk by car (Valozhin – Lida – Skidzel direction, 327 km). From Hrodna you can take a bus (Hrodna – Garachky, Hrodna – Nemnava, Hrodna – Kalety, the stops Augustousky Canal or Sonichy) or drive.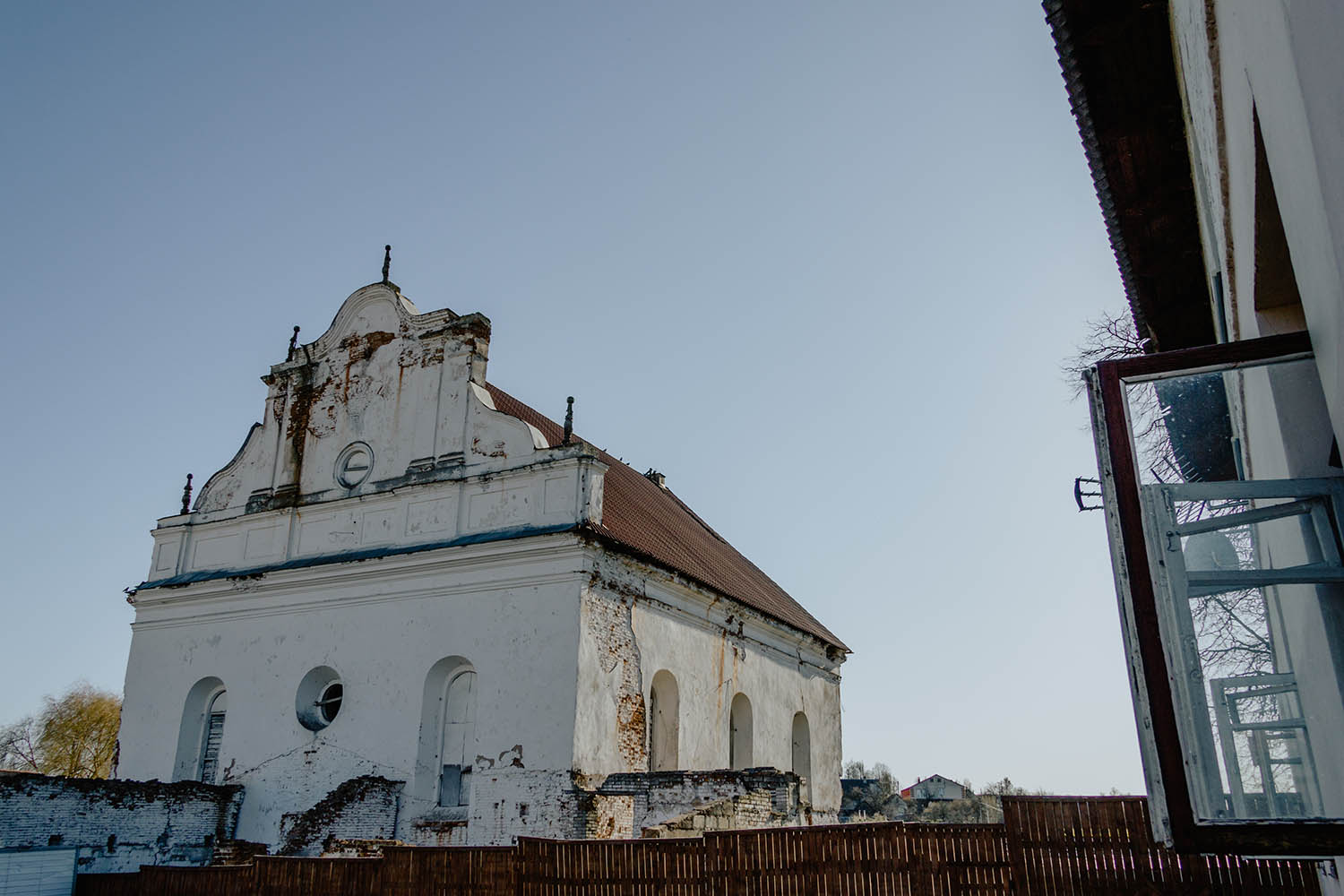 12. Slonim Synagogue

Slonim, 1, Savietskaya vulica
The baroque synagogue of 1642 is one of the most ancient in the country. The half-ruined building has remained gorgeous inner finery. The synagogue was gravely damaged during Napoleonic war, but was reconstructed quickly due to Jewish community that was one of the most powerful in the country. There were 21 synagogues, and 70% of the population was Jewish in the end of the 20th century. In 2000 the building was brought back to the faithful but still it wasn´t reconstructed. Be sure to look closely at the Torah ark, fretwork, and painting, which were preserved greatly.
How to get? Catch a minibus. It takes 2.5 hours.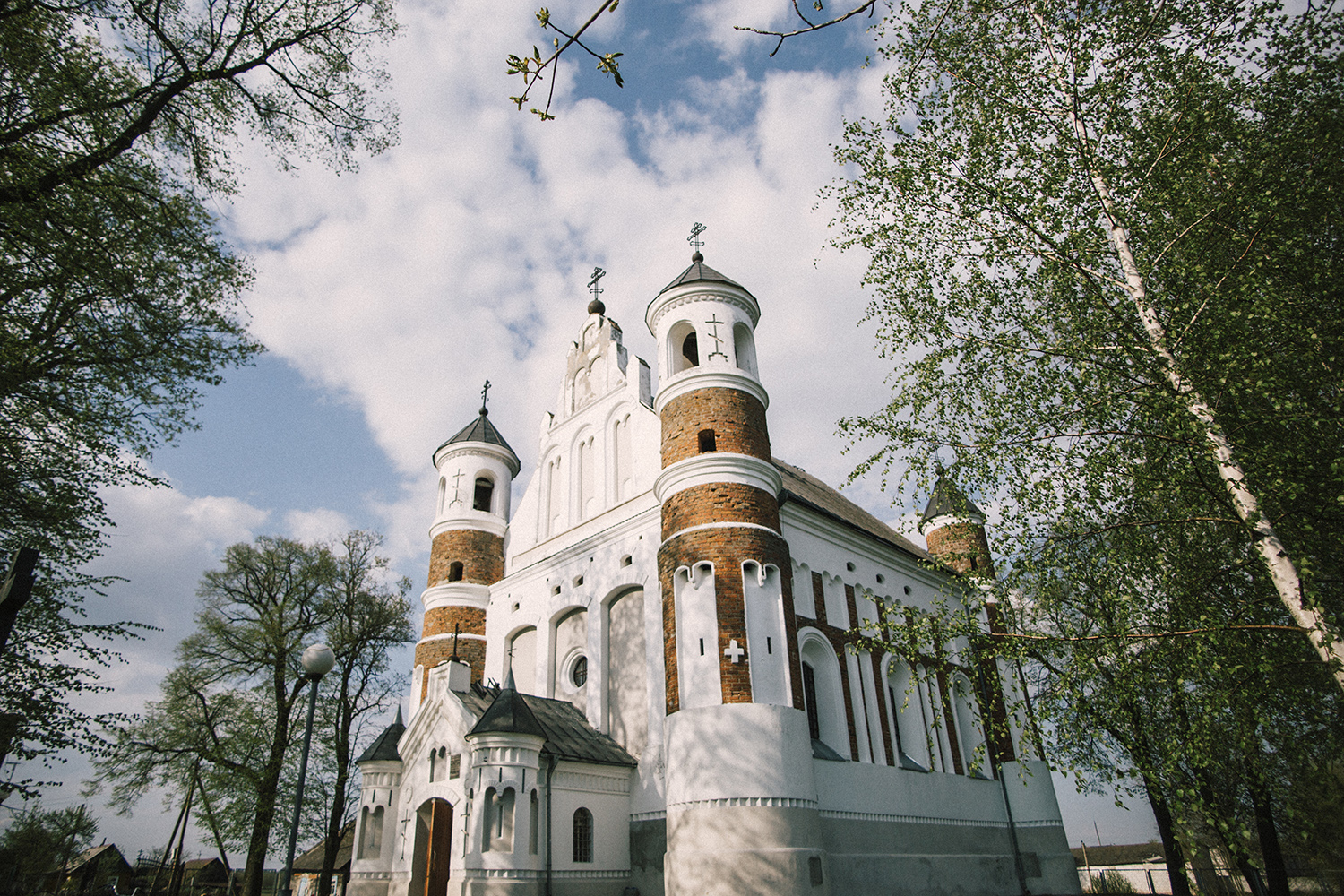 13. Church of Nativity of Virgin Mary, Muravanka

Schuchin district, Muravanka village
The 600 year old church was set to be a place for worship service as well as a defensive building. The church looks like a real castle with two-meter walls in thickness, loopholes, and towers. The church in Muravanka was experienced many wars and was damaged badly during Russian-Polish war. In 1882 there was a great reconstruction and a bell tower was built. It was a good mixture of Gothic and Renaissance, stones, bricks, and rose-window. The bricks were special called "royal lily", a symbol of Virgin Mary's purity. Historic facts and legends say there were a plenty of underground passages but now nobody can tell where they began and ended.
How to get? Catch the bus Minsk – Schuchin. The church itself is situated at a distance of 3 km from Mazhejkava village.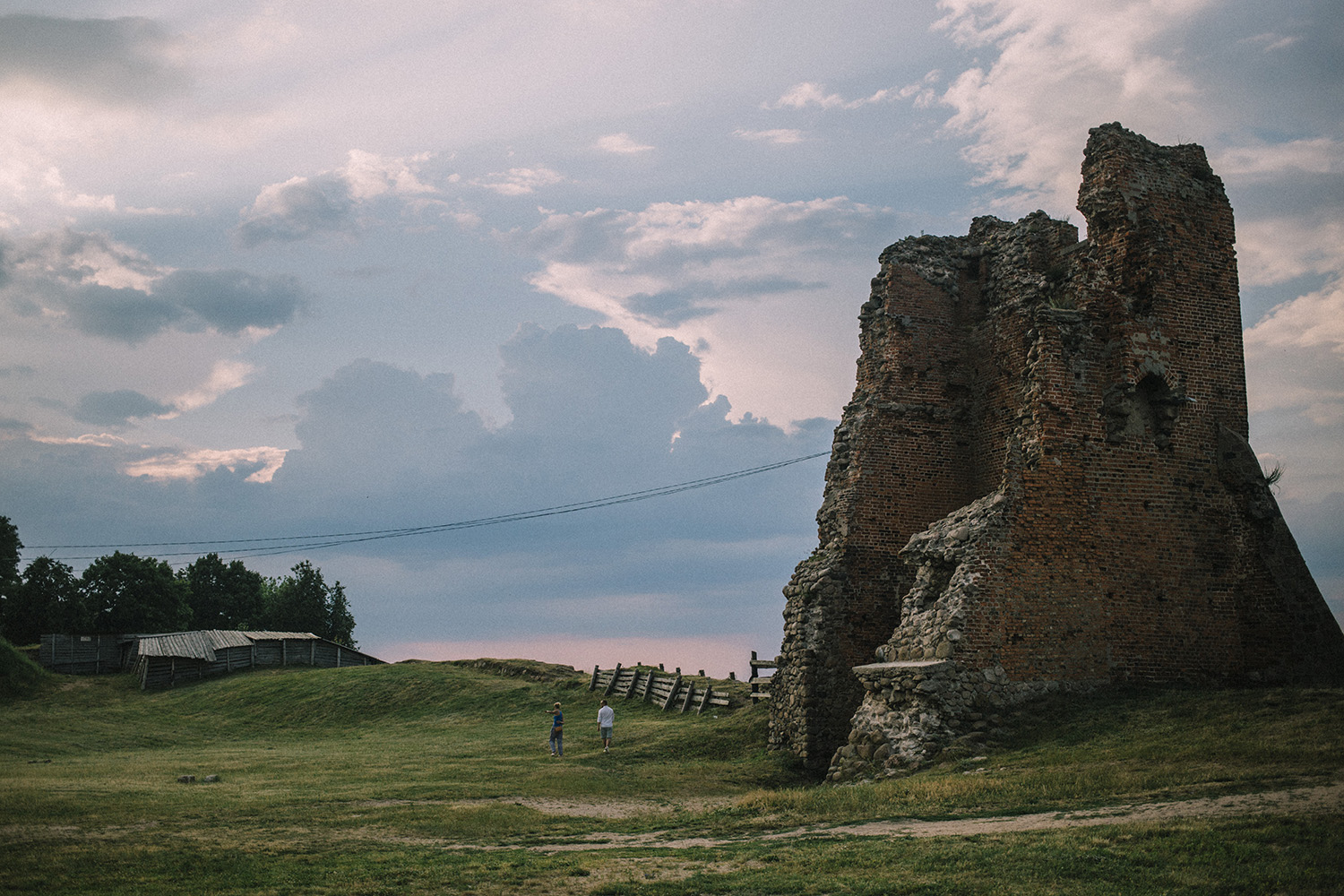 14. The castle in Navahrudak

Navahrudak
Novogrudok is an ancient Belarusian town that was the first capital of Grand Duchy of Lithuania. The main sightseeing in the town is a ruined castle of 12th century. It was ruined by the Swedes almost to the current state in six centuries after the first mention. Only two walls have remained of the whole building. A charming view opens up on the Castle hill, the best place for picnic. The memorial house of Adam Mitskevich who was born in Navahrudak is worth visiting. Be sure to visit Transfiguration Church and 500- year old Church of Saint Boris and Gleb.
How to get? Catch a minibus or a bus from Minsk (€ 2). A train is not the best option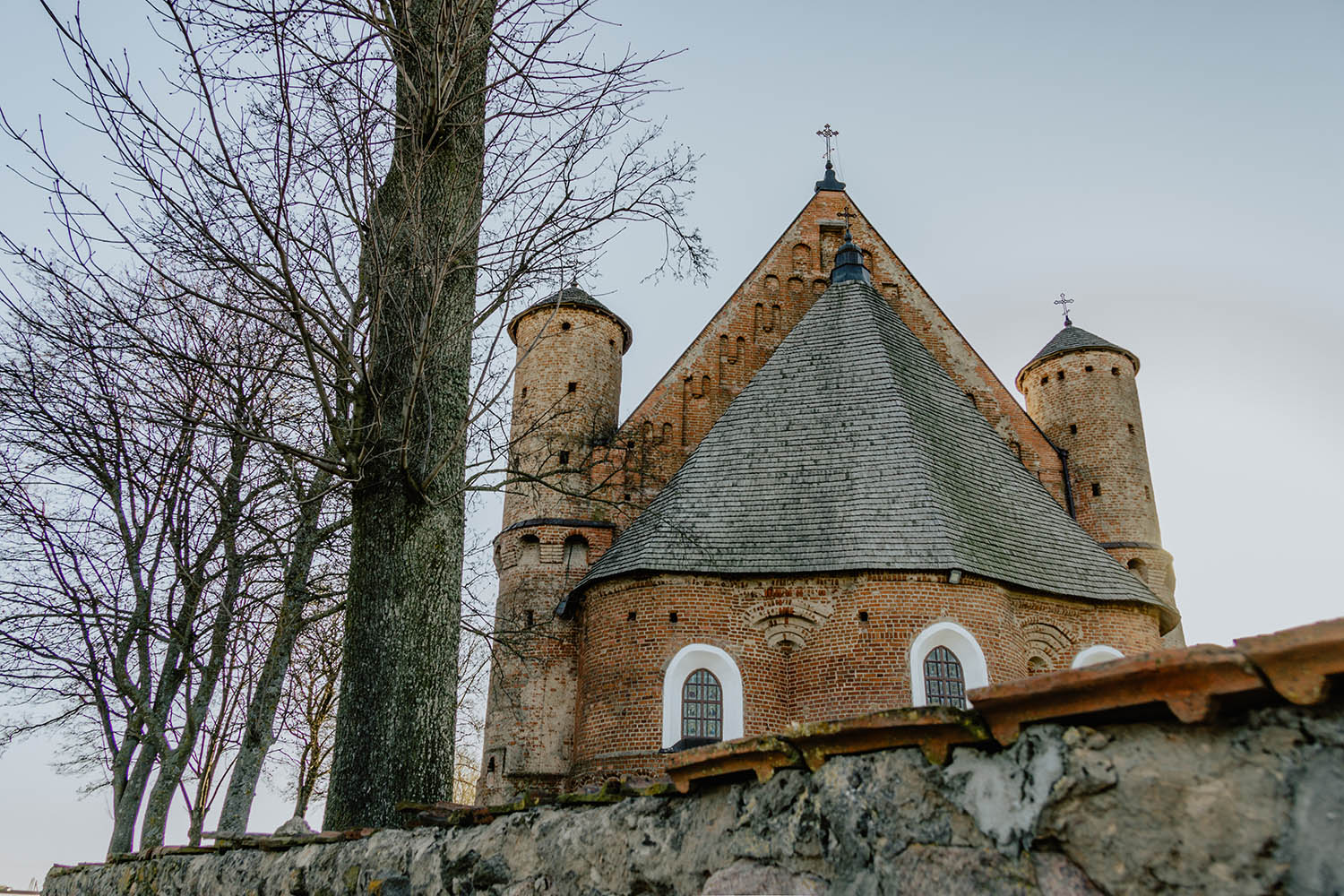 15. Church of Saint Michael

Zelva district, Synkavichy village
It's the biggest defensive church in Belarus. A great impenetrable church was constructed in the 16th century. It looks like a real small castle with towers, loopholes in an inaccessible height, and thick walls. Also pay attention to the gates remained since 1880. Within the walking distance of the church there is a manor house of the 19 th that later was converted to alcohol factory. By the way, there is a legend about the name of the village. The church was built by father and son. One day son fell down from the staging and died. Father desperately cried to him, "Son, son!" (Belarusian: Synku, Synku!). That's how the name of the village appeared. It's possible to see a ledge above the entrance similar to casket door that was made by father in memory of his son.
How to get? It's easy to go by bus from Minsk to Zelva, than you should take a car.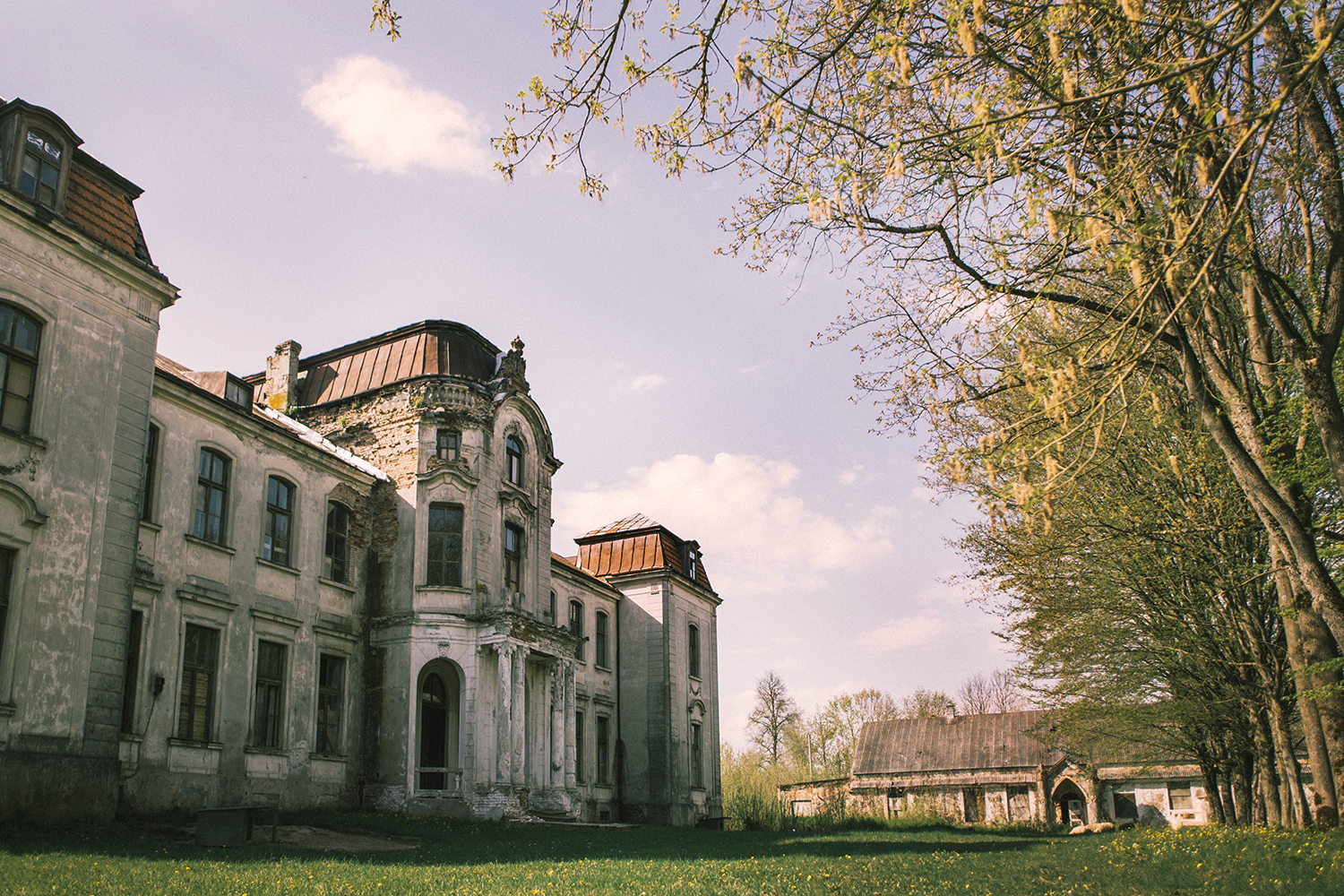 16. Chetvertinsky Manor



Zeludok village, Schuchyn district
Chetvertinsky Manor is one of the most cinematic places of the country. This explains why the first Belarusian horror "Massacre" was made there. Some cinematic decorations still remained such as laminated-veneer lumber, painted signs of fire on the frontage. Soviet epoch left a movie club with projection cabin and stars images.
From the beginning, the castle was set to be a place for receiving guests of the Chetvertinsky family. The modernistic manor projected by a famous Italian architecture Marconi was built in the middle of a big park in 1908. The building has maintained an authentic staircase, tile, and some wallpaper.
How to get? Find additional information here.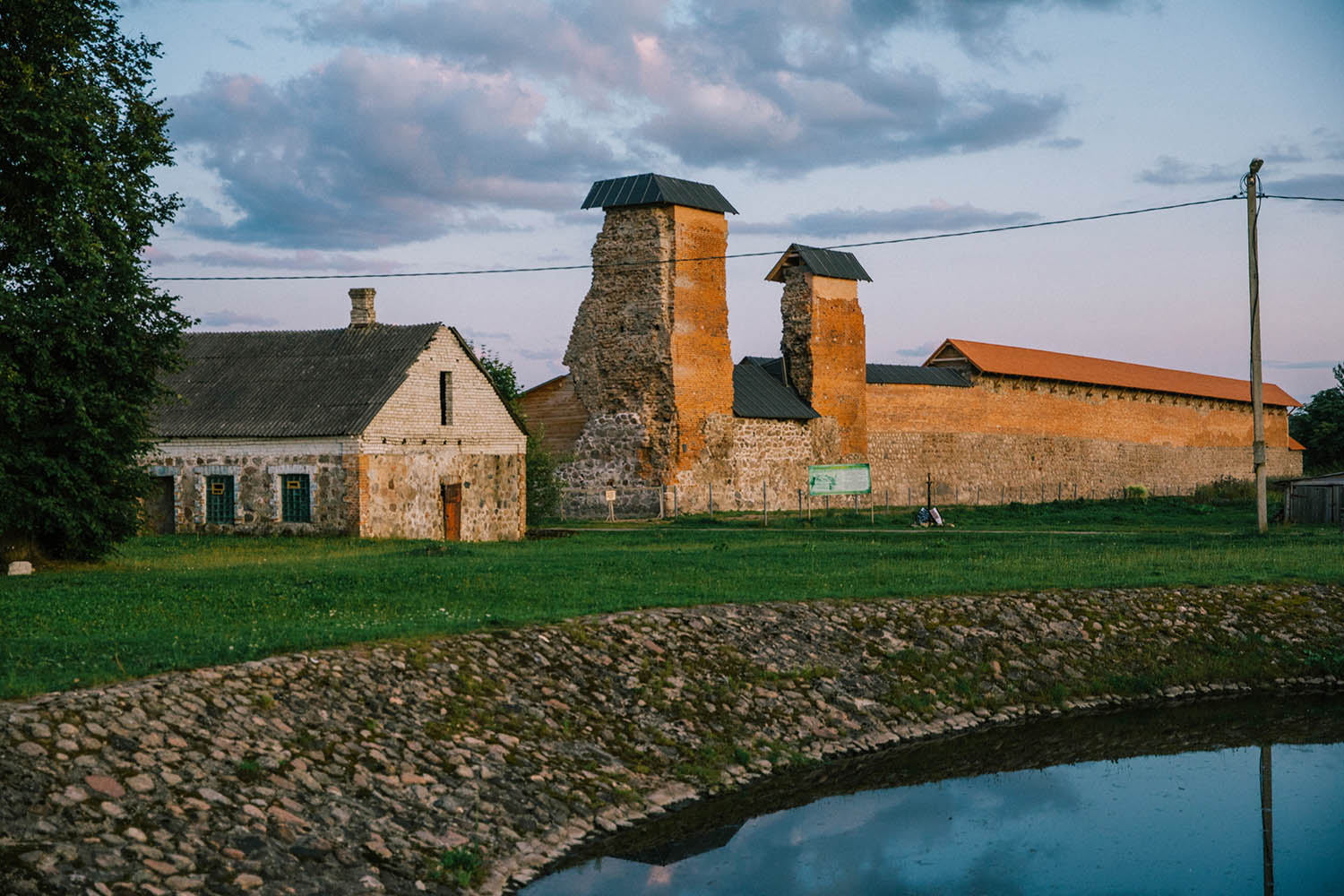 17. Kreva Castle

Kreva
Kreva Castle is the most picturesque ruins in our guide. The castle was built in 14th century. Those walls witnessed quite many things during the centuries. Duke Kestutis, father of Vytautas, was killed there in 1382. The union between Grand Duchy of Lithuania and Kingdom of Poland was signed there in 1385. Kreva Castle negated the attack of the Tatars and the Muscovites in the 16th century. However, the castle wasn´t considered as a good fortification and was abandoned in 19 h century. The ruins were preserved in 1929 and weren´t changed till nowadays.
Listen to wind blowing among the walls. Enter to a beautiful Church of Alexander Nevskiy and to Church of the Transfiguration and try to find an ancient pagan temple Although, Kreva is considered to be a village now, there are still witnesses of the previous great times.
How to get? Get on a bus or train Minsk – Smorgon, than catch a green regional bus MAZ with curtains.

MINSK REGION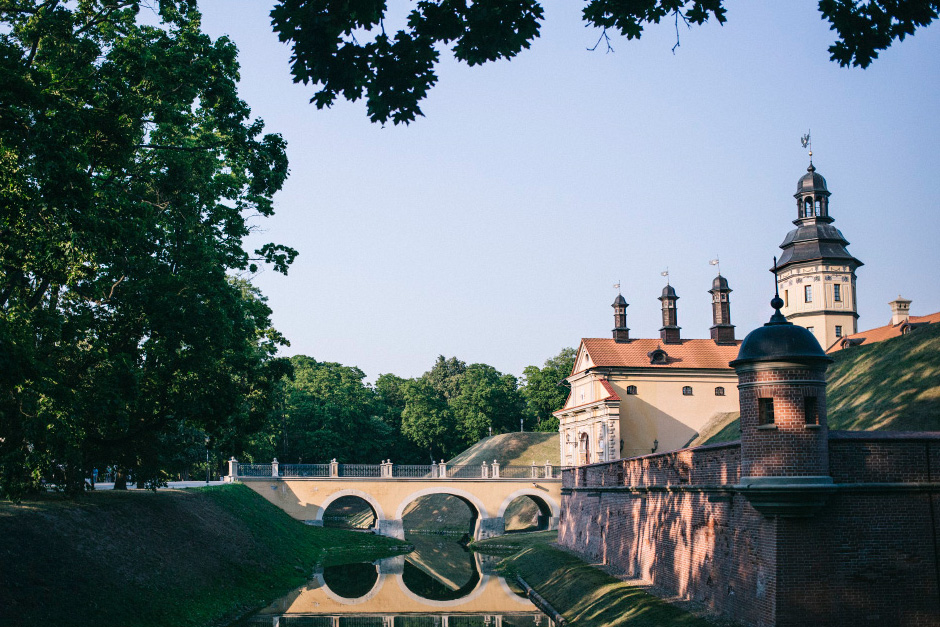 18. Nesvizh Castle
Nesvizh became a family seat of the Radzivils, the main family in the history of Grand Duchy of Lithuania. For example, the King of Poland was a frequent guest and family members held high position in the country. The series of palaces and gardens in Nesvizh occupy 90 hectares. You can find early renaissance, baroque, neoclassicism, and modernism in Nesvizh Castle. Ask to tell you the story about Bona Sforza´s revenge and golden full-length apostles.
How to get? You can go from Minsk to Nesvizh by Brest route. If you decide to go by bus, here you can find a schedule.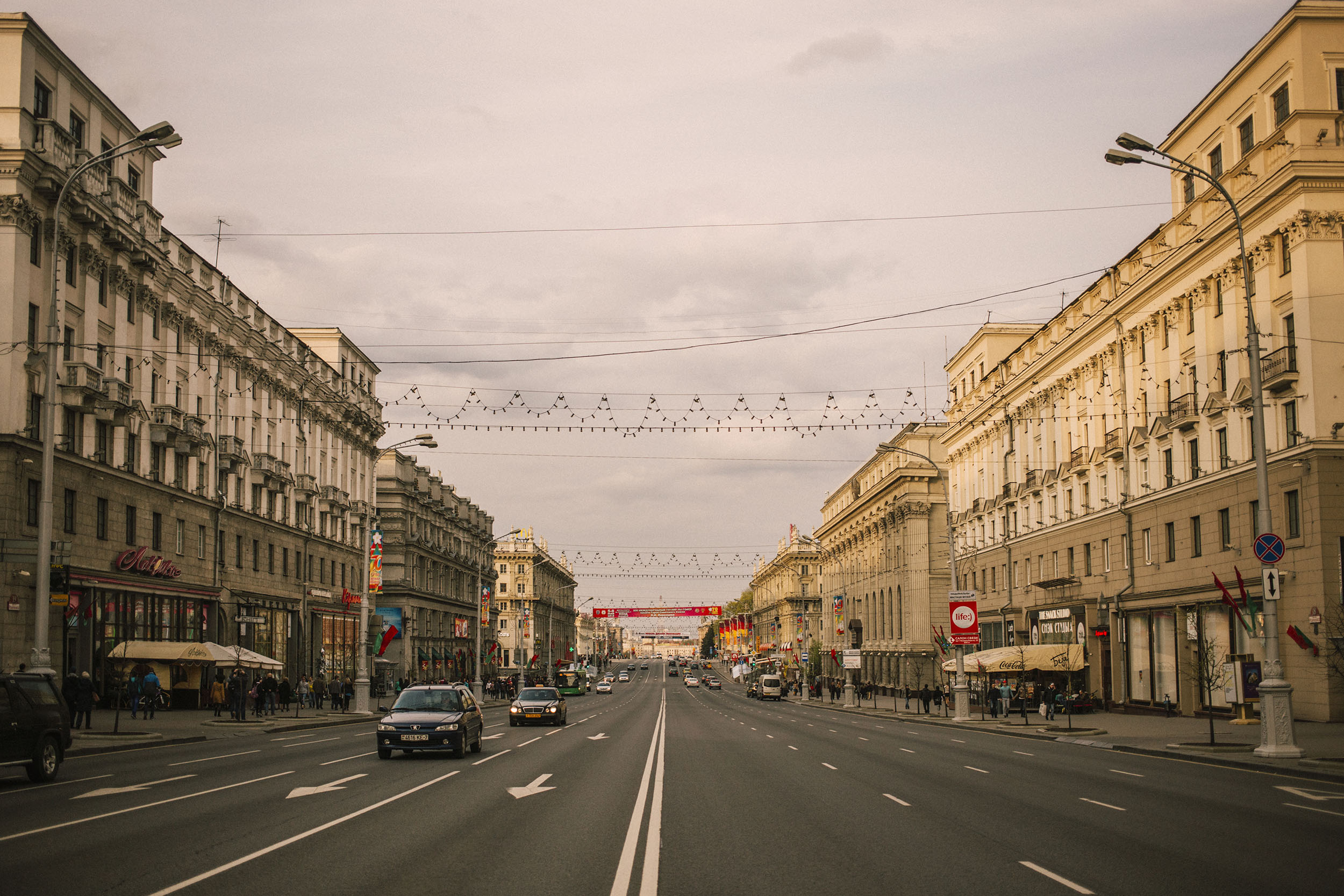 19. The City of the Sun in Minsk

Minsk
Minsk is a victim of imperialistic ambitions of soviet government. You can feel it walking down Independent Avenue (Praspiekt Niezaliezhnasci), a 15-km straight asphalt shaft that halves the city. Arthur Klinau, a Belarusian writer, called Minsk the City of the Sun for its Stalinist architecture and described the city as a main artery road of Big Communistic Dream. Railway station forecourt with "gates", Lenin square, Marksa, Kirava, Svyardlova streets are massive constructions of an ideal communistic Rome according to the Soviets.
How to get? You can find in our guide.
20. Khatyn Memorial complex

Lahojsk district, Khatyn village/ Mokrad village
It's an example of good soviet documentation. Memorial complex was made on the place of the village burnt by the Nazis during the Second World War. All people were brought to a storehouse and burnt. The same happened with people of 628 villages. Before the trip you can watch the movie Come and see made by Elem Klimov in 1985. Find information about tickets and schedule here.
How to get? If you go by car, take M3 route (59 km). There is no public transport to get on. If you hitch a lift, you'll have to walk 5 km from the route.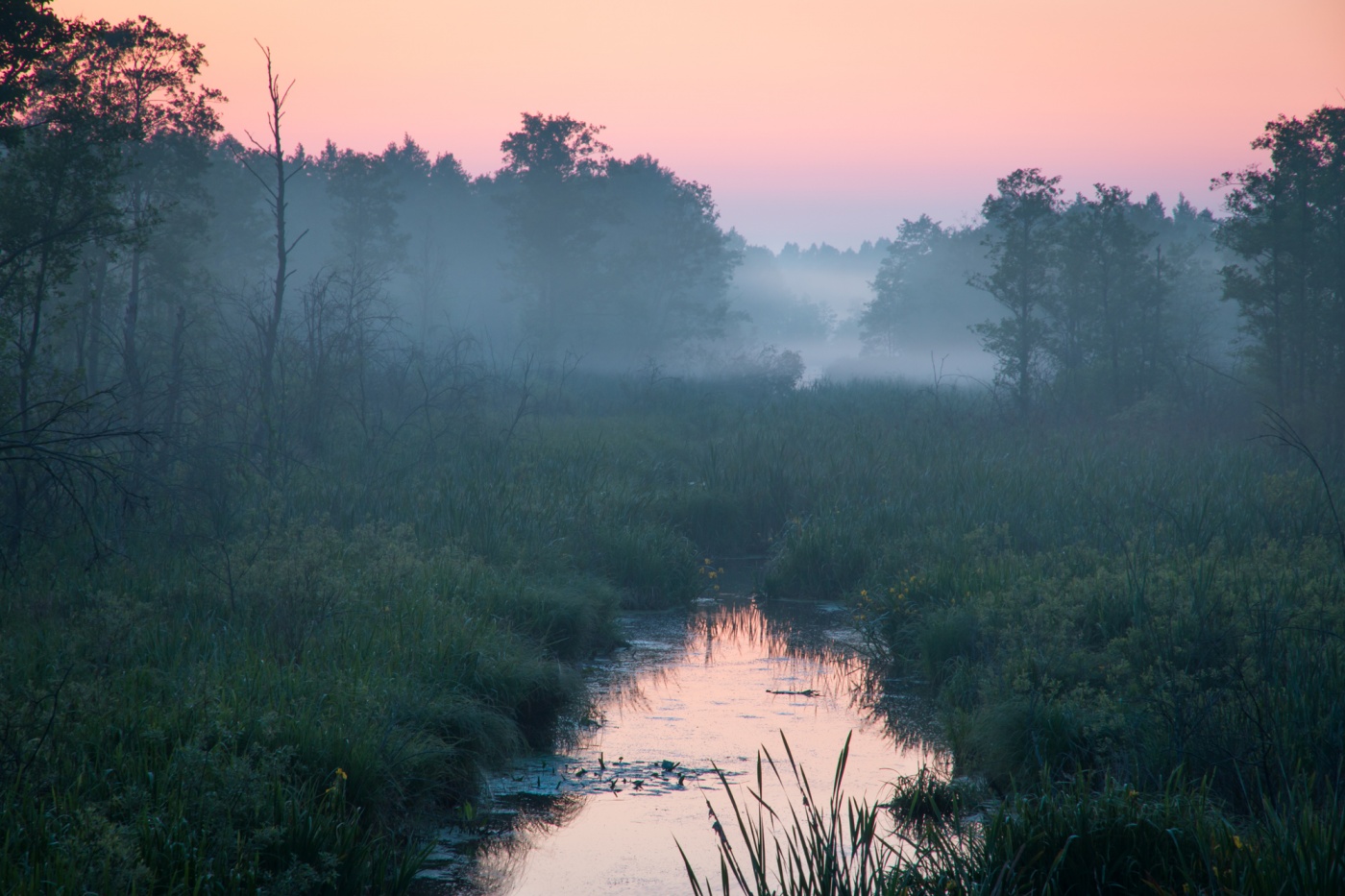 21. Naliboki Reserve

Valozhyn district
Naliboki Reserve is the biggest forestland in Belarus, three times larger than Malta! Plant life is very diverse, a quarter is medicinal plants, a plenty of them are in Red List. The same is with wild animals; for example, there are 29 rare species of birds. The reserve is surrounded with three big rivers Neman, Berezina, and Usa. That's why the landscape is very picturesque and not very accessible as Svaneti in Georgia. For example, 20 000 people hided there during the Second World War. Be brave to make a speed march to age-old forest. Be sure to see Lake Kroman, Lauryshava Monastery built in the 13th century, and the Tyshkeviches' manor in Vyalae village. Feel free to swim naked, you can let it there.
How to get? The only chance is to go by car that takes you 1 hour.
22. Belarusian State Museum of Folk Architecture and Rural Lifestyle

Minsk district, Azyartso village
It's rural Belarus in miniature, an open-air museum with old-time construction of three parts: Central, Poozerie, and Podneprovie. A church, a parishional school, mills, baths (called 'banya'), and rural houses can provide you the information for ethnic research. All these spread among picturesque fields, so don't forget to charge your phone. And don't forget to taste 'krenovuha' (national drink) in the tavern at entrance.
How to get? All the information you can find here.

HOMIEL REGION
23. Homiel Palace and Park Ensemble

Homel
It's better to go to Gomel Palace and Park Ensemble in spring. A huge park becomes green and blossom. The River Sozh is affluent and you can wander around Rumyantsev-Paskevich Residence looking at a grand river. The Palace and Park Ensemble is the biggest historic building remained monolithic. Catherine II, a Russian empress, gifted Gomel to her favorite Count Rumyantsev and he built the castle on the River Sozh. Than the castle went to commander Paskevich who made the whole outbuildings complex: a hunter house, winter garden, and several churches. Landscape park of 24 hectares has preserved greatly. You can walk there half a day but beforehand you should eat some Gomel chocolate Spartak of 90% cocoa.
How to get? There are 5 trains from Minsk every day. You can also catch a minibus (€ 6), or drive (300 km).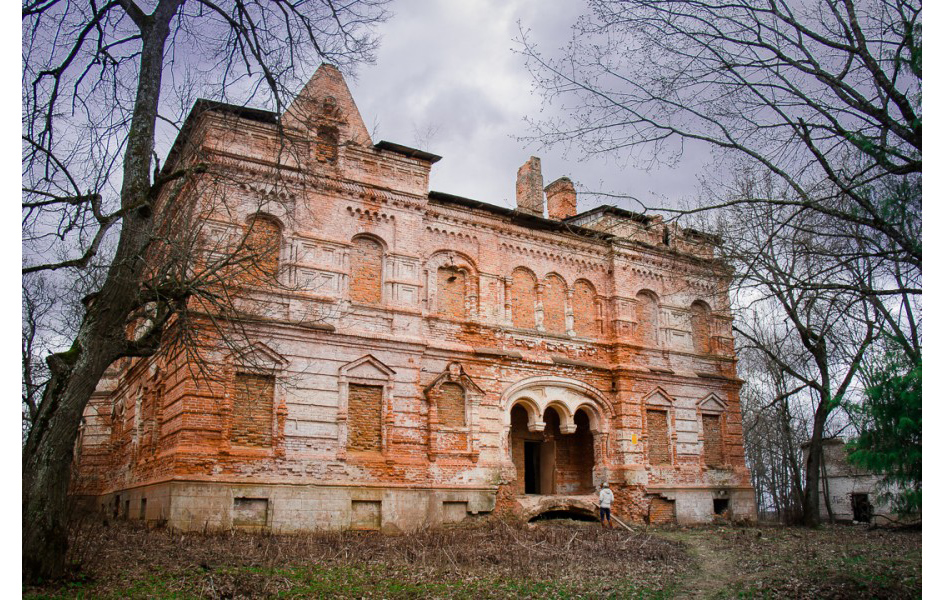 24. Gerard Manor

Dobrush district, Demianki village
It's a beautiful manor built in Russian Revival style in compulsory evacuation zone. The construction of the red brick building was funded by Nicolai Gerard, a Russian civil servant and Finland governor general, in the latter half of the 19th century. The manor is situated on the hill crossed with a moat, the bridge decorates the view. The park with rare species of trees has preserved as a wonderful silence there. If you're looking for a place with no tourists, you should go there. By the way, you can get into the manor legally.
How to get? You can go there without pass on Radunitsa celebration (Day of Rejoicing). If you want to go other day, you have to get a pass in Dobrush. You can go to Dobrush by train Minsk – Homiel and then get on a suburban train or bus.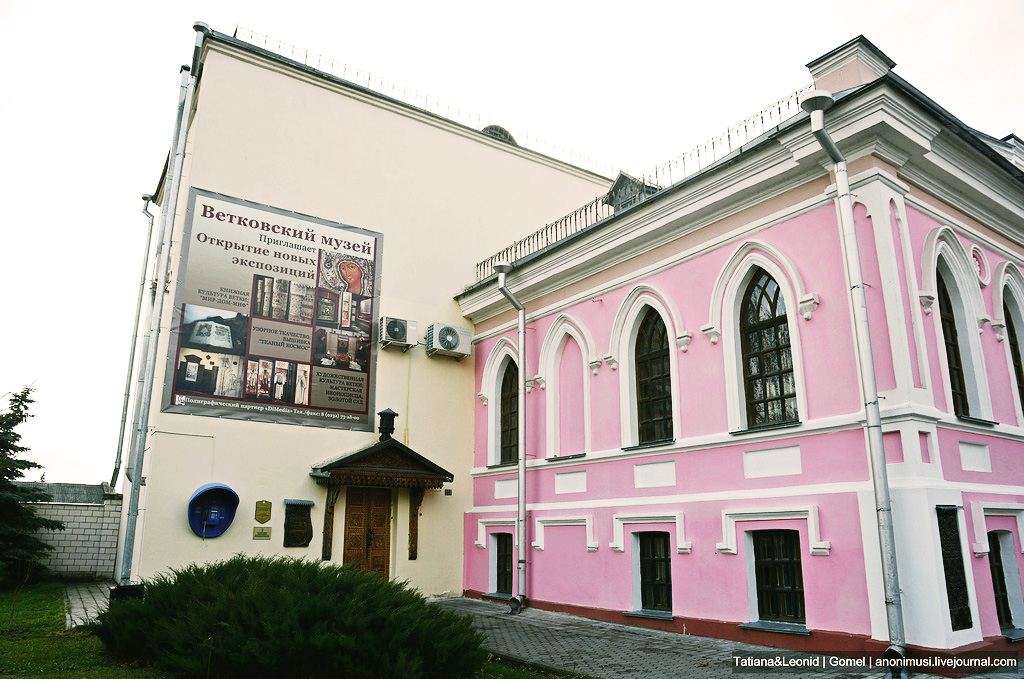 25. The Museum of Old Belief in Vietka

Vietka, 5, Chyrvonaya Square
In the 17th century Old Believers set their hearts on the town of Vietka. It didn't bother pathologically tolerant belarusians, that is why Old Beliefs icons, manuscripts and printed books of the 16-19th centuries, textile and household items collections are still preserved in excellent condition. The museum is interactive: e.g., you can learn traditional weaving.
How to get? Go to Homiel, and then take a bus (it's just 22 km).

MAHILIOU REGION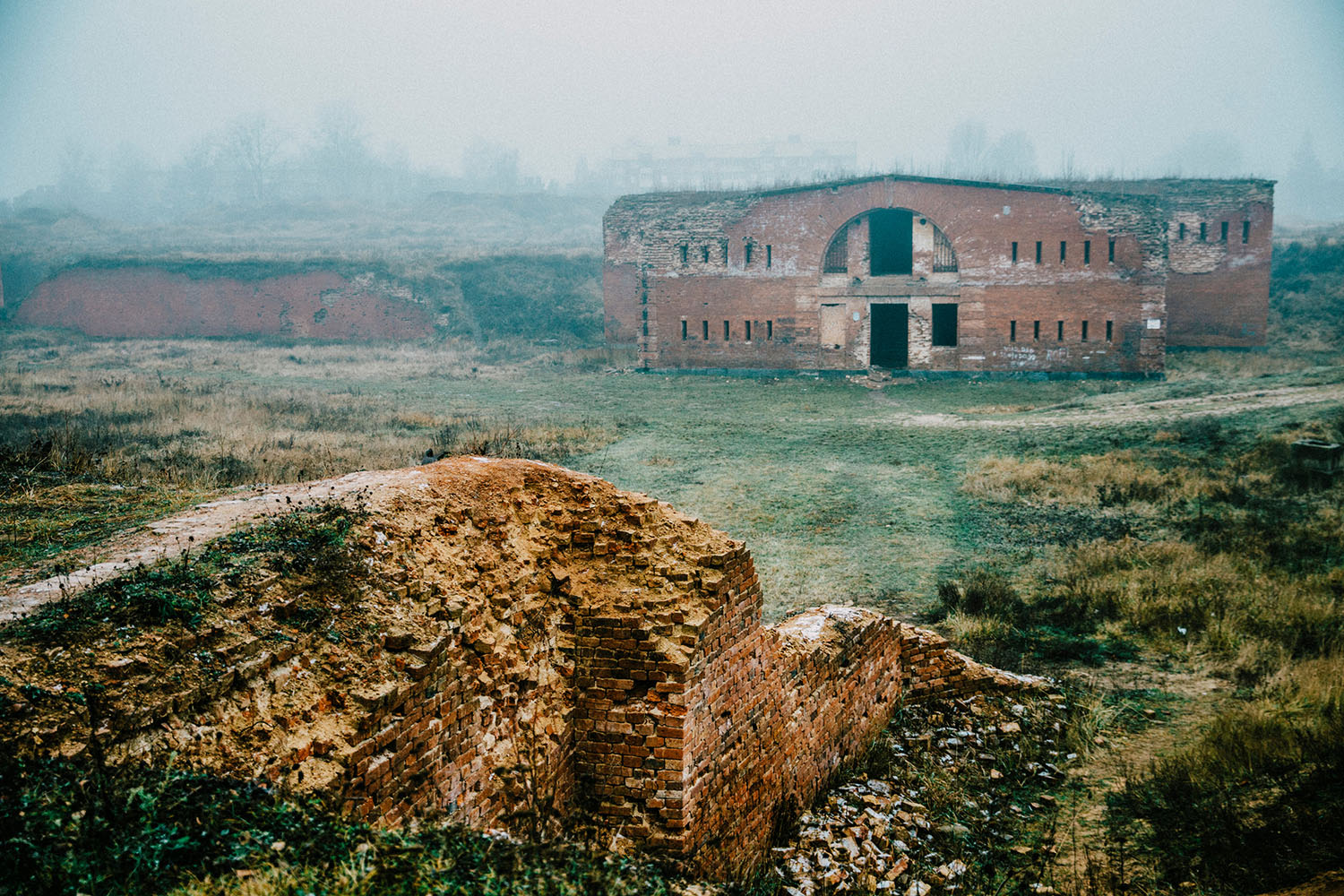 26. Barbujsk Fortress

Babrujsk
This massive fortification was constructed during preparation to the war against Napoleon. To build it almost the whole town, which there had been before, was destroyed. Anyhow the fortress survived the long french siege, and turned into a jail after the war. They say there's an egg-shaped ward in one of the forts where prisoners lost their minds after a couple of weeks of spent there. Not for nothing a famous Russian thinker Herzen wrote that 'Let it be Siberia, let it be anything but this horrible prison on the river Berezina'. Now it's fun just to climb the remains of the fortress, or visit the abandoned guardroom, which had been a church before. It may seem like aliens landed by the side of the fortress. Actually, it's the Babrujk ice skating arena for 7 thousand people.
How to get? It's just a half hour form Minsk by a fancy Stadler train (or two hours by a regular one) and you already walk around racy Babrujsk. Another option is to go by bus or a private minibus.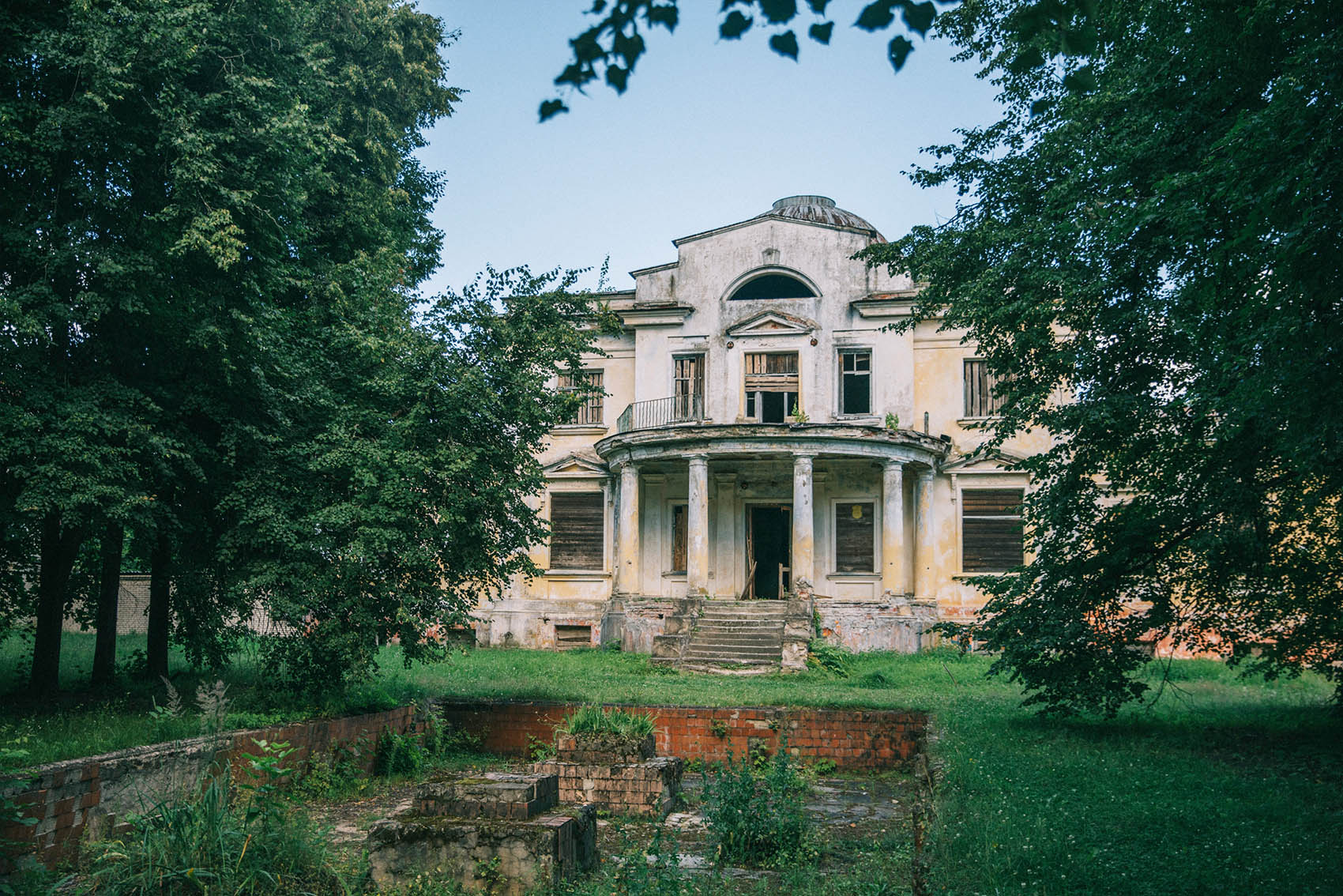 27. Tolstoy Family Manor

Bykhau district, Hrudzinauka village
One of the most beautiful and mysterious places in Belarus is the Tolstoy family manor. Although Leo Tolstoy never got there, it is still worth visiting. There is a two floor manor with cupolas, columns, front stairs and an open terrace with a view on the park. You can wander around 10 hectares park, find a 100 years old Siberian pine, and enter the palace. Recently there was a school and a camp for sick children, that is why you can still see painted green walls and a soviet cloakroom – a weird contrast with the architecture and amazing age-old oaks.
How to get? The easiest way is surely by car (put 53.6343, 30.4775 into your navigator).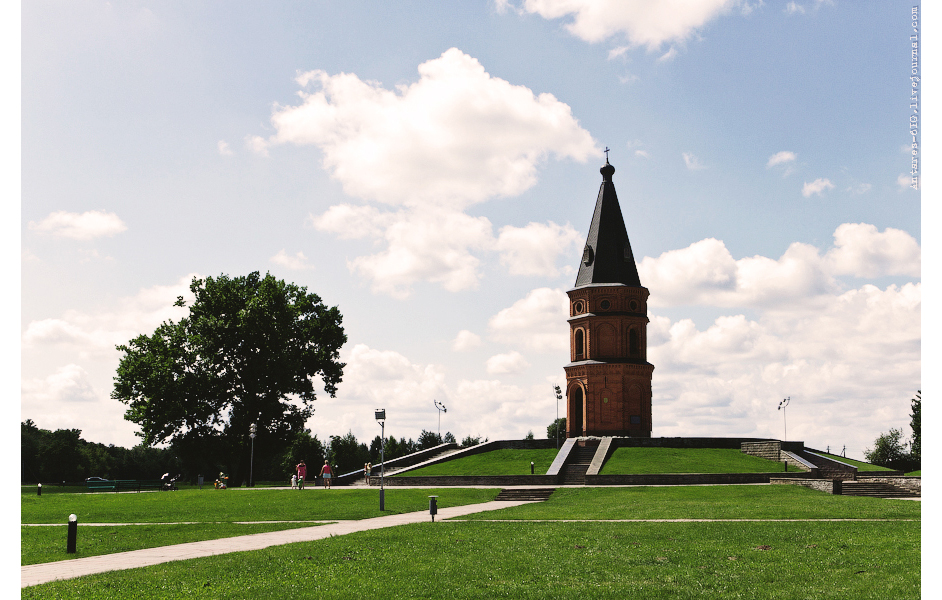 28. Bujnichskaye Pole

Buinichy, Mahiliou district
Mahiliou defensive front passed right through Bujnichskaye Pole in 1941. Despite numerical and technical superiority of Germans, Mahiliou people held the line for 23 days. Open air museum and a huge display of military hardware is perfectly looked after, and the chapel is cleaned every day with such care that it seems like each worker lost a relative here. On the other side of the street there's a zoo where you can see a bizon.
How to get? A piece of cake: there's a city bus from Mahiluou.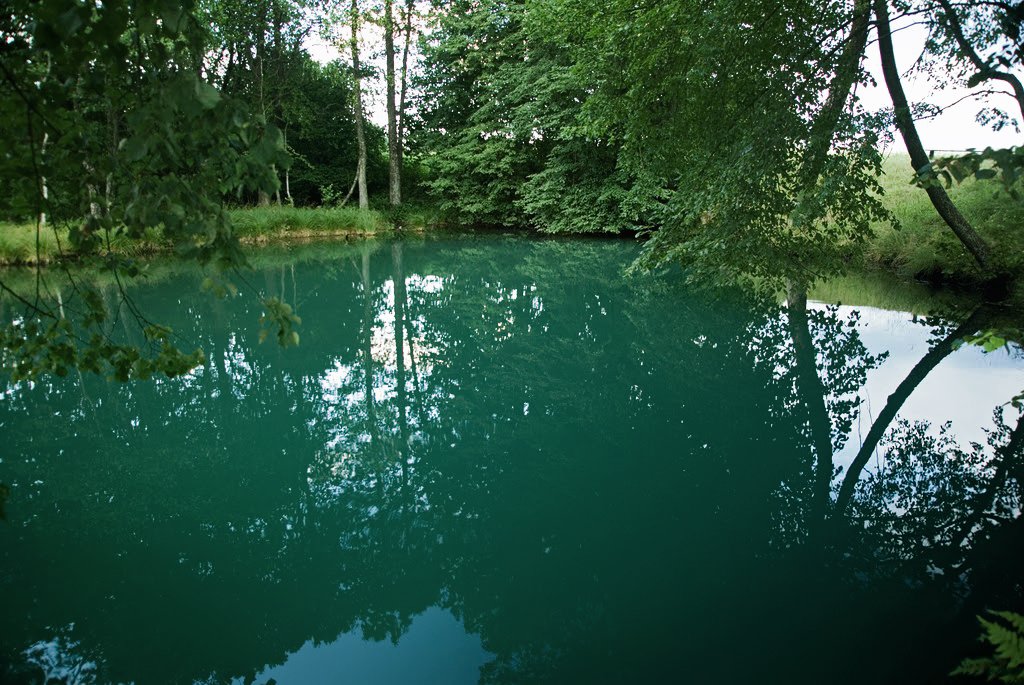 29. Halubaya Krynitsa (Blue Spring)

Slauharad
Unknown but really cool belarusian sight is the biggest spring in Eastern Europe. Take a six litres bottle and go get some healing water. You can even take three dips, but be ready to clatter with the teeth all day long, because the water is freezing even in July. The water is emerald, it's very picturesque, but there are always lots of those wishing to receive communion. On ortodox holidays it's always crowded, so we strongly recommend checking the calendar in advance. By the way, the legend reads that in ancient times the water column was of a human height.
How to get? It's 8 km to the south-east from Slauharad.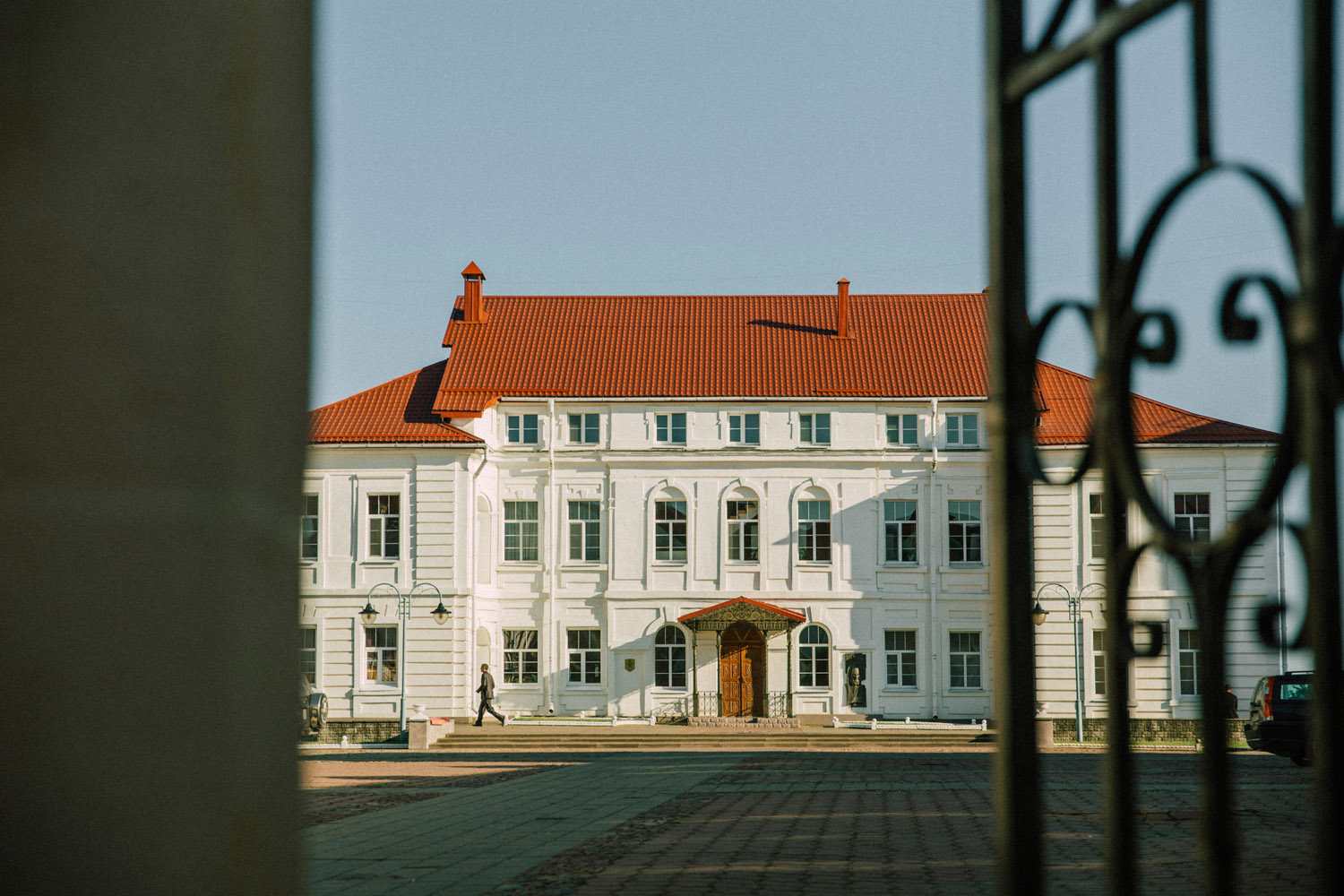 30. Lenin Street, Mahiliou

Mahiliou
Once you walk down pedestrian precinct you fall in love with Mahiliou. This street contains two castles of the 17th and the 18th century, museum of Belarusian artist Byalynitsky-Birulya Astrologer square, cinema, theatre, and Saint Stanislav Church where the main Belarusian church music festival is held. You can also find there the school where Otto Schmidt, mathematician and Arctic explorer, and Nikolai Sudzilovsky, first Hawaii president, studied (however it's a shopping mall now). There is a reconstructed town hall on the other end of the street. You should go!
How to get? It takes 2.5 hours to go to Mahiliou from Minsk by minibus and around 4 hours by train.

VITIEBSK REGION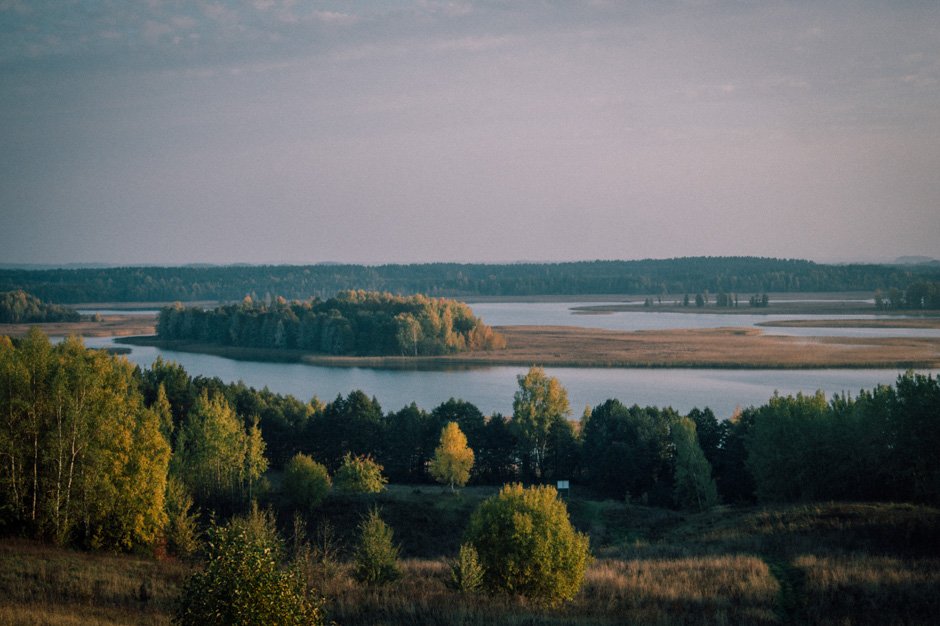 31. Braslau Lakes
Braslau is a huge national park that contains 60 lakes, big forestland and swamps, and hundreds of animal and plant species. Take a bike and make a trip around villages and churches to feel like a Discovery character. It's a good idea to go camping; a national park has 47 encampments for recreation without environmental damage. If you want fishing, you can find free or paid place here; just take a fishing rod, turn out a phone, and enjoy the nature.
How to get? Don't worry and take a minibus, it takes only 3 hours.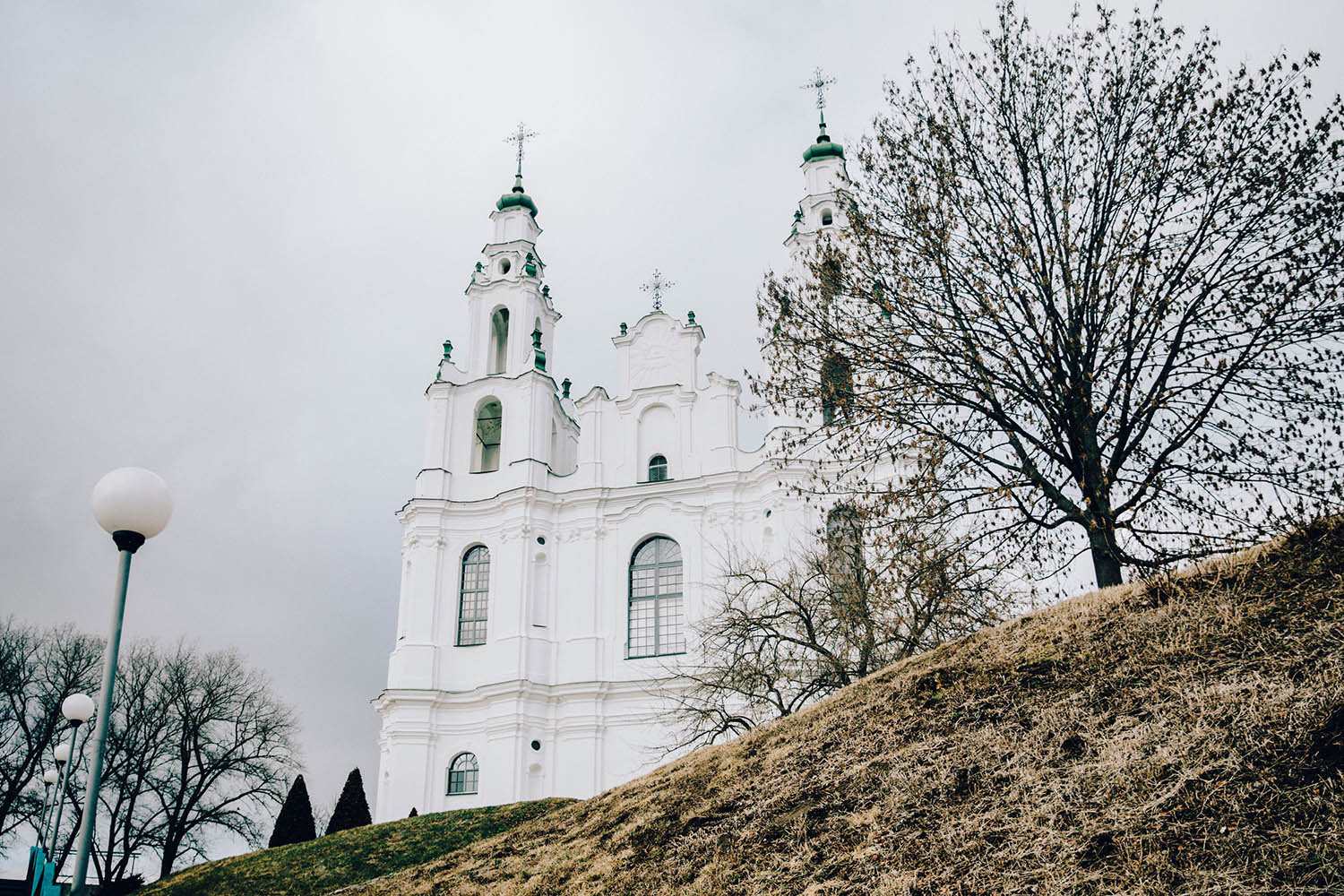 32. Saint Sophia Cathedral
Polatsk, 1, Zamkavaya vulica
It's the first brick cathedral in Belarus built in the 11th century by Usyaslau the Sorcerer, the main character of all Belarusian legends. It was as important as Saint Sophia Cathedral in Kiev and Novgorod that time. However, the cathedral was reconstructed three times. The cathedral was being destroyed by fire and invaders before it was completely destroyed during the Great Northern War by Russian troops in the 18th century.
Architect Glaubitz reconstructed the cathedral; interior was made by the Swiss from Italian speaking canton. There is Ragvalod´s stone of the 12th century with Christian cross where locals go to pray. You should definitely listen to organ in Saint Sophia Cathedral!
How to get? You can go by train for €4-10 or by minibus for € 3.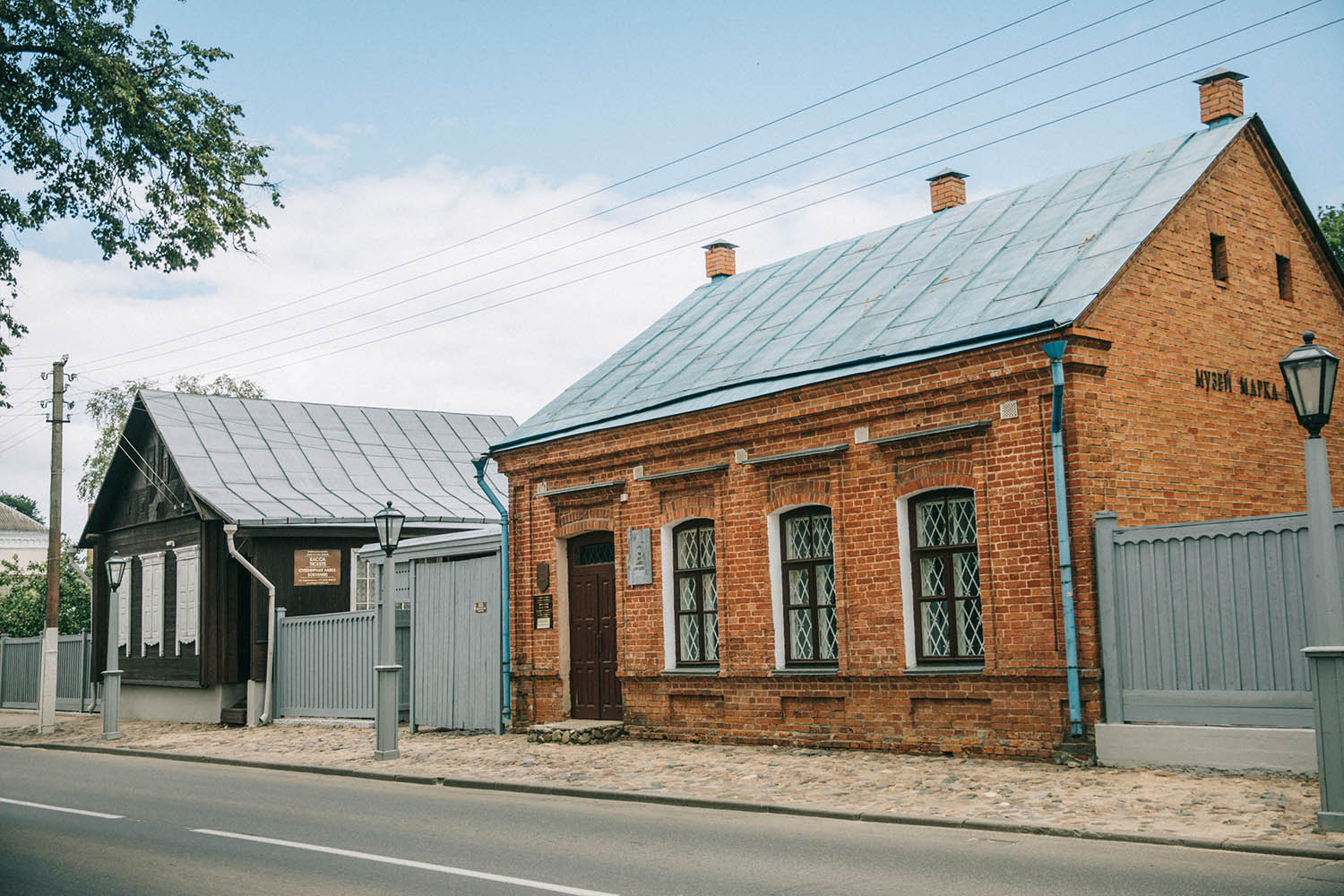 33. Marc Chagall House Museum
Vitiebsk, 11, Pakrouskaya vulica
Walk down the street where Marc Chagall was born. There are few family things but you definitely can feel the atmosphere of Vitiebsk of the 19th century. The son of poor fish shop stevedore left Vitiebsk at 20 but drew those houses during 77 years. Even Grand Opéra's plafond in Paris has a perspective of Pakrouskaya vulica. However, the museum has only one Chagall's work, the guides seem to be in love with what they do and you can imagine everything. Go also to the second unit of the museum, an art center with a good view on the river.
How to get? There are lots of options: from Minsk you can take a train for € 6.2 (check the timetable here), a bus, which leaves from the Central Bus Station or a minibus (€ 4-6) .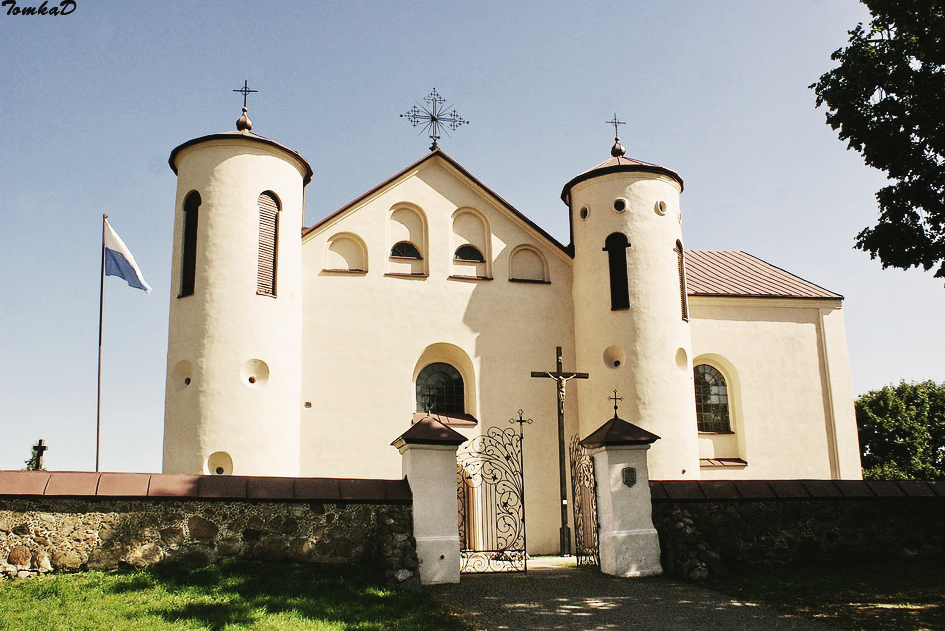 34. St. John Baptist Church
Pastavy district, Kamai village, 1, Haharyna vulica
It's the only church in Belarus that has never been closed for 400 years of its existence. The building dates back to XVII century and is an example of Belarusian-style defensive Gothic, with massive walls and loopholes. The paintings inside belong to the brush of Alfred Romer, an aristocrat who enjoyed portraying peasants and painting churches.
How to get? You can get to Pastavy by bus, but then you'd have to try hitch-hike if you don't have a car.

VETLIVA is a guide to Belarus where all the sights, tours, health camps and farmhouse guest rooms are collected. You can book a tour right on the website. Sincerely recommended!

Text by Nasta Eroha, translated by Alexandra Murashko & Anastasia Ryzhankova
Photo by palasatka, Tanya Kapitonova, Rodion Kovenkin, firairo, way.by, sportintour.by, murmurash
ООО «Концептуальная реклама»
УНП ‎‎490499796