5 Belarusian Towns Perfect for Weekend Getaway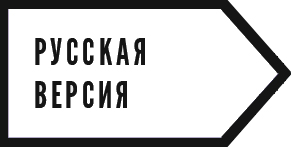 Belarus is getting more hospitable every day: it softens visa restrictions, introduces visa-free tours to some locations, that is to say does its best to attract foreign travellers. So we decided to make up a list of Belarusian towns that are totally worth visiting. Get the tickets and discover ancient architecture, perfect toponomy or even misterious magical places. Let's
go!
Maladziechna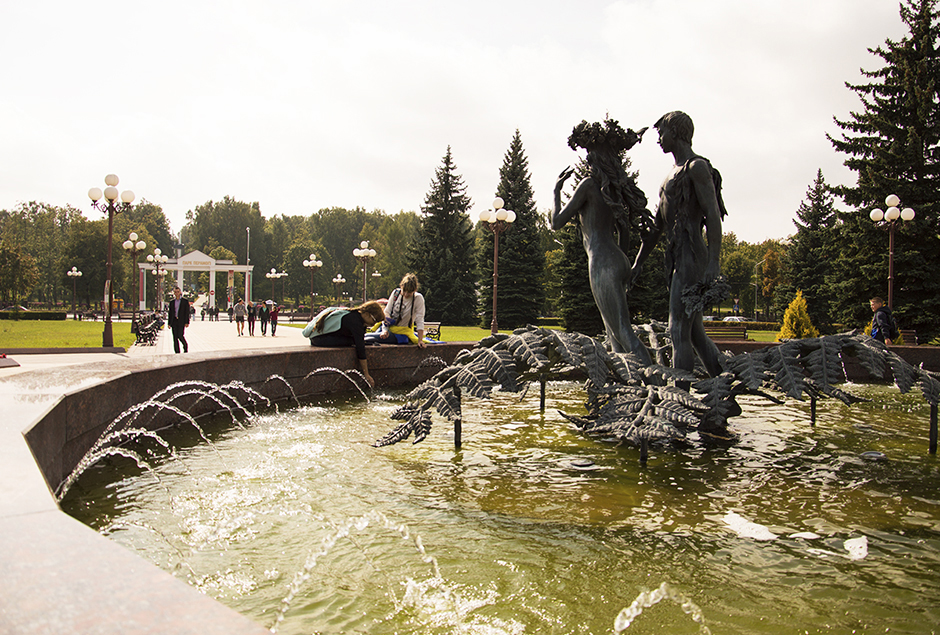 It is the town that locals believe to be eternal. It will take you just an hour and a half to get there from Minsk. It has that strong belarusian spirit you'll definetly feel once you are here. For example, in the early 90s Maladziechna looked like a typical belarusian town with Lenin Avenue or Soviet, Komsomol, Any-sovietic-hero-name streets. A few years later street signs were replaced with the authentic historical ones, so as to now you could walk along the Old Place, Vilenskaya or Vol'naya Street and find out why the streets are named after Ignat Buinitski, Yazep Drazdovich, Yazep Lyosik, Kanstantsin Astrozhski, Uladzislau Galubok and other good guys. By the way, Communist Alley wasn't renamed. That was a those times authority's joke: they wanted to show that it led to the dead end.
In 2011 Maladziechna was honoured to host the celebration of Dozhynki, a traditional harvest festival celebrated every year in one of belarusian towns, for which it means not just a party, but great reconstruction and infrastructure improvement. So the city center was renovated, the park got a real lake with a fountain, all this together with the Scandinavian style amphitheater looks very cool. A walk among the pines feels nice even in winter. There are attractions to see at the central square too: at first, a sculpture Paparats-Kvetka by Zhbanov at the center of the fountain that was accused of excessive nudity, secondly, a huge colonnade building of the polytechical college right behind the monumet to Lenin. The monument, by the way, also was supposed to be pulled down, but it turned out to be a sculpture by Azgur, a famous Sovietic artist whose works are protected by law. Other places to see are the district by the railway station (Velikiy Gostinets Street, on weekends you may be lucky to find a real pet market here), the concentration camp Shtalag-342, Masherov Street, the Protection of the Blessed Virgin Church (Staroye mesto Square).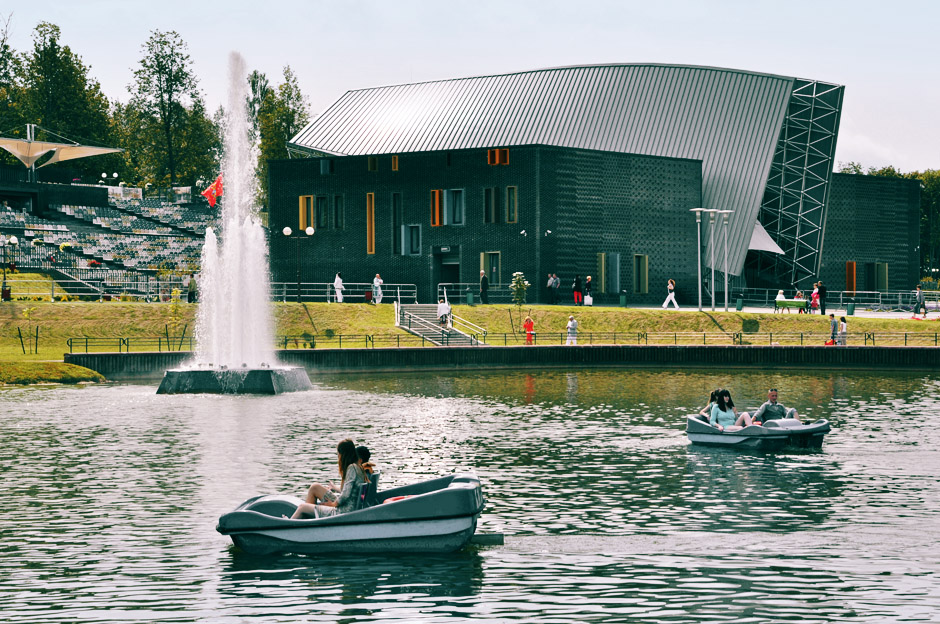 Where to eat? Once you are hungry, drop by Bierloga (72, Velikiy Gostinets St). It's a bar with excellent belarusian food at reasonable prices – draniki, babka, meat and yushka, their specialty. While you are enjoying your delicious soup, lots of stuffed animals or birds fixed on the walls will keep an eye on you, and so will the locals who flow in here to take a morning nip every weekend.
There's a sports bar Nakat at Troika Mall (143, Velikiy Gostinets St, 4th floor) where you can have pizza and beer and play karaoke or billiards.
If you are in a mood that forces you to dance, visit the Red Bar (126, Volynets St, korpus 2). The people and music are pretty nice here.

Where to live? There is Molodechno Hotel right at the central square (3, Tsentral'naya Square). A single room will cost you € 20, a double is for € 27. The most beautiful view of the town included.
Recently there has been opened a nice Turli Inn near the town (village Turli, 2, Molodechenskaya St). If you are going by car, check it out: a single room is for € 17, and € 24 if you are a couple.

How to get? The easiest way to get there is the train from Minsk: it takes 50-90 minutes. You can also take a minibus from the Druzhnaya station. They leave every 30 minutes till 20.10 and cost a bit more than € 1.
Babrujsk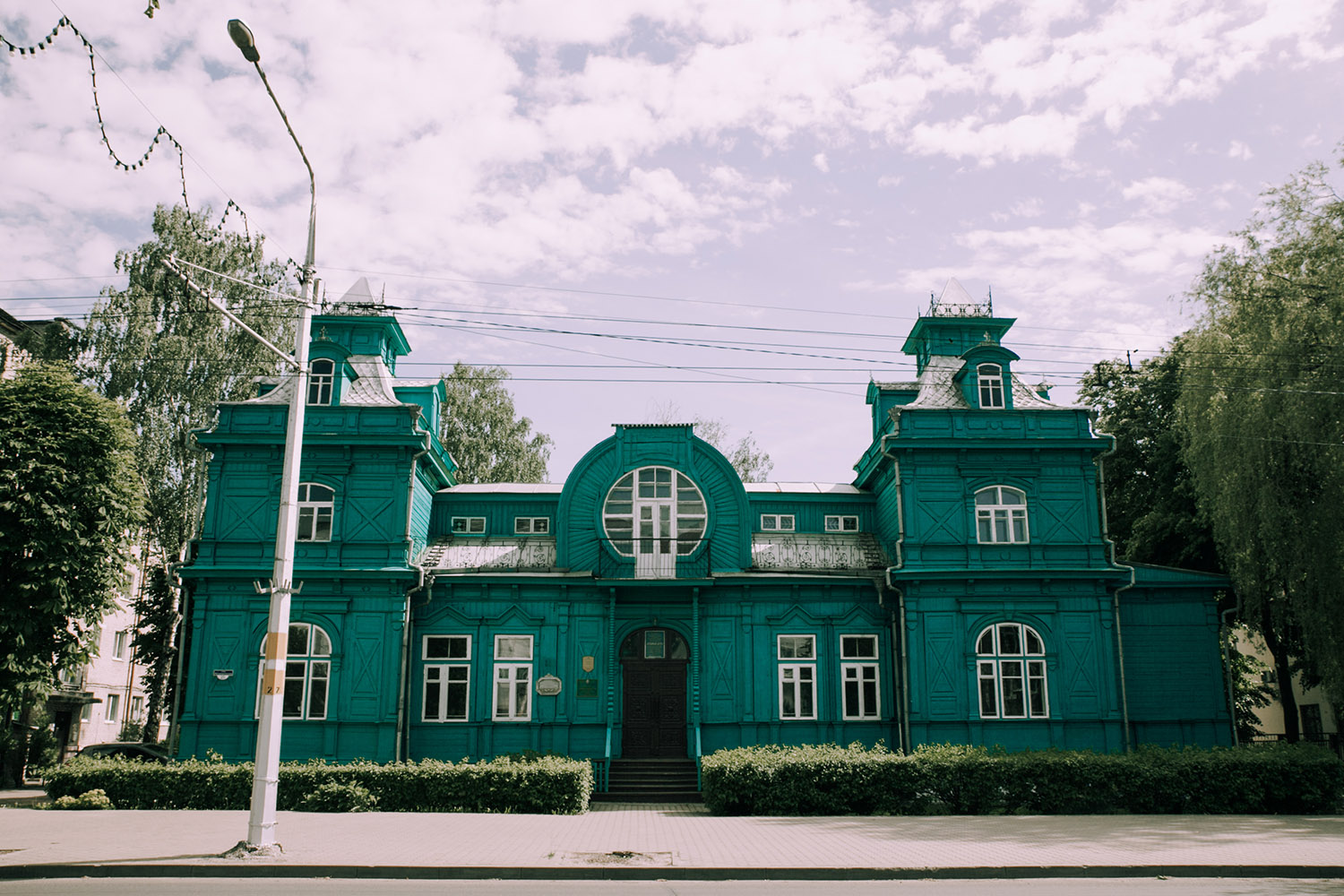 Babrujsk is the jewish capital of Belarus known as the town of 40 synagogues. It was mentioned in The Golden Calf and became a meme of 2000s. For example, in Babrujsk you can climb the huge fortress ruins for as long as you wish, walk around abandoned buildings where you're still likely to come across some WWII artefacts, see pretty cool modernist pieces (for instance, Katsnelson Mansion, Internatsionalnaya St). Another spot that's definetely worth visiting is the only Catholic cathedral in town (121, Oktyabrskaya St) built in 1912 in the neo gothic style. Unfortunately, in 1968 the cathedral suffered sovietic reconstruction: the tower was replaced with an administrative building. That weird tandem still exists, although the services are conducted in full blast.
The Jewish population of Babrujsk should be mentioned particularly. According to statistics of the year 1897, more than 70% of inhabitants were Jewish. Today the number is much lower, but you can still feel the atmosphere walking around the functional synagogue (36, Sotsialisticheskaya St) or have a look on the abandoned ones here, here, and here.
By the way, don't forget to count the beavers you see on your way (the word babry means beavers in Belarusian). That's fun.
The center of cultural life is 1387 space (97-2, Sovetskaya St). A modern spot to have a cup of tea, play table games or even visit poetic readings and acoustic concerts.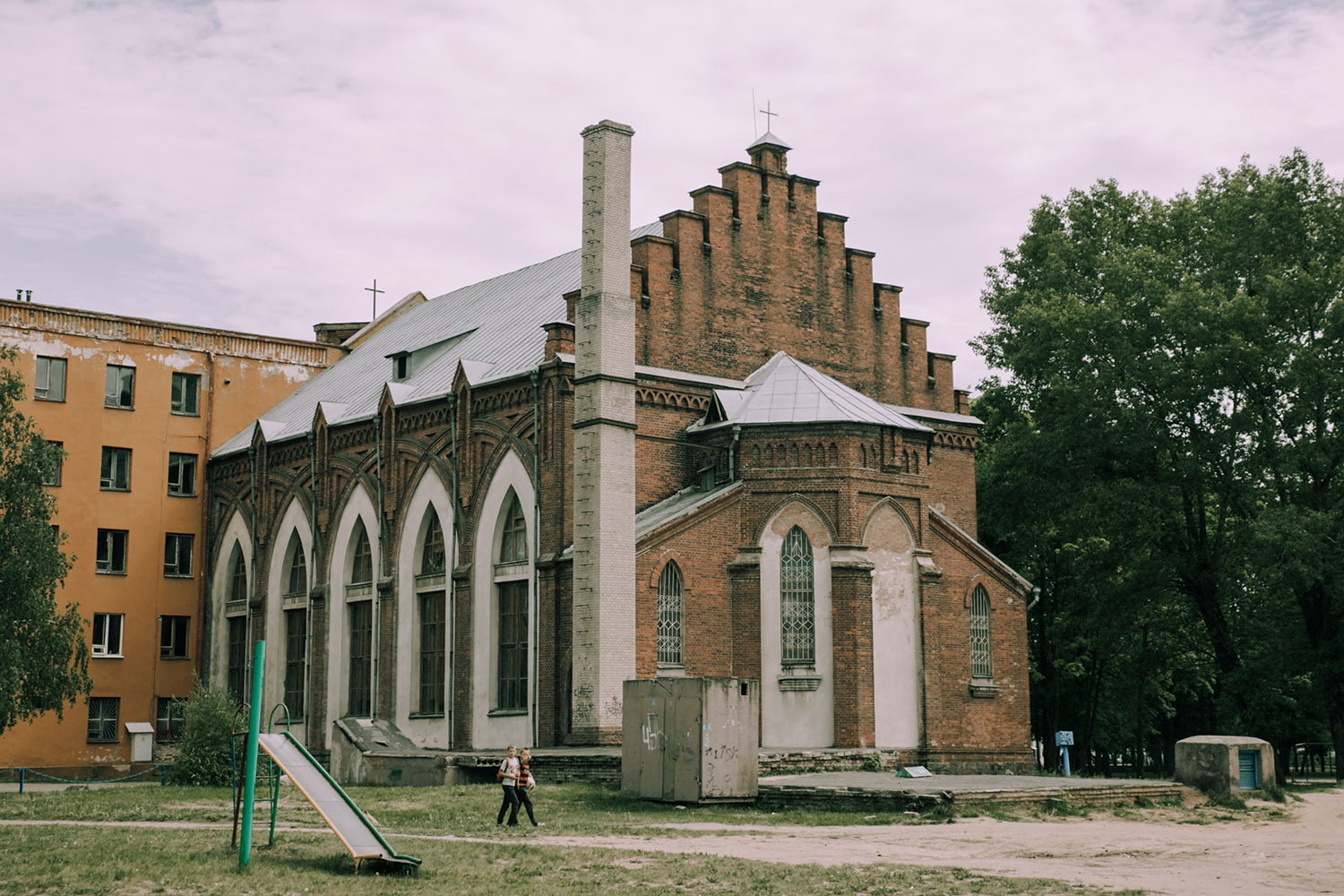 Where to eat? For a decent cup of coffee, go to Smile Coffee (39, Konsomol'skaya St).
You'll love the canteen Dunyasha (37, Chongarskaya St) for its huge portions of delicious food at very attractive prices.
The locals' favorite place is surely Chyrvonaya Vezha restraunt (194/19, Pushkina St) that belongs to governmental water service company (!). It occupies the old water tower and offers about 400 dishes, billiards, hookahs, a room with a transparent cealing…
If you need something more exquisite, check out cute l'histoire café (42, Moskovskaya St).

Where to stay? The Raduga Hotel (14, Shevchenko St), is a 10 room guest house. It's located a bit far from the city center, but the prices are fine (a single room is just for € 13 with breakfast included).
Those who come by car may be interested in Vishnevy Sad Hotel (Shchatkava village) – a pretty cool small hotel located at the former manor of Dunin-Martsinkyevich. A sauna, a pool and a beautiful river landscape will cost you € 25 for a double room.

How to get? It's as easy as pie: take the train form Minsk (there are lots of them every day). It will take you an hour and a half by the Stadler train and two hours by others. The ticket costs € 2.
If you prefer buses, you have a plenty of opportunities too. It's a two or two and a half hour ride for € 3 by bus or public taxi.
Hlybokaye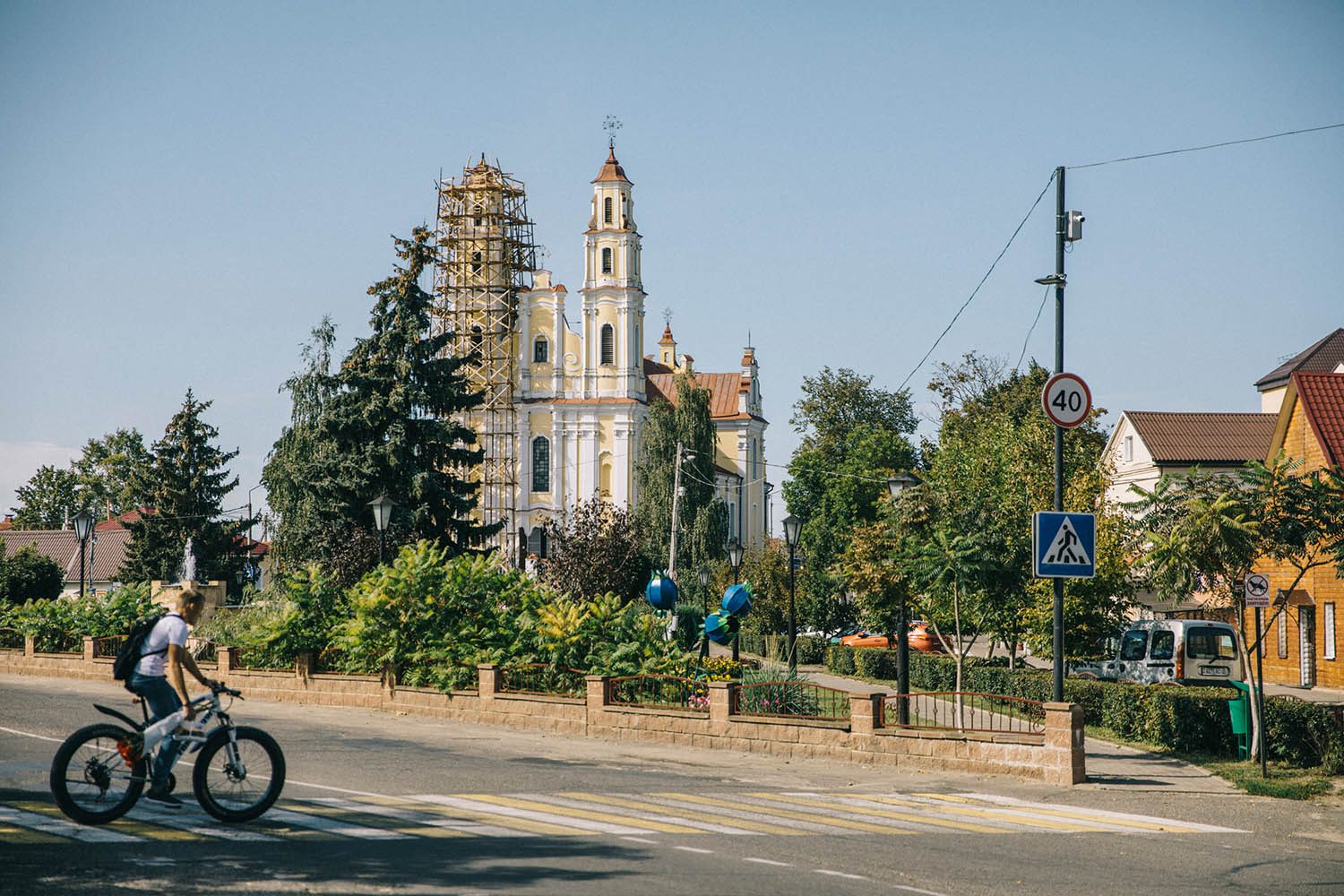 The smallest and probably the cutest town of our list. At least two well-known all over the country gastronomic treats are produced here: sugared cranberries (that we highly recommend to buy as a souvenir from Belarus) and legendary condensed milk. Also annual Cherry Festival, one of the sweetest local holidays, is celebrated right here.
To diabetes fighters' great joy, it is not the only thing the town may be proud of. Be ready to spend two or three hours walking around just some main attractions: 13th century Holy Trinity Cathedral, the unique Orthodox church of the Birth of the Virgin, Carmelites Abbey, and the ancient cemetery with the memorial column in honour of the 1791 Constitution.
There are lots of sculptures and monuments in Hlybokaye and the number is growing. The local community deserves applause for the central square reconstruction: in 2012 instead of traditional monumemt to Lenin there was created the Avenue of Famous Townsmen with 8 busts of outstanding people born here (among them Ignat Buinitski, the founder of belarusian theater, Vatslau Lastouski, a writer, scientist and politician, Yazep Drazdovich, whose art works you have to google right away, and other good guys).
We should also mention that there are five rivers and two lakes in the town and near it. You can relax by the lake Kagalnoye at the city center together with peaceful swans and ducks.
Make sure to visit the local botanical park created in 1960s. It's the second largest arboretum in Belarus where you can learn about 500 types of trees from five continents.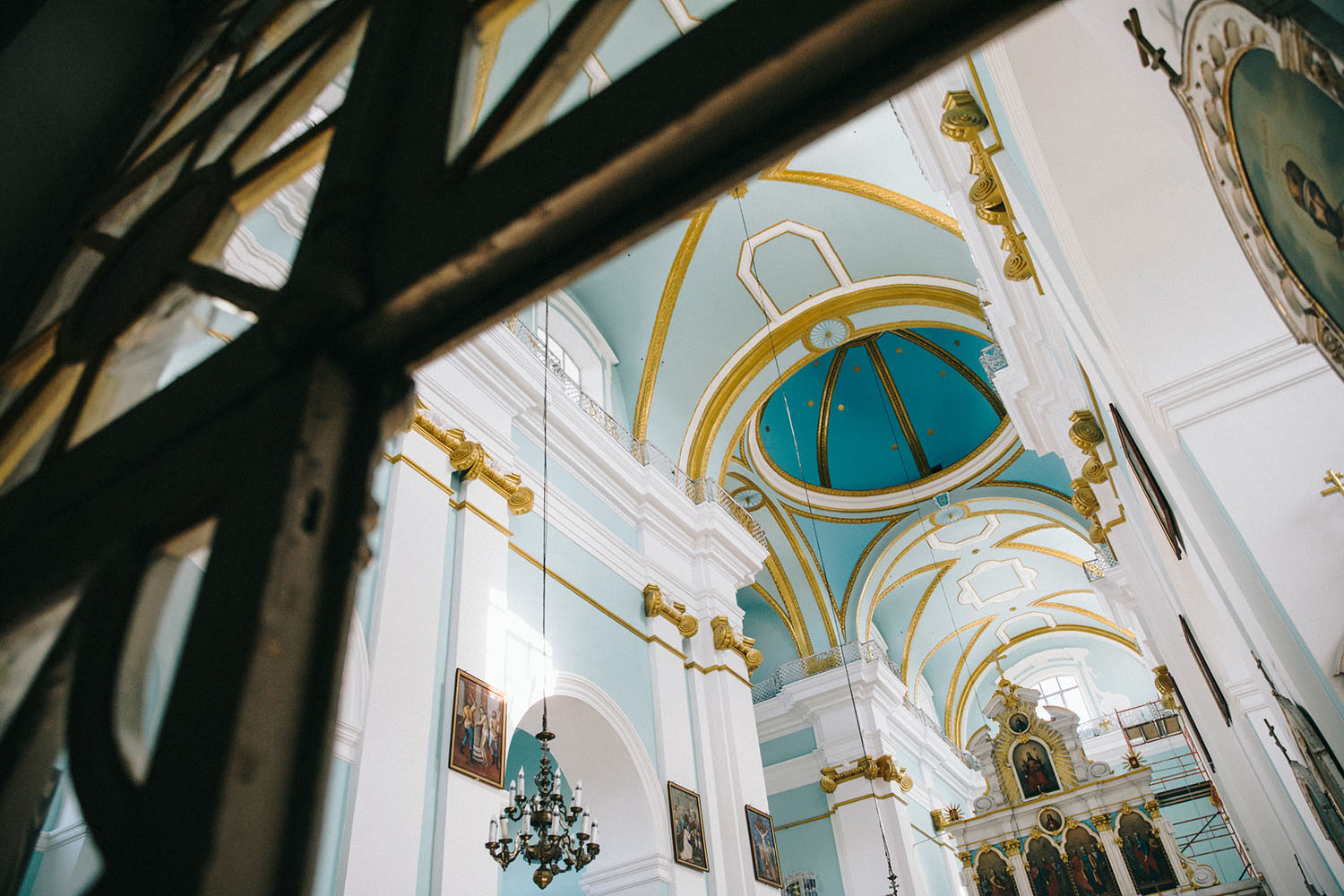 Where to eat? There's not a great variety available. We'd recommend Neon café (12, September 17th Square) – the main and, to be honest, the only place in town that is a restraunt and a night club at the same time. Locals also say that a place called Pizzeria (9, Lenina St) serves good pizza (unbelievable).

Where to stay? There are two nice hotels at your disposal: the hotel Glubokaye (7, Moskovskaya St), where you get a room for two for € 22 per night, and the mini-hotel Nord (60, Skoriny St) which is a bit more expensive, but really comfortable. There are some other variants available on Booking.com.

How to get? The best way to get there is surely by car. If you don't have one, rent it. There are also 6 buses a day from Minsk, the ticket costs about € 4. Check the timetable here.
Polatsk & Navapolatsk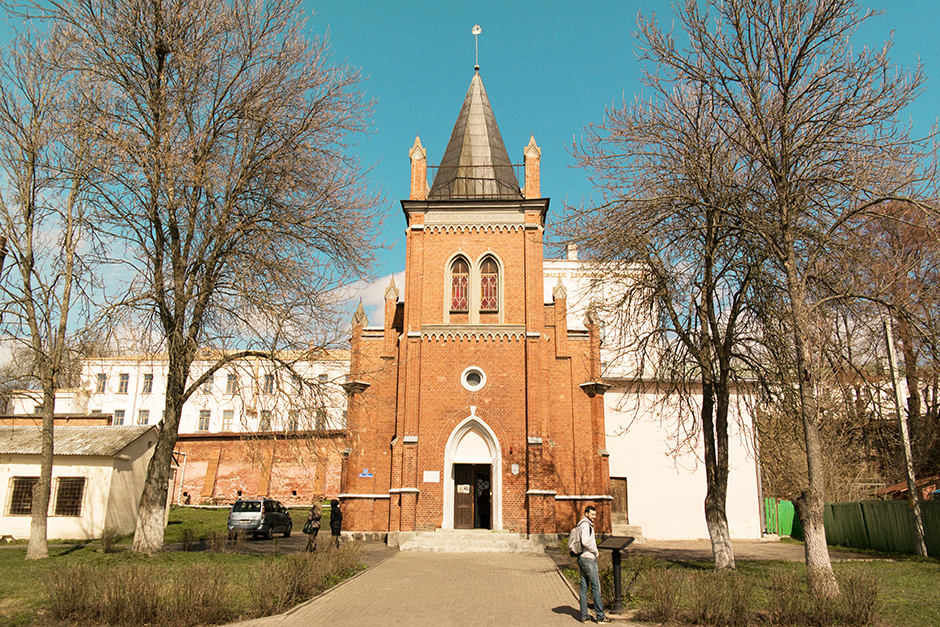 The perfect combo for time management enthusiasts – the oldest and one of the youngest Belarusian towns at one stroke. Well, not actually at one, they are 6 km away from each other. Buy you can travel back and forth by public transport.
Polatsk was founded in 862 and that is why it has an absolutely special energy. You'll feel it the moment you approach the magnificent Saint Sophia Cathedral built in the 11th century (1, Zamkovaya St). Stop at the cliff, think about some important stuff, touch the Borisov Stone and make a wish.
Make sure to visit the Convent of Saint Euphrosyne (89, Euphrosynii Polotskoy St) – one of the oldest in Belarus. If religion is not your main interest, go have a look on thigs much more earthy or even scientific – the monument to the letter Ў (it exists only in belarusian alphabet) and the geographical center of Europe. It's all at the Skoriny Avenue.
For art lovers there is something to do too. Visit the Art Gallery (4a, Streletskaya St) to see modern avantgard artists or original works by Yazep Drazdovich (you're already familiar with the name, if you're attentive enough).
You can take a thousand likes selfie in front of the Kosmos cinema (25, Molodyozhnaya St). There's a huge bas-relief dedicated to the first space flight.
If you want to stay here longer, spend the evening in Klyaksa Club (Navapolatsk, 152, Molodzyozhnaya St). They have so-called Student Thursdays that you can remember if you went on Erasmus.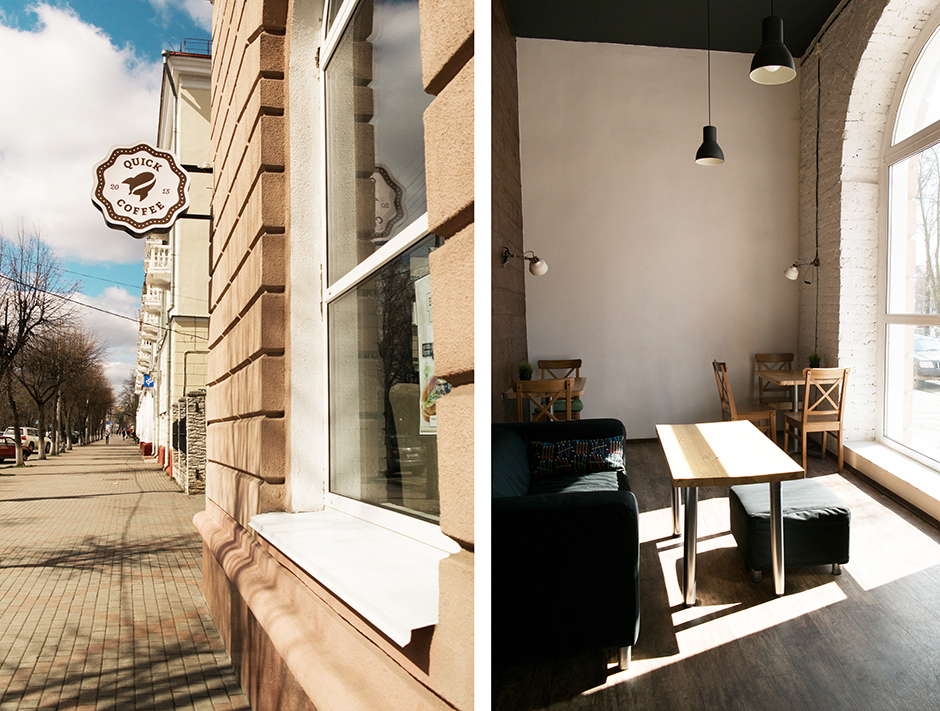 Where to eat? For example, at Quick Coffee. It's a cozy coffeehouse in the city center (13, Skoriny Avenue) where you can enjoy not only good espresso or latte, but also burgers, fresh rolls and a photo exhibition.
For something more serious, go to nextdoor Dominika (11, Skoriny Avenue). They have nice lunch menu and a great variety of beer and pizza. Talking about beer, Beerhouse is also waiting for you (4a, Druzhby St). Check out at least the interior!

Where to stay? You can doss down right next to the Convent of Saint Euphrosyne in the Sophia Hostel (20, Shmidta Alley). The prices are € 8/bed and € 18 for a double room. To warm up after a day in the belarusian north go to the local steam bath.
Another option is to test the new state hotel Parus at the Dzvina river bank. It's € 14 for a single room and € 24 for a double. The guests are inveted to work out at the hotel gym and then to relax in the sauna.

How to get? You surely can get here by train from Minsk (they run usually three or four times a day). Actually, it will be faster to go by minibus (€ 3 and 3 hours). Polatsk and Navapolatsk are connected by buses 5 and 10.
Pinsk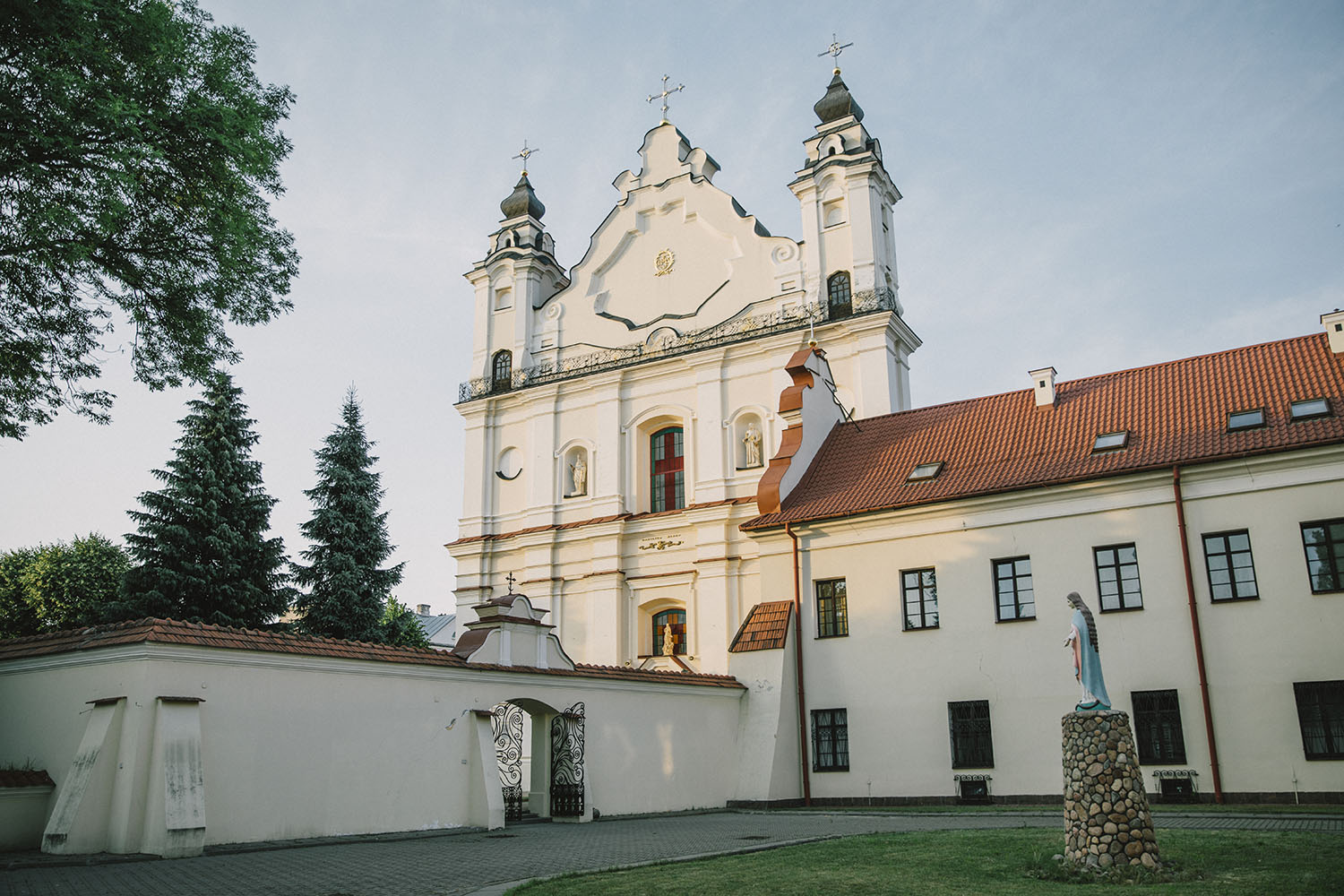 If you are looking for always good weather (summer begins here two weeks earlier than in Minsk), a powerful river, plenty of well-preserved cultural heritage examples, and a special calm and relaxed atmosphere, head for the Belarusian south. Your destination is Pinsk, the capital of Polesie region.
The main attraction of Pinsk is Jesuitic Collegium (1, Lenina Square) built in the 17th century as a super prestigious academy for talented students regardless of their prosperity and social status. Walk around the building, it looks so much different: like a fortress from one side and like an open book from the other. Now it is a pretty big Museum of Belarusian Polesie (a ticket is € 1), where you can observe lots of archeological findings, traditional costumes, a couple of paintings (e.g., Aivazovski and Pen) and even a 100 year old bicycle entirely made from wood.
Then go along a pedestrian Lenina Street till the cathedral and the Franciscan monastery (18, Lenina St). You can enter the cathedral and join the service or just see the famous Virgin or the oldest organ in Belarus. If you're lucky enough, nice locals volunteering there may even show you around. By the way, the coolest souvenirs are sold there.
Keep walking by Lenina Street till you see the building of the gumnasium that nurtured such prominent minds like the first president of Israel Chaim Weizmann and the Nobel prize winner Simon Kuznets, than House of Orda (38, Lenina St), Palace of Butrimovich (44, Lenina St) that was disfigured by restoration, but still is very pretty. Pass by the University of Polesie campus and relax at the park.
The most terrific place in town is 2.5 km long river front. Chill by the shore and meditate looking at the coming back and forth boats.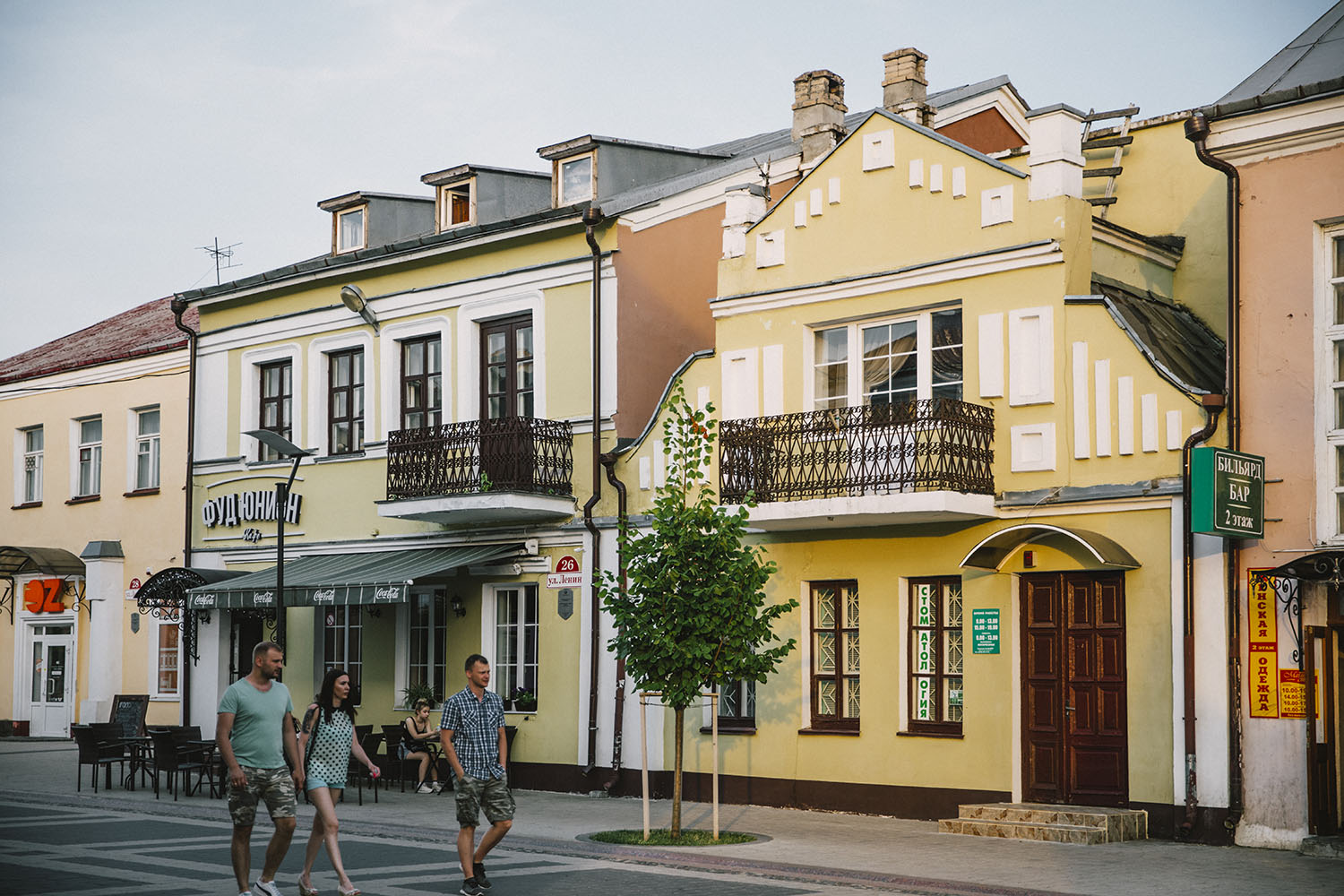 Where to eat? Frankly speaking, it's not the town's strongest point. We like Zolotoy Kolos (22, Lenina St) where you can have a cup of coffee with a homemade cake being surrounded by charming interior, grab a pancake or take a glass of mulled wine to go (which makes any city tour better). Here you can also get a souvenir for beloved ones: they make unique local Snickers. Speaking about uniqueness, it's the only place where you can taste Coffee a la Pinsk (with cucumber).
To have dinner you can step by Bona Sforza café (8, Pervomayskaya St). The menu has got main courses up to € 3.5, pizza up to € 6.5, wine, coffee, desserts.
Plan a visit to restraunt-club Frant for the evening to savour its coctail menu and cabaret show. It's located in a historical building at the river bank (33, Dneprovskoy Flotilii St).

Where to stay? Pripyat Hotel (31, Dneprovskoy Flotilii St) is a good option to live in the hostoric center. Secured parking, fast wi-fi, fine rooms. It's € 18 for a single room and € 21 for a double.
Volna Hotel (48, Irkutsko-Pinskoy Divizii St) belongs to sports complex and always full of hockey players. Book a room from € 10 for one bed. If you are not scared.

How to get? Needless to say, the simpliest way is by car. It's a three hour road trip from Minsk (well, now you see that Belarus is not so small). You can also take a minibus (about € 3) or train (check the timetable here).
Text by Nasta Eroha
Photo by palasatka, Tanya Kapitonova, maxim-nm.livejournal.com, tctroyka.by