Minsk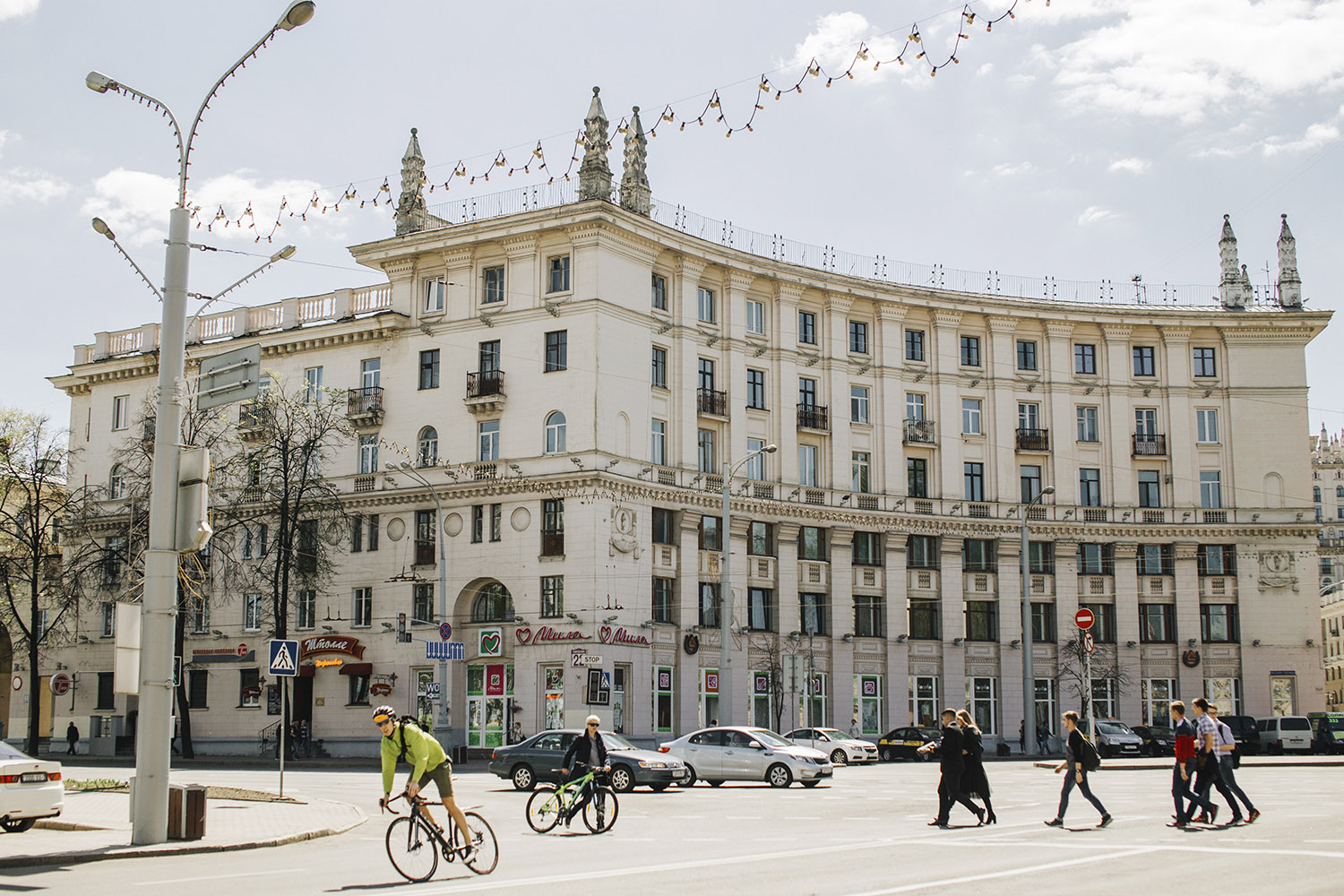 * The prices indicated are for information purposes only, and may differ from the actual ones. For your convenience the prices are converted into euros. At the moment of publication (08.01.2019) € 1 was worth BYN 2,4.


The giant Minsk National Airport is 25 miles (40 km) away from the city. You can reach it by bus or by shuttle bus that runs every 20-30 minutes and arrives at the Central Bus Station. The ticket costs almost € 2. Check the schedule at ticketbus.by. The trip takes about an hour.
If you need to get to the city as fast as possible, but don't really want to take the trouble of currency exchange, use Uber or Yandex.Taxi (they have recently merged), IQ Taxi, Taxi Gorod and NextApp.
If you decide to catch a regular taxi, don't forget to haggle. Official airport transfer will cost about € 15-20.
Minsk Railway Station and Central Bus Station are located next to the Plošcha Lienina subway station. In general, the subway is the most convenient and cheap way to travel around the city. The Minsk subway has only two lines (the third one is under construction), but nearly everything of importance can be reached by foot from one of the stations.
One subway trip costs € 0.26 (BYN 0,65), which pleases the hearts of European visitors. If you are visiting Minsk for even 3-4 days, we recommend you to get a pass for 10, 20, or 30 trips (the more trips, the cheaper). There are also passes to all means of public transport (you can buy them at the metro kiosks; double-check when you get there). Entering the subway, you can also pay by your card with Paypass. The complete guide to Minsk subway system is here. You can look up the public transportation schedule at the Minsktrans website, the subway map is here. Remember that subway is a bit more expensive than other means of transport: it means that you can't use a subway pass in a bus. Find more information on public transport here.

If you would like to rent a car, use the rentalcars.com. It gathers offers from most companies in one place. You may expect to pay € 45-50 a day or € 90-110 for three days. It makes sense to rent a car if you are planning to go outside the city (check out the Nearby section of this guide). In addition, not so long ago, several car-sharing services started working here: Anytime (these guys have the largest fleet of cars), Hello and Vezuha.
If this is your first time in Minsk and you'd like to be shown around, take a bus tour on a beautiful London-style bus. Truly enough, a ticket costs € 15, so you might be better off on foot (for example, with our audioguides).

Even though Minsk is not the most bike-friendly city in the world, during summer season you still can discover a couple of nice parks and go to distant from the central area by one of the city bicycle paths. Download Kolobike app: it's a cheap bike-sharing system (30 minutes for € 0.4). The process is simple: you see the yellow bicycle on the street, you scan a QR code on it, you ride, you pay by card. There are also several bike rental spots (€ 5-7 per day) around the city
This summer, Minsk was hit by a wave of popularity of nimble electric scooters. If you want to drive one, download the same Kolobike or Eleven (this service is slightly more expensive).
Once you are tired of riding around Minsk, here you can buy train tickets to other parts of Belarus.
The Central Bus Station (6, vulica Babrujskaja) is located right next to the Railway Station next to Galileo Mall. National bus routes and their schedule are here.
All the information on transport in Belarus is here.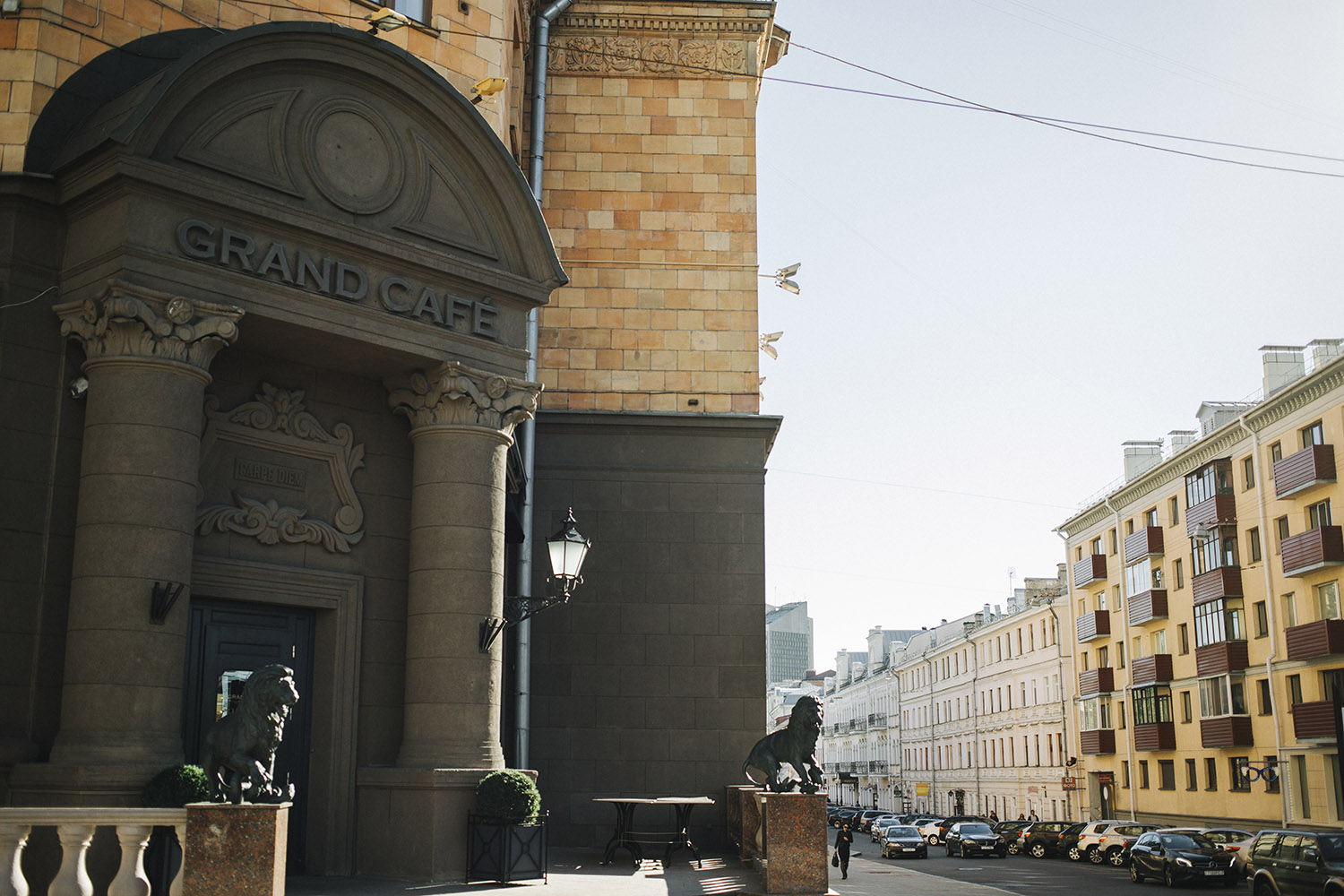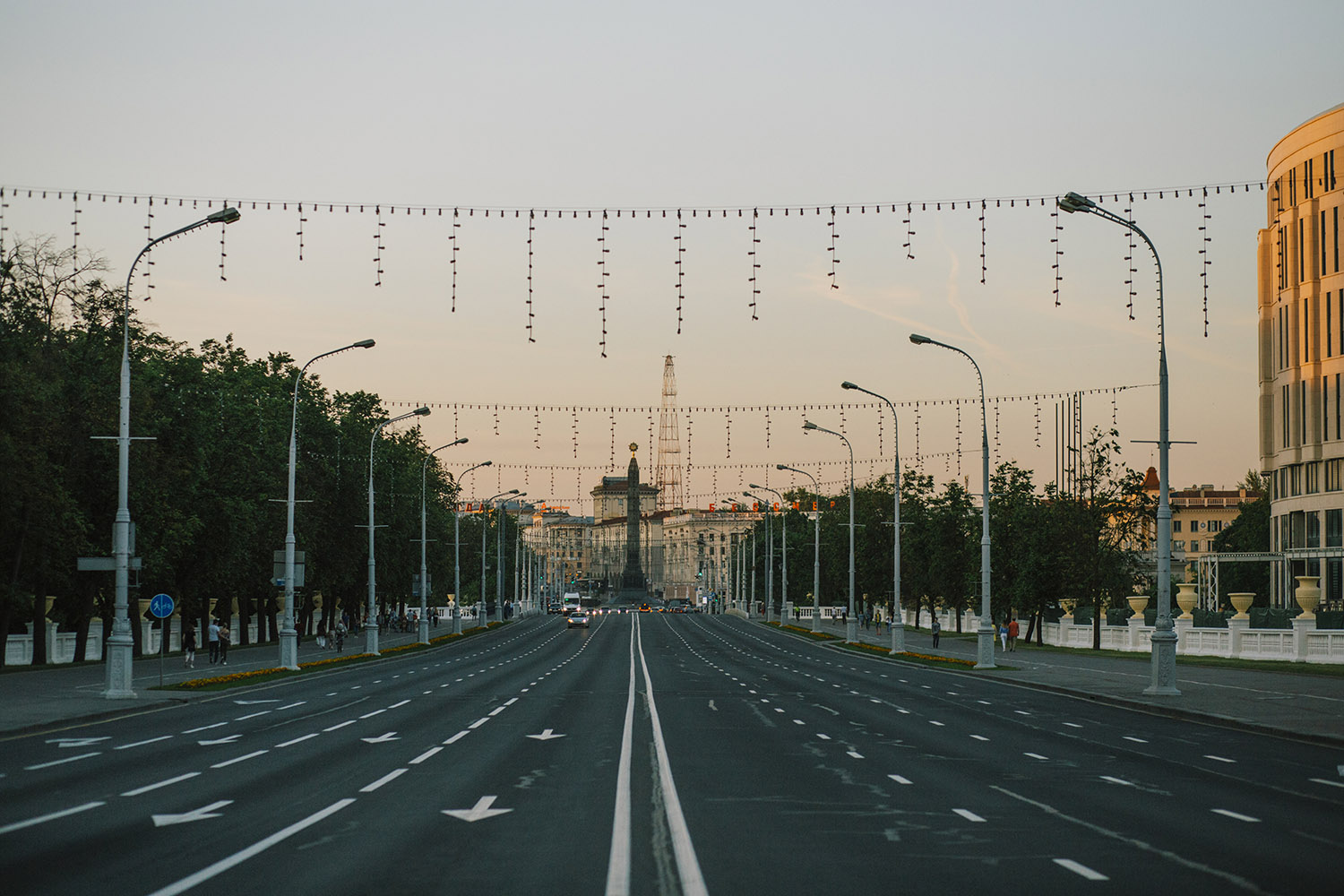 If you wish to be polite remember one simple thing: it's Belarus, not Belorussia or Whiterussia. Got that? That's it, now you're one of the guys (or gals) and can enjoy the city.

Do not be surprised if you see the word Mensk from time to time. This is not a typo but the old name of the city and some people (we, for example) still use the name.

You can exchange currency at numerous currency exchange offices (if you are buying Belarus rubles, you do not need a passport), the local banks do not use any special secrets, commissions, or other cheating techniques and the exchange rate might vary, but not by much. There are twenty-four-hour exchange offices at the train station (3, Pryvakzajnaja Plošcha) and in the Minsk hotel (11/1, praspiekt Niezaliеžnasci), for example.

Until quite recently, you could only buy alcohol in Minsk until 10 p.m., but this rule was revoked before the latest presidential election. Bear in mind, though, that there are not that many twenty-four-hour stores in the capital, most close at 11 p.m. Few exceptions are Korona Zamok Mall (65, praspiekt Pieramožcaŭ) and Sosiedi Store (15, vulica Viery Charužaj) that are open till 2 a.m, Rublyovskiy (117, praspiekt Niezaliеžnasci) and Sosiedi Store at the Riga Mall (50, vulica Surhanava) that work 24/7.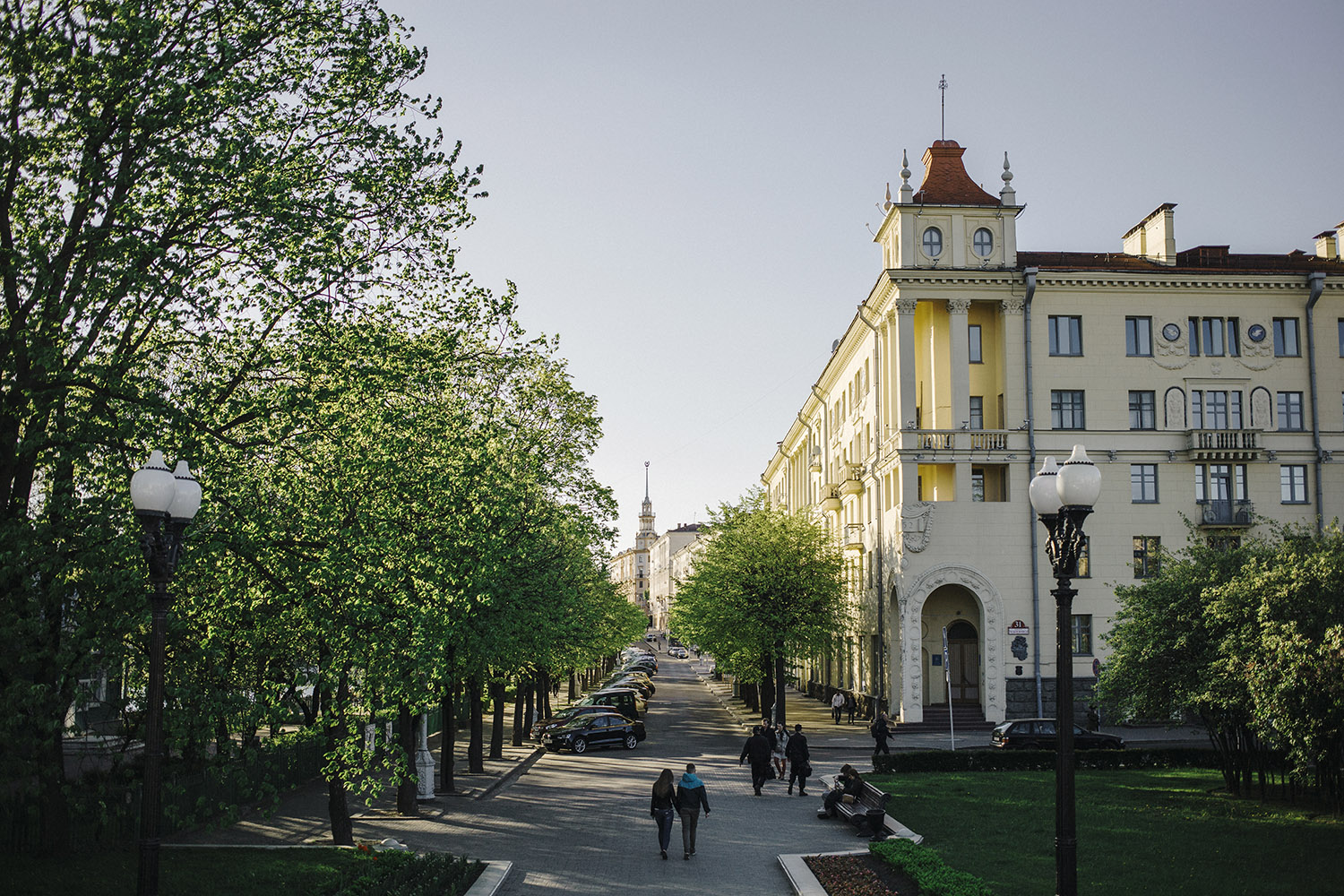 A lot of brand new hotels and hostels have been opened in Minsk recently, but it's still more cost-efficient to rent an apartment. The prices for decent options start from € 30, check here and here. Airbnb is also a good variant, the prices are pretty much the same.

Trinity & Riverside Hostels (12/14, vulica Staravilenskaja). These are two small but cozy hostels by the same company in the historic part of the city. Bed prices start at € 8 in a 6-bed room. A room for two will cost € 23 (two separate beds) and € 27 (double bed). They have recently added nice breakfasts for only € 1.8. Note that the hostels share a single reception desk located at 12 Staravilenskaja vulica. Here you´ll find a cool printed map with discount coupons.

Flatcom (2/1, vulica Prytyckaha). The capsule hostel is close to the Puškinskaja subway station. There are three rooms: for 10 people and for 6 people. The prices start from € 7.

BonHotel (2, vulica Prytyckaha). This is a comfortable 3-star hotel close to the Puškinskaja subway station (three stops from downtown). Rooms start at € 45. There is free parking and their own bistro on the first floor. If you decide to hit the sack at this hotel, it will be a shame not to visit the nearby Spoon Restaurant (10a, vulica Biruzova).

Hotel Monastyrski (6, vulica Kiryly i Miafodzija). Do you want to pray for your sins? This hotel was built on the site of a former monastery in the very heart of the city, next to the main temple of the country – the Holy Spirit Cathedral. However, you will have to pay a bit more for the holy site: despite its modest 3 stars, it costs nearly € 92 per night for a double room.

As long as we are hitting the high spots, let us draw your attention to three more 5-star hotels: Renaissance Minsk Hotel (1e, praspiekt Dziaržynskaha) and Beijing Hotel Minsk (36, vulica Čyrvonaarmiejskaja). The latter is located on a quiet street in a riverside park and is very close to downtown. Prices start at € 130 (without discounts or special offers). Another new hotel – Mariott (20, praspiekt Pieramožcaŭ) stands right on the river bank. A single room starts at € 122.

There are two Hilton Hotels in Minsk: Hampton by Hilton (8, vulica Taŭstoha, from € 70 per room) located by the railway station and more luxurious DoubleTree by Hilton (9, praspiekt Pieramožcaŭ, from € 130 per room).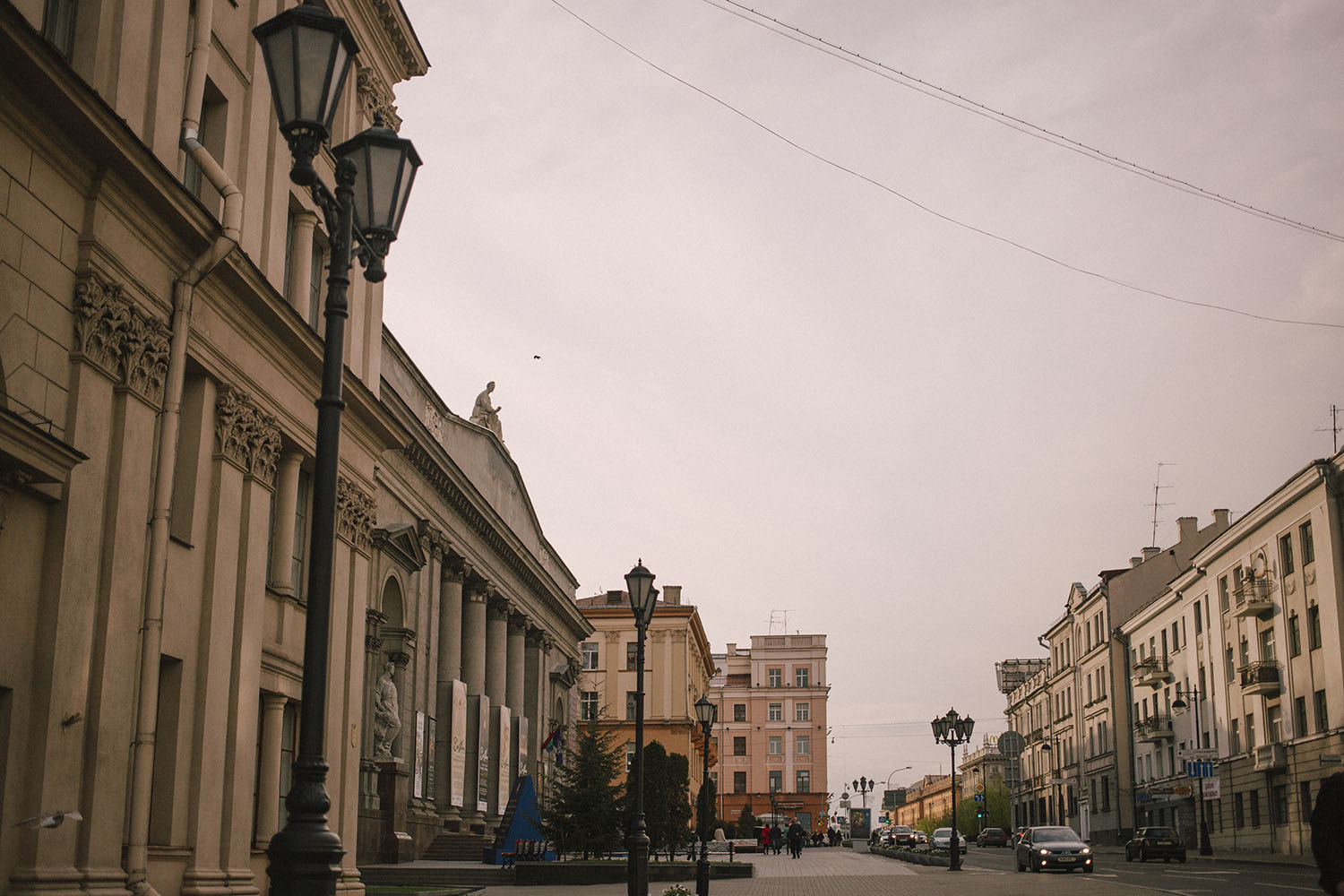 Tourist Classics
Begin your acquaintance with Minsk at Praspiekt Niezaležnasci (former Francysk Skarina Avenue, former Lenina Avenue, former Stalina Avenue), a 15-kilometer thoroughfare that cuts the city in half. Most of the classic Minsk attractions are located either on the Avenue itself or close to it. In fact, the Avenue itself is also a landmark and a unique sample of the Stalin Empire style. The artist and writer Artur Klinau has come up with the term "Sun City" to describe this part of Minsk as the main artery of the Big Communist Dream. The route of Bus No. 100, also one of Minsk's icons, by the way, goes along the Avenue. Note the corner house number 31 (on the banks of Svislach near Plošcha Pieramohi) – this is where the legendary murderer of John Kennedy, Lee Harvey Oswald, lived in the early 60's.
Plošča Niezaležnasci. You can start your tour at the Lenin monument, of which, for some reason, you are not allowed to take pictures. The monument faces the main building of the Belarusian State University with its back to the Government House, on the steps of which all the key events of December 19, 2010 took place. Government House was built back in the 1930s by Iosif Langbard, whose style still defines the appearance of present-day Minsk. His works also include the Officers Club, the Academy of Sciences, the Opera and Ballet Theatre, and the Pobeda Cinema. In a good Belarus tradition the Red Church of Saints Simon and Helena, built in 1910, is just a step away from the Lenin monument. Behind the church hides a small building that houses the Museum of the Belarusian Cinema History (4, vulica Sviardlova).
The National Library of Belarus (116, praspiekt Niezaležnasci). This is the rhombicuboctahedron that has become one of the most controversial symbols of present-day Minsk. It was built quickly in the early 2000s; the entire country pitched in, sometimes on a willy-nilly basis. It has a view point and Book Museum tours as tourist attractions.
Vierchni Horad (Upper Town). This is Minsk historic center where you can try to feel the spirit of the early 19th century city. This is where the Holy Spirit Cathedral is located. It is the most important Russian Orthodox church in the city built in 1633-1642. The Minsk Town Hall is on Plošcha Svabody. It was built in 1600 in honor of Minsk receiving the Magdeburg Rights and was restored in 2003 according to the old drafts and drawings. In summer, some streets of the Upper Town become pedestrian, in winter a Christmas fair appears here, in the evening on weekends you can catch a music performance.
Across the street from the Town Hall, squeezed in between Stalin-era houses is the Catholic Cathedral of Saint Virgin Mary built in 1700-1710 in the Vilna sacred baroque style. It is also known as the "Church of the Jesuits."
If you go down from Plošcha Pieramohi to vulica Niamiha, you will see another Minsk landmark – the Cathedral of Saint Apostles Peter and Paul (4, Rakaŭskaja vulica) built in 1612. Note that the building of the cathedral is actually facing the street sideways – you can well imagine the scale of re-building that went on in this area of Minsk in the 1970s. If you are interested in religious buildings and their legends, we've got a special article about the temples of Minsk.
Trinity Hill (Traeckaje Pradmescie) is the official tourist "piece of Old Minsk." In 15th – 19th centuries it was craftsmen and merchants who came to live here; nowadays, Trinity Hill houses offices, residential areas, restaurants, artist studios, as well as the Literary Museum of Maksim Bahdanovich. Next to this district is the Isle of Tears Monument – a memorial dedicated to the soldiers who died in Afghanistan. The view of Trinity Hill is glaringly spoiled by an "elite high-rise" built right behind it and popularly known as "Chizh House" (after the businessman who was behind its construction). You can view it as a monument of sorts to the epoch lacking common sense.
Opera and Ballet Theatre (1, plošcha Paryžskaj Kamuny). This is a memorial of the Soviet-era constructivism. Initially, the building was supposed to have four floors, however, in the course of construction the money abruptly ran out. Nevertheless, the building is still majestically impressive thanks to the ideal symmetry of the park, the statues on the pediment, and the abundance of marble and crystal inside. With tickets starting at € 2 it would be a shame to miss it. Although you should take care of the tickets in advance – they are gone pretty quickly for all classical productions. In the park by the Opera Theatre there is a statue of the poet Maksim Bahdanovič, which is moved from one spot to another with every reconstruction. Right now the poor guy has to look at the back of the Chizh House. Learn more about the history and legends of the theater in our podcast.
There is a large green belt around the Opera Theatre. Starting at the mysterious skvier Marata Kazieja (with a-must selfie next to the hero's statue) across the Yanka Kupala Park you can get to Gorky Park (Plošcha Pieramohi subway station). This is the central recreational area of Minsk with children's rides, a couple of simple cafés and the training center of the Hockey Club Yunost-Minsk (where even in the summer you can roll around in the snow that comes when they clean the ice in the rink). We advise that you take a ride or two on the Ferris Wheel; just make sure you pick the closed cabins – they are better for viewing the city.
Łošyca Riverside Park. This is the most inspired and romantic park in Minsk, the main recreation area for those who live in the Łošyca community. The central part of the park has been well repaired; it now features straight trails, cozy pavilions, and the Lyubanskiy estate. If you go further into the park, you can find apple orchards and the remains of a mill where, according to legend, a young pani hung herself for love. There are rumors that somewhere nearby is the site of drowning of the parts of the Stalin statue, which used to stand on Kastrychnickaja Square in the very heart of the capital in the early 1960's.
National Art Museum (20, vulica Lenina). This is the most prominent collection of art in Belarus. There is a large collection of classical Russian paintings, old Belarus icons, and Sarmatian portraits of the Radziwily family. The Socialist Realism collection here warrants a special mention. There is an exhibit of the Belarus classical artist Mai Dantsig, the author of the milestone painting "My Minsk".
Insights from Locals
Kastryčnickaja Street truly deserves to be mentioned. If you ask how the process of gentrification and revitalization is going on in Minsk, you can always point to the Kastryčnickaja's example – the former industrial street has in recent years become pretty much the most important exhibition-and-hang-out place in the city. This is where Huligan Bar, Depo crêpe house, snack-bars Laŭka and Ultrabar, and café Enzo work and where progressive advertising agencies, publishing houses, and IT companies have opened their offices. This is also the location of the yoga studio and fitness center Moby Dick. The former plant's walls are decorated with the murals left over after the Vulica Brazil street-art festival. The most important things happen here at night in the warm time of the year – in the street, of course. Fridays and Saturdays are a time for fun and chaotic parties when several thousands of people might be hanging out on a little patch of ground. Download the printable map of the street here.
OK16 (16, vulica Kastryčnickaja) is a cultural hub, where on the area of 1500 sq.m. there're performances, experimental music projects and huge parties. There's also Ruin Bar with the cocktails named according to the building's industrial past: "Sex in the workshop" or "From bell to bell". Look for more points of alternative culture in Minsk in a separate guide.
Ў Gallery (19, vulica Kastryčnickaja) is a gallery of contemporary art which lets you feel the vibe of modern Belarusian (not only) artists, photographers, and performers.
Cultural Center Korpus (9, praspiekt Mašerava). Educational programs, workshops, exhibitions, concerts, parties – you can enjoy all this in the old industrial building that has been transformed into the cool cultural center by BoPromo team.
Art Belarus Gallery (3, vulica Kazlova) was opened in April 2017 at the Minsk Palace of Art by Belgazprombank. The collection is small but pretty cool: Marc Chagall, Chaim Soutine, Léon Bakst, Valenty Vańkovič, Ossip Zadkine, etc. Here you'll see the most expensive painting in Belarus (learn which one it is during the tour). The ticket costs € 2.4. By the way, the gallery has wi-fi and comfortable chairs to relax and post an Instagram story with Eva by Soutine.
Azgur Museum and Studio (8, vulica Zaira Azhura). You will definitely enjoy the Azgur Museum. War heroes, communist idols, national writers – here you can get a feel for the entire 20th century through the prism of works of the key Belarus sculptor of that era. Zair Azgur was a prolific author (one of his most famous works is the sculptural ensemble at the Plošca Jakuba Kolasa in Minsk): the museum collection numbers 435 sculptures created between 1936 and 1992. We can bet that nowhere in the world is there such high concentration of Lenins and Stalins per square foot.
The neat little court of the Church of Holy Trinity (44а, praspiekt Niezaležnasci) also known as St. Roch Church is a secret island of peace fifty-five yards (fifty meters) away from Praspiekt Niezaliežnasci. It is always peaceful and quiet here and it is really nice to have some coffee here when it's sunny. The church itself is also noteworthy: there are often organ concerts here, for example.
You should also visit the Military Cemetery (11 vulica Kazlova). In addition to quite a few worthies buried here (Yanka Kupala, Yakub Kolas and Kuzma Chorny, to name a few), the beautiful Church of St. Alexander Nevsky, built in the late 19th century is also located here.
Park Čaluskincaŭ (praspiekt Niezaležnasci, Park Čaluskincaŭ metro station). It's a beautiful park with old pines built in 1928-1931. Turn off the main roads to walk quietly and get a blow of fresh air, feed squirrels and ride 30 year old merry-go-rounds ("Ładźja" is our favorite) or some modern ones, grab a spun sugar and feel as if you were a child again. Minsk Botanical Garden is right next to it. Everything about the parks of Minsk, we carefully collected in a separate issue of our podcast series.
If you're looking for more authentic atmosphere and soviet vibe, take the trouble to get to Park Piacidziesiacihoddzia Kastryčniku (The Park of the 50th October Revolution Anniversary). Vintage carrousel, dancing floor and Russian pop music – it's a true time machine.
The territory near water basin Drazdy is the best way to spend some time outside the city without actually leaving it. Here you'll find forest waterfalls, a red dike, field of wheat and a nice view to the big city. The easiest way to get there is to follow the bike path or turn to the water behind the Minsk Arena.
If you're willing to the cinema in Minsk, choose not a super modern Dolby movie theater, but authentic places with soul. For example, Centralny (13 praspiekt Niezaležnasci), the oldest cinema in Minsk, or cozy Raketa (3 zavułak Rabočy) with a small art-room and films in English. Make sure to see Pobeda cinema (20 vulica Internacyjanalnaja), even though it's under construction right now. You'll totally take some killer architecture shots (and it's pretty close to most bars and coffee houses – read about them in the following sections of our guide).
Minsk is not just about soviet Empire style of the central streets and concrete of bedroom suburbs. Check out Asmaloŭka district, for example. It's a neighborhood of two- or three-floor houses behind the Opera Theater, which was built in the 1940s and is threatened to be demolished during recent years. Green backyards clothes drying on a line, street art – it's probably the quietest and relaxed spot in the city center. Another contemplative place in the center is vulica Čyrvonaarmiejskaja (Čyrvonaarmiejskaja Street).
Pasiołak traktarabudaŭnikoŭ (The village of Tractor Manufacturers, the distric between the streets of Čabatarova, Kašavoha, Kłumava, Stachanaŭskaja) is a residential area built right after the WWII. It was supposed to be built for the workers of the Minsk Tractor Plant. It was a huge project with its own architecture and service systems. The district of the tractor plant is local Valetta with the most beautiful balconies in the city, Empire-style pilasters, arcading, and columns. Find the house on the corner of 2 Stachanaŭskaja street and 11 Kłumava street – it's a true attraction of the district!
Waterpark Lebyazhy (120, praspiekt Pieramožcaŭ). After a day of roaming the city, it is best to relax at the waterpark. It boasts of seven slides inside and five more outside, a Jacuzzi, a salt room, and saunas with various temperatures and scents. We particularly recommend the surfing exerciser where you can learn to conquer the waves and feel your every muscle. The important thing is not to go there on the week-end – it is very popular. Prices start at € 11.
If you are lucky to come here in summer, you can find a place to swim and relax even in the city center. We are talking about the open air pool Olimpiyskiy (2a, vulica Surhanava). We especially like the pool with mineral water and the opportunity to play volleyball. A huge drawback is that it's always crowded.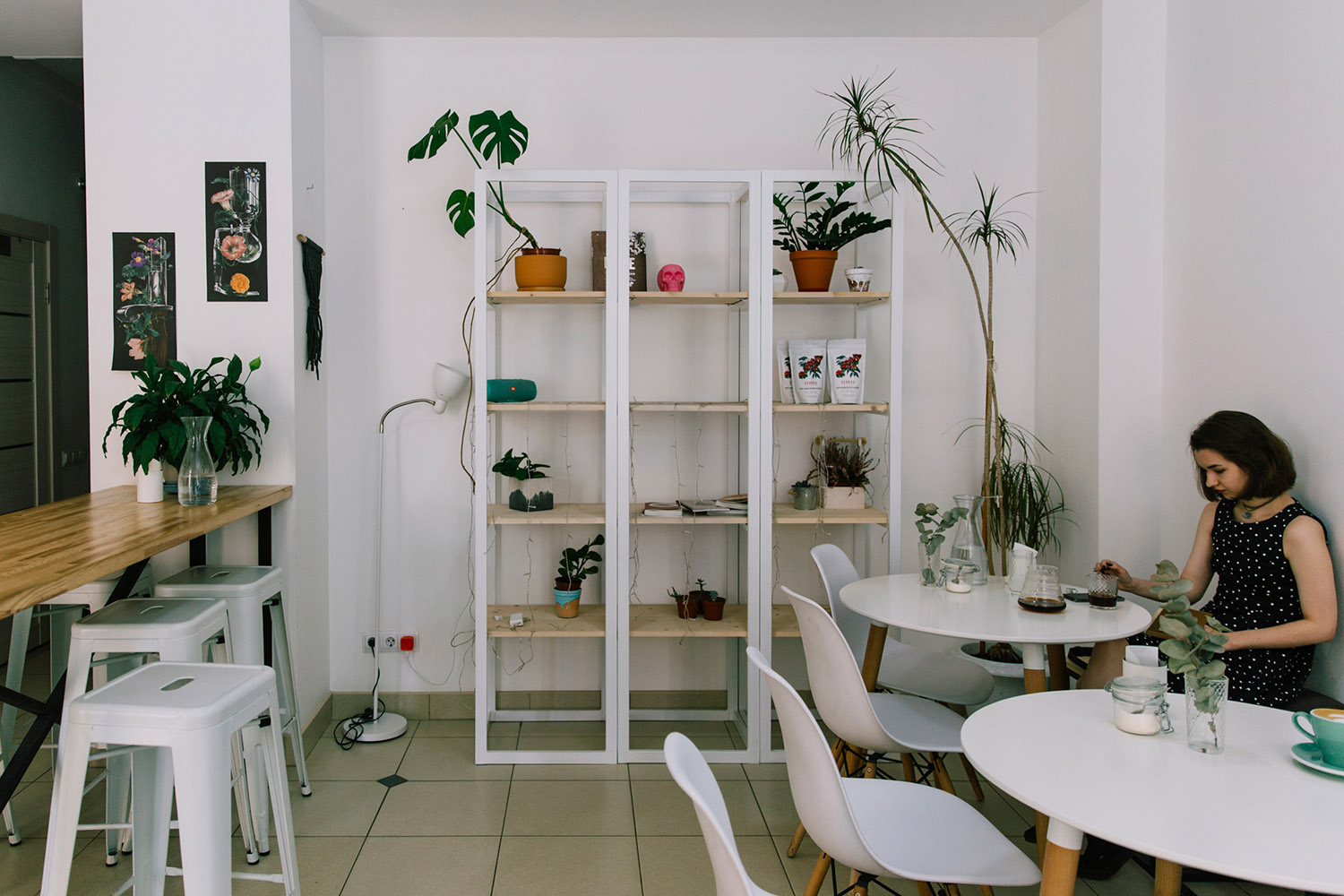 Zerno (46, praspiekt Niezaležnasci / 6, vulica Kazlova). They were one of the first who showed Minsk residents and guests alternative ways of making coffee. They have now grown to two locations, close to each other. They are trying to keep up with the high standard they've set.

Why Knot? (21, vulica Valadarskaha) is a third-wave coffee shop with excellent coffee and tasty breakfasts and sandwiches. It's also a comfortable place to work with a laptop.

Seadog&Friends (1, vulica Zalataja Horka). This coffee shop with just four tables is opened by Seadog Coffee Roasters team. Besides excellent coffee, try their desserts.

Surf Coffee (19, Kirava vulica). Red brick, wood, tables made of surfboards, a real skateboard ramp and a cozy courtyard with a hammock. In addition to standard options, the menu has all sorts of sophisticated drinks, such as lemonade with tonic and feijoa or matches with lemongrass. Prices are above average.

Kitchen Coffee Roasters (16/3, vulica Kastryčnickaja, enter via 10b, vulica Kastryčnickaja) is a semi-secret place on the back side of the vibrant Kastryčnickaja street with a view of the quietly flowing Svislač and coffee by one of the best roasters in Minsk.

26 (26, Sviardlova vulica). A calm and cozy coffeehouse near the railway station, a good place to work or just to relax located in a neo-classical Stalin-era building.

Let it be (23a, vulica Kastryčnickaja) is another nice point at Kastryčnickaja, where you'll find coffee, wine, sandwiches and fresh bread of various kinds (the cafe has its own bakery): onion bread, buckwheat, beetroot and others.

Stories (14, vulica Internacyjanalnaja). Another nice coffee place that Minskers love for fresh croissants. On weekdays it's open from 8.30 a.m., on weekends from 10 a.m.

Karavaj (38, praspiekt Niezaležnasci) is a legendary place for people who live close to płošča Pieramohi and also for students and school children. You can buy fresh bread at the shop, and really cheap delicious pastries at the coffee house.

Moby Dick Caffe (16, vulica Kastryčnickaja). Coffee-to-go by Moby Dick music and sports crew. It's located on the first floor of the black building on Kastryčnickaja street. There's a nice tiny summer terrace. Fresh opening by the same guys – Moby Dick Caffe (24, vulica Zakharava). Here are a trendy interior and a thick breakfast menu (we recommend avocado toast). If the morning promises to be languid, you can take a glass of prosecco for breakfast.

1801 (95, praspiekt Niezaležnasci) is a collaboration between Minsk Watch Plant "Luch" and local coffee roasters. The coffee house is located in a factory store, and its name is a reference to the plant's unique clock mechanism. The menu offers coffee drinks based on mixtures as well as monosorts, and also exclusive coffee (now it's famous Kopi Luwak). They also cook their desserts and pastries here.

32.08 (28, vulica Kisialyova) is a brand new coffee place bythe creators of Stories. The specialty of the place is juicy smoothie bowls (8 BYN / € 3,5), and in addition, they cook sandwiches and pancakes. Perhaps the best views of Asmaloŭka as a bonus.
By the way, we have a special guide to Minsk coffee shops!
If you're a tea enthusiast, check out this guide to top tea places in Minsk.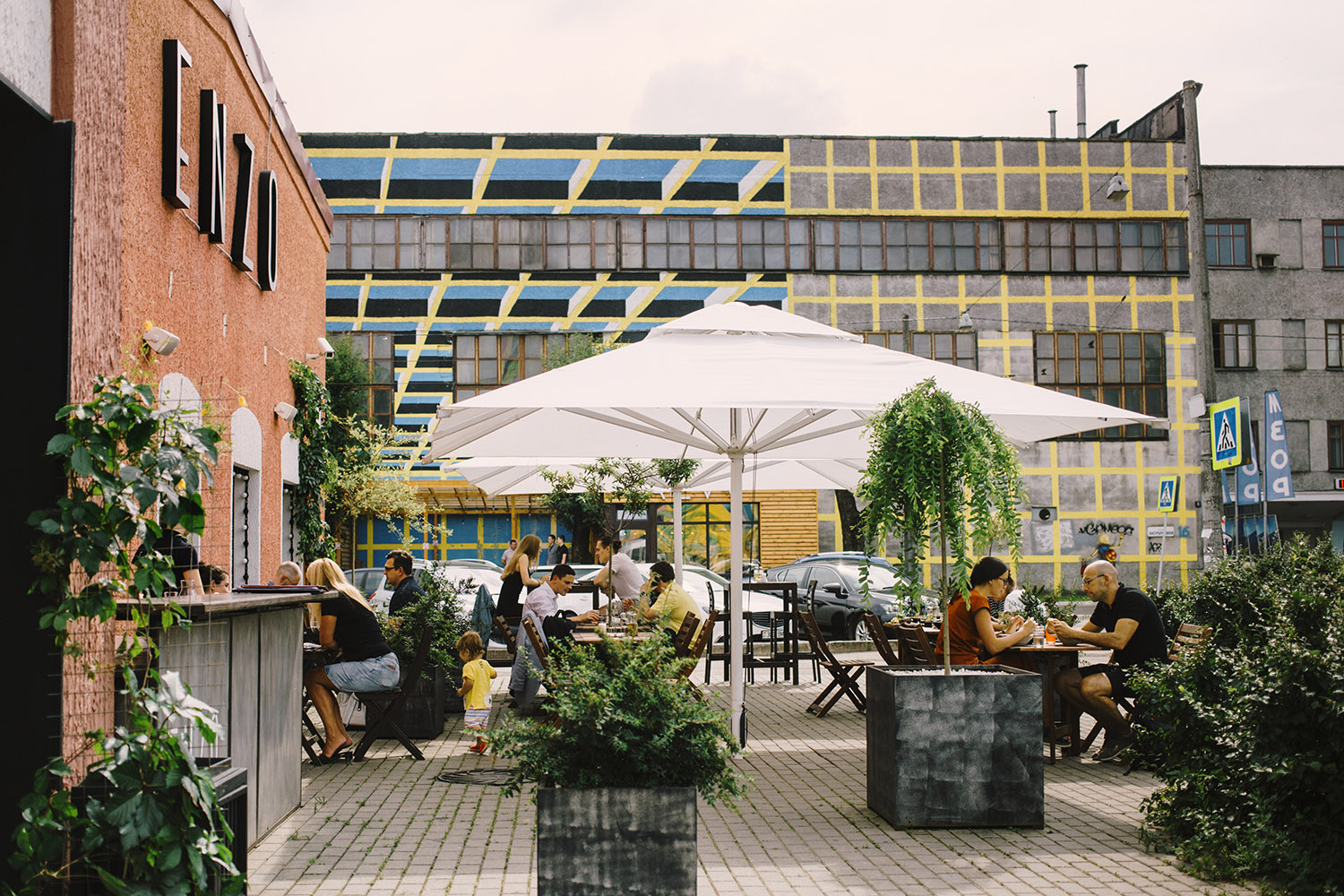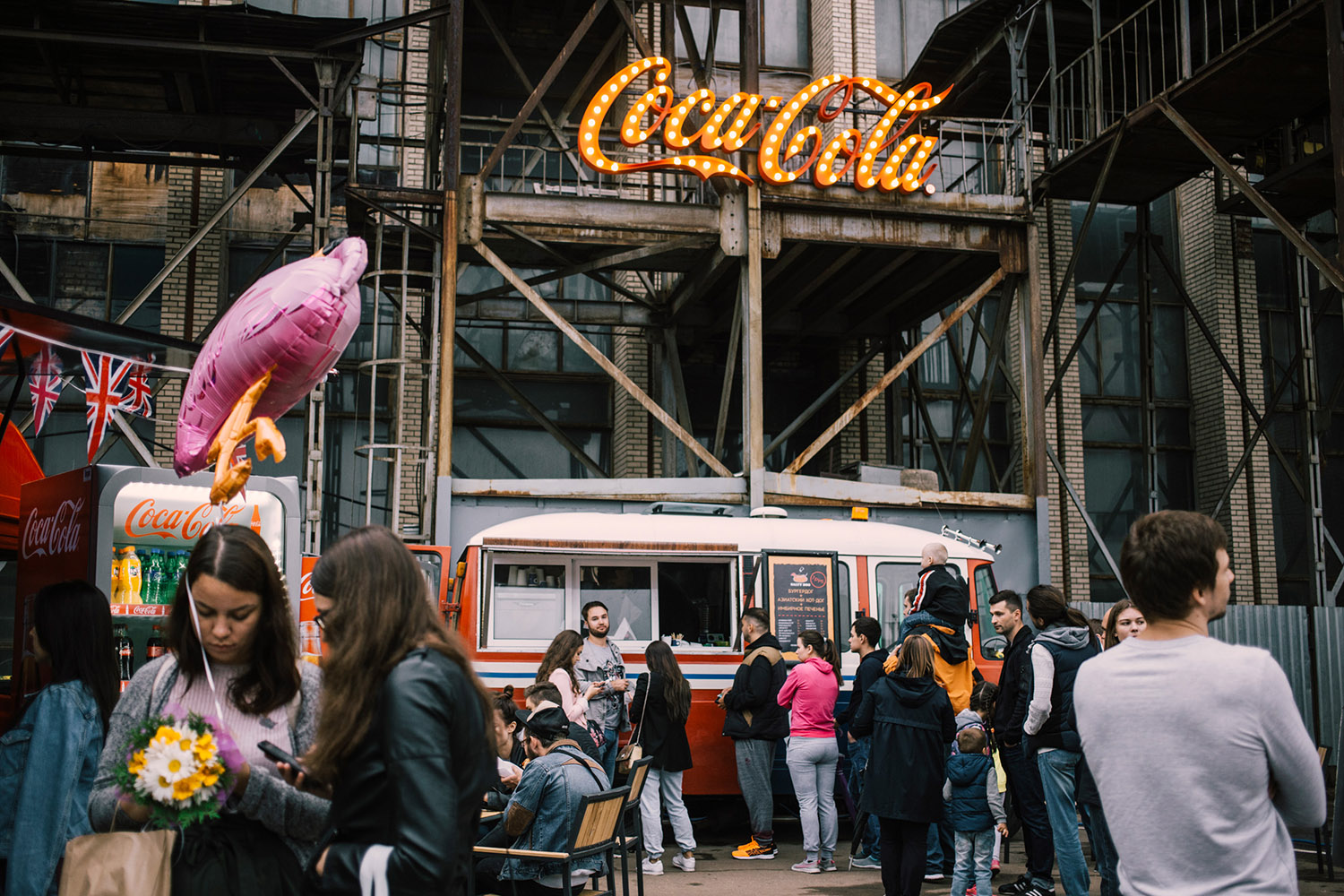 All locals know that you should to go to Kamaroŭka Market (vulica Kulman) to get a snack at any time, even at night. There is a so-called "kebab mile" – the main place of the district is called Miraž (Atlantic Mall, 5b, vulica Kulman). After midnight a motley crowd gathers here – from glamorous young ladies on 10-centimeter heels to brutal bikers. They have a point, € 3 for a juicy 400-gram roll! Among other spots of the quarter, we will recommend the El Burito and Plov #1 (everything within € 2-3). The best falafel of the district is made in the spot, which locals know as "U Zizu" (ask for directions). One more legendary place is Saigon-Viet ("Сайгон-Вьет"; 5b, vulica Kulman) with the best Pho.

Pesochnica ("Sandbox"; 45, vulica Kujbyšava) is a popular open air food court, hidden in the courtyard between the factory buildings. Food trucks offer all kinds of snacks from waffles to burgers. On summer evenings there're concerts or relaxed parties. In winter, it works asa small Christmas market.

DEPO (23 vulica Kastryčnickaja; 6, vulica Zybickaja). You can try crepes with an enormous variety of fillings here (priced € 2-4), as well as have some beer, cider, or mead. It is a simple and heart-warming place. They offer soups and salads at lunch time. We prefer the one at the Kastryčnickaja, although here (unlike the one at Zybickaja) they have disposable tablewear.

Laŭka (23, vulica Kastryčnickaja). In the same building as Depo there is an excellent place for take-out coffee and sandwiches (if you don't know what to order, take the most popular salmon sandwich). It's open round the clock. In the summer the Laŭka courtyard hosts parties including lindy hop dancing.

Monkey Food (16, vulica Kastryčnickaja; 128A, vulica Bahdanoviča). Fully vegan cafe: here you can find burgers with a soy patty (from 2 BYN / € 0.9), falafel, and latte with grain milk. There are just six chairs and a bar inside. It's probably the only place in Minsk where you can have a famous Club Mate.

BurgerLab (19/4, vulica Kastryčnickaja). An institution with a soul that grew out of a small food truck. It is located in the DandyLand where there's also a barbershop, a tattoo studio, a nail salon, and a showroom. The burgers are great. Closed on Mondays.



Cimes (17, vulica Karla Marksa). It's a young place with excellent Israeli street food. Falafel, hummus, shvarma, shakshuka, baba ghanoush – the menu sounds like music. If you are confused, take a set of meze snacks for 15 BYN (€ 6.5) to warm up, and then falafel on a plate for 13 BYN (€ 5.7). The portion is enough for two.

My dear kebab (3, vulica Kamsamolskaja). If you can tell the difference between regular shawarma and durum, drop by this kebab shop. Turkish cooks also make great falafel, sandwiches, and crepes.

Doner King (2, vulica Zybickaja; 33, Kalvaryjskaja vulica; 19, praspiekt Niezaležnasci and other locations). Shashlik, shawarma, cheese burgers, soups – it's all freshly cooked and is waiting for you 24/7. Perfect for hangover morning.

Om Namo (13, vulica Viery Charužaj) is an Indian vegetarian bistro. They serve healthy and truly rich food with amazing combination of flavors. Pakora, samosa, tali, pumpkin and corn soups, various panirs – everything costs about € 1,5-3, so you can try lots of different dishes. Bikash, the owner of the place, is always open to communicate with guests.

Sushi Chef Arts (32, vulica Sviardłova; 7, vulica Frunzie). There are rolls at about € 4-10 and huge sushi sets for big parties in either of sushi bars.

You can eat at a reasonable price at Lido (49/1, praspiekt Niezaležnasci; 5a, vulica Kulman). The roomy fast food restaurant features a huge selection of home-made dishes. A substantial dinner might cost you € 5-7.

Centralny Univiersam Snack-bar (2, praspiekt Niezaležnasci). This is a unique Minsk spot that we recommend not so much for its food as for its atmosphere. Inside you can see a mixed group of students, punks, homeless, sottish artists, small-fry bureaucrats, and employees of KGB (located nearby), who snack on whatever and wash it down with beer out of plastic cups. Note especially the wall paintings. By the way, the hot dog with carrots is very good, the spinach puff is amazing; they sell Medok pastry, ice cream, and birch juice. There is also Oscar coffee with egg and cognac for a symbolic € 1.5. They say every once in a while it that soon something "more decent" will be opened instead of the Centralny. We hope not.

Draniki Viaskovyja (2 vulica Kazlova). is a pretty new place of force that occupies a part of soviet Okean (Ocean) Food Store. Low prices, true Soviet chic atmosphere, surprisingly diverse public and simple food: take draniki (hash browns), dressed herring and fried sprats.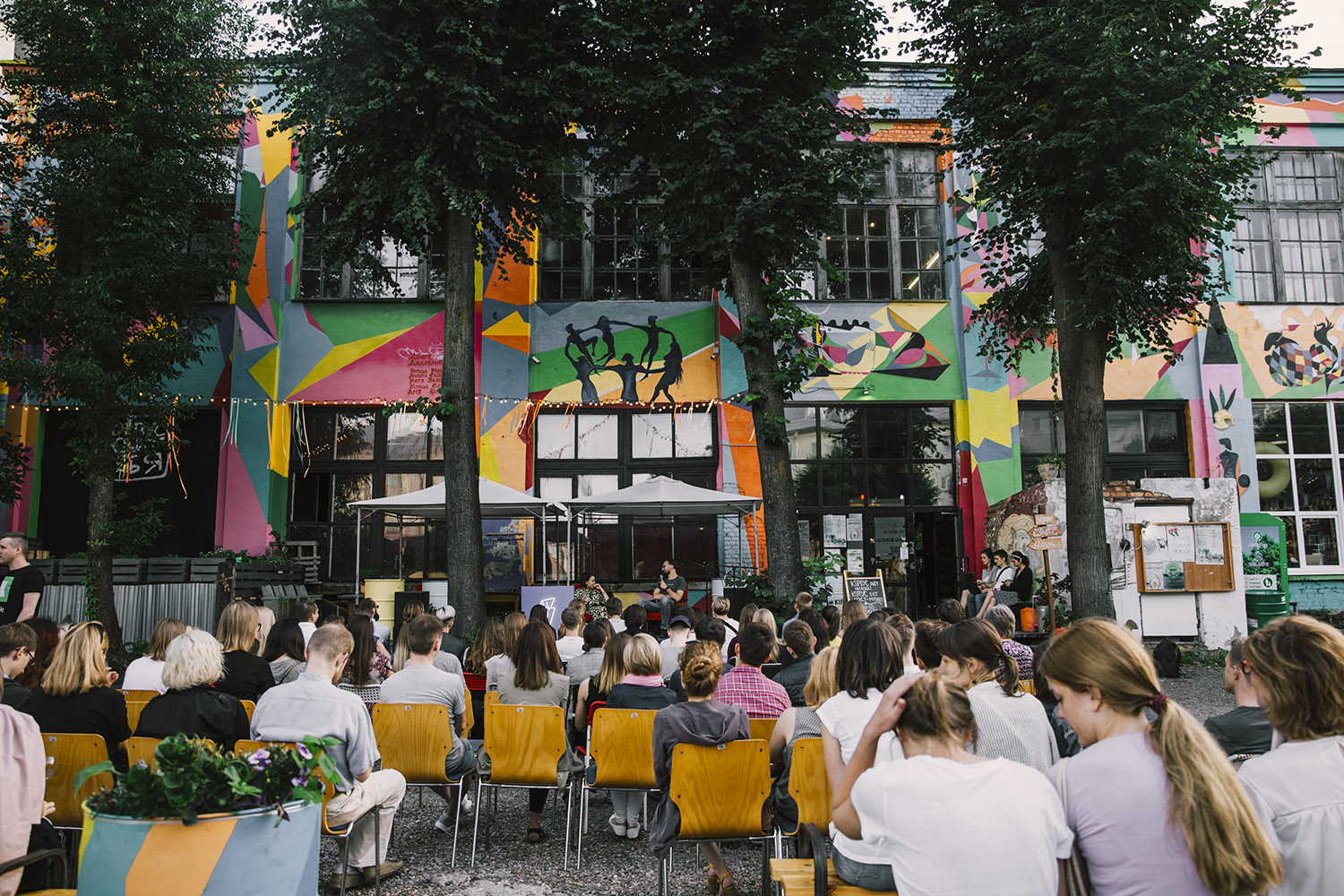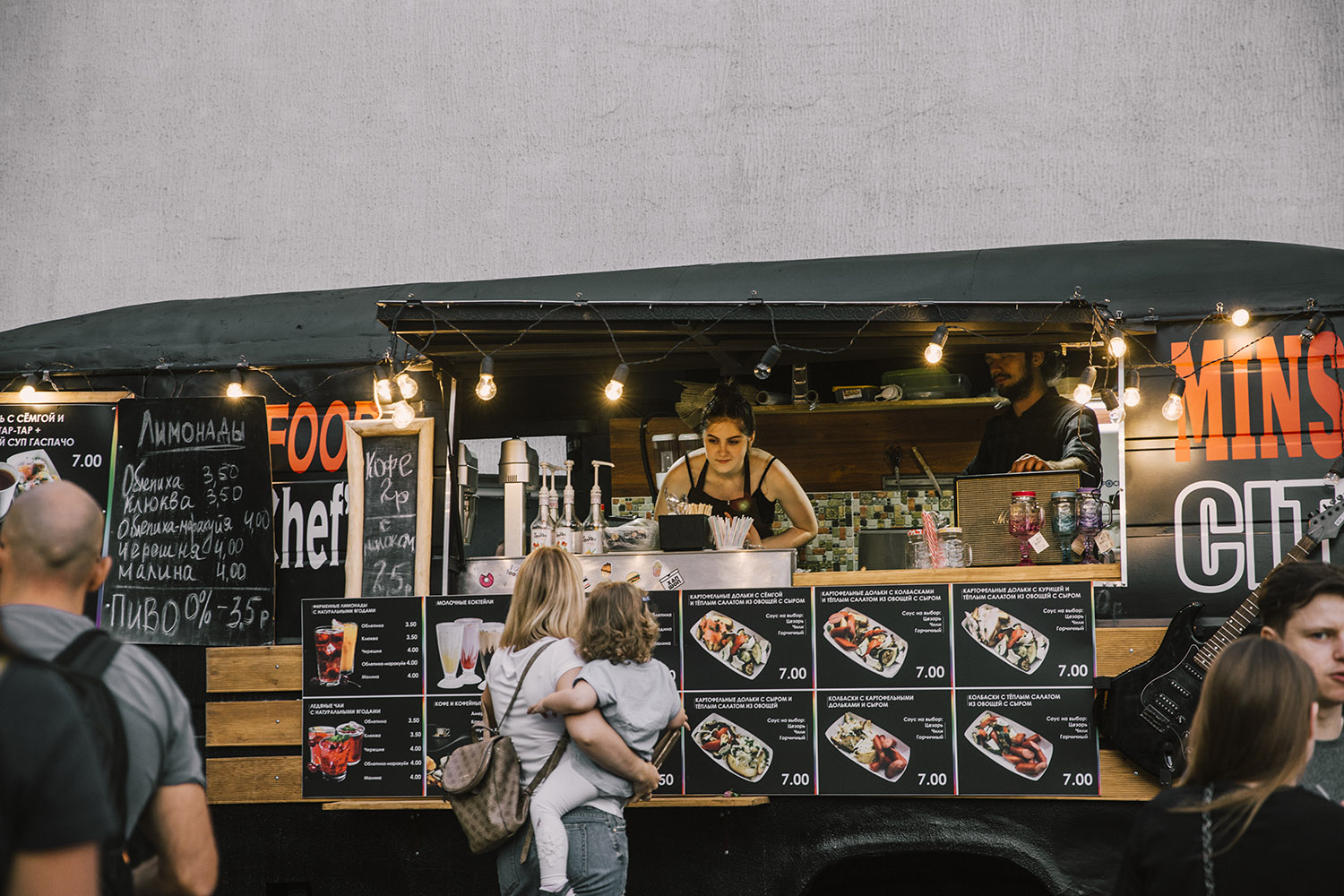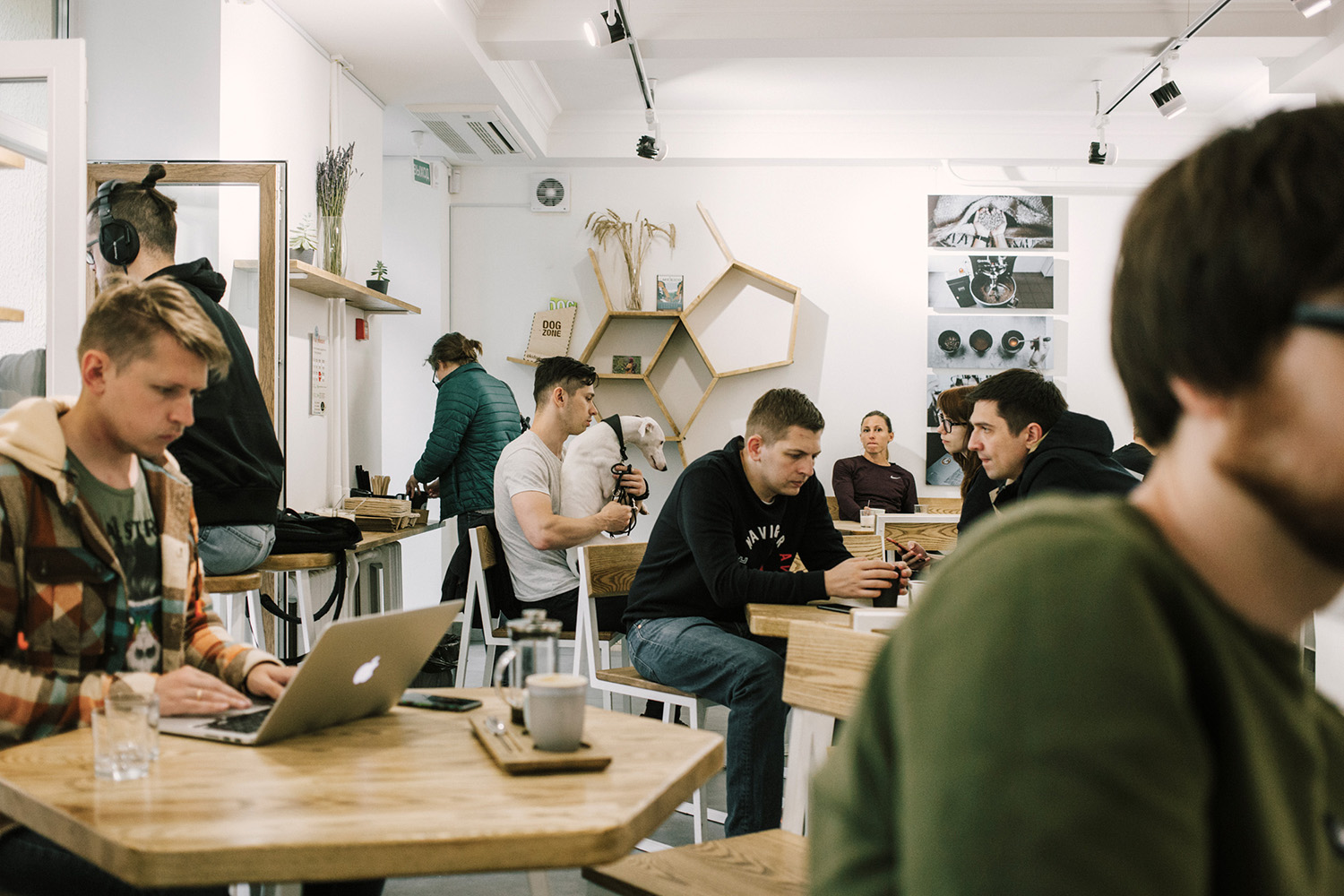 Enzo (23, vulica Kastryčnickaja) is a deservedly popular place at the Kastryčnickaja Street. No doubt, they have the best burger in town (from € 5). For your first visit we recommend to try Enzo Burger and Texas Burger, if you want it to be spicy. Also Enzo specializes in steaks (€ 10-30). Breakfasts are served all around the day, and they offer delicious lunch menus at reasonable prices. Here you can try local craft beer, have a glass of wine or some strong spirits.

Tapas Bar (9, vulica Internacyjanalnaja). This time-tested Spanish restaurant offers good wine and excellent hors-d'oeuvres. They make very respectable sangria. In summer it is better to sit out on their cozy terrace. An average bill is € 20-25 per person, including a glass or two of chilled "home" wine. You don't even have to order an entrée, simply sip your wine and try some tapas – they are all good here: starting with tiny tuna sandwiches all the way to "barrel" olives with capers. If there is no empty table, you can always land at the bar.

Pinky Bandinsky (13a, vulica Kamsamolskaja). A popular place with stylish interior design, fancy menu, a vast cocktail and wine list (€ 4.5 on average) and an immense selection of alcohol (Amaro Ramazotti digestive – € 1.5 per shot, whiskey starts at € 3-4 per shot, Jagermeister is € 3.5). They have German lager and British ale at € 3.5 for 0.5 l. You can have a dinner for two for € 25-30.

Feelini (36, vulica Internacyjanalnaja) is a restaurant located in the business center on the central square. Right since its opening, it has become one of the top-of-the-range places in Minsk. They pay much attention to the service, and to the quality of food, and wine selection, and the quality of cocktails. The prices are a bit above average (main course at € 7-15), but it's worth it.

Simple (2, vulica Sviardlova). The restaurant that decided to take a new look at modern Belarusian cuisine. They cook only using local products and modern technologies. Make sure to take a glass of wine; the restaurant has a very competent sommelier.

News Cafe (34, vulica Karla Marksa). This is a classic city café with high-quality service, frequently updated menu, the latest newspapers, and staff that can keep up a conversation in English. This is a favorite place of the progressive business elite of the capital, local ex-pats, and serious people whose line of business is hard to determine at first glance. It opens at 8 a.m. and serves you breakfast right away.

Bessonnica (Insomnia) (1, vulica Hiercena). It's a place in the historical center open 24 hours. It offers a simple menu and cocktail classics. In general, if once at 5 a.m. you urgently feel craving for pasta and tartar - you will be welcomed here.

ID Bar (19, vulica Zacharava). Another place where the concepts of "to eat" and "to drink" exist in harmony. Here you can always have a nice breakfast and lunch, and in the evening it's nice to hang out with friends. Do not necessarily stick to the cocktail card (which, however, is also good) – better tell the bartender about what you like, and ask to surprise you with a delicious drink. Tinctures and bitters for cocktails are prepared according to their own recipes and are often guided by seasonal products and the weather outside. If you are frozen - you'll get warm, if you're burnt – you'll get something refreshing.

Underdog (23a, vulica Kastryčnickaja). They cook pizza in a wood-burning stove, and you can take sparkling wine or beer from the local Jungle Brewery. An important opening of the end of 2018.

Mai Thai (11, vulica Kirava). That's a fashionable Thai restaurant. Burning Tom Yam and sweet and sour Pad Ty is better to take away: it will be a little cheaper. They cook incredibly delicious food, even desserts, and have recently updated menu and made it significantly cheaper. Lunch for two may cost about € 25-30.

La Scala (36, vulica Niamiha). We would have brought here our guests from Italy. Well, the place calls itself a trattoria, and trattoria is not just a ristorante. A real Italian chief, who has been working in Belarus for about 10 years, runs this place. The menu is extensive, and pizza is said to be the best in the city.

Kamianica (18, vulica Pieršamajskaja) is the most patriotic place of all presented in this overview. The interior is styled after a medieval tavern and once you come in you are immediately immersed in the atmosphere of the Grand Duchy of Lithuania. Here you can try excellent Khrenovukha, Žuravina, and house-made mead (at € 2 for 50 g.). There is a large selection of Belarus dishes; an average bill comes to € 35-40 for two, including alcohol. There is often live music and folk dancing. They even show the English Premier-League games!

Gray (33, vulica Internacyjanalnaja). Another great place with a fresh look on traditional belarusian cuisine and drinks, good service, an 18th century building, paitings by Malevich on the plates and elements of Chagal art in the interior. Foreign guests can see here real examples of what belarusians are proud of.

Vasilki (16, praspiekt Niezaležnasci; 6 vulica Babrujskaja; 37 vulica Jakuba Kolasa, etc). This chain of "folk cuisine" restaurants has 5 locations in the capital. It's the middle-ground for trying Belarus cuisine. The menu features draniki, kolduny, pancakes, shank, "Olivier" salad, "dressed" herring, and other well-known dishes. The food is acceptable, the prices are reasonable, but do not expect a gastronomical epiphany.

Pelmeni House Gurman (7, vulica Kamunistyčnaja). One of the long-standing Minsk places is located in a quiet and beautiful district of Asmaloŭka. The price for a a portion of pelmeni is € 2.5-5. Pelmeni, however, is not the only option – the menu is quite rich: there are steaks, and a dranik (potato pancake) (yes, singular), and even chicken tikka-masala. Their mushroom soup deserves a special mention. Gurman works every day from 8 a.m. In summer they build probably the best terrace in the city.

Pena Dnej (12, vulica Kamsamolskaja) is a new nice place by the Minsk restaurateur and businessman Alexei Sadovoy. The prices are average for Minsk, a good selection of wine (from € 4 per glass). Excellent tartare and well-thought-out menu.



Seafood bar (17, vulica Revalucyjnaja) is the first restaurant by the fish shops network John Dory. Come here for oysters and seafood.

Hinkalnya (25, Internacyjanalnaja vulica; 21, vulica Karla Marksa; 34, Rakaŭskaja vulica). A chain of Georgian cuisine restaurants with a clear and pleasant concept – khinkli for 1 BYN (€ 0.4). In addition, the menu is full of tempting propositions: Adjarian khachapuri, kubdari, kebab, kharcho, homemade wine for 3.5 BYN (€ 1.5) per glass. The place is popular, we recommend booking a table.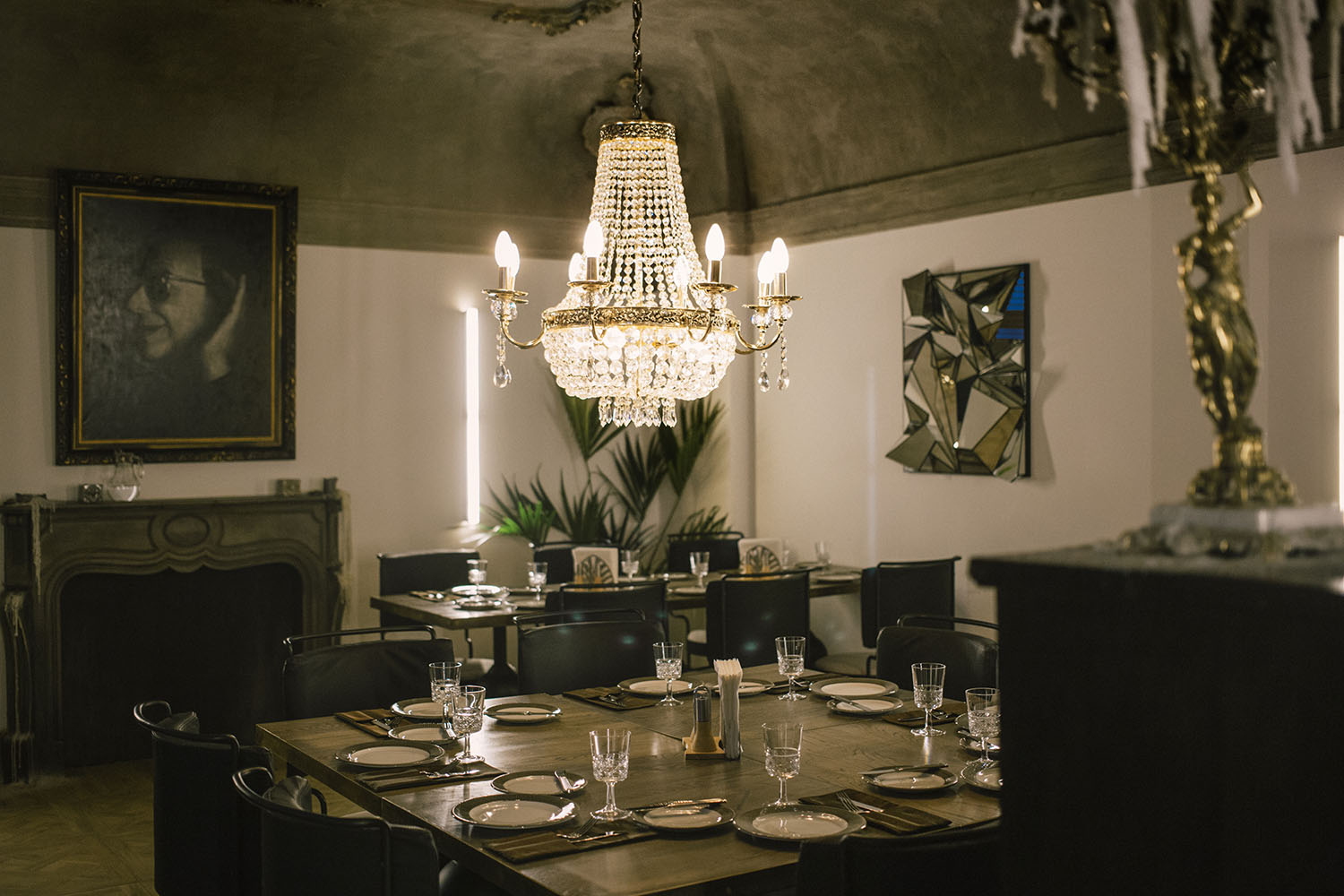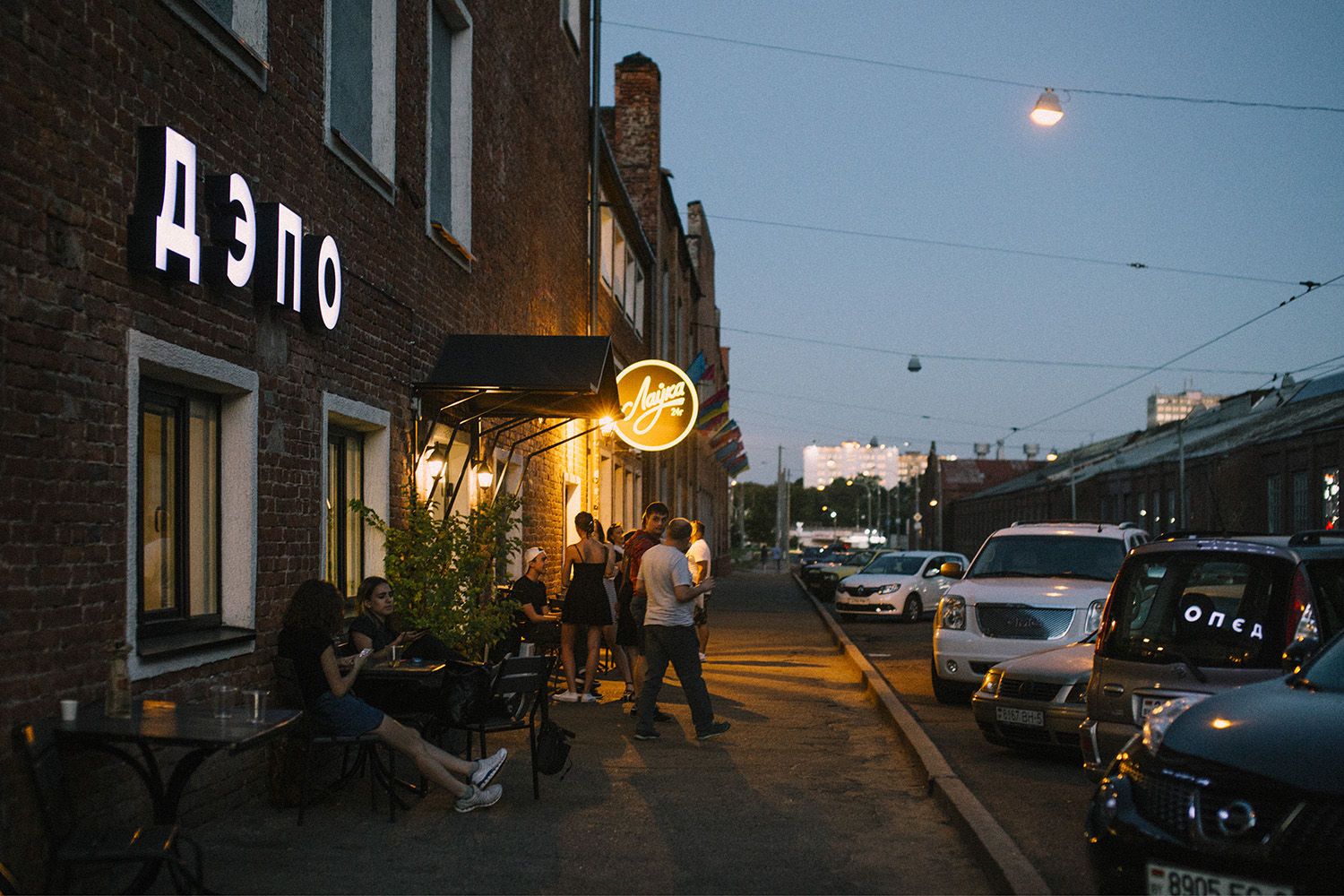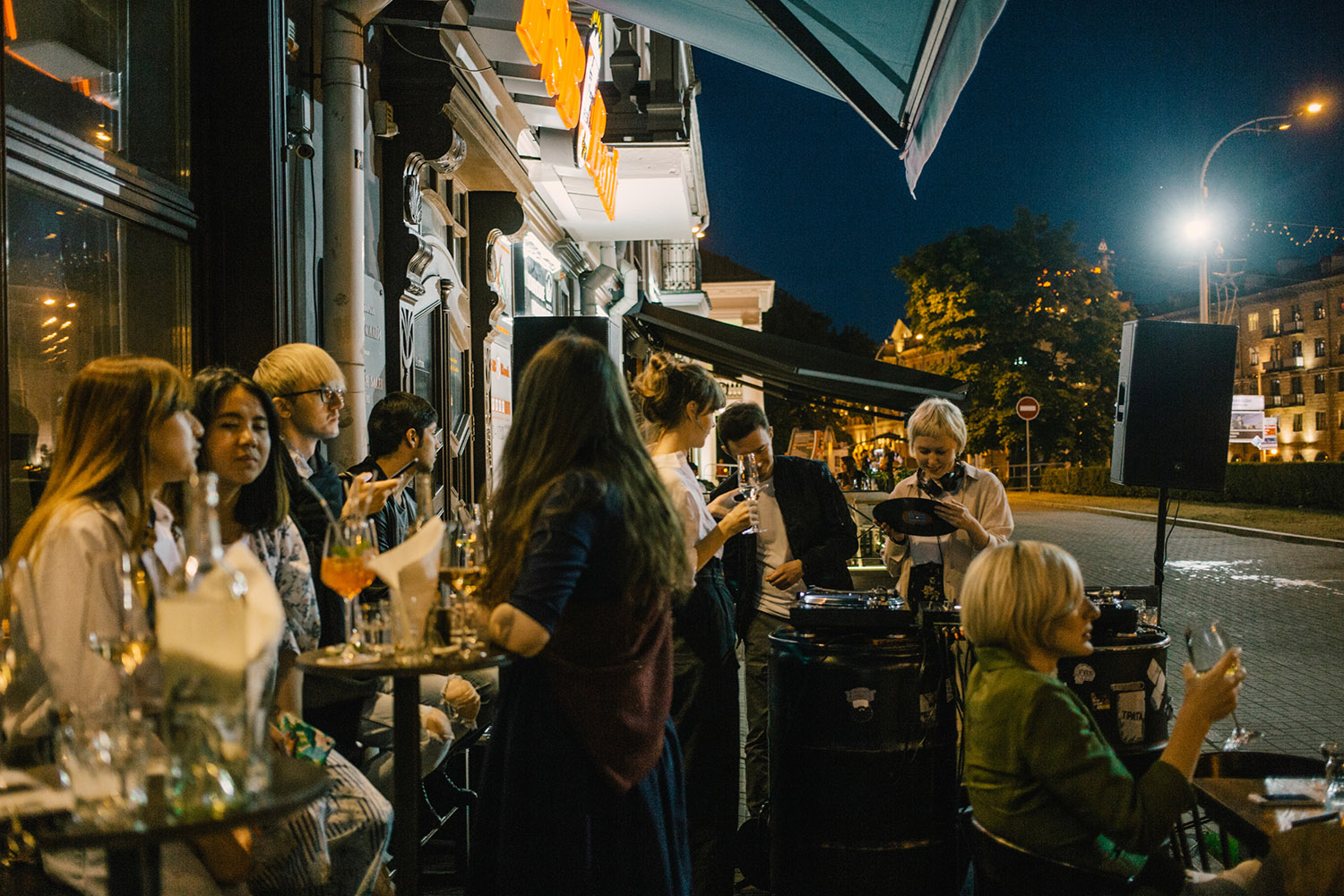 Royal Oak (20, vulica Kisialova). This is a respectable beer restaurant in a quiet street with a large selection of German, British, and Belgian beer. They make outstanding burgers and show soccer on large screens. The prices are a bit above average.

1067 (7, vulica Ramanaŭskaja Słabada; 22, vulica Vaładarskaha). A democratic semi-basement pub is in front of the cinema "Belarus" (and its younger twin brother at the corner of Vaładarskaha and Karla Marksa streets), where you should definitely go if you find yourself in this area. A wide selection of beers, including Belarusian craft, juicy burgers (from € 4) and local snacks like draniki with pork ears or bull testes (all from € 4-5).

Clever Irish Pub (5, vulica Hikały) is a classically noisy Irish pub with beer, whiskey, and soccer. The prices are reasonable, there are usually plenty of people, and beer flows like water. This is one of the best pubs in Minsk

4-4-2 (6, vulica Zybickaja). A football bar with large screens, beer and homemade tinctures. If you don't get why the place is called like this, you're still welcomed..

Craftman (5 ,vulica Hikały). Craft pub with huge selection of beer in bottles and on tap. To eat get a smorrerbrod with herring and apples or cheese balls.

BeerCap (10, vulica Hiercena). Our beer buddies would love this new shop/bar: it has probably the biggest choice of craft beer, cute courtyard (shared with El Pushka) and live music.

Malt&Hops (9, vulica Zybickaja). This is a high-quality restaurant with an elaborate and recently updated menu, a large selection of beer and whiskey (including the kinds rare in these latitudes). To find it, you will have to go up the stairs from Zybickaja Street. On Fridays and Saturdays, you are most likely to only find a place to sit at the bar.

Vinie Jones Pub (33, Internacyjanalnaja vulica). A New football bar near Zybickaja. Some bartenders look almost the same as the famous actor-football player.


Huligan (16, vulica Kastryčnickaja). This is a bar with parties and concerts on Kastryčnickaja Street, which lately has become one of the main places to hang out in Minsk. Among other important things, right here 34 Hangover Parties by the editorial team of the 34mag magazine take place.

SVOBODY 4 (4, płošča Svabody). The main wine bar of the city with food and vinyl music. From time to time there are parties, small exhibitions and concerts. We like to come here for breakfast.

El Pushka (12, vulica Hiercena). Latino style bar that quickly won the hearts of our people. Dive in the rivers of tequila, classic (of course, get a Daiquiri or Margarita) and original cocktails, snacks and what is the most important, cool parties on Friday and Saturday nights when the bar's tiny courtyard gets stuffed with the half of Minsk.

Alcoholy Bar (13, Internacyjanalnaja vulica). A brand new bar from the well-known in the city blogger Julia Polonetskaya. The concept of the bar is "perfect serve": it means that you'll be served a small snack with each cocktail. All cocktails are for 13 BYN (€ 5.6). If you need advice, then here it is: get a cocktail with basil.

Banki Butylki (6, vulica Zybickaja). The bar that attracts attention by Belarusian fruit and berry liqueurs. Salads are served in tins; the bar is the longest in the city. 5 cutest bartenders won't let you stay sober. Taking into consideration the fact that they have a cocktail named For those from El Pushka, it's the best place for a legendary end of the barhopping on Zybickaja Street. You must try their specialty – a racy cocktail with dock.

Cherdak (6, vulica Zybickaja). A consistently good cocktail bar, where you can also have a fine snack. Blues parties take place on Tuesdays, and DJs play on weekends. There's also the "Roof" space, a pleasant terrace with a view.

Ў Bar (19, vulica Kastryčnickaja). A bar at the gallery of modern art loved by the city intellectuals. Casual atmosphere, an extensive wine list and DJ sets on weekends.

Hide (19, vulica Kastryčnickaja). A young space at Kastryčnickaja Street, which is trying to fill our weekends with all kinds of loud techno parties.

Karma (14, vulica Kamsamolskaja) calls itself an "easy-bar". It's a place for pleasant conversations and a couple of marshmallow shots. In the evening, there may happen a party or a film screening.

Chleb i Vino (Bread & Wine) (21, vulica Karla Marksa). The tasting shop and bar with a wide selection of wines at prices ranging from € 5 to € 40. Wine is sold only in bottles, but you can always take your unfinished bottle home. You will find ciabatta, cheese and meat as snacks.

Graffiti (16, zavulak Kalinina). This small pub-club has roots going back to the 90s and a rich history. Its former glory has subsided somewhat, but this is still where you usually go to hear the "Legends of Belarusian Rock." We keep this place in the guide with a sense of nostalgia and respect for its age.

Live concerts are most often held in one of these clubs: Re:Public (62, vulica Prytyckaha), Brugge (6a, Partyzynski praspiekt) or Prime Hall (65, praspiekt Pieramožcaŭ; Zamak Mall). Check the information about upcoming events at Minsknotdead.com or on other city resources (see the section "Useful links").

Melomany (23, płošča Svabody). An important opening of the summer of 2019. The chamber courtyard behind the Kurilka bar has turned into one of the main habitats of the Minsk spirit #right now. There we drink beer, play ping pong, listen to vinyl and dance to cool concerts. Open from Thursday to Sunday at least until the end of September, all the info on Facebook.

Sinyaya Koza (11, Kamsamolskaja vulica). We advise you to come here for a glass of wine and a cool location: the bar is situated in a semi-secret Red courtyard.

Leone (14, vulica Hiercena) is an aperitif bar with a bohemian twist. The main features are the Negroni fountain (15 BYN / € 6.5), chef dinners by Vadim Astori and the interior created to collect likes.

The Wall (3a, vulica Niamiha). A new venue for parties in non-trivial locations. Local DJs are responsible for the sound. It is convenient to follow the info on Instagram.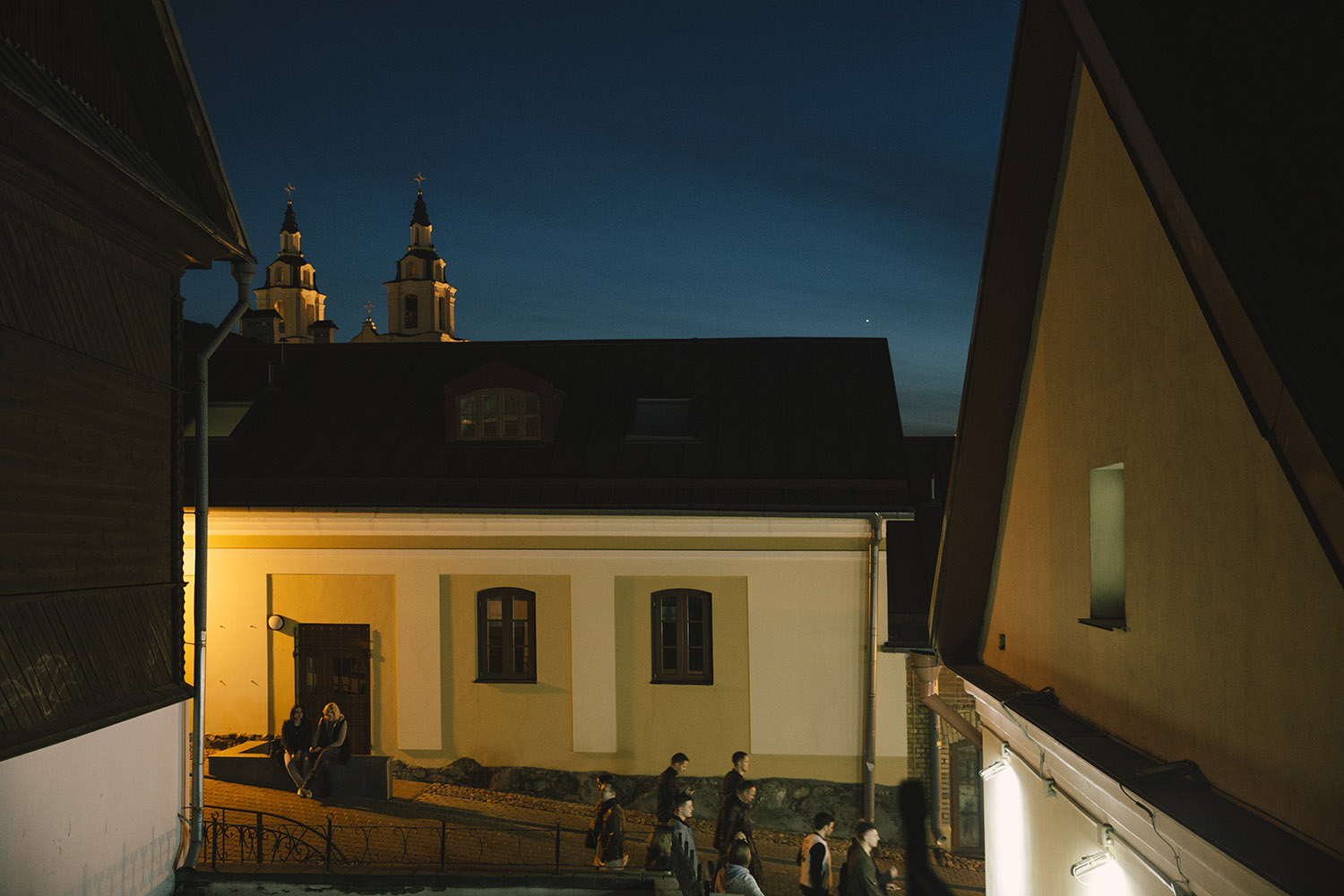 GUM (21, praspiekt Niezaležnasci). The Main Department Store that opened back in 1951 remains a museum of sorts of Soviet trade practices, preserving to a large extent the traditions and style of the time. This has no impact on the flow of customers, since GUM is located in the very heart of Minsk. You can buy everything here – starting with men's pantaloons and all the way to wedding rings. Gaudily dressed windows, Belarus-manufactured products of all shapes and sizes – GUM keeps surprising even Minsk residents.

TSUM Minsk (54, praspiekt Niezaležnasci). This is another Mecca of Soviet trade that has been preserved in its pristine state. It is GUM's younger brother, so see the description above.

Kamaroŭsky Market (8, vulica vulica Viery Charužaj). This is the main food market in the country. Minsk residents come here on week-ends for fresh meat and fruit-and-veggies. Although actually, you can find anything at all here starting with rare spices or Chinese-food ingredients to authentic grandmas with home-made cheeses and pickles. In addition, at the back of the market you can find a couple of decent places with shawarma (look for the sign of café Miraž at 9, vulica Kulman).

KaliLaska (9, praspiekt Mašerava, korpus 8, 2 floor) is a charity store where you can find books, furniture, clothes, shoes, jewelry, bags, vinyl, souvenirs. Although these are second-hand things, they are all of good quality. In addition, here you can find jewelry and handmade souvenirs.

Vedy (36, vulica Karla Marksa). This bookstore is famous for its second-hand books department. They have a large selection of works in classical Soviet editions at very reasonable prices.

Son Gogolya (Gogol's Dream) (15, Lenina vulica). It's a cozy bookstore and coffeehouse where not only can you buy fresh books (mostly, world literature, but there're also some books for children and popular science), but also play the piano and have a cup of coffee.

Symbal.by (18, praspiekt Mašerava). Products with Belarusian national symbols – from kitsch to stylish ones – are sold here. The creators of the store were at the roots of the actively manifested "embroidered" trend of recent years.

Vialikі dziakuj (23a, vulica Kastryčnickaja) is a nice gift shop: from gingerbread cookies to designer clothes.

Clans (8, vulica Kazlova) is a stylish store of brand sneakers and streetwear in the city center.

To get some local designer goods, head for Kancept Krama (shopping center Metropol, 5 vulica Niamiha, 5, 3rd floor). All the main players are collected there: Zibra, LSD Clothing, Limited Minsk, Max Mironov and others. Another important point on the capital's fashion map is Showroom18 (18, vulica Rakauskaja): come here for Miranovich or Holywool. In addition, you can drop by Korpus (9, praspiekt Mašerava, korpus 8): there are Kardash, Apti Eziev and Killtoday showrooms.

Actually, the liberal-minded community of Minsk has recently taken a fancy to organize various markets – starting with fashion markets (for example, Central Fashion Market, Bolshoy Fashion Market, and Open Shkaf) all the way to eco markets. Check here to see if something like this might be happening in the city right now.

Galileo Shopping Mall (6, vulica Babrujskaja). This is a large shopping mall right next to the train station. There is a food court upstairs with sandwiches, kebobs, and several restaurants. There is also one of the best movie theaters in town.
If you plan an extensive mass-market shopping tour, go to Dana Mall (11, Piatra Mscisłaŭca) or Green City (156, Prytyckaha vulica). An option in the center is Galleria Minsk (9, praspiekt Pieramožcaŭ). By the way, they promise to soon open the first H&M in Belarus.

Zamak Shopping Mall (65, praspiekt Pieramožcaŭ). The huge retail entertainment center features a ton of stores (starting with mass-produced items all the way to premium brands), as well as a food court, a supermarket, an ice rink, a movie theater, and the Prime Hall concert venue.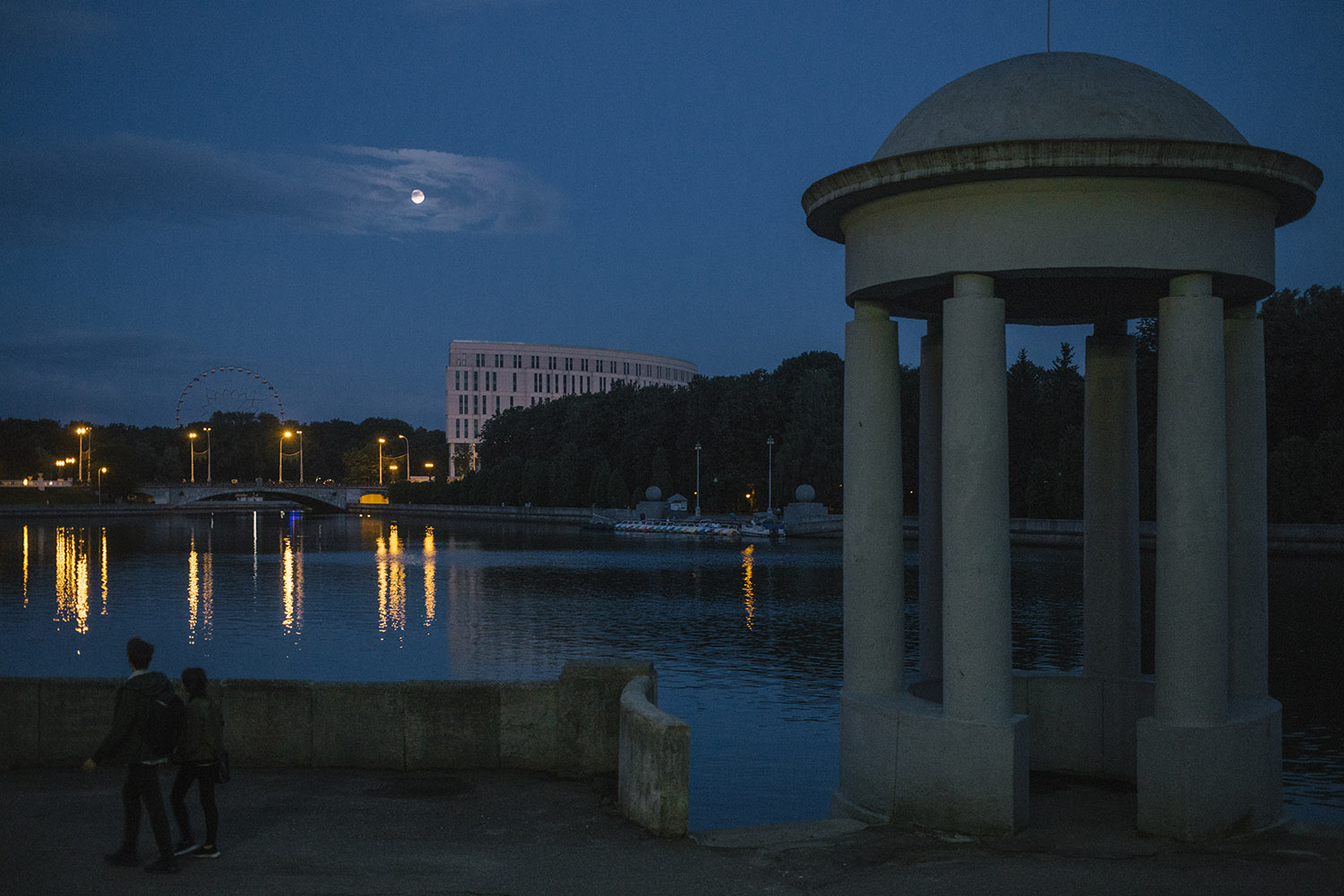 The map of attractions and places from the guide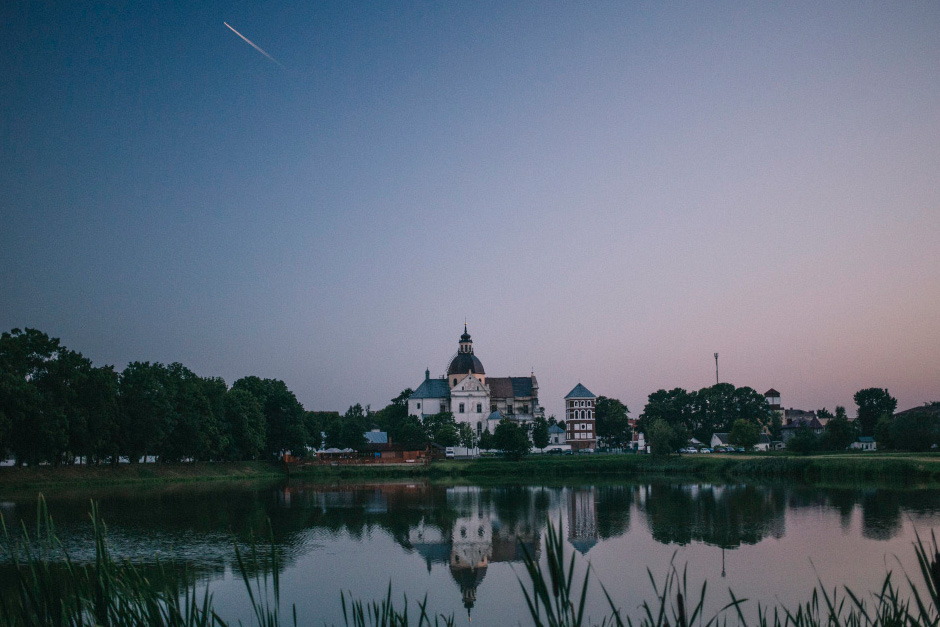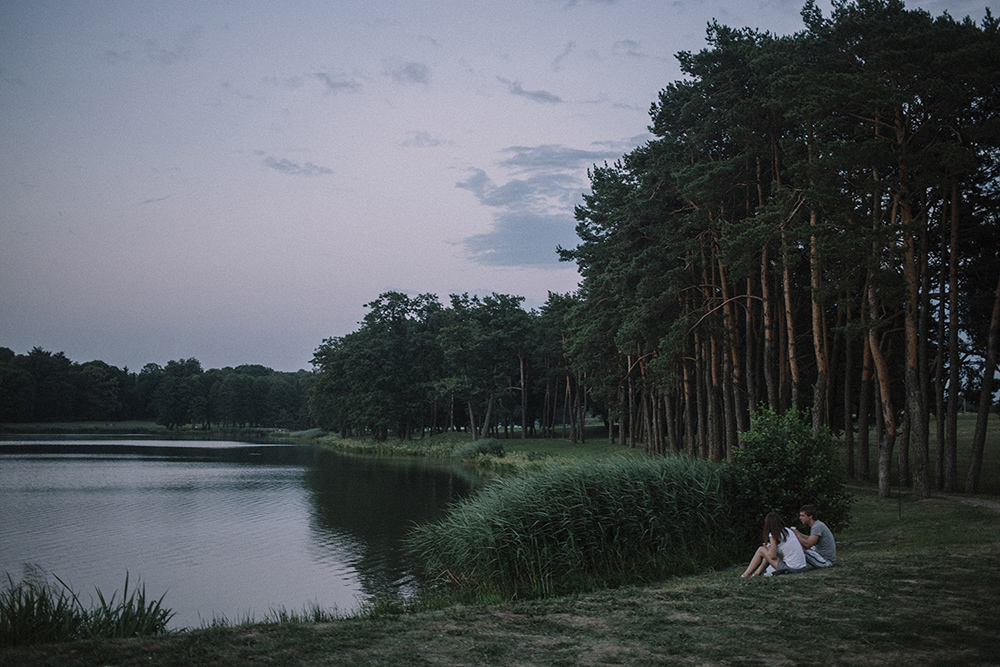 In this section we offer you a choice of several places to which you can take a one-day trip from Minsk, either by car or using public transportation. If there is nothing on the list that strikes your fancy, you can look for other options to roam Belarus. If you don't like anything from this list, check out other options here.
Niasvizh (77.67 mi, 125 km)
This is one of the most historically significant cities in Belarus. In 16th century it became the family seat of the Radziwily family, one of the richest families of the Grand Duchy of Lithuania. The King of Poland himself visited it many times to borrow money for the treasury. Around forty members of this powerful house held the highest state posts and managed to become related to the Polish and French monarchs.
You should start with the Niasviž Castle. Ask your guide to tell you the legend of the gilded full-length apostles or of the revenge of Bona Sforza.
Take a walk in the huge old park and then go to see the Corpus Christi Church. The first temple in the baroque style in Eastern Europe, it was built by Italian architect Giovanni Maria Bernardoni. The church crypt contains the burial vault of the Radziwill (the third largest in Europe after the Hapsburgs and the Bourbons).
The Market Square features City Hall that has a museum, as well as the "Market House" – the only surviving example of a medieval residence. Finally, there is Slutskaya Brama – the former town gate doubling as the city customs house.
You can get to Nesvizh by following the Brest Highway from Minsk. If you decide to take a bus, you'll find the schedule here.
Мir (68.35 mi, 110 km)
Mir Castle Complex. This is another surviving memorial of medieval architecture. The Iliniczowie began building the castle in the early 16th century, but the dynasty was broken and Mir came to be owned by the Radziwily family. The castle has an unusual pink tint – it was fashionable in those times to add ground brick to the plaster.
After the war of 1812 the castle was long in disuse but was restored at the end of the 19th century, although not for long. The present-day castle exhibit was gathered bit by bit – in the Second World War the ghetto was located here and all wooden items as well as the extensive Swiatopolk-Mirskii library were burnt.
Behind the castle there is a small chapel of the last owners of Mir. There is a mosaic with the image of Christ on its façade that has never been restored in the last hundred years. Next to the castle walls is a pond, but the locals believe that it is cursed, so we do not advise visiting the old distillery on its shores.
True fame was brought to Mir by the yeshiva – a higher education institution for future rabbis. It existed until 1939 and today the Mir yeshivas operate in Jerusalem and in New York. Tourists often come to look at the famous building, which is being re-built as a hotel today.
The village (today a "township") of Mir is a 30-minute drive from Nesvizh. The Mirum Music Festival takes place here in the summer.
Rakau (24.85 mi, 40 km)
The village is a half-hour drive from the capital. During the Interbellum (1921 – 1939) Rakaw was part of Poland and was known as the contraband city, as you could literally reach the border with USSR by walking. Over one hundred stores, casinos, and even brothels were open here.
Among the surviving landmarks there is the Our Savior and Transfiguration Church built in the late 18th century and the neo-gothic Mother of God Rosaria and the Holy Spirit kostel built in the early 20th century. Note the Catholic St. Anna Chapel (near the cemetery). You can also take a look at the old Jewish cemetery and the hill whence, once upon a time, the city began.
Dudutki (34.2 mi, 55 km)
This museum complex of ancient crafts and technologies is quite popular. There is a pottery, a bakery, a brewery, a smithy, a cheese dairy and that's far from the full list of workshops you can visit. The tourists can work as apprentices. In addition, there is a windmill in Dudutki, and those can be counted on one hand in Belarus.
The most important thing, however, is that they serve you excellent moonshine here, with the right chasers! For those of you who have not seen the value of this yet, we recommend our guide.
The directions are here.
Strochyca (12.4 mi, 20 km)
The Belarusian State Museum of Folk Architecture and Rural Lifestyle is only a few miles from the Beltway. The open-air museum is divided into three parts (Central Belarus, Padniaprouje, and Paazierje or Lakeland) which give an idea of the traditional life of Belarus peasants. It is nice to take a walk here in good weather and you can often hit a festival.
Belarusian Tavern is open in the Museum and serves traditional draniki as well as local infusions.
Vilnius (118 mi, 190 km)
By the way, if you have a Schengen visa you can hit neighboring Vilnius for a day. It is only 118 miles (190 km) or 2.5 hours by commuter rail away. It is quite convenient to take the train in the morning, spend the day in the city and come back to the Belarus capital in the evening. A lot of Minsk residents who wish to relax a bit or shop around do just that. Just in case, we have a large Vilnius Guide. But this is a very different story.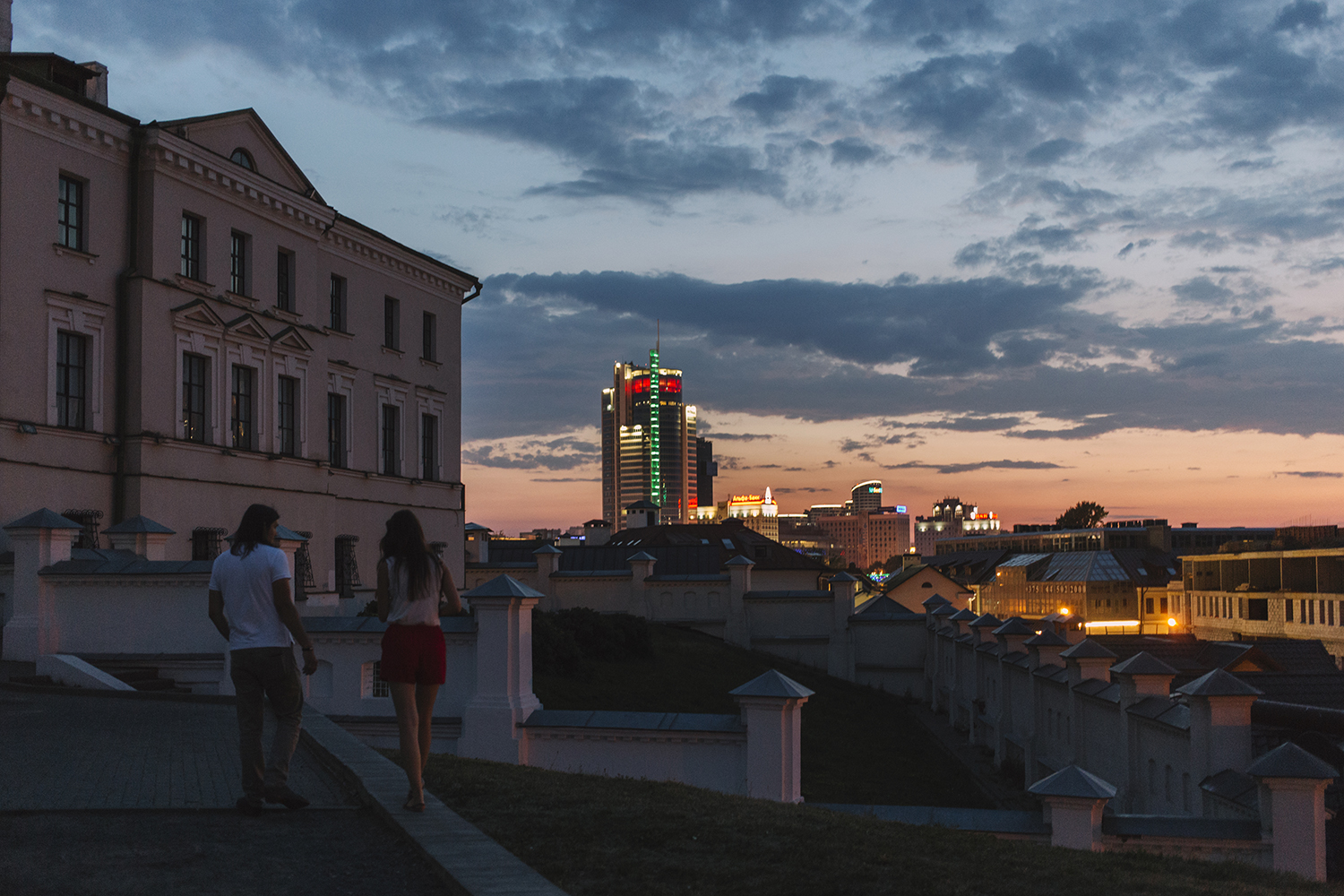 Minsk Not Dead – our project about best of Minsk in English
34mag.net/afisha – the coolest events in Minsk gathered by our friends from 34mag.net
afisha.tut.by – The most comprehensive current events guide in the city
kvitki.by – Electronic ticket purchasing system for cultural and sports events
bycard.by – cinema tickets online
relax.by – Catalog of Minsk establishments
koko.by - subjective and wildly popular website about food in Minsk
minsktrans.by – Public transportation routes and schedules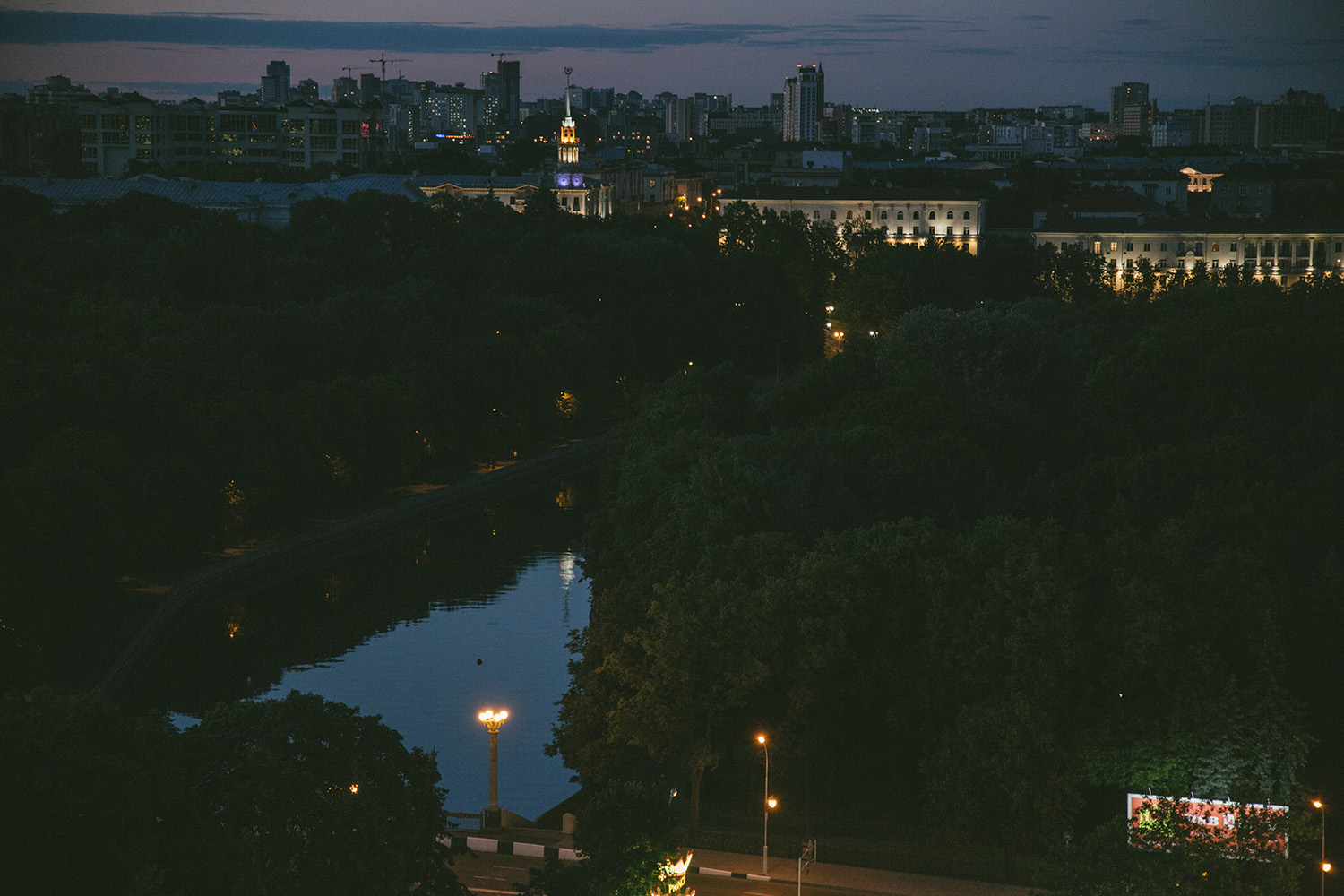 Photos by palasatka