Why do you need to include Kamarova in your itinerary around Belarus?
If you're planning a trip around Belarus, there is one spot we strongly recommend you to visit. And before you ask: you will not find a magnificent church or a mysterious eco-trail here. But there is perhaps the most important thing now: people who love the place where they live and do their best to make it flourish.
This place is the village of Kamarovа in the Miadziel district. Minsk is 180 kilometers away, Lake Narač, Lake Svir and Blue Lakes are much closer. Those who travel here from time to time, know: you can always make a stop in Kamarovа, have a hearty dinner on the outdoor terrace of the cafe, drink nice coffee, buy fresh bread "to go", get your breath back while walking in the park. Well, we have chosen Kamarovа not as a mid-stop, but as the destination of our trip – to talk with Eduard Vajciechovič, a local resident and the creator of the Center for the Development of Rural Entrepreneurship. Thanks to his energy people do not leave the village, but on the contrary, they move here from Minsk.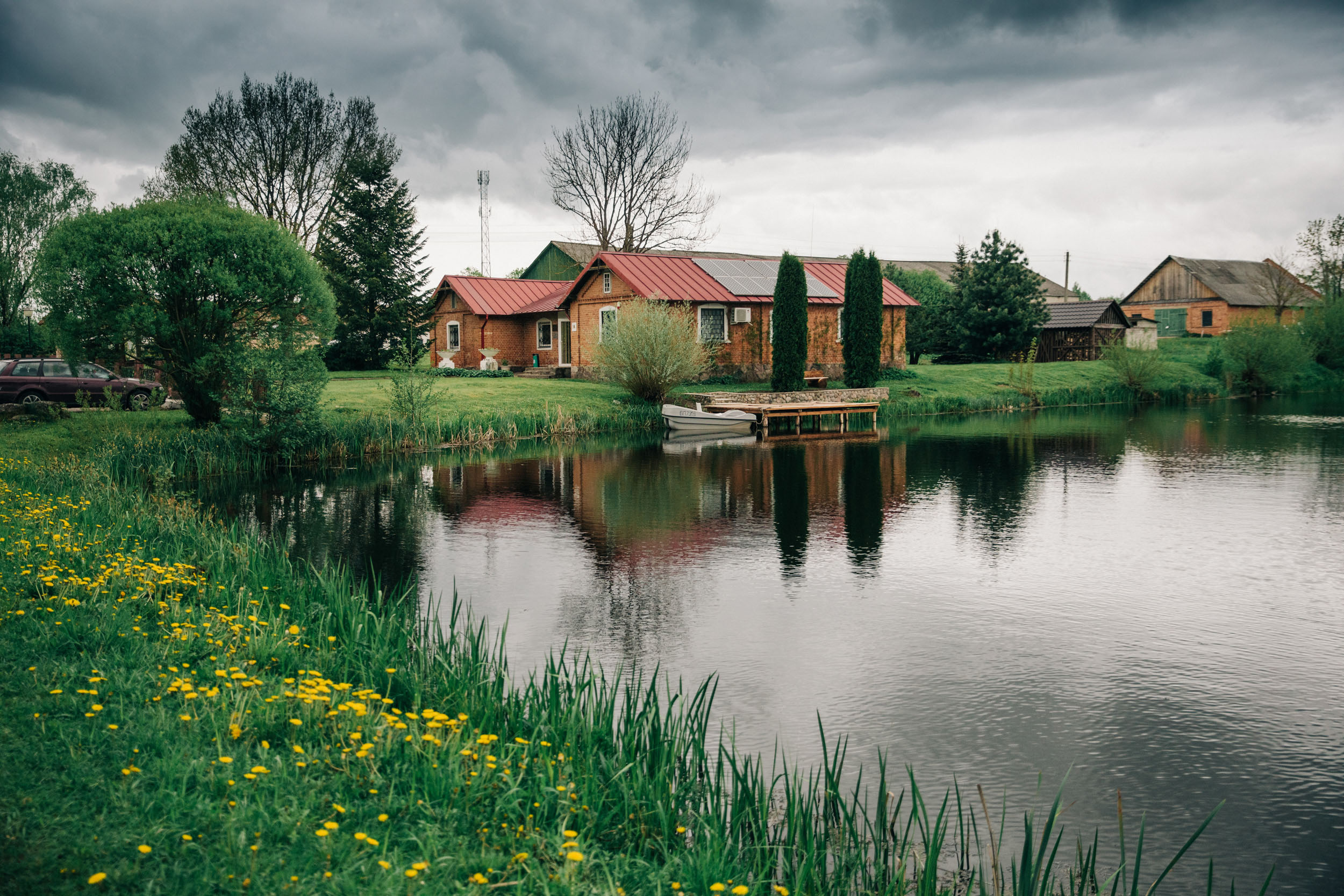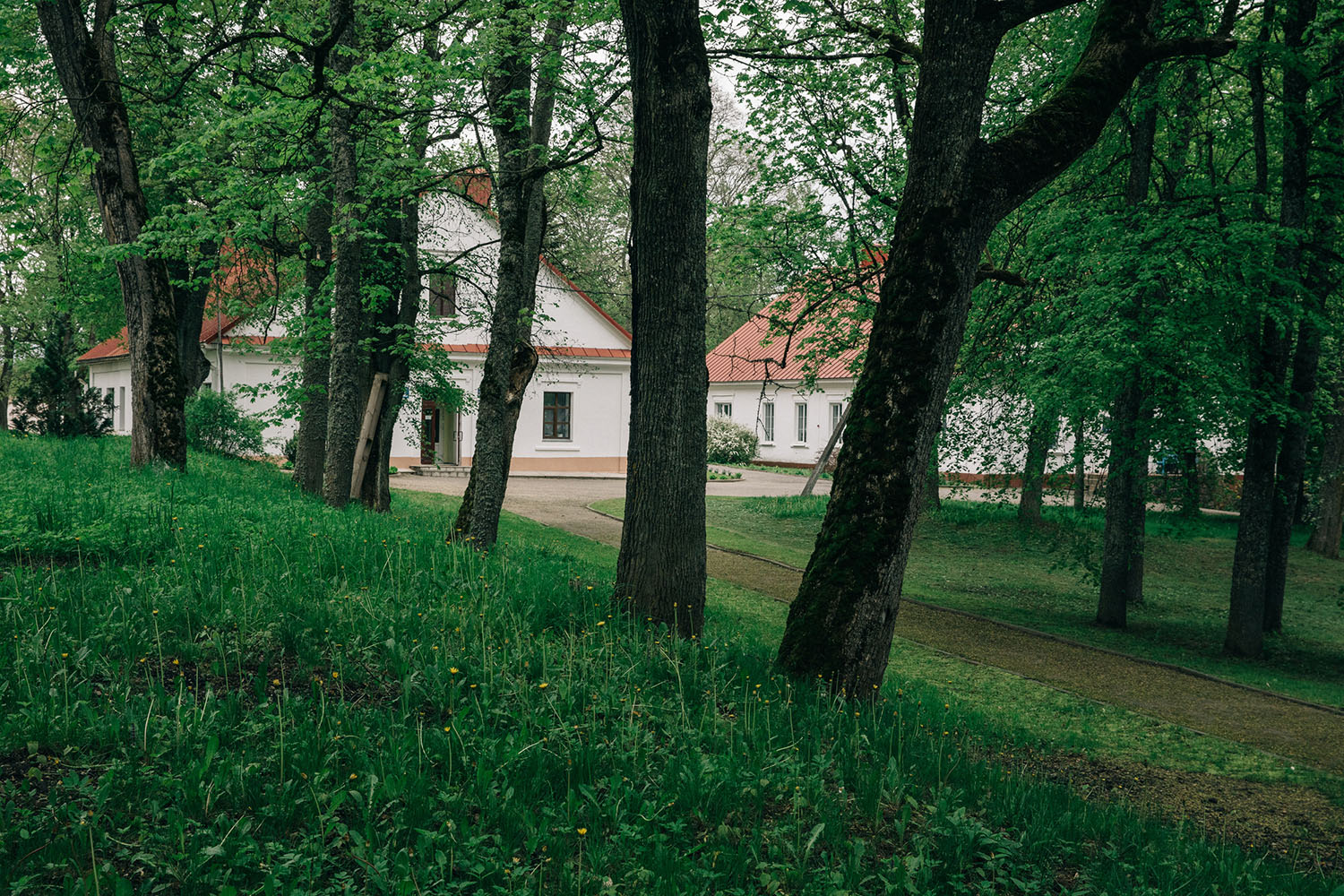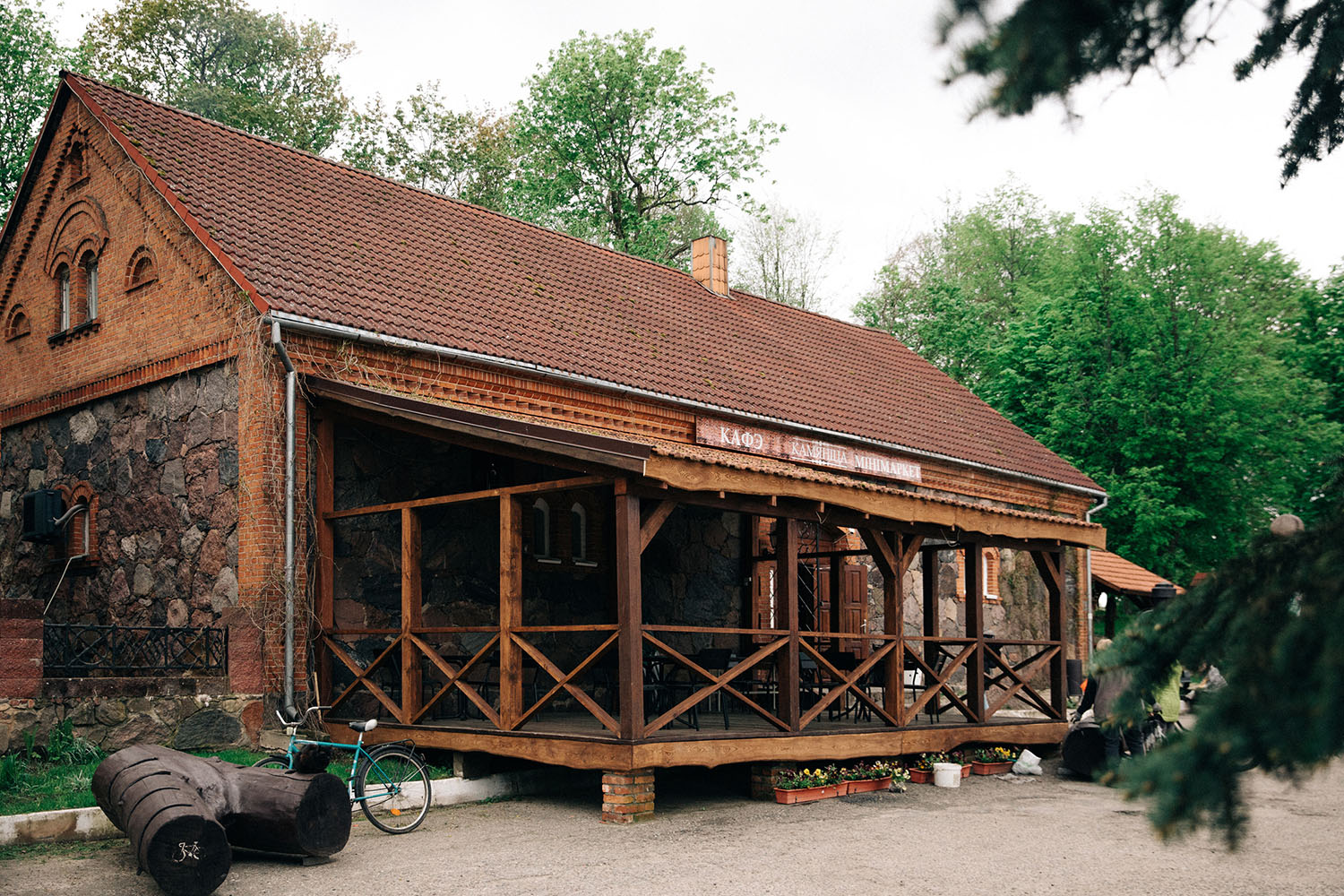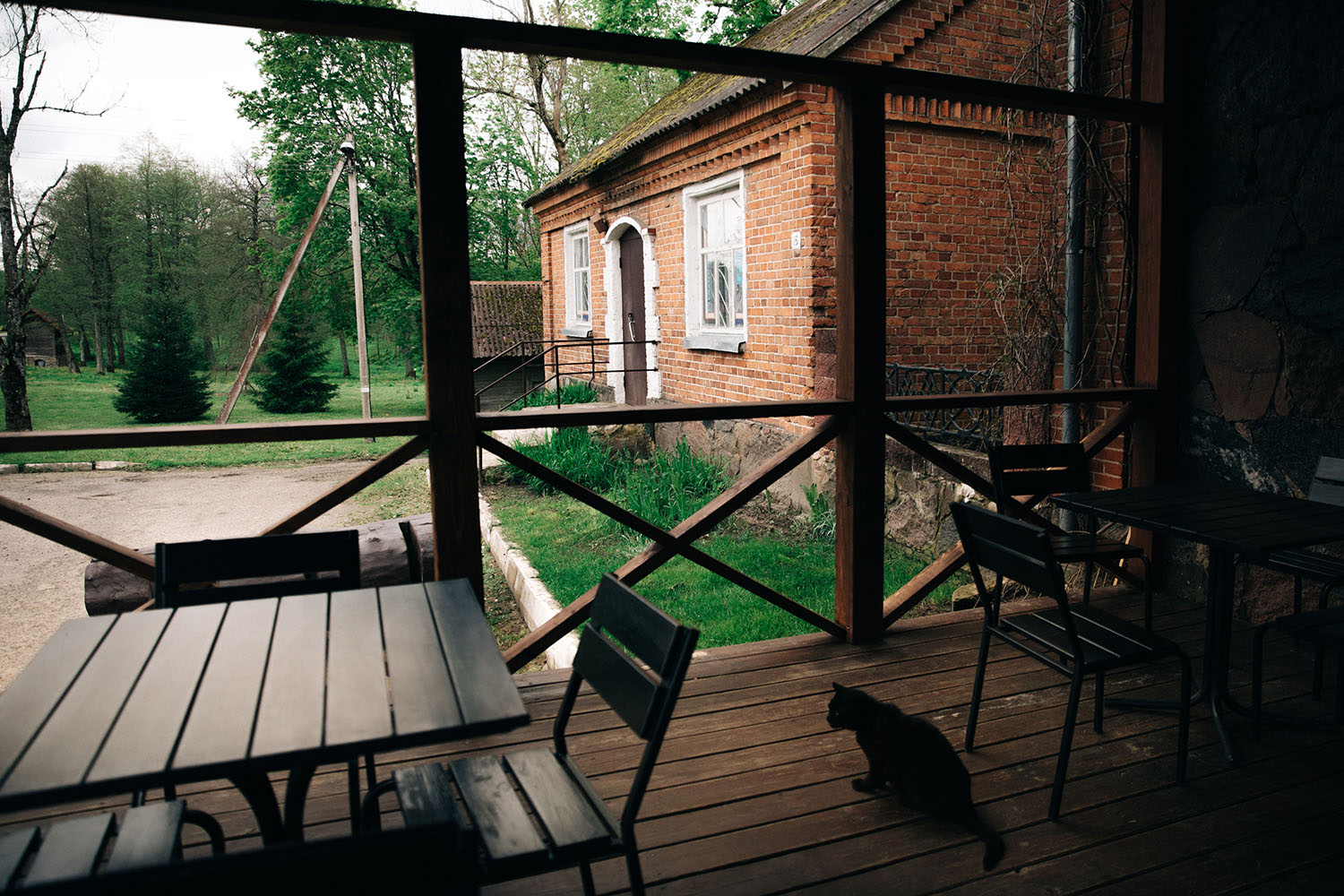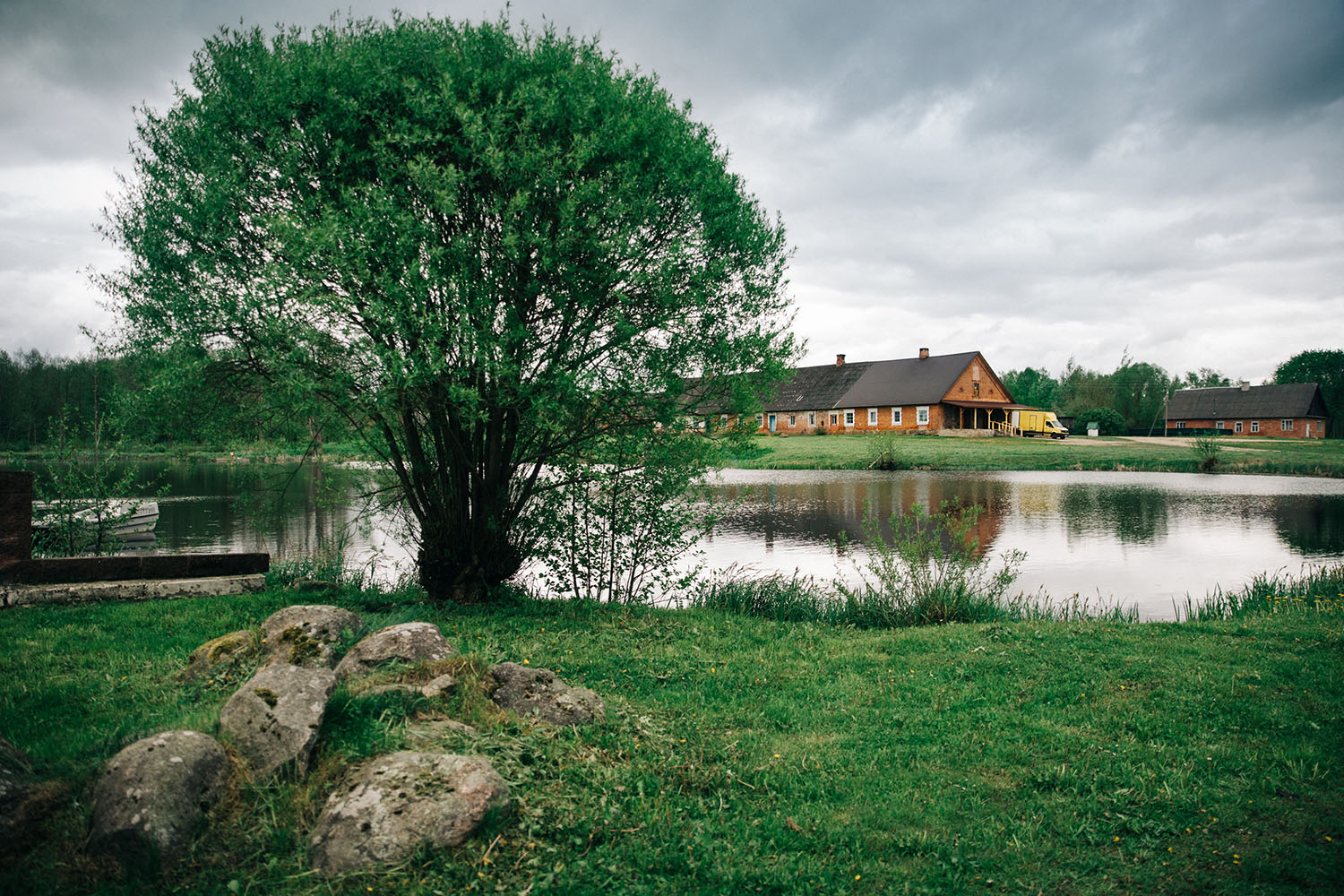 What is Kamarovа known for?
Historically, Kamarovа, like many villages in Belarus, was famous for its estate. The estate was first mentioned in 1330 – and since then it has changed owners a dozen times. Its last owners in the second half of the XIX century were the Staržynski family. Count Staržynski was an influential man and had substantially invested in the improvement of the estate. The manor house was expanded and new household outbuildings, a mill, and a woodworking manufactory were added. Grain and flour were stored in barns built of red brick and rubble stone, meat and fish – preserved in the cellar. Also, there was an orchard-house in the park.
The orchard-house and mill didn't make it to our days, but Kamarovа has not become one of the many spots on the map with ruins falling into decline. There is a cafe and a shop here. As well as a business incubator and the Center for the Development of Rural Entrepreneurship, a bakery and a cheese dairy – they were created with the expert and financial support of international projects. Also, locals plan to establish a hostel and a museum here. And all this has happened largely due to the inspiration of one local dweller – Eduard Vajciechovič, who once worked as the Headmaster of the school, and as a Deputy to the Supreme Soviet, and then created the Center for the Development of Rural Entrepreneurship in his native Kamarovа.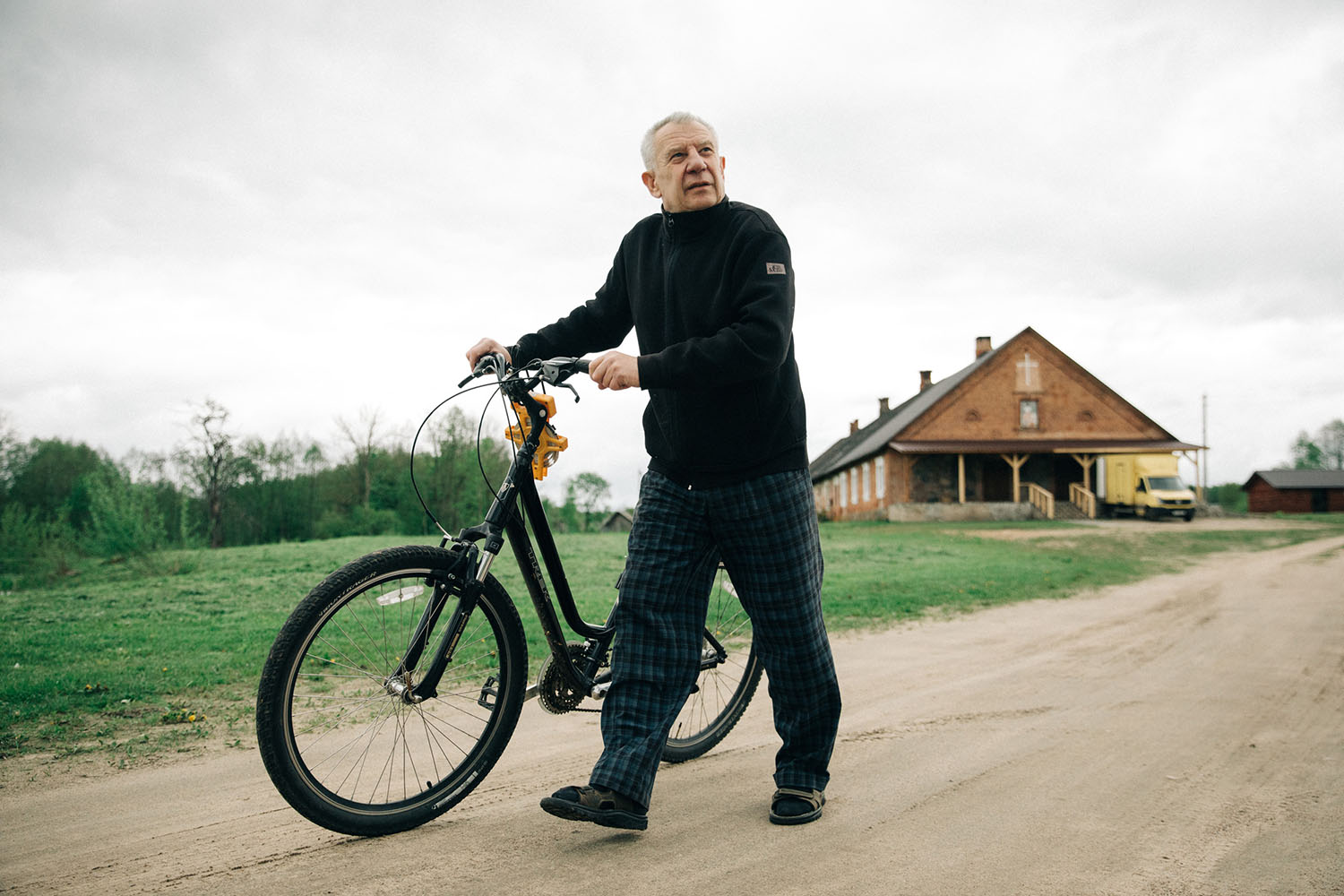 – We want to ensure that Kamarovа becomes an example of the development of the village infrastructure. Since 2017 we have been running a business incubator. During this period, we have helped to create 23 enterprises in different districts – Miadziel, Pastavy, Astraviec, Smarhoń. Since the region is a tourist one, the whole business is somehow connected with tourism. Someone will say that, for example, an auto repair shop is not about tourism. But everything becomes visible in detail. It has happened so that a client came to us and got a flat tire, but the wheel discs were non-standard. What could he do? Luckily we have a repair shop of our own. So we took it and made it. And he left satisfied.
Our task is to model the infrastructure of the economy. Here we have a bakery, trade activity, service sector. There is also an urge to make a business model of a "city of all trades", where there would be different small enterprises: someone is engaged in agriculture, someone – in recycling, someone repairs cars and someone repairs the road, someone is engaged in housing and communal services. We even wanted to create our own housing and communal services!
'A village should have everything that a city has, even by a good deal cooler'
Many people think that a village is: a girl works on a farm, a boy works on a tractor. If you don't want to, then get out of here to the city. And now I say: an IT company will easily come here and get to work. It is necessary to give the opportunity to earn money and make the process enjoyable. I want to create a business model where a village means more than just agriculture. My life experience shows that people feel comfortable mostly in the countryside.
Some people don't want to go to the countryside, because they believe that a village is dullsville. Though a village should have everything that a city has, but even by a good deal cooler. Well, someone tells me, 'A cool building was erected in Minsk, it costs ten million dollars.' And I answer, 'But we have an oak tree that is 400 years old. You can't make this oak tree up for ten or even twenty million dollars.' You shouldn't evaluate everything that way.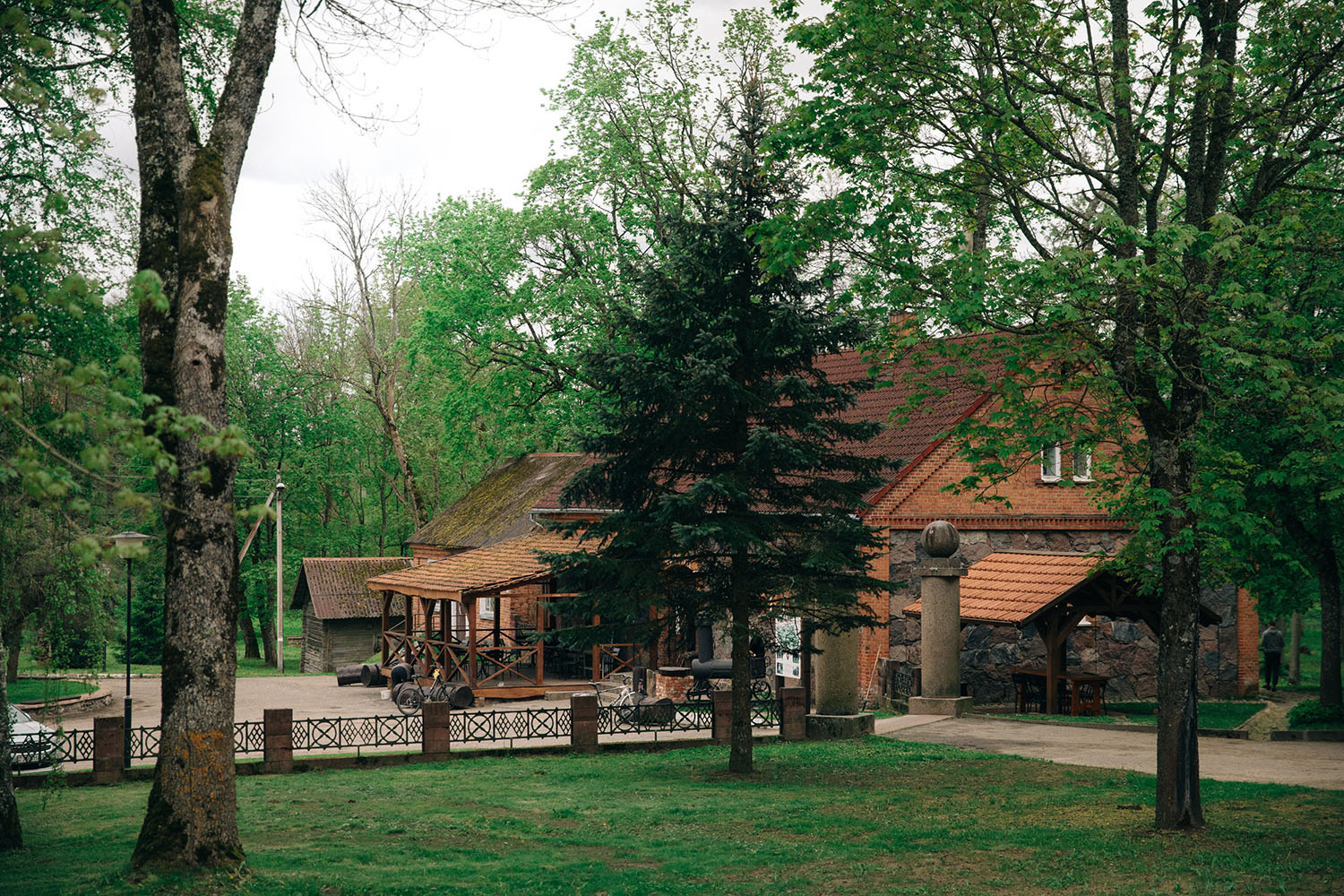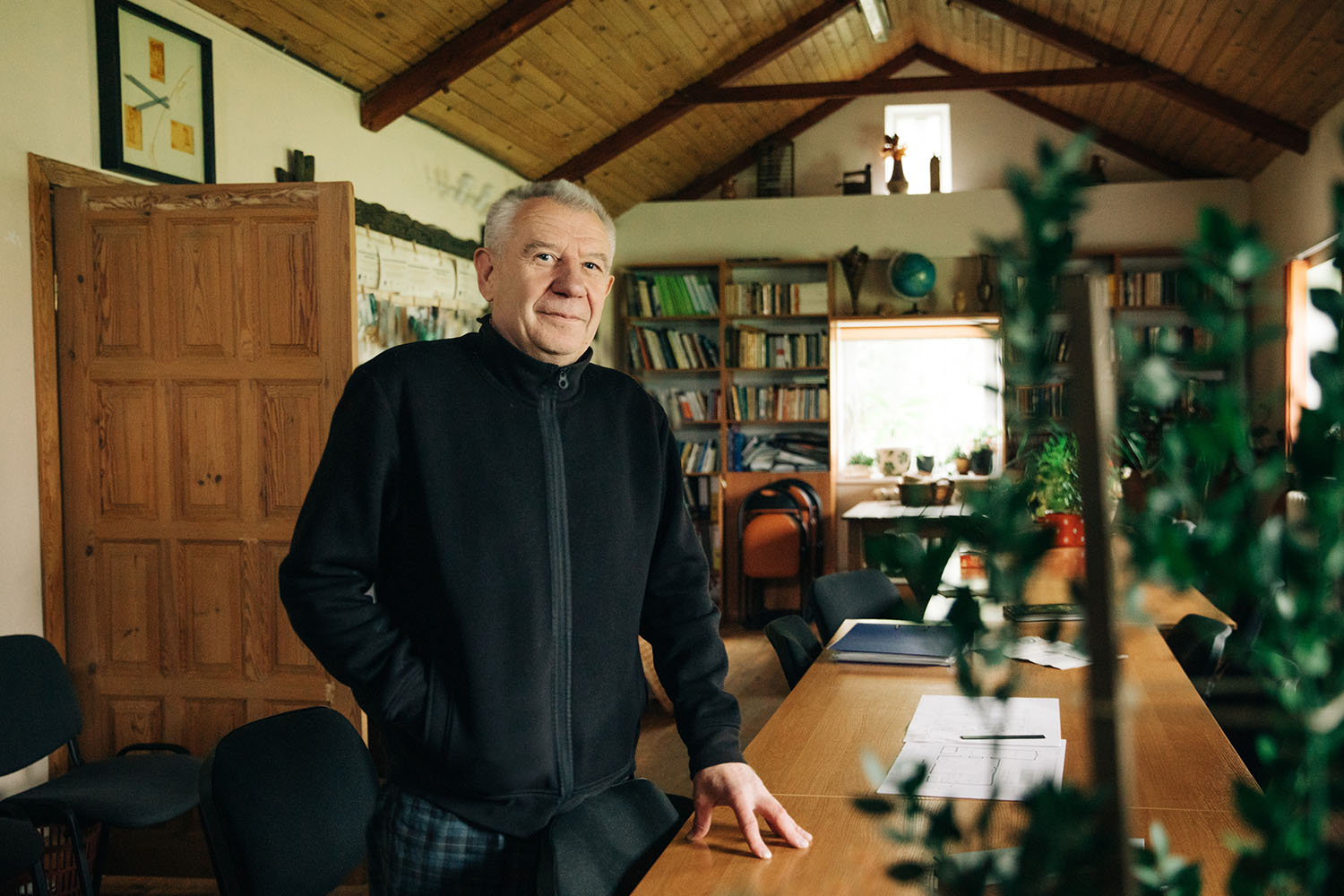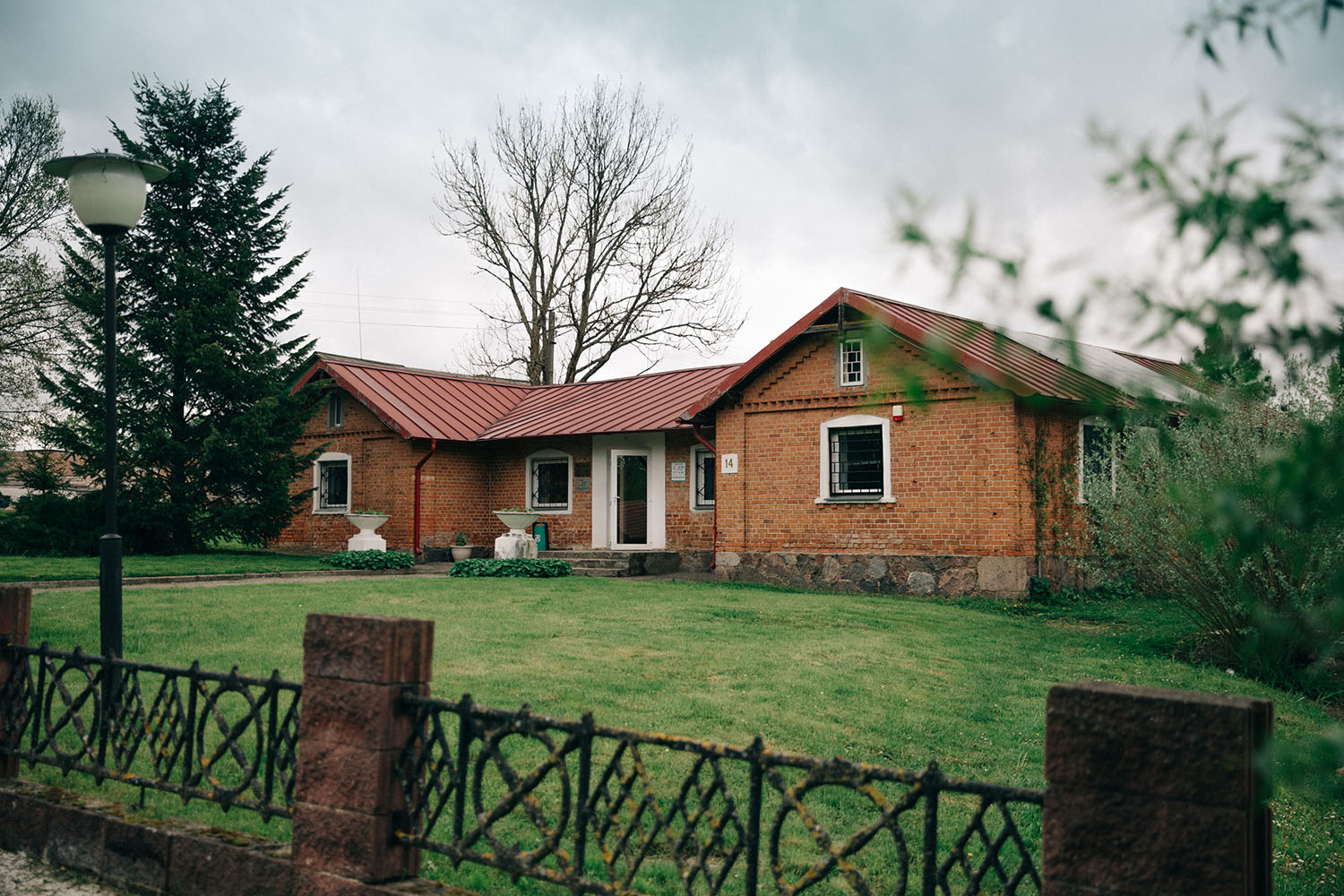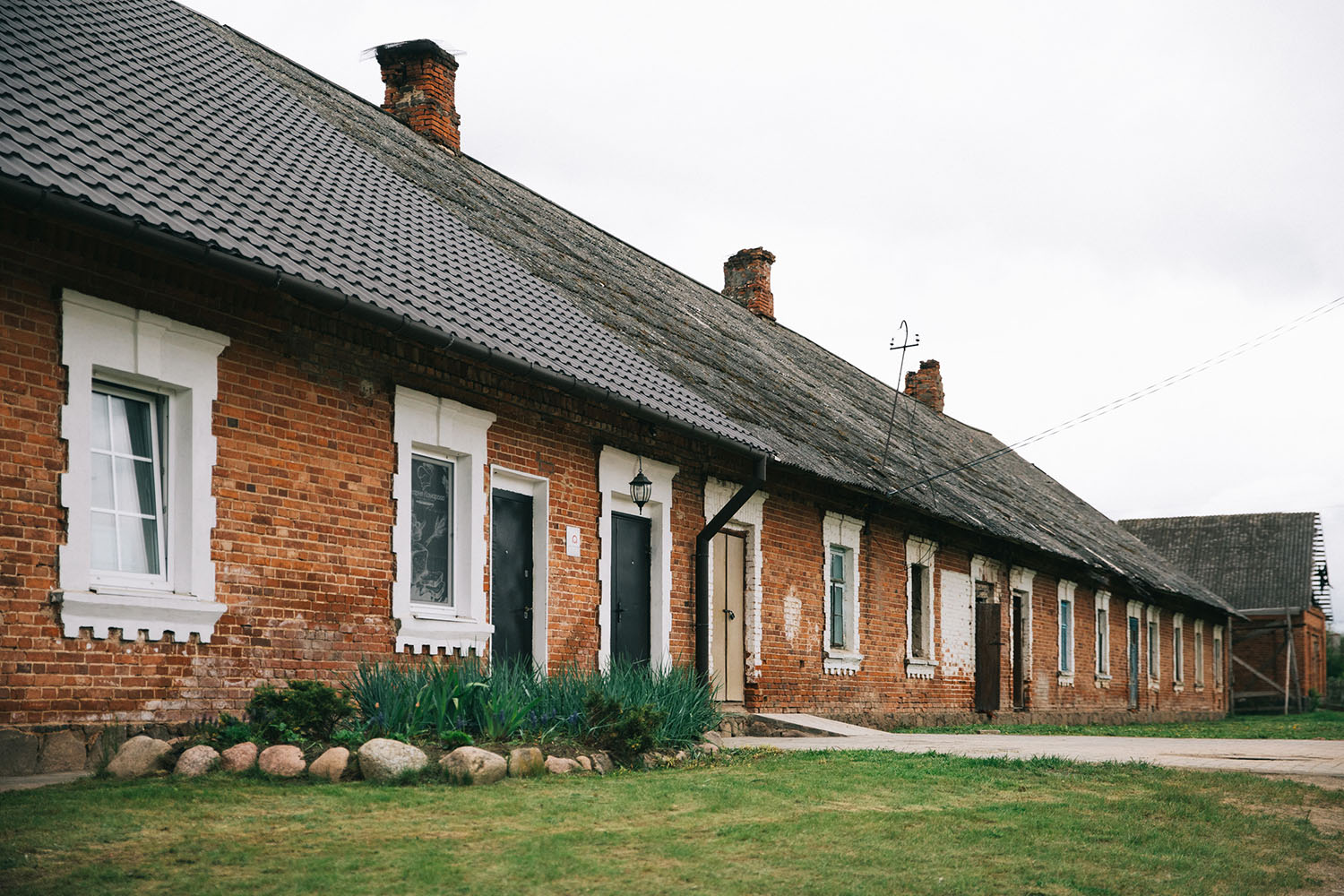 Sightseeing in Kamarovа
Perhaps the first thing that travelers notice in Kamarovа is the cafe "Kamianica" with a large terrace. You can't miss it: the cafe's parking lot is packed with cars even on a weekday. We advise you to order a full dinner here (of course, we opt for draniki – potato hashbrowns): everything is cooked from fresh products. You will also find a shop here, where they sell bread and buns to take on the go: they are locally produced as well, at a bakery nearby.
Next to the cafe is a building of the old shop, but it's closed for now. It used to be the Count's food storage. Eduard, of course, has an idea of how to use the place. A lot of local businesses sprung up in the area. They produce products – honey, dried vegetables, rabbits, eggs – but are experiencing problems with sales. And there is an option to sell them under the promoted brand "Kamarovа".
– Manufacturers bring products to the warehouse, equipped in this building, we wrap them in a nice package, shock freeze or prepare them otherwise, take orders in advance on the Internet, and once a week a car goes to Minsk, delivering a package of farm products straight to your door. But authorities still can't allow us to use this building, because it is cultural property.
On the other side of the cafe, there is another house. Once there was also a cafe, and now a shop and a cheese dairy are starting to work. From the onset repair works were conducted with consideration to an accessible environment: there is a wheelchair ramp at the entrance.
– We bought this building in 2019, and it was in terrible condition. We took out one and a half thousand cubic meters of garbage. We're equipping a shop there now, and a cheese dairy on the basement floor. There are quite many farms with their homesteads in the district, and we agreed that we would buy products only from farmers. They will know that they have a strong milk market and will be able to increase production. As a result, we will have our bread, cheese, coffee, and beer to offer guests. The building was erected in the 1960s, and we are styling it for the XIX century: we used old bricks, made a different roof.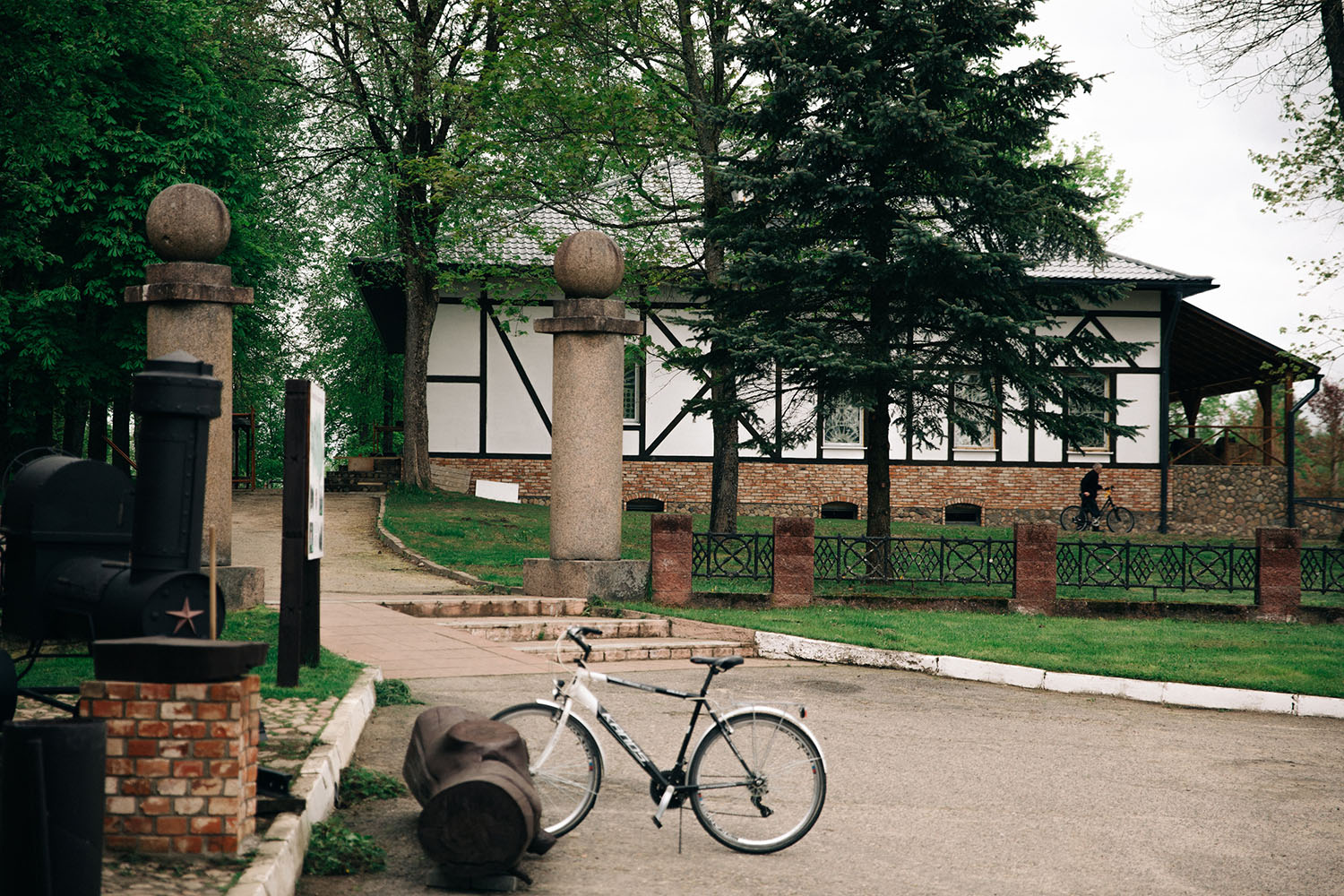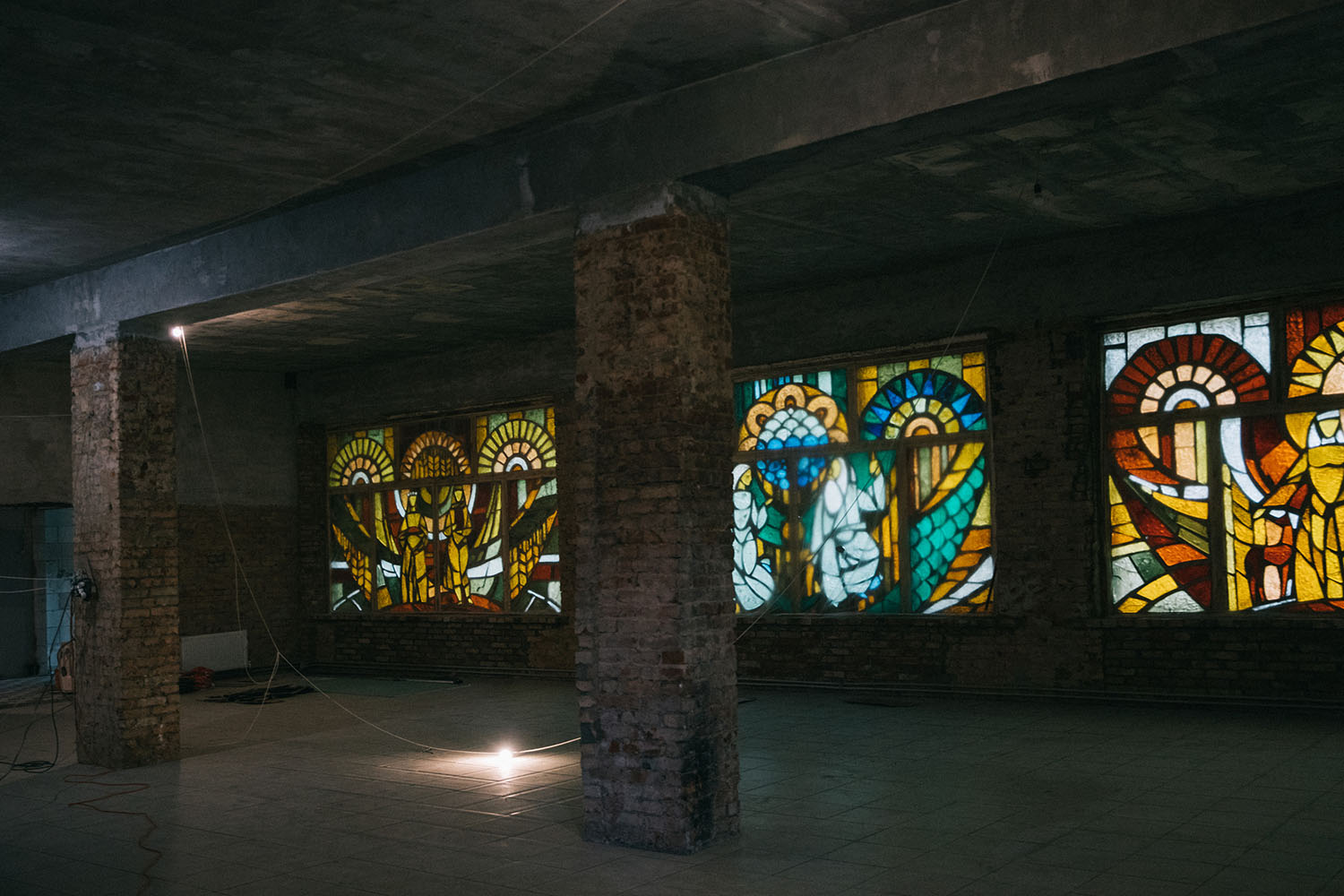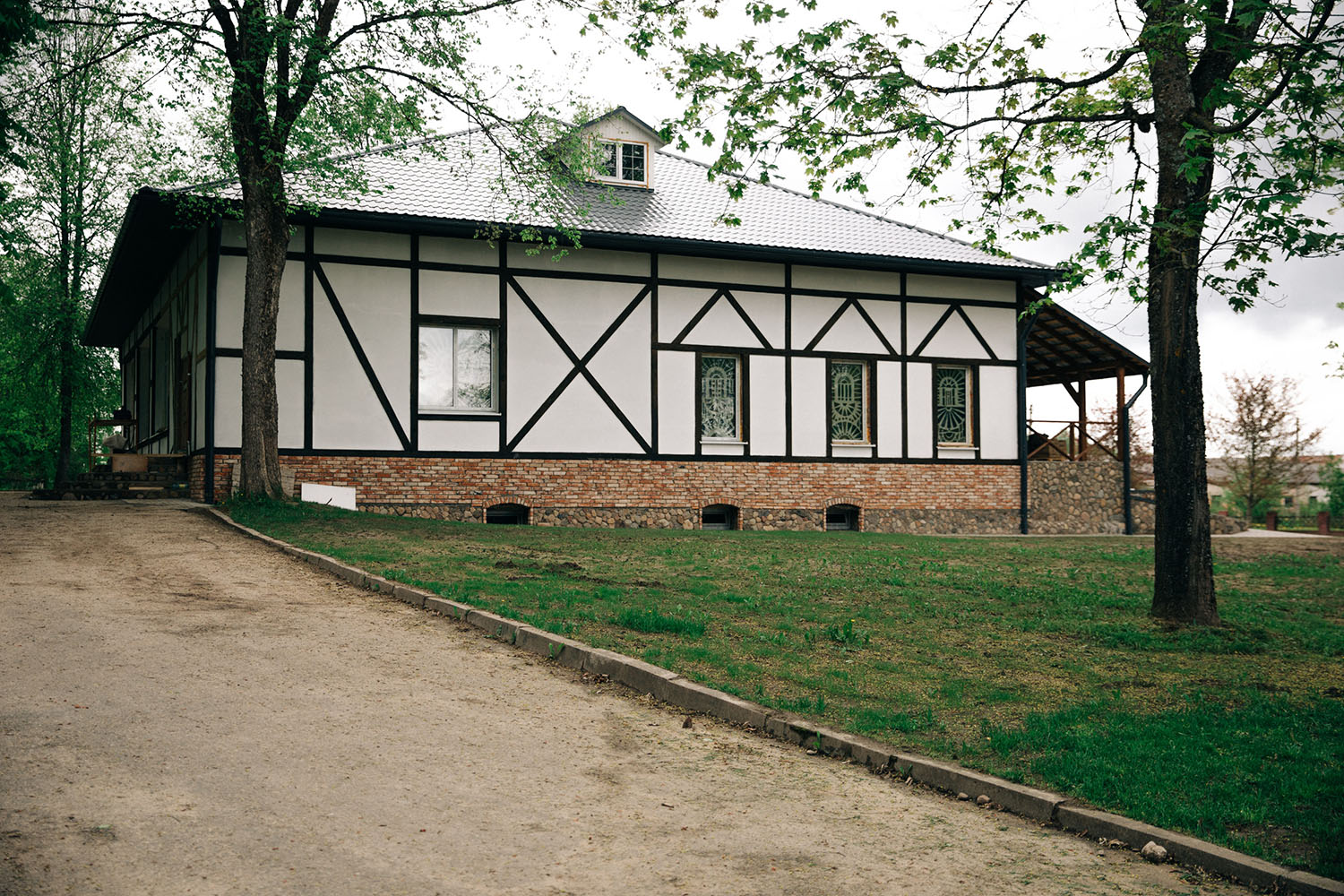 Note the stained glass windows – these are the original works dated 1989, created by artists Juryj Padolin and Juryj Chiĺko. Fortunately, the stained glass windows were preserved, although they had been stored in a warehouse for many years. The glass panels were made under a special technology: a piece of glass 5 cm thick had to stay in the oven for 24 hours at a temperature of 950 degrees to form a single fragment. Most of the stained glass windows are allegories of education, nature, youth, and some are just abstract compositions made from the remaining pieces of glass poured into standard shapes. It is planned that all the windows will be highlighted in the evening: just imagine the beautiful shining! Also, the cheese dairy has special lobbies, through which visitors can observe the process of production of cheese, so Kamarovа will develop industrial tourism as well.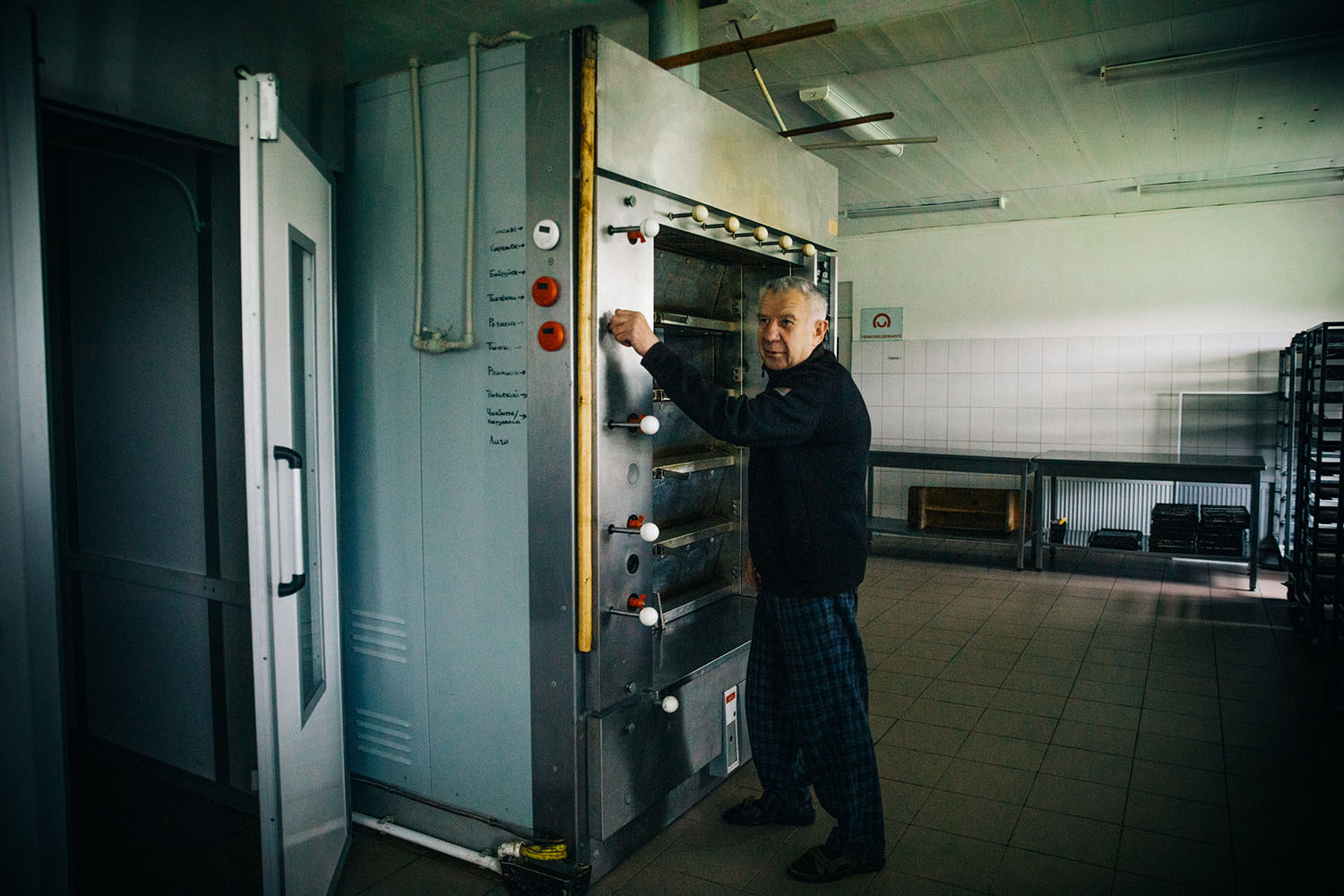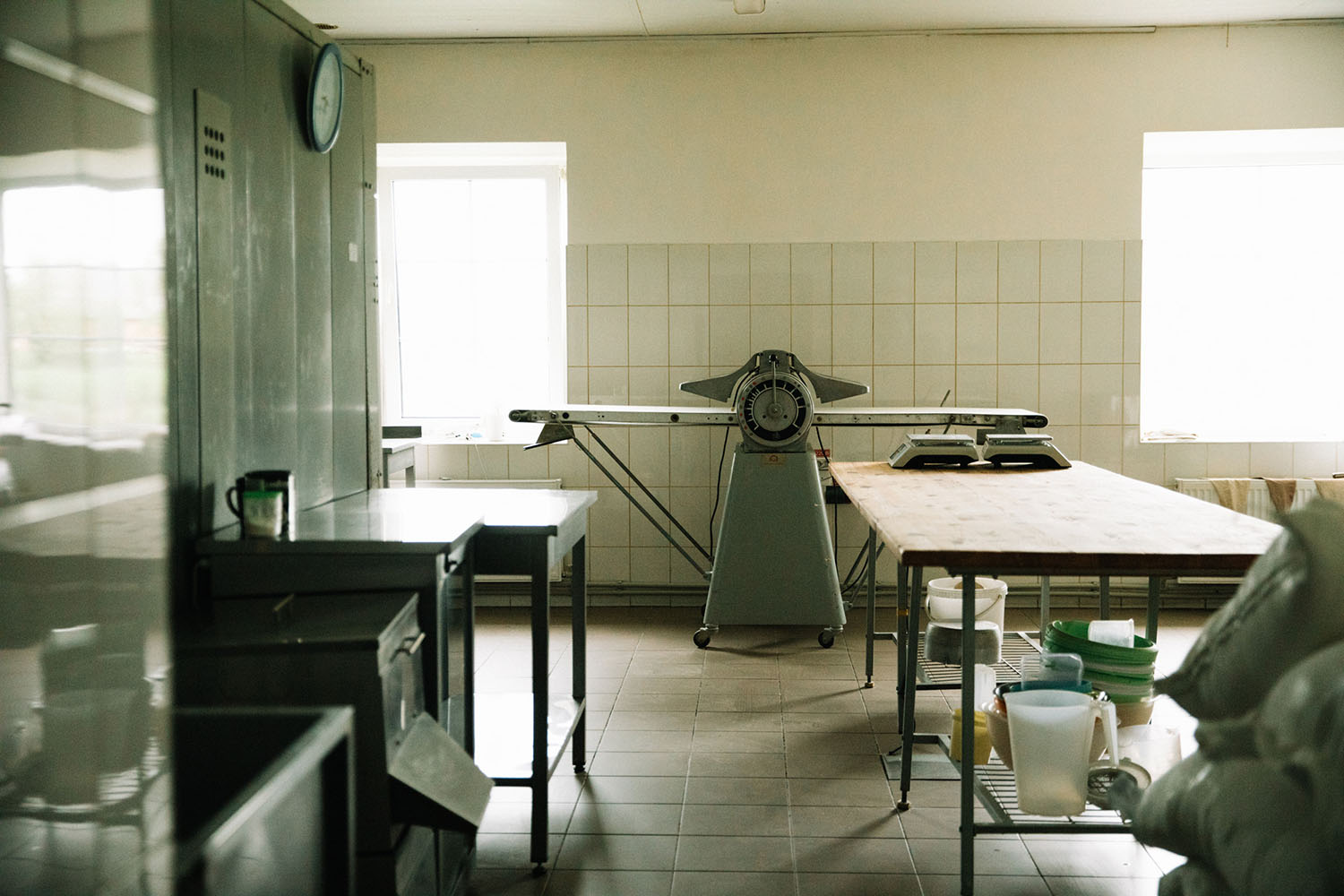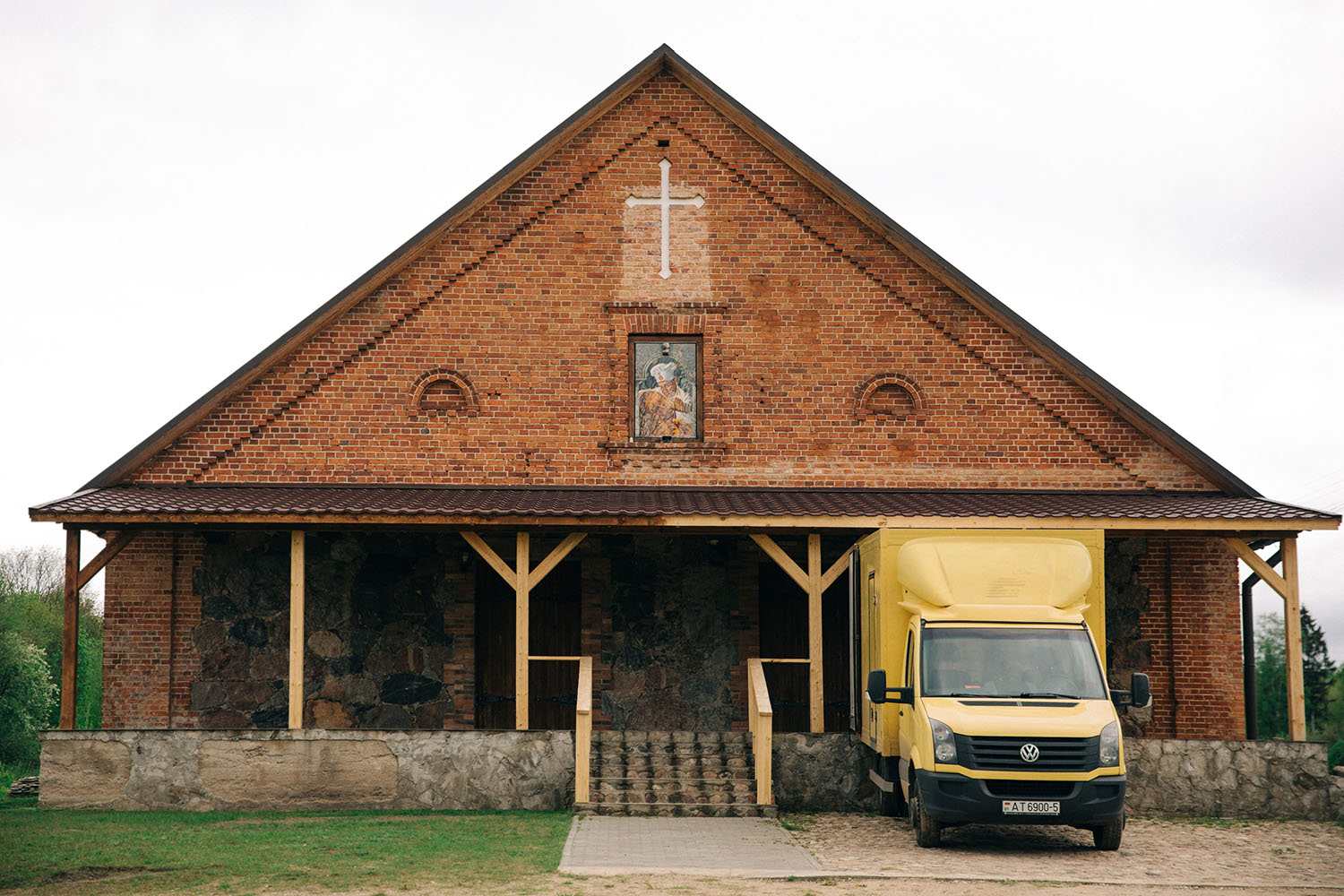 Then take a walk to the bakery: it is a massive red brick building with a gable roof. You can hardly miss the building: under the roof, you will see a white cross, and below the cross – the painting "A Baker". The building does not relate to church, despite the cross. At the times of Count Staržynski it had been just a living room, and the picture was created by the artist Juryj Padolin at the request of Eduard specifically for the bakery. Usually, visitors are not allowed inside the bakery, but we are invited to look around. The smell of cumin floats around. After lunchtime, no one is there, but the oven is still hot: bakers work here in several shifts. On the way to the bakery, note a small one-story house – that's the above-mentioned Center for the Development of Rural Entrepreneurship, which helps small businesses in the region.
– The bakery has been working since 2007. This bread is made under fine technologies. One store in the Narač district took our bread for sale – and the turnover became twice as large. People started coming. And people come for what is of absolutely high quality. The coolest advertising is word of mouth. But if you've screwed up once – you won't be able to catch up in ten years. One satisfied customer brings a hundred new ones, and one dissatisfied customer talks five hundred out. That's why we are engaged in development in terms of the quality of our services. Small, difficult, but our own. The same thing happened with the cafe. Once I noticed: there are a lot of motorcycles, bikers settled on here. But no one has advertised the place, they came and they liked it. We pay attention to non-standard aspects. These are the trifles that you won't even notice. These are beauty and convenience. I see how these little things then affect people, society, and production.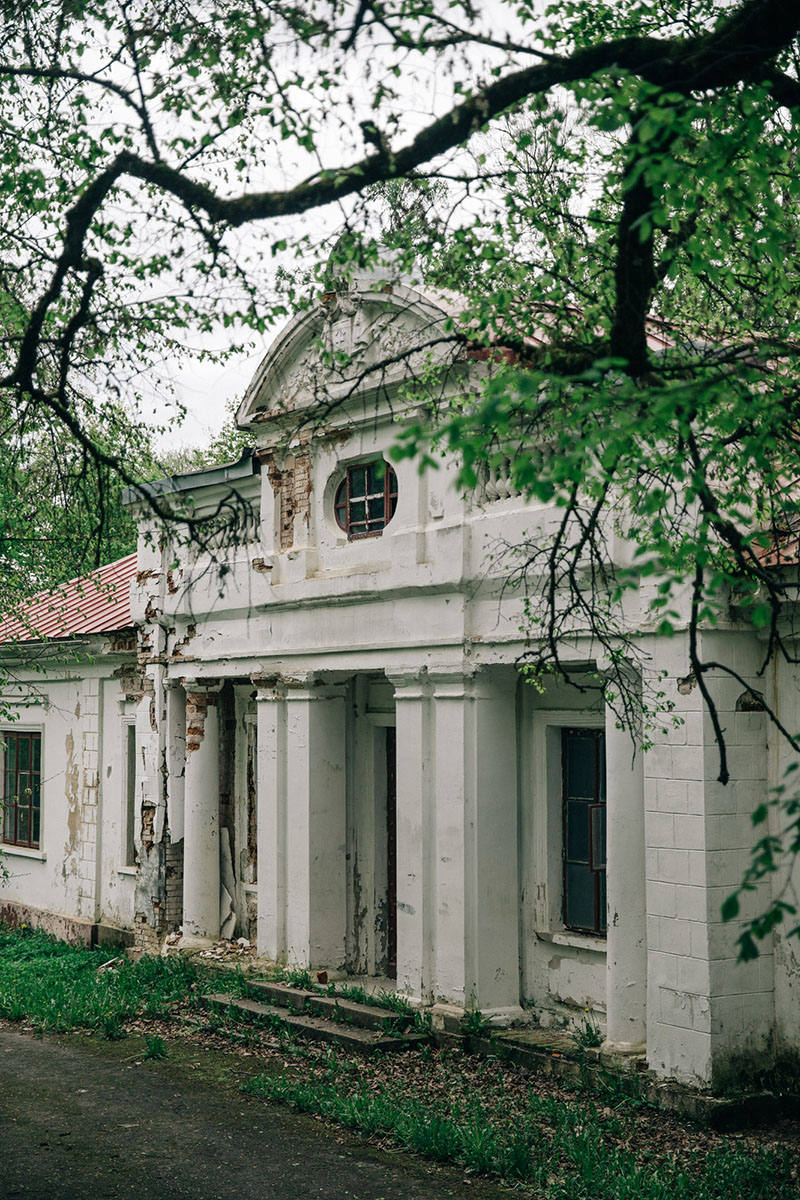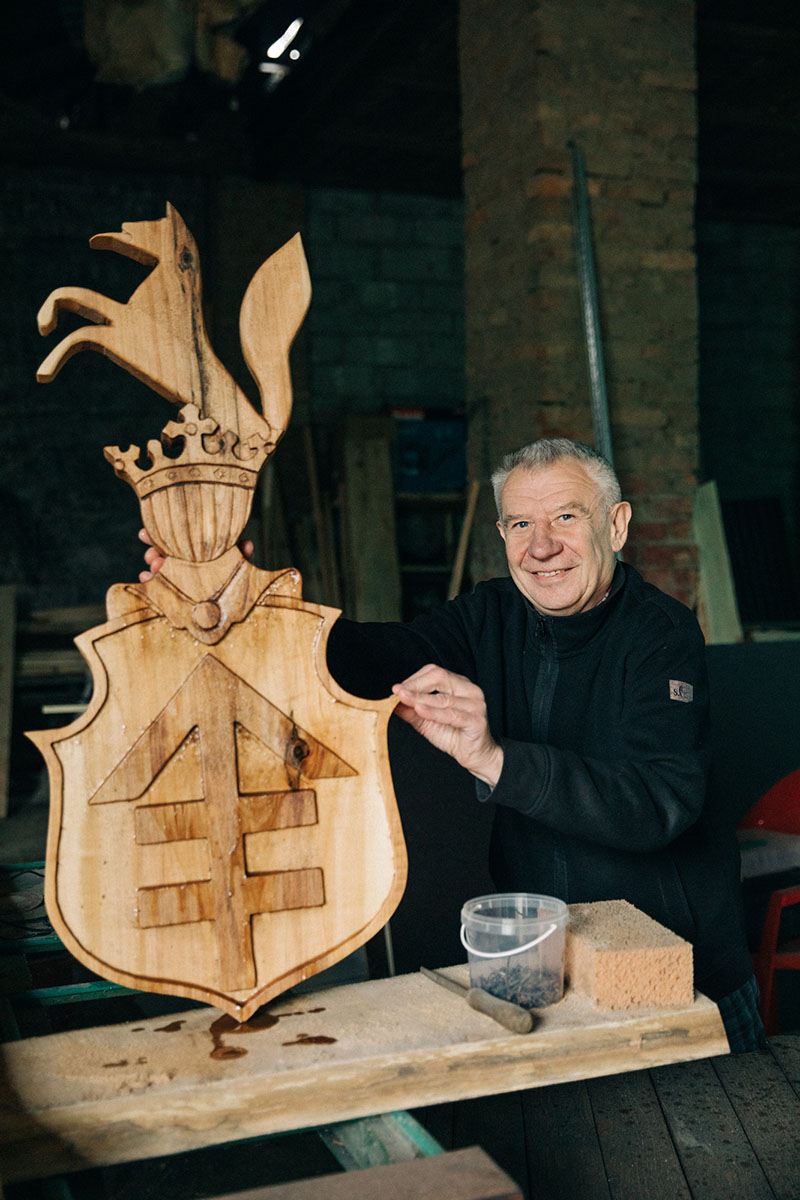 The building of the manor house hides a little further behind a cafe and a shop. It's a small one: a one-story U-shaped house in the Art Nouveau style, at the top of which you can see the coat of arms of the Staržynski family "The Fox". Now the building is not in use, but Eduard has a plan to equip it as a space for conferences and business meetings, as well as establish a museum with changing exhibitions.
– Our main task is to develop a regional product. We don't have fancy monuments and museums, although we pursue that too. We want to restore the manor house and make a conference hall and offices there. The building itself will be furbished up in the style of the XIX century. And there is also an idea to organize art exhibitions or, for example, a music class for children there. A person who has moved to Kamarovа from Minsk is ready to teach classes.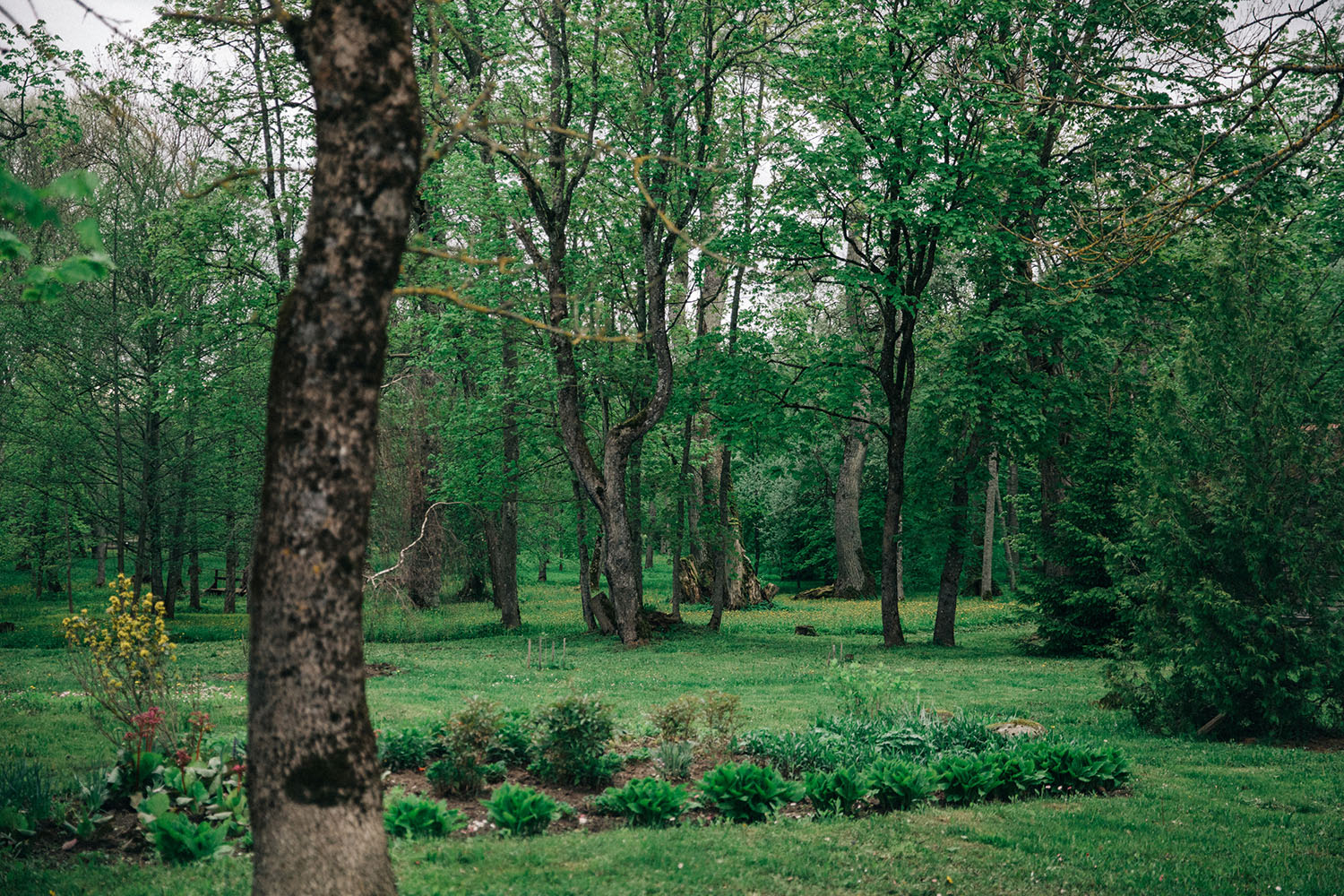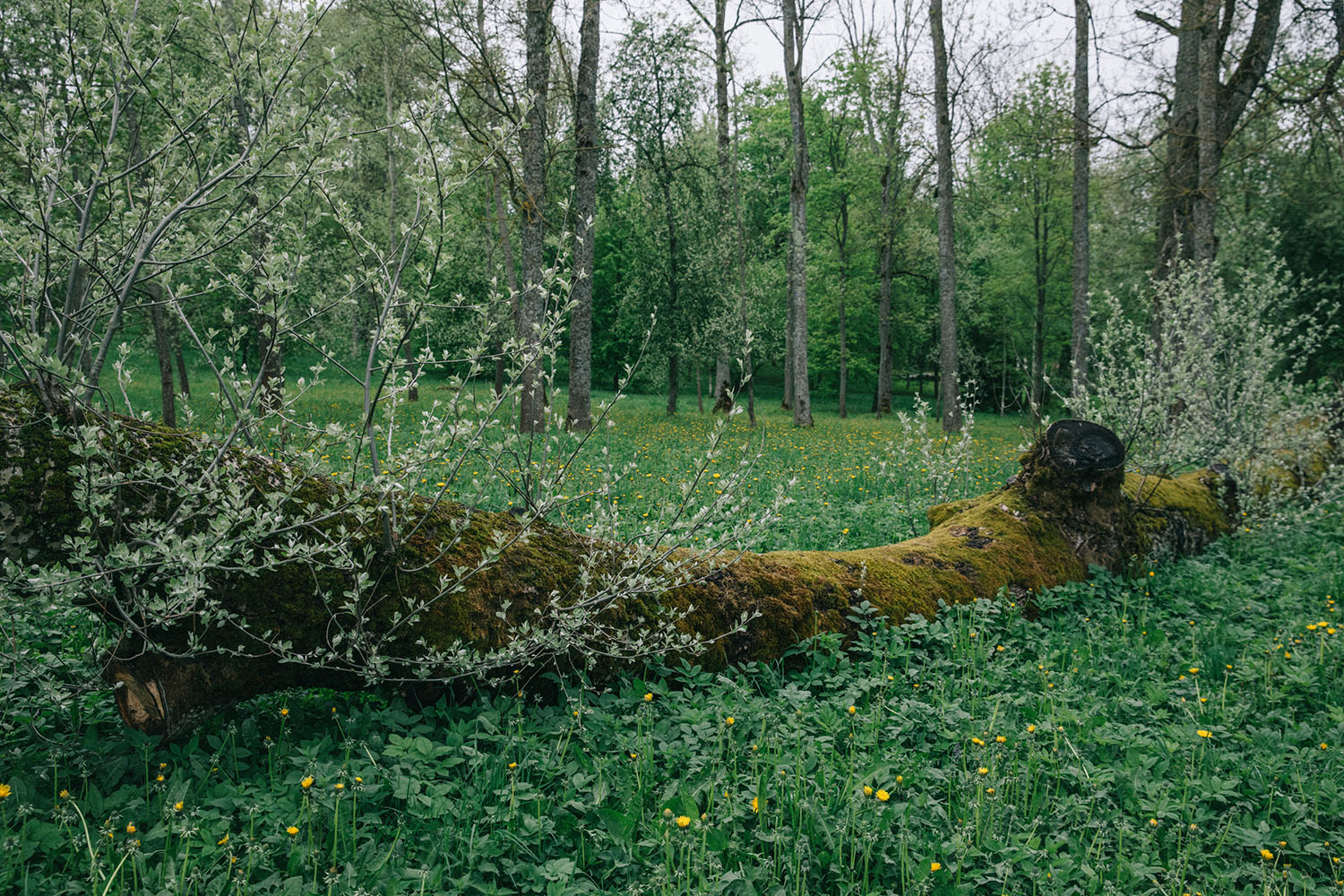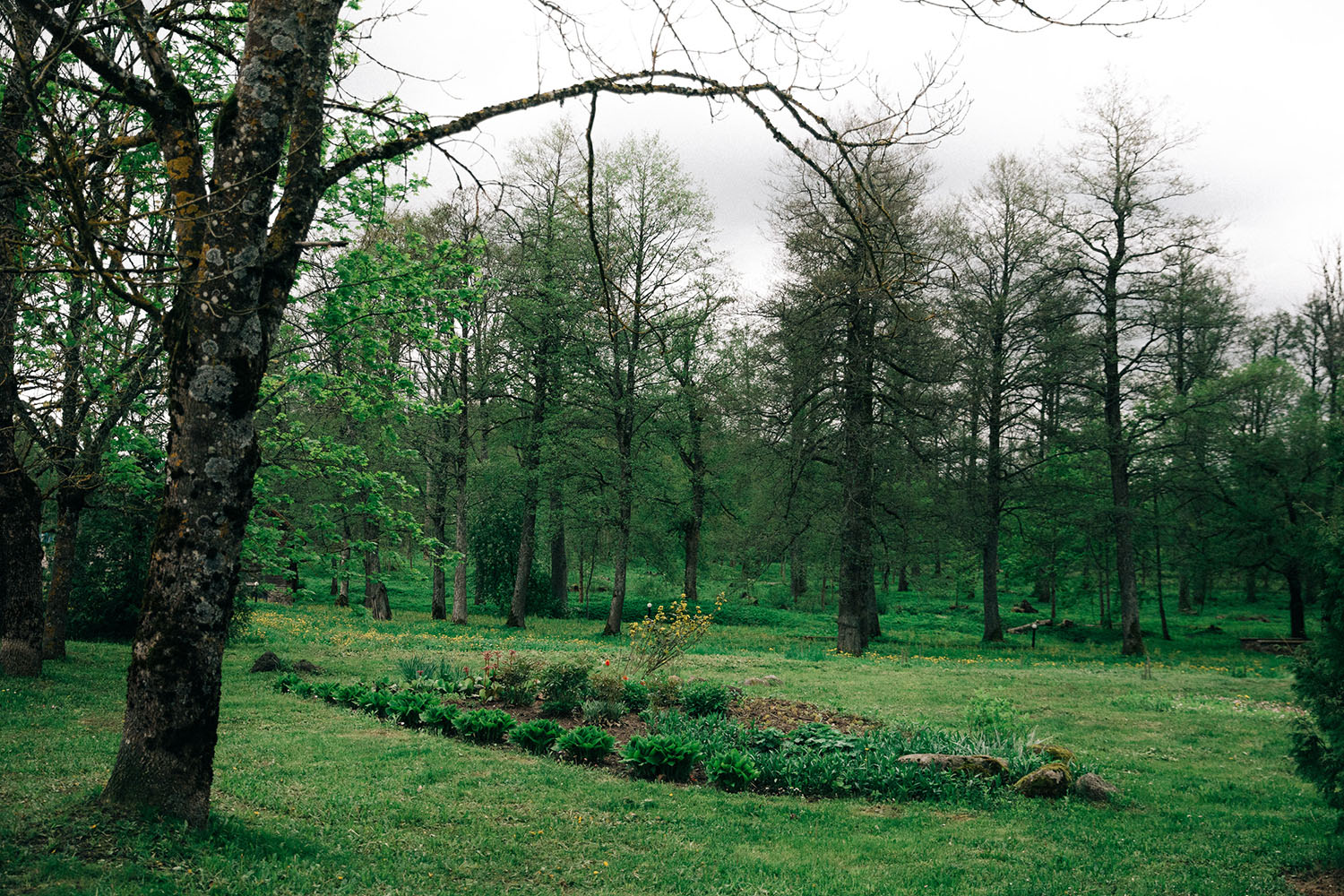 Last of all, another very important attraction of Kamarovа is a huge park. The orchard-house is no longer there, but the old alleys have been preserved, alongside with a pond that turns into a small waterfall behind the bridge and then flows away like a forest stream. A few old fallen trees were left in the park, and you can observe how they are gradually being captured by nature. Take the time to have a walk here: stand by the huge, moss-covered trees, listen to the murmur of the stream, watch the goldfinches fly from spot to spot and just get impressed by the spirit of this place.
'I don't understand when people say, 'That's not mine, this is not my business'
– When I was the headmaster of the school, I had dozens of tractors, but we could not clean this park in any way. Now we have been doing this ourselves for two years, without public money, without tractors and equipment. My son Paval, who has his own company, is engaged in that. He finances it himself, hires people, pays them. This is an indicator of responsibility. I don't understand when people say, 'That's not mine, this is not my business.' After all, your environment is also your life. Okay, even if it's someone else's, but I will do everything to make the place beautiful because it impacts me. Many Minsk-dwellers come here and ask in surprise, 'And who takes care of the park, the village council?'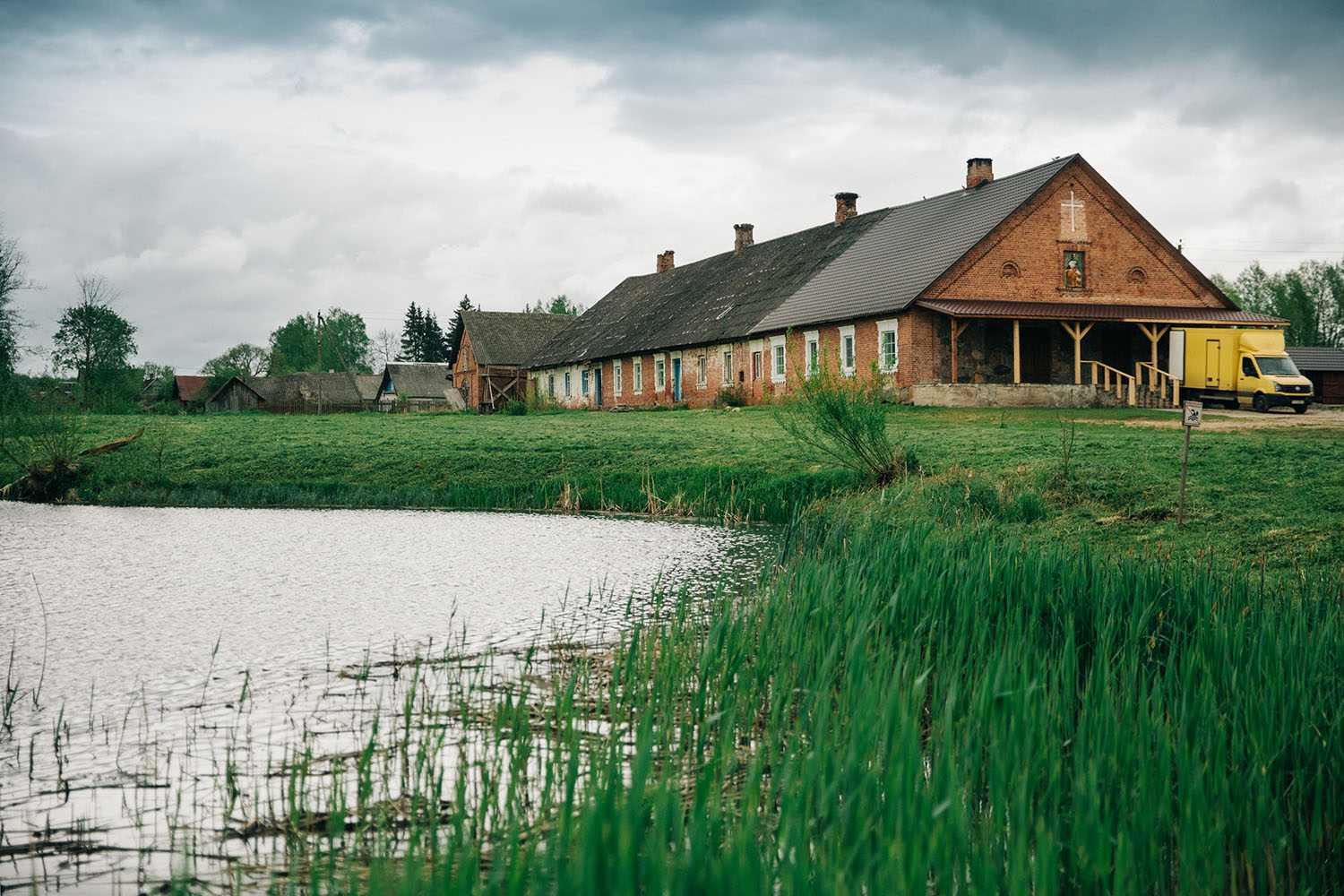 I've always tried to be strategic in what I do. The headmaster of the school, which was my first workplace, had taught me that. He might not have known what event was taking place at the school today. I was surprised, 'Then what do you do?' And he said, 'I think about how our actions affect things that will happen in 15 years.'
When I was the headmaster of the school myself, I memorized an article about the demographic situation, written in 1998 by the Minister of Education. I thought, 'Mama mia, I can't get enough children today, and what will happen in 15 years?' What should I do? It is necessary to establish such an education process that a child will come to study at my school not only from Miadziel, but also from Hlybokaje and Žlobin. I should make an offer that they will never get in Minsk. I need the mother of this child to say, 'Here is your bag, go to Kamarovа and you will become someone.' But this required completely different approaches.
'This is the main indicator. My children live here'
The development of small businesses in rural areas is the only prospect that can save the village, and there is no other alternative. No control will force you to do more than a personal interest in your business. I am pleased to hear words of gratitude from local people. My family helps me a lot: my wife, her sister, my children. This is the main indicator. My children live here.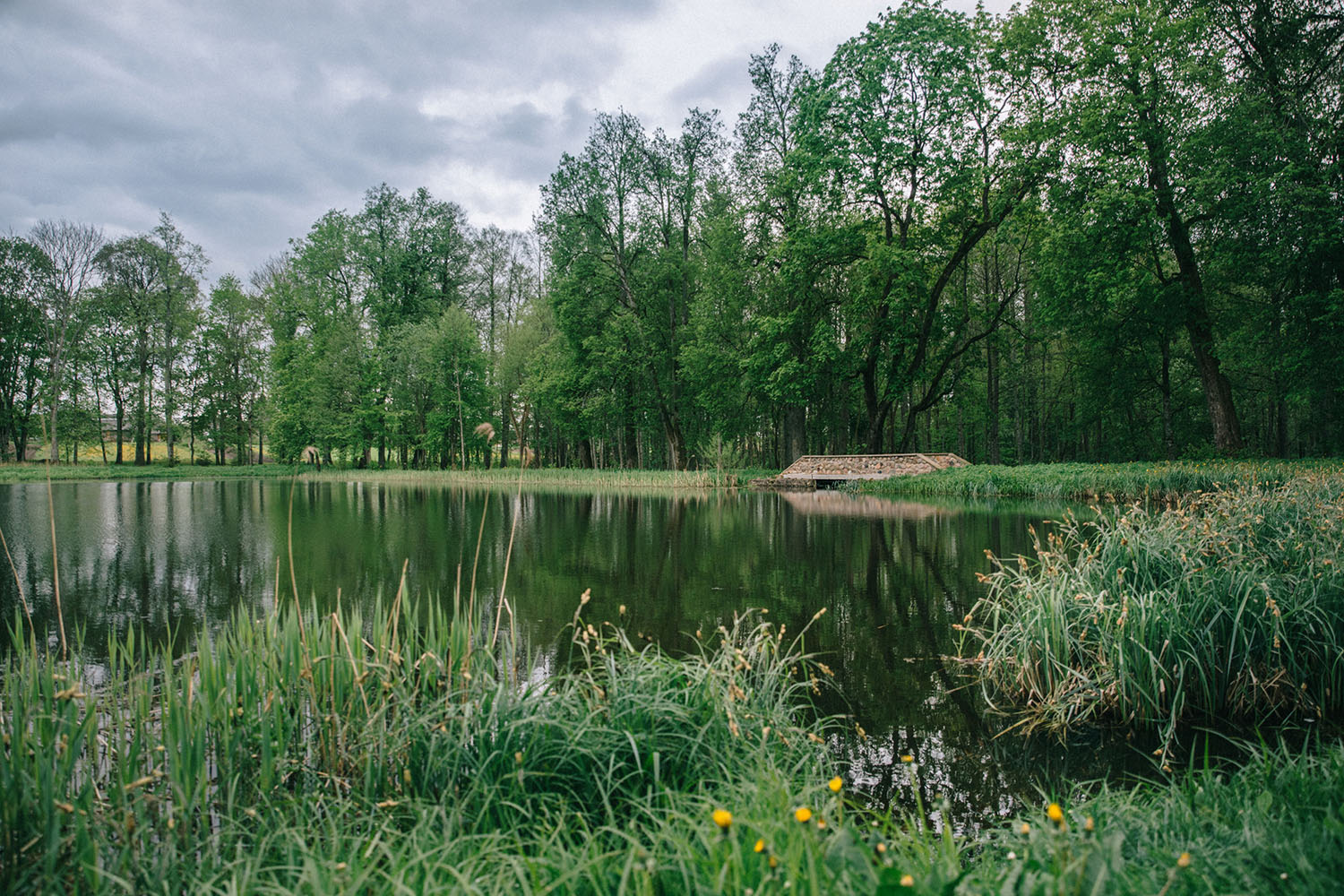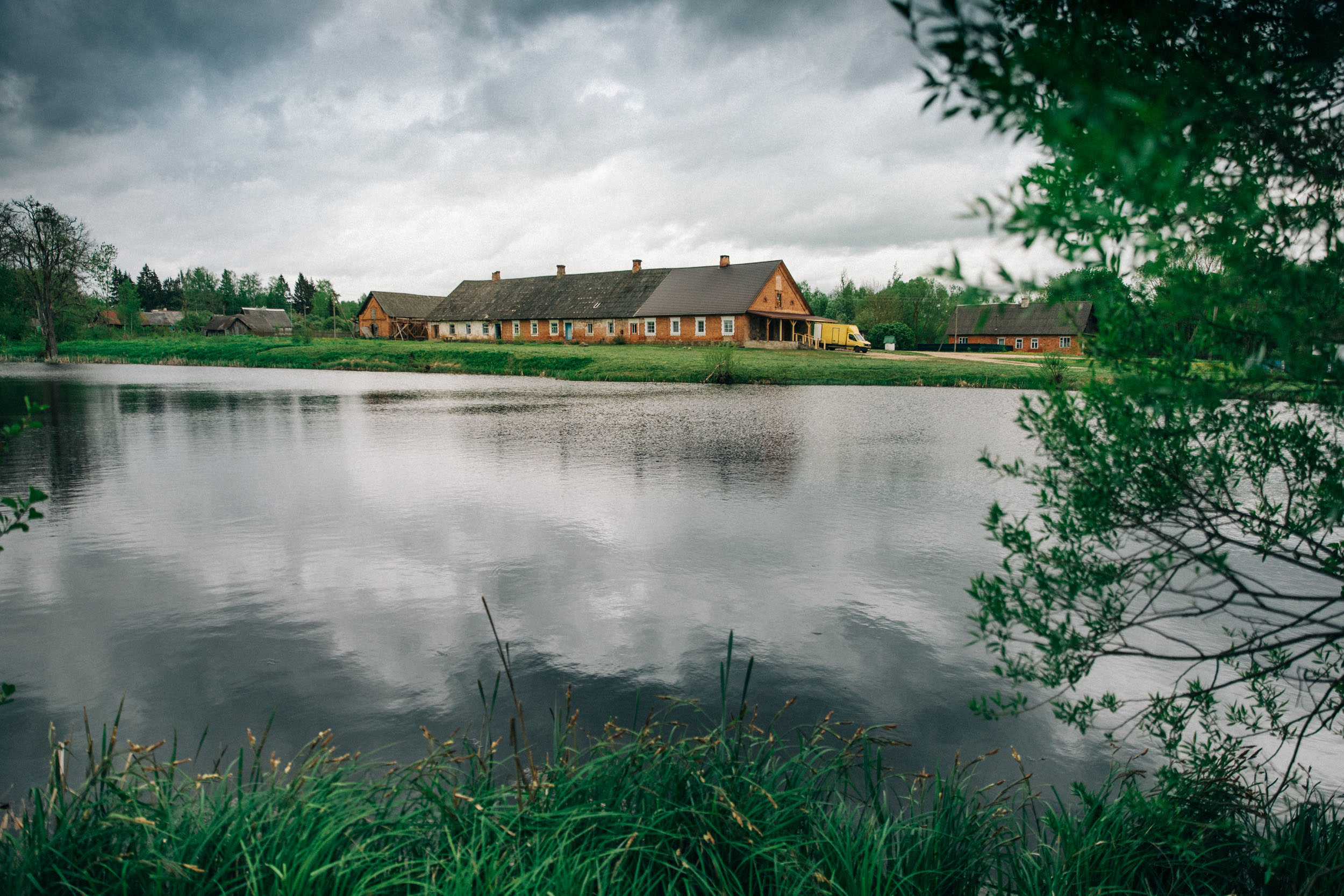 Other sights on the road
Kamarovа perfectly fits into several routes. If you are coming from Minsk, lead the way through Šemietava and Zasvir.
In the town of Šemietava you can take a look at the Catholic Church of the Tireless Help of the Mother of God. It was built in 1902 in the classical style: the main facade with four columns faces artificial ponds. If you're lucky enough to get inside, you will see the stained glass windows with images of saints. There is an unusual wooden two-tiered belfry next to the сhurch. Picturesque ruins of a smithy and a distillery have also made it to our times.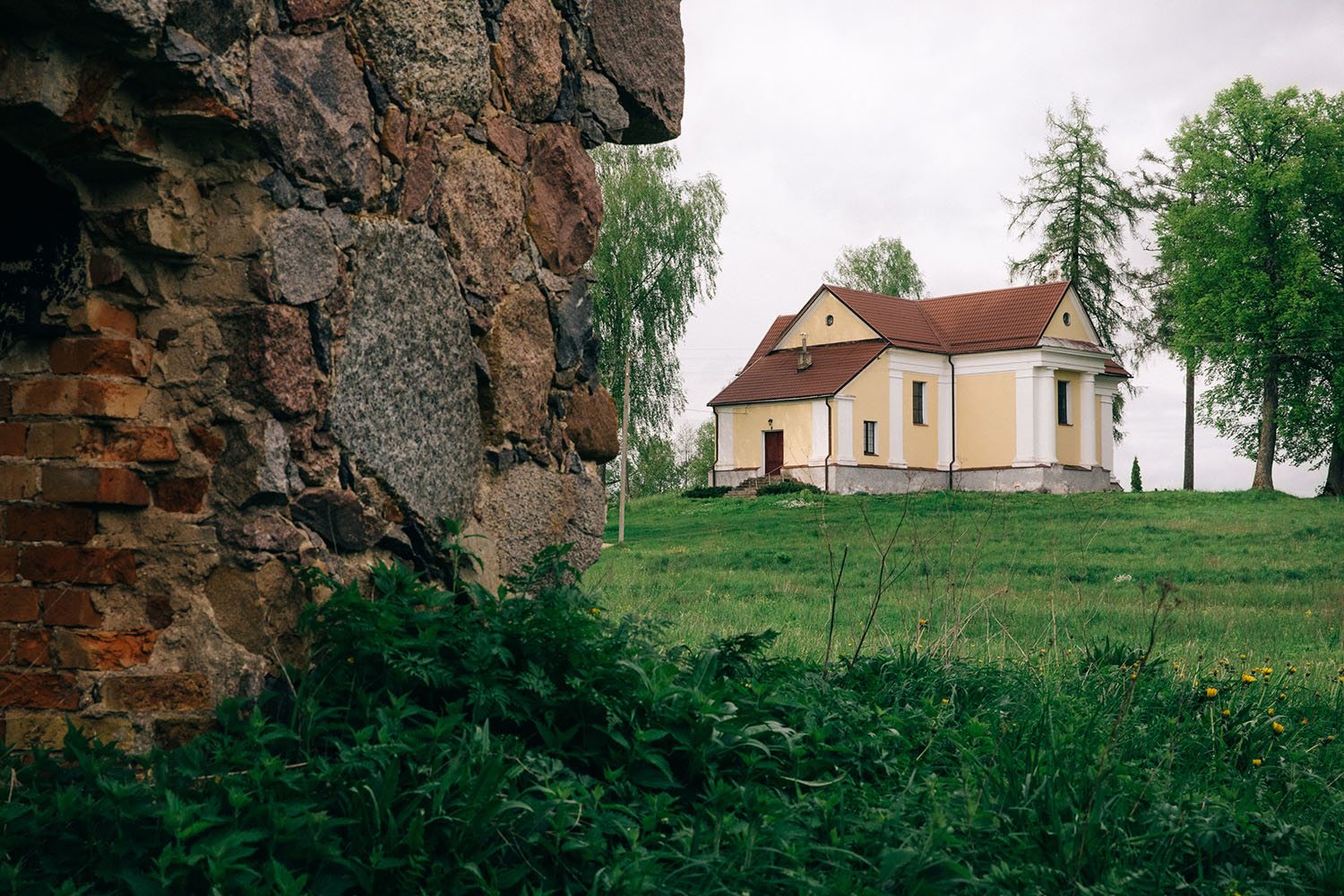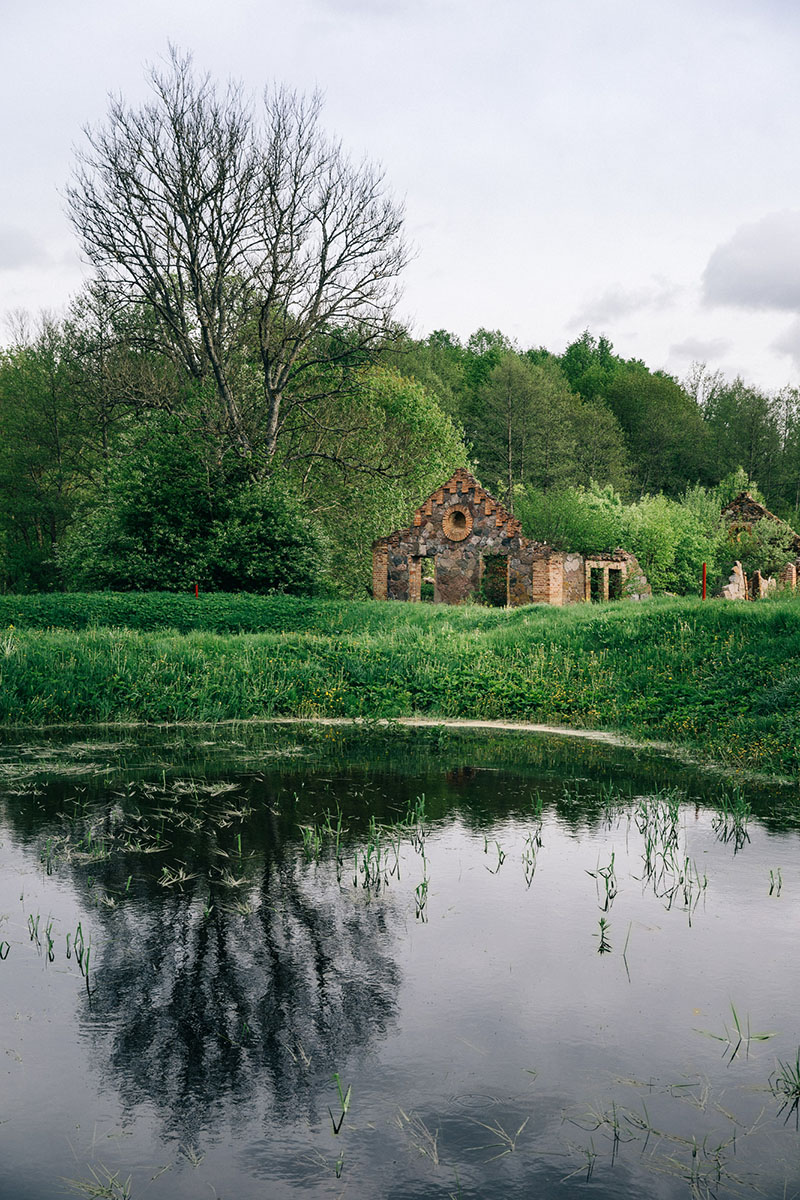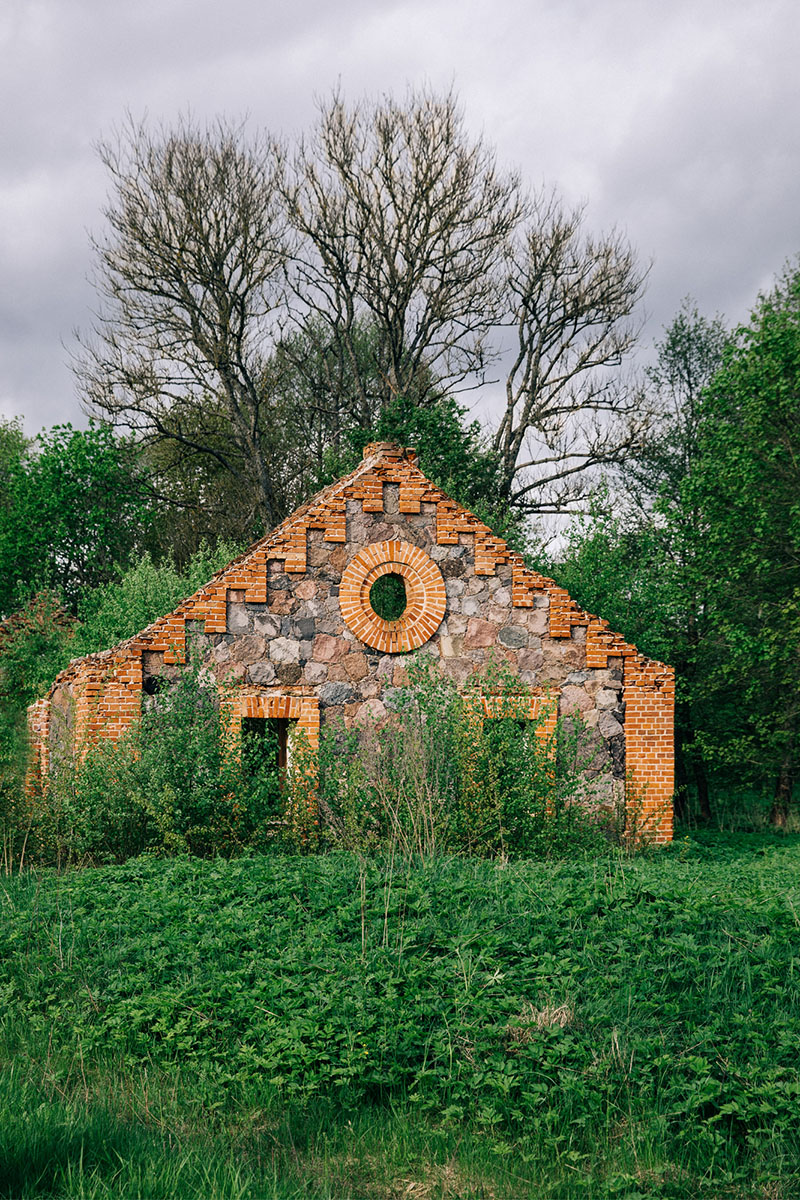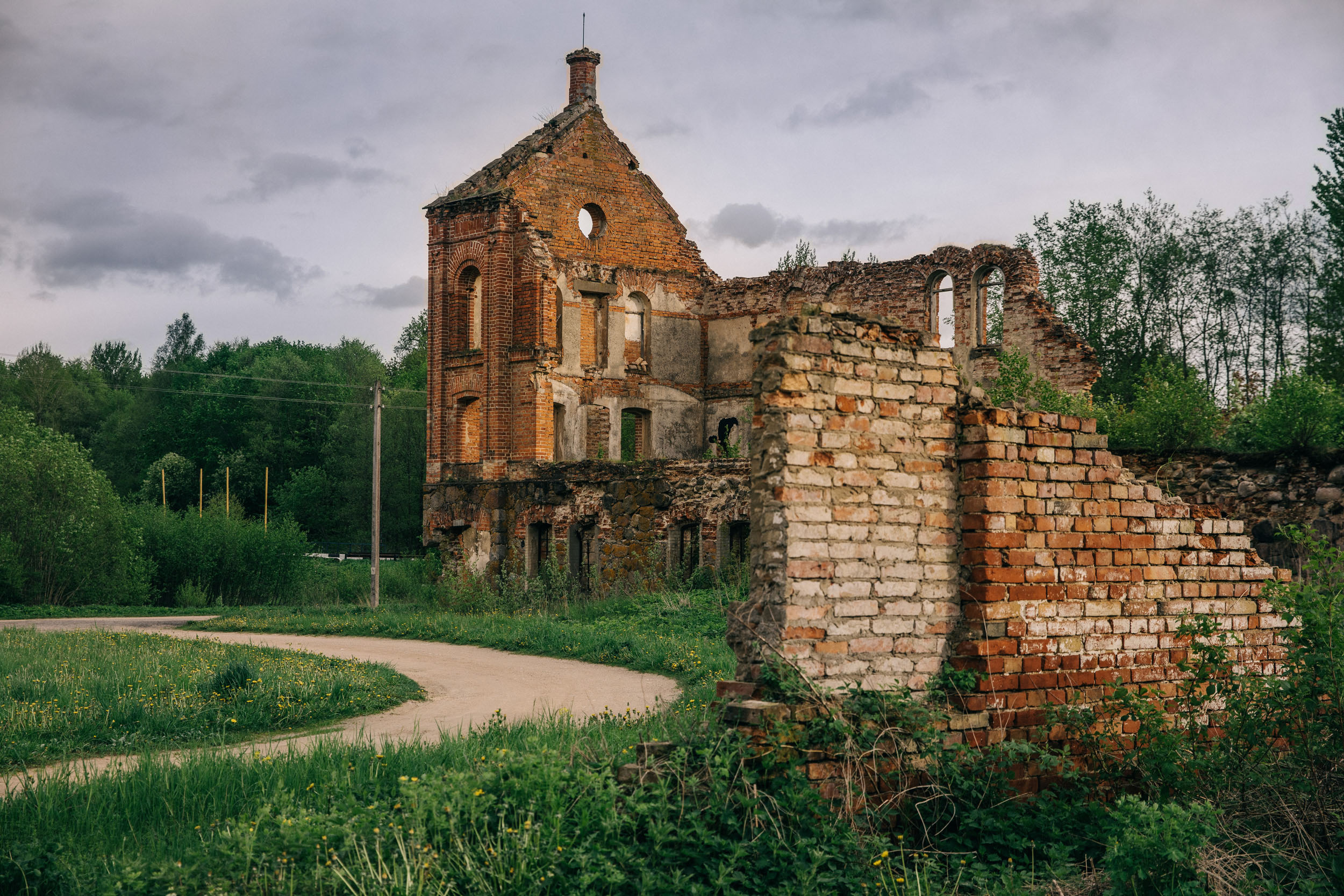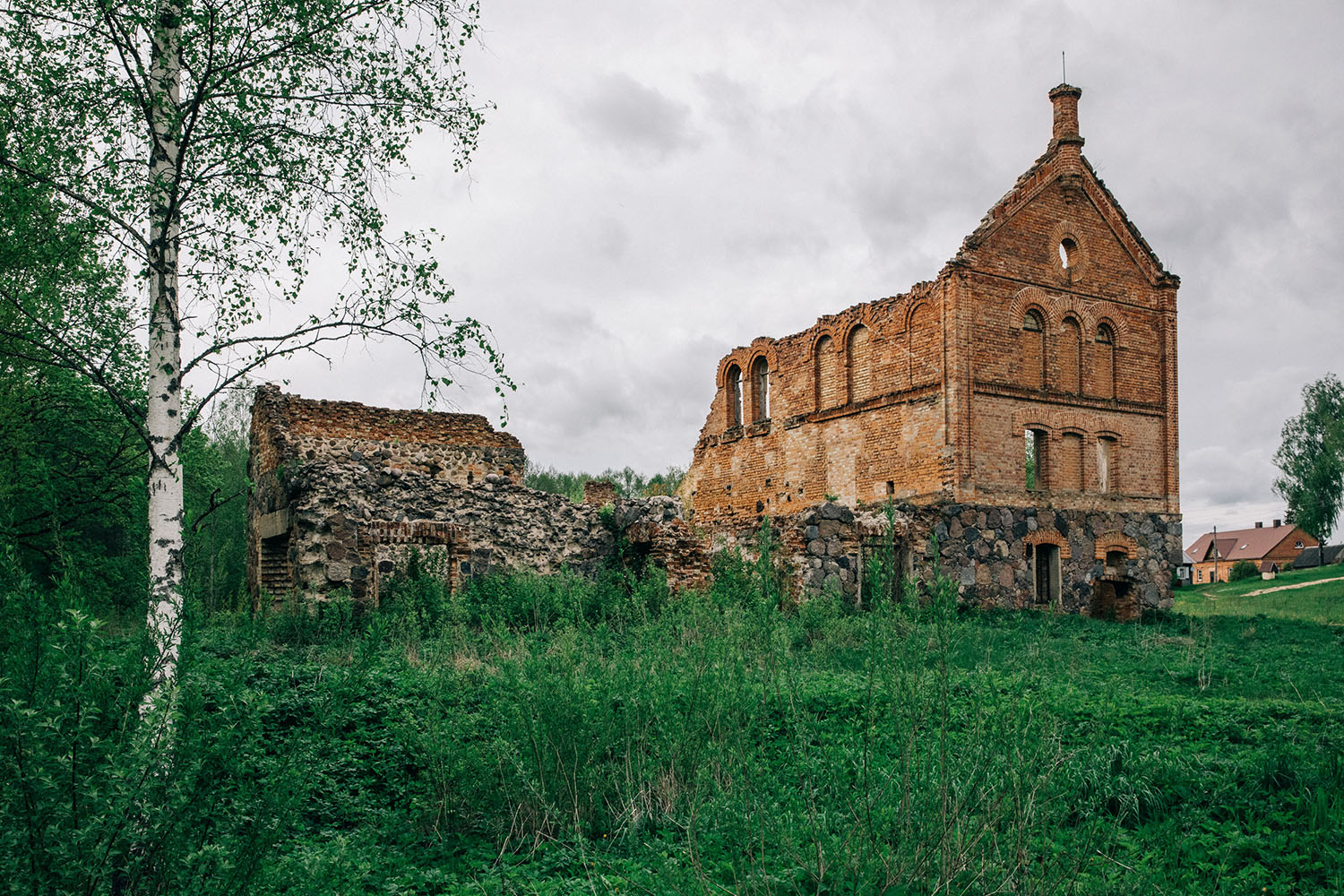 Šemietava
A Carmelite friary was founded in Zasvir in 1697. Also, a stone Trinity Church in the Sarmatian Baroque style alongside friary buildings was built here in 1714. The friary in Zasvir had been one of the largest male Carmelite monasteries in the Grand Duchy of Lithuania, however, after the uprising of 1830 had been suspended, it was closed. After the Second World War, the former buildings of the friary housed a school and a hostel, and the church was closed. Gradually, the entire complex became abandoned. Now the Trinity Church is working again. Behind it, the cemetery of soldiers of the First World War is situated. Also the brama – a huge entrance gate – has survived to our times. And next to the church – a beautiful two-story wooden house of the 1930s, which housed a club-cinema. Our favorite artist and traveler Jazep Drazdovič also visited the place, so this is a real Belarusian place of power. And on the way from Zasvir to Kamarovа, you will find a breathtaking view of the majestic catholic church in Svir – do not miss it!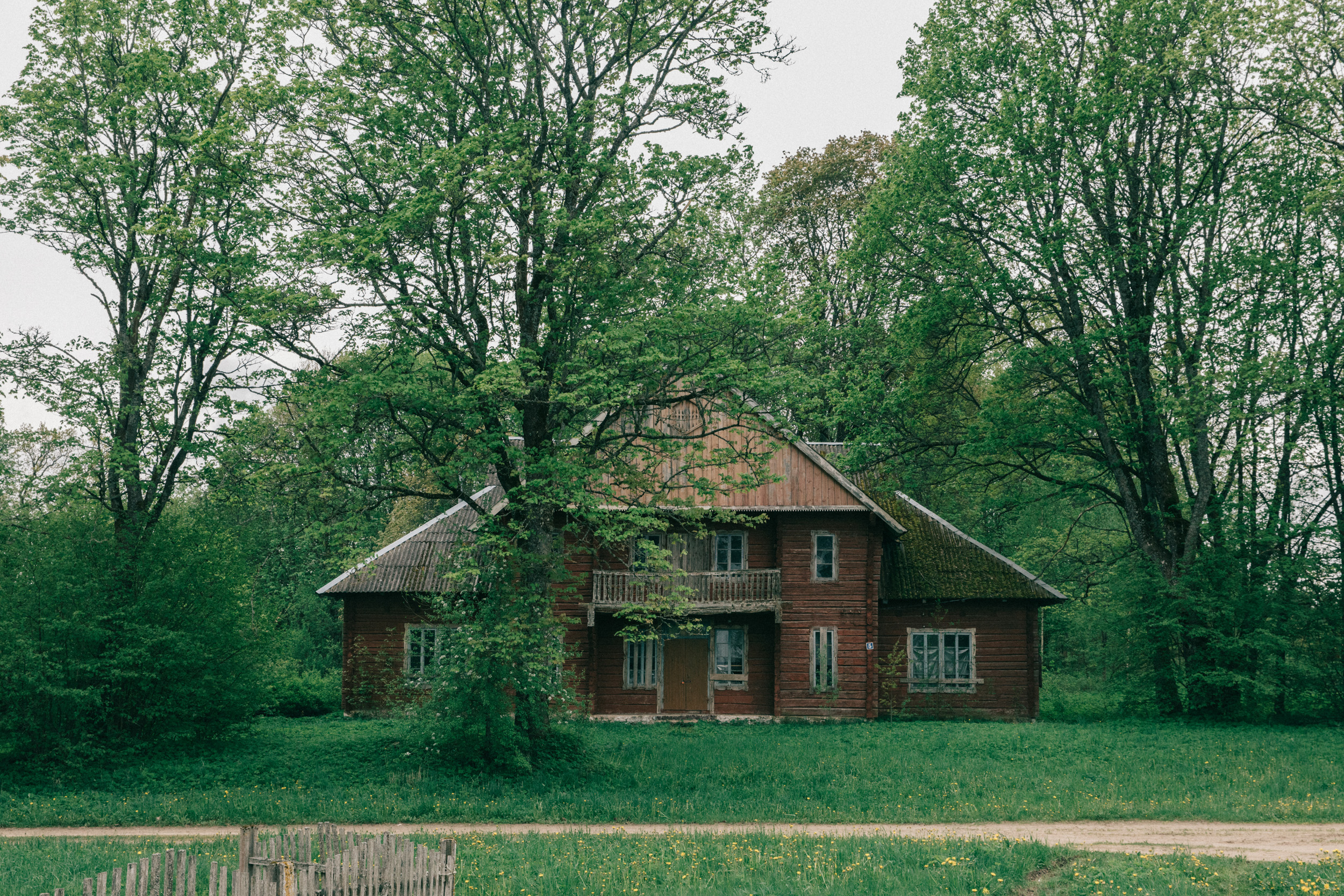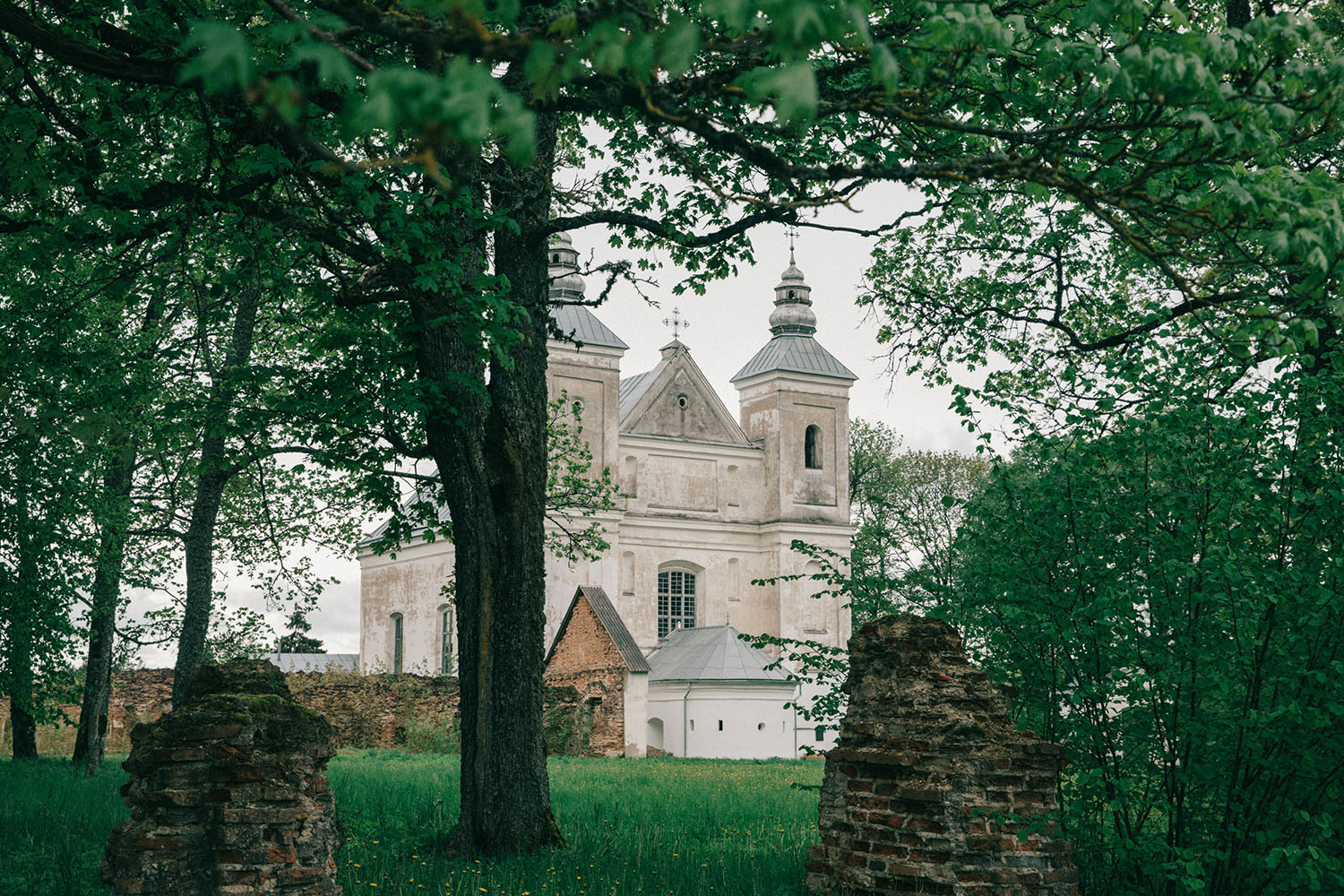 Zasvir
After Kamarovа you can go to the Blue Lakes eco-trail, make a stop at Lyntupy and stay in the art village of Kaptaruny. And if you are on a holiday on Narač Lake, then it is a perfect chance to make a round-the-world trip on the architectural heritage of North Belarus: Lučai – Pastavy – Kamai – Lyntupy – Kamarovа – Svir.
Text by Maria Gulina, photos by palasatka