Hrodna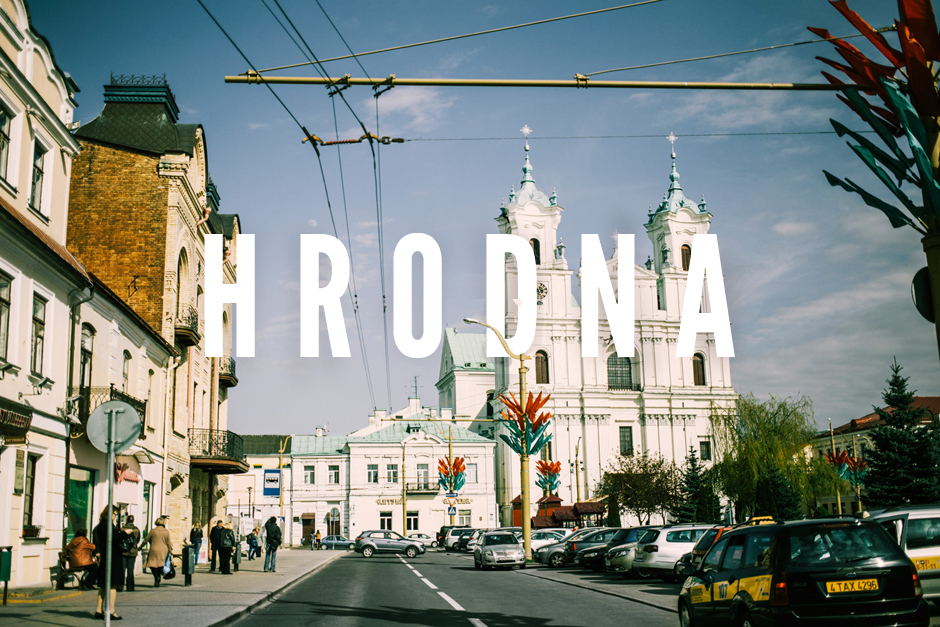 The cultural capital of Belarus, the Belarusian capital of Catholicism, the second capital of the Belarusian People's Republic and the third capital of the Polish-Lithuanian Commonwealth. Hrodna is "another Belarus", where the Poles and Lithuanians feel almost like home, and the locals may appear in Bialystok or Druskininkai literally every weekend and herewith had never been to Minsk. This place inspired Uładzimir Karatkievič, and the district, where Vasil Bykaŭ lived is still considered as an elite one. And the locals still believe just the weather forecast on Polish television (or in the Polish Internet as well).
contents:
transport lodging attractions fast food/snack bars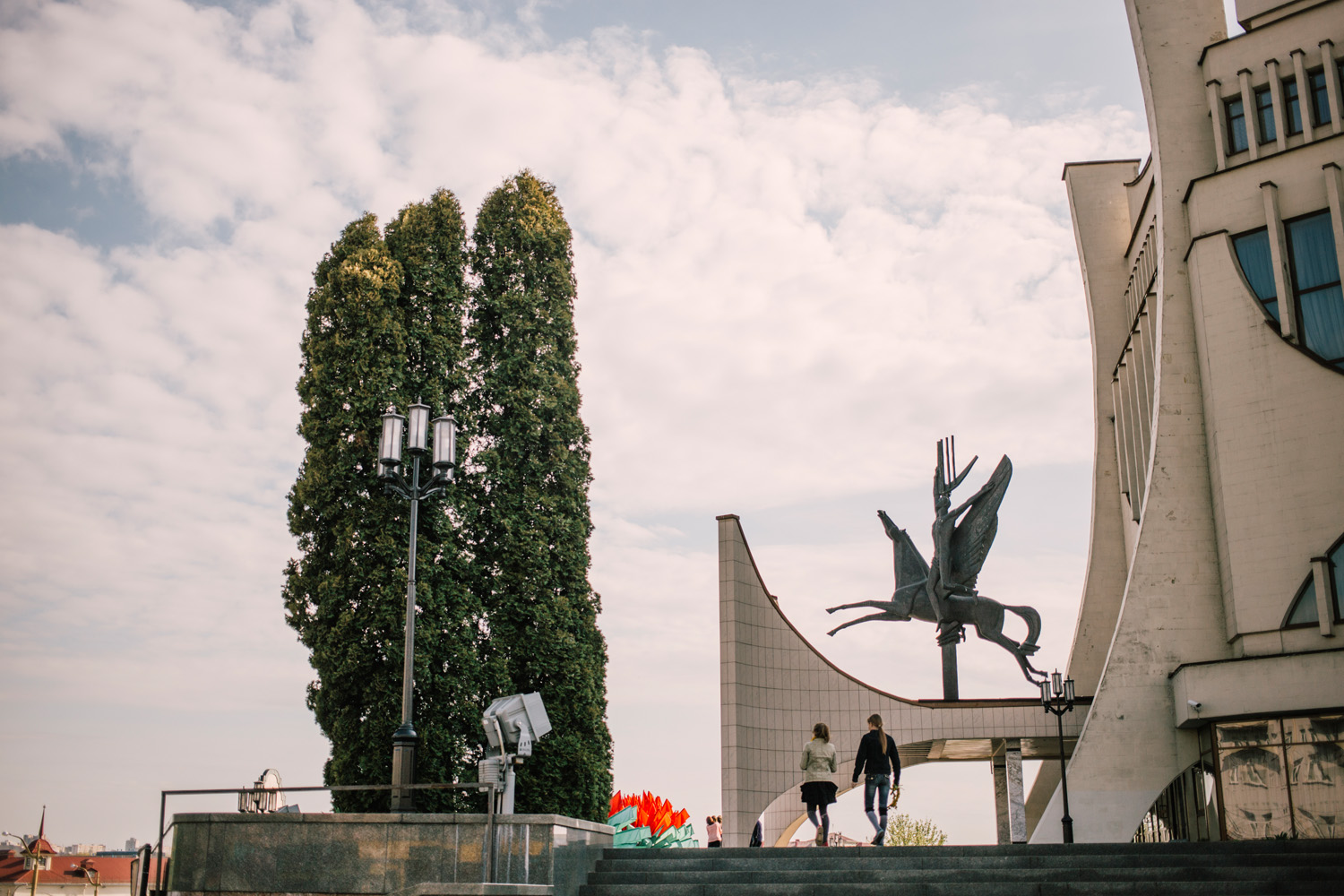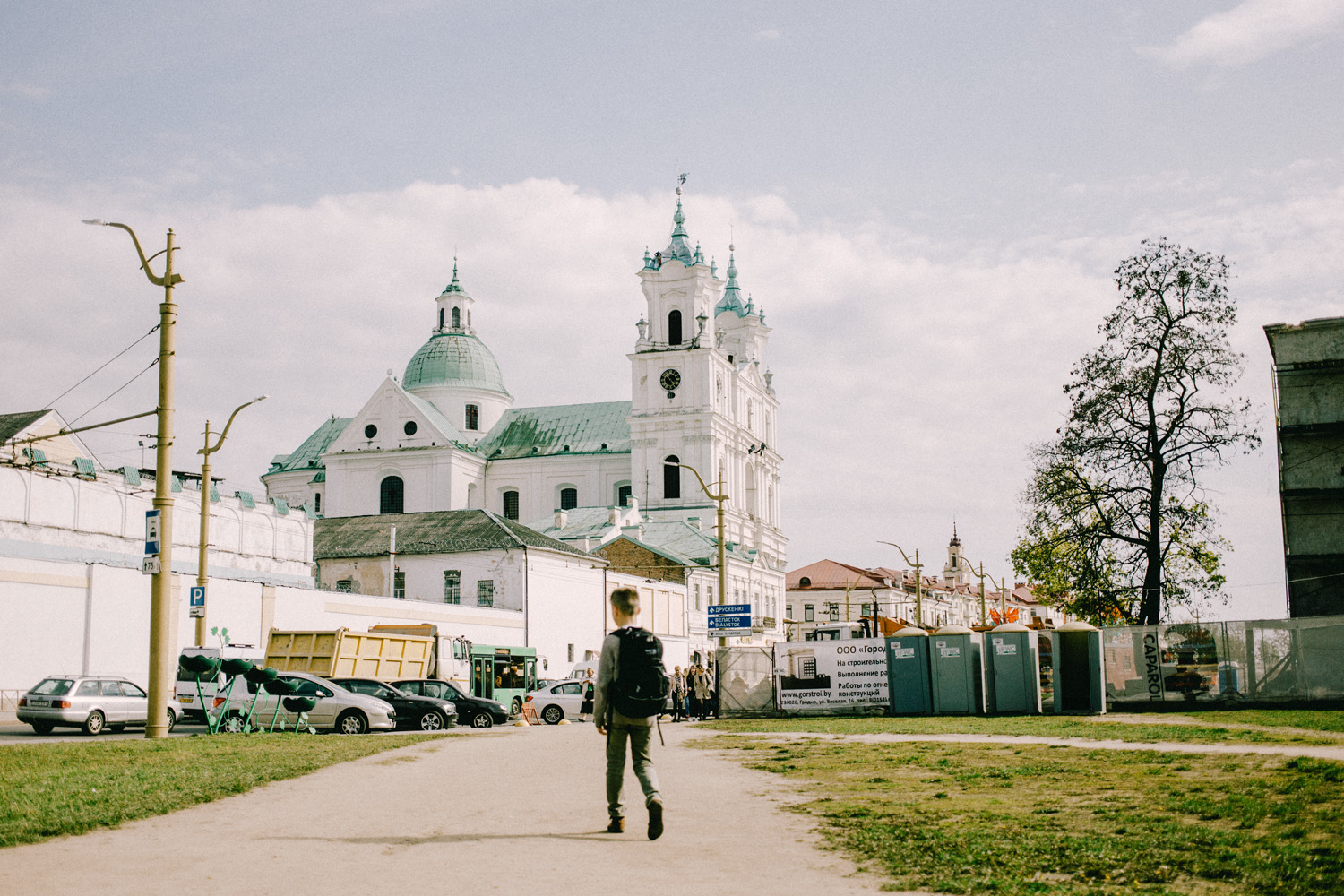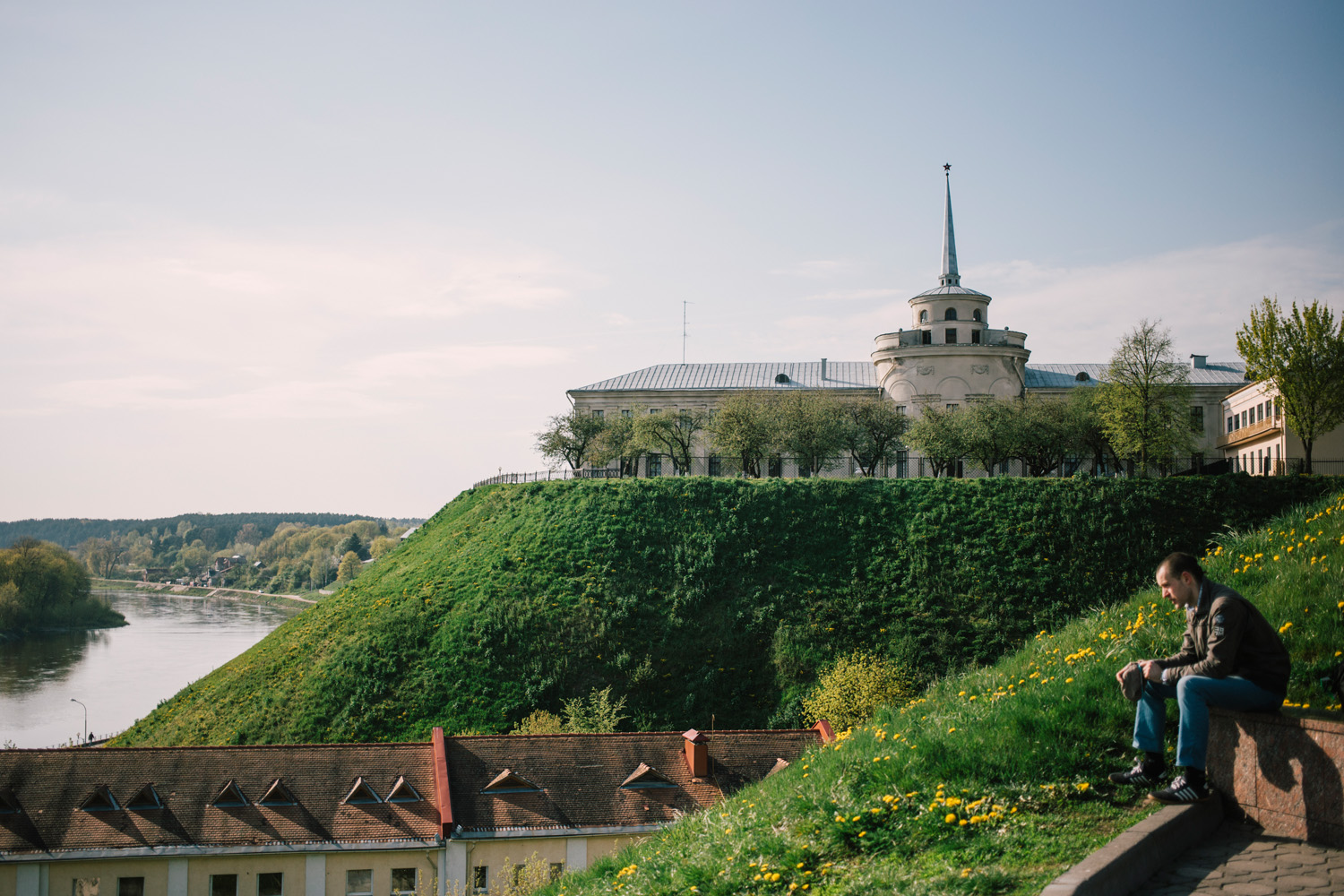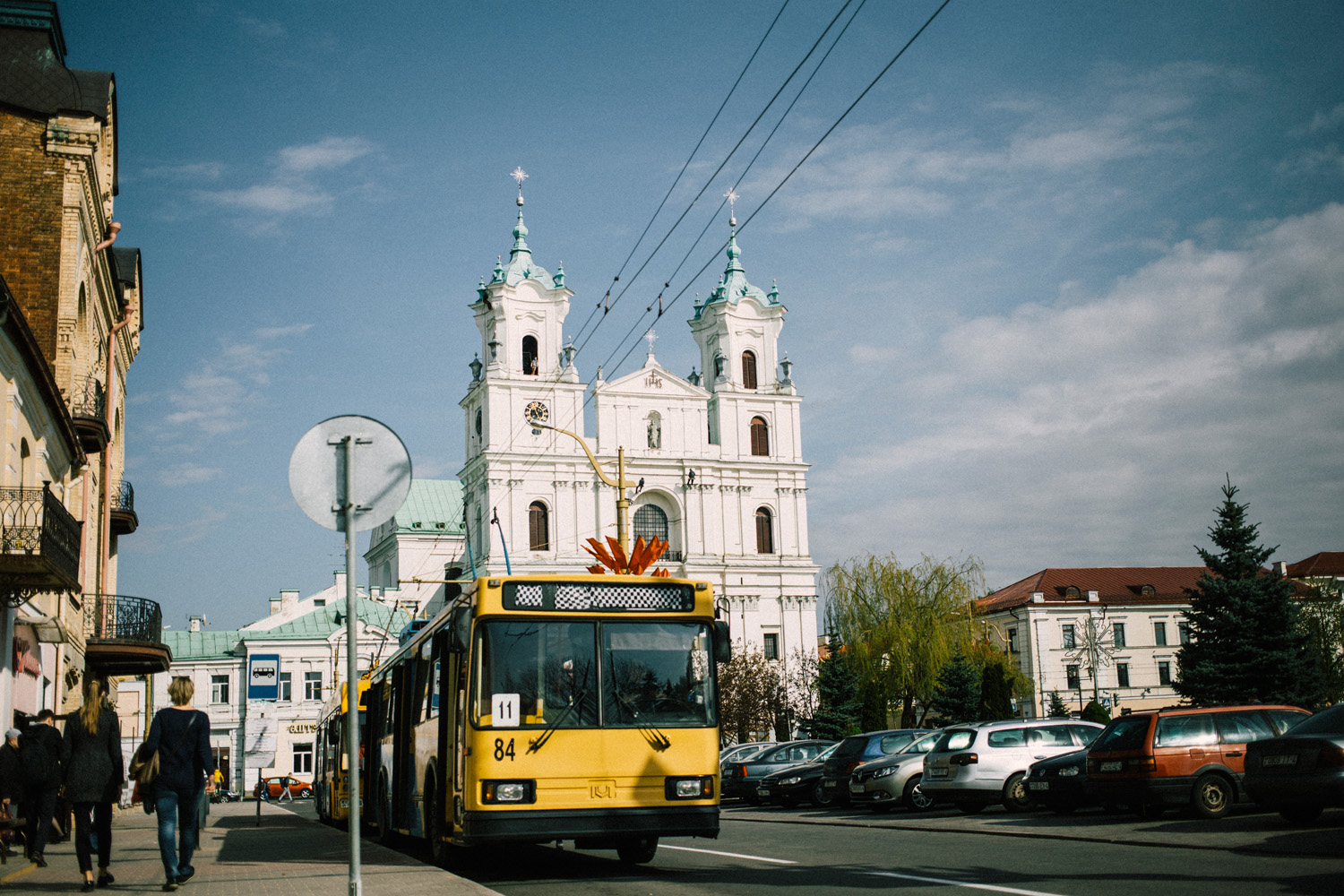 A dangerous route M6 is finally in the process of renovation, and soon you will be able to head for Hrodna at the speed of 120 km/h. And while it's still a dream, the city is easily reachable from Minsk. Starting from 4:20 a.m. and till 10 p.m. every hour there's a route taxi going to Hrodna from Minsk. Travel time is 3.5 hours. There are several companies that work on this route, but they aren't particularly different. They all have the same set price of € 6. Also, there's an option to take a bus of the Minsk Bus Park No. 2. It will take longer to get to Hrodna (4 hours), but will also cost less – € 4,5.
If you arrive by bus, do not hurry to leave the bus station – first, try to find a rare information stand model ASU-3, and enjoy its working sounds like "kapow-kapow-kapow". Don't forget to take a selfie with such an old device!
An alternative option to travel is train, but its speed will discourage even the most persistent ones. Travel time ranges from 4.5 to 7.5 hours. So it's worth using Belarusian Railways only at night: if you'd take a train from Homiel, Minsk or Viciebsk it will take you to Hrodna just in the morning. Reserved seat ticket costs € 4-5, couchette costs € 6. The best railway option in terms of time and cost is to take a sitting carriage ticket during the day, as it will cost you € 2,5 and will take you 4 hours and 44 minutes.
By the way, you can also fly to Hrodna. But just from Kaliningrad and just in summer.
Urban transportation
Ticket inspectors in Hrodna are considered to be the most ferocious in the country. Belarusian hitchhikers even have long horror stories about them. Ticket inspectors work simultaneously in brigades, so it's no use trying to fool them. There are no ticket sellers in transport, so you have to think about getting your ticket in advance: you may buy it at the bus stop or from the driver. And be sure to immediately validate your ticket with the funniest Soviet validators, which foreigners find amazing.
Also, you may ride an almost silent trolleybus, which works without being connected to the power transition lines, as it runs on the battery. It is the first and so far the only one of a kind in Belarus. There are contactless trolleybuses in Brest too, but they work with a different principle.
Do you want to explore Hrodna by bike? Search for bike rental points VeloStart near cinemas and by the Youth Center "Hrodna" (Savieckaja vul., 9). Its convenient, because you can rent a bike at one point and return in another. There is an option of online reservation. An hour will cost € 2, € 8 a day. Another rental point is also located in the city center. It is called EvroProkat (Sacyjalistyčnaja vul., 51A). Check all other options here.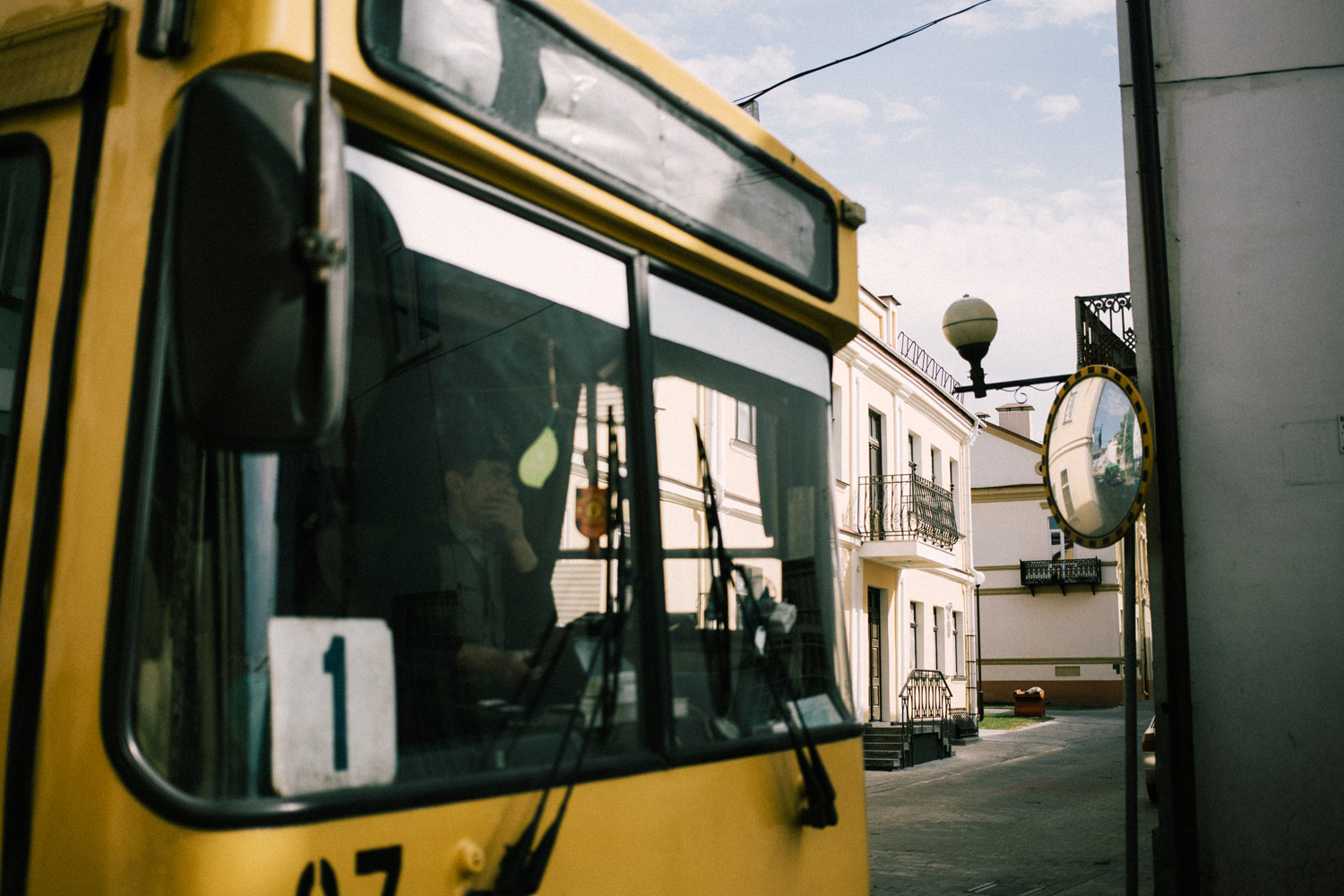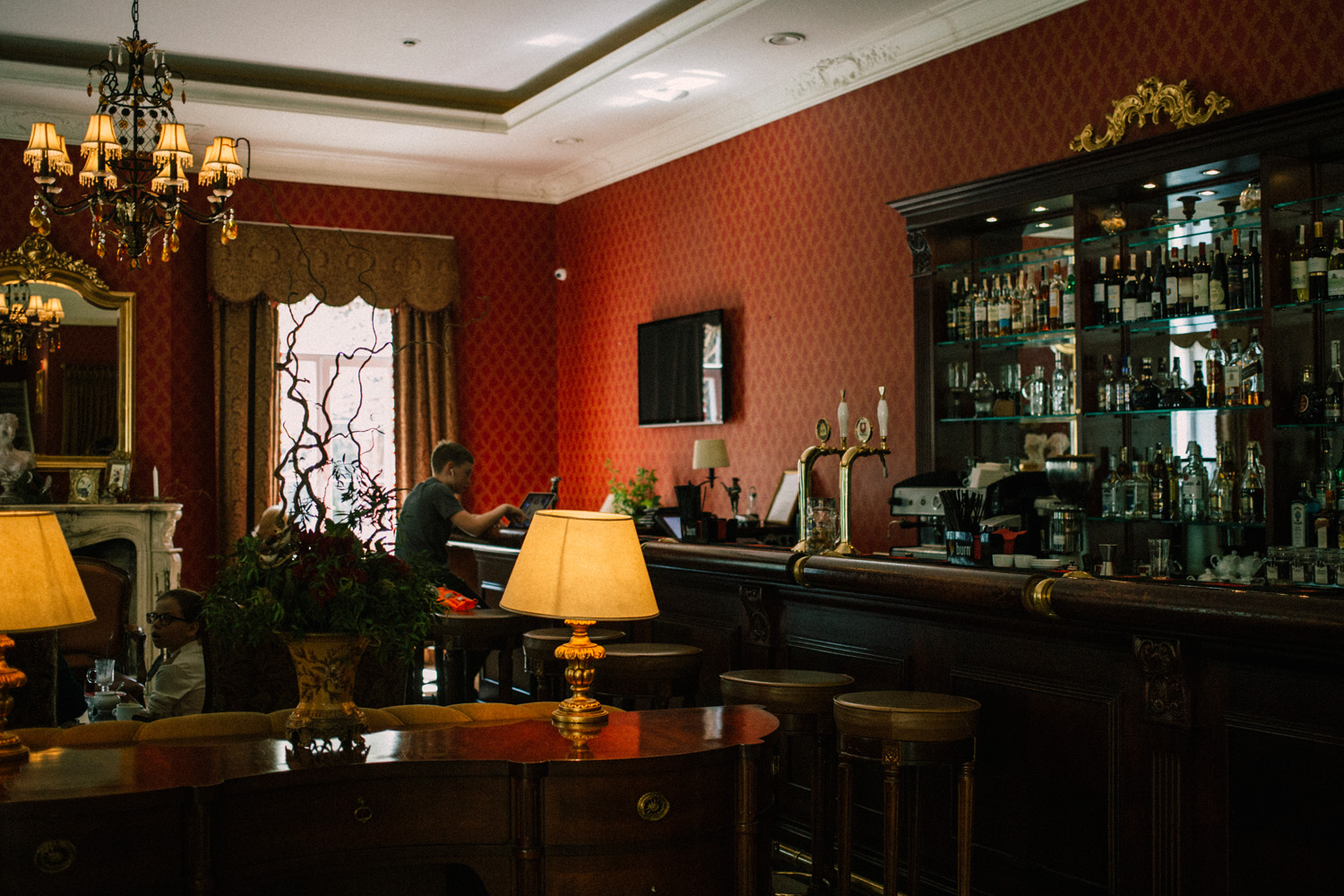 There are only a few hotels in Hrodna and they are all expensive. Therefore almost all the visitors prefer to rent an apartment: this business is well developed here, you can easily find ads on the Internet. Airbnb is not very popular with the locals. You can rent a room for € 30-45 per night or find a variant for € 15-30, that will be a bit further from the city center. The city is not really big, so there are no "faraway accommodation" indeed. Except for the Alšanka district - this one is situated really far away from everything and has bad public transport connection.

Tthere was the only tiny hostel in Hrodna until recently: it´s called Hello Hrodna (Haradnichanskaya vul., 30). It is situated in the very city center. Lots of absolutely different people stay there. You can meet almost 90-year-old Polish Army veterans who come to visit the graves of comrades, or LGBTQ+ people from the Middle East, who come there seeking for political asylum, and many others. A bed costs € 7-8.

The second hostel opened at the end of spring. It's much bigger, but it is situated over the Neman river. It is called Old Bridge (Rozanova vul., 34), because it is close to the so-called Old Bridge over the Neman. Bed costs € 5-8 here. In addition, the local authorities build a state-owned hostel in the city center – maybe, they'll finish it by the end of the season.

A kind of hostel, that you won't find in any ads, is situated at the railway station (Budzionnaha vul., 37), and is called simply the lounge room. A double superior with two rooms will cost you only € 12 per night! And a night in four-roomed apartment costs even less – € 7. By the way, there is an apartment for people with disabilities.

Still, if you have enough money and a strong desire to stay in a hotel, you may opt for Slavia (Maladziožnaja vul., 1) or Semashko (Antonava vul., 10). Prices range from € 40-45. A cheaper, but still tolerable variant is hotel Omega (Vasiĺka vul., 40). Where else can you find a single two-room suite for € 16? By the way, the location is quite nice: leaving Omega Hotel you will literally appear in the main city park called after Jean Emmanuel Gilibert.

Also note Kronon Park Hotel (Uročhišče Pyški, 19) – a small design hotel in a classical style, situated in the center of the urban forest Pyški. There are a summer gallery and an indoor pool in this hotel. In 10 minutes from there you'll find the old castle of the 17th century. The price of a standard double apartment starts from € 60, but comfort and first-class service are worth it. Even if you're not going to stay at Kronon, we recommend you visiting it at least to have dinner and enjoy Belarusian and European cuisine on the outdoor terrace.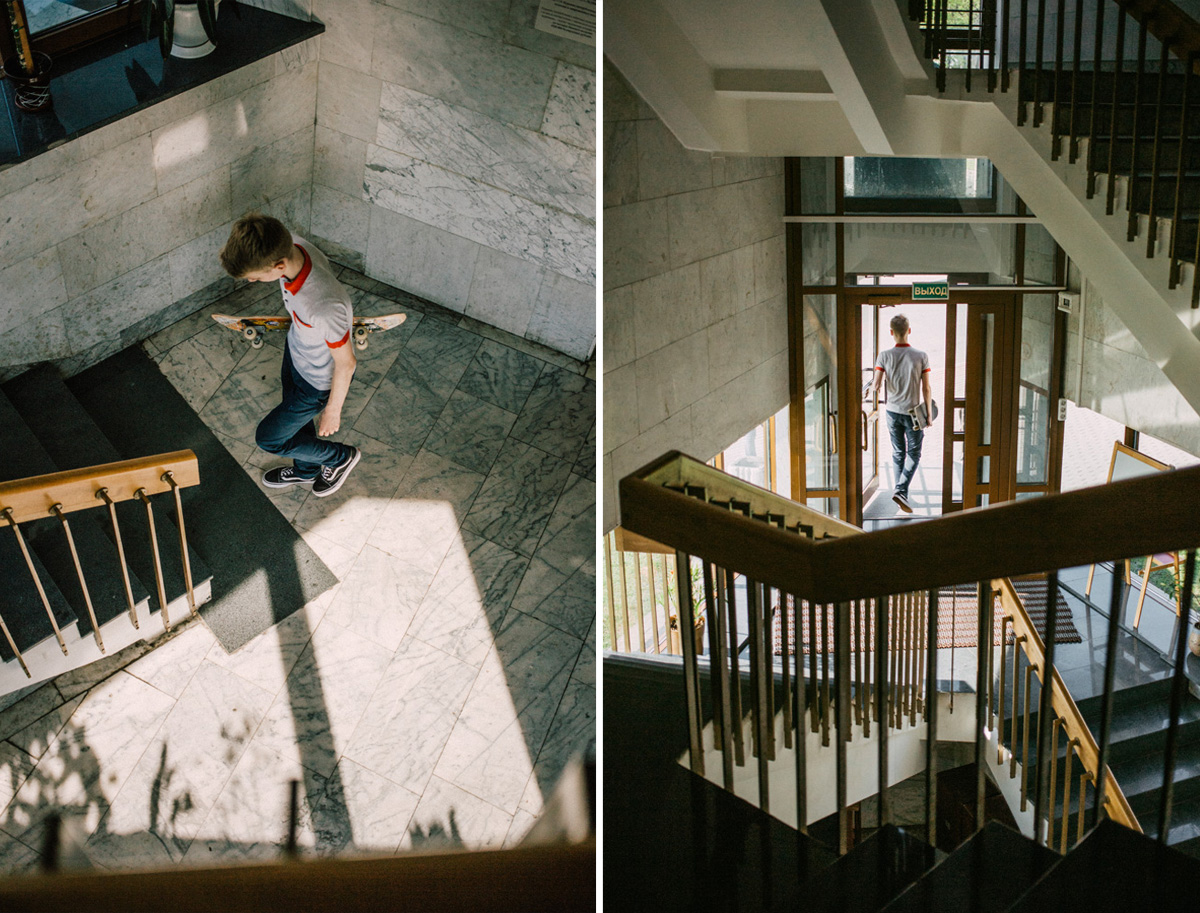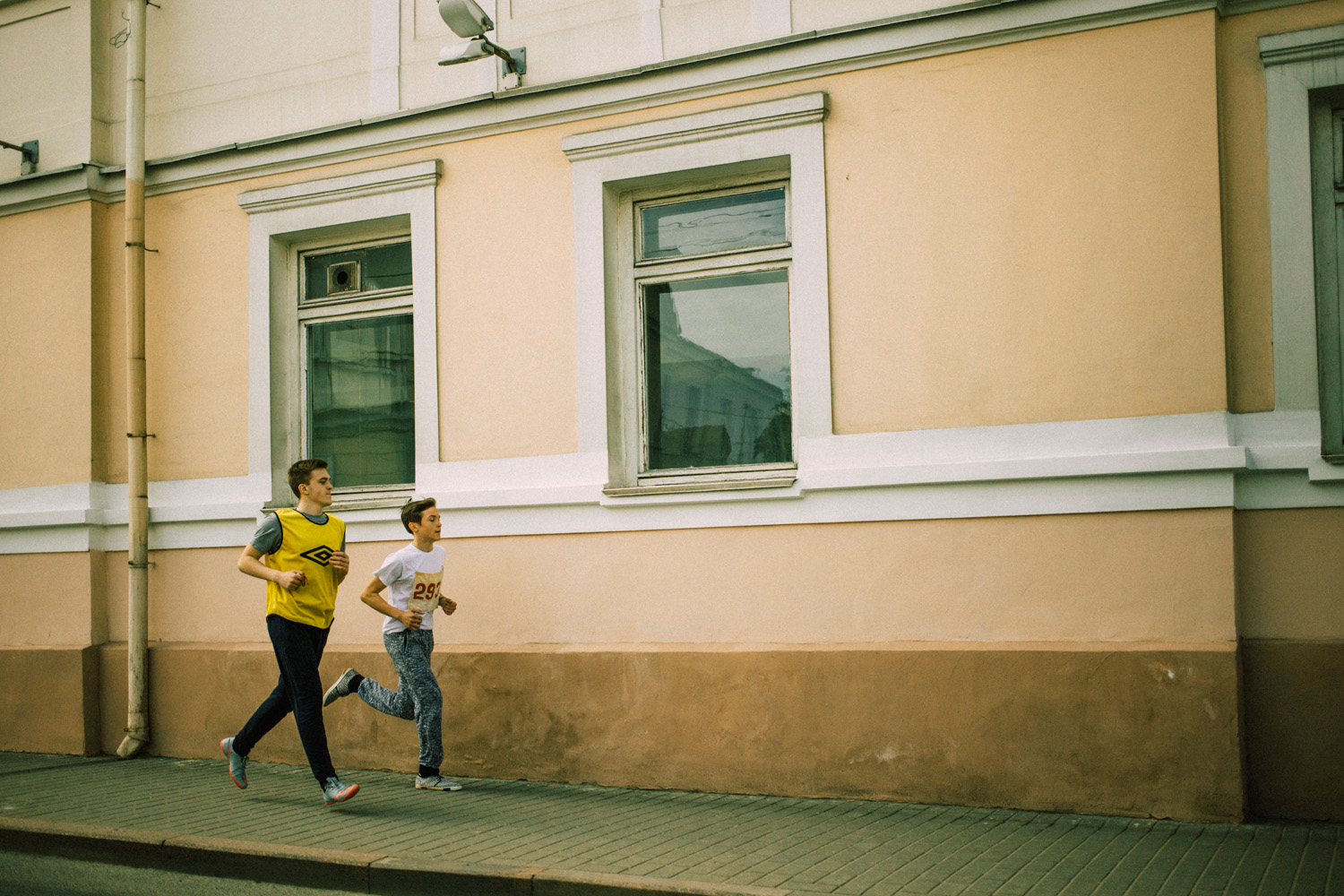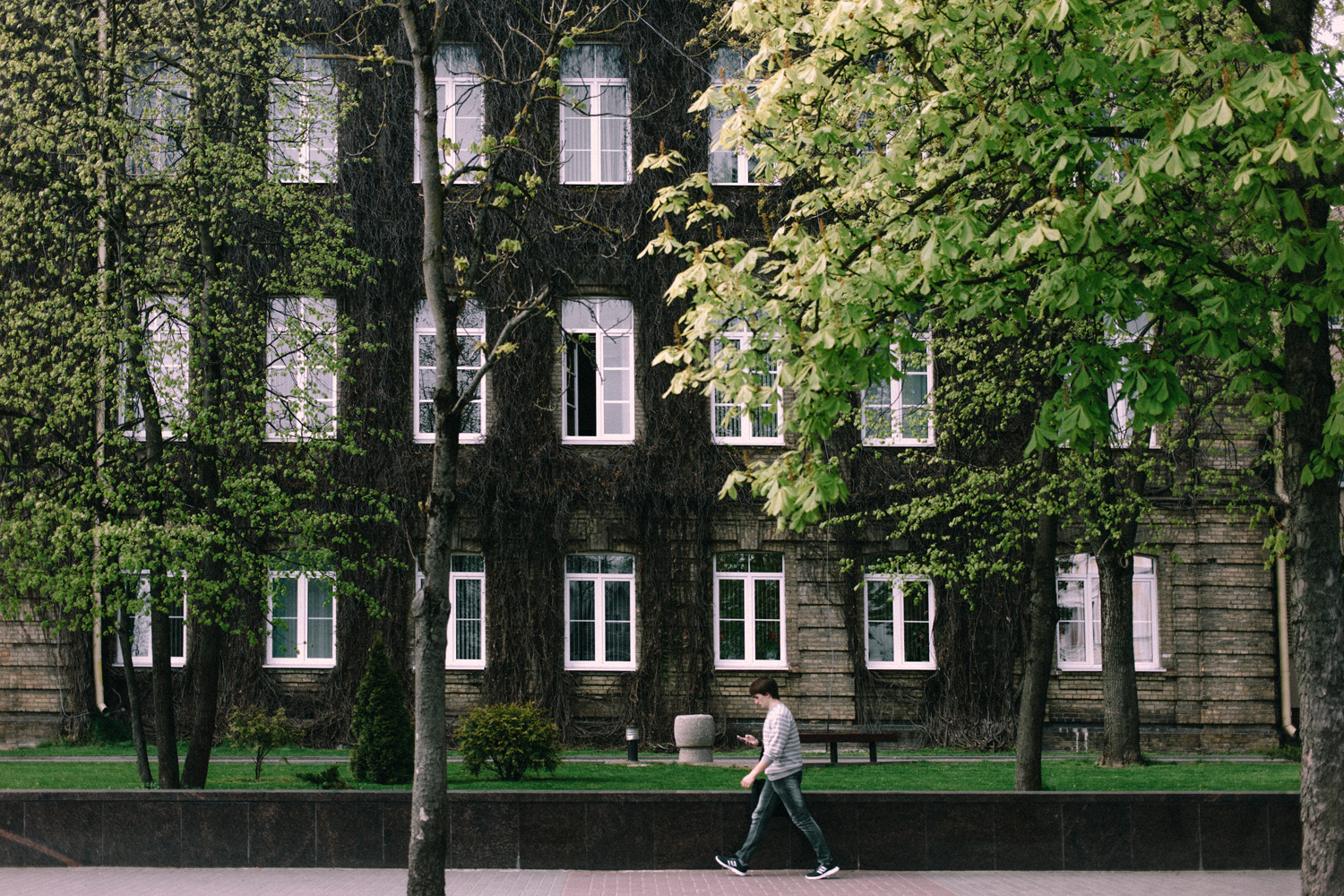 The locals are one hundred percent sure that their city is the cultural capital of Belarus. And there are some really nice cultural sites to visit. Go for a walk on the pedestrian Savieckaja vulica, which is paved with cubes reserved in perfect condition since 1938. This street became pedestrian long before Minsk streets were first closed for cars.
A must visit here is the gallery "Kryga" (Savieckaja vul., 3, in the courtyard), also known as the Center of Urban Life. It is honorable to have an exhibition here even for such masters of the contemporary Belarusian art like Uladzimir Ceslier. In addition, various intellectual events, not necessarily related to art are often held there.
A bit down the Savieckaja vulica there's the only The Museum of Smoothing Iron in Belarus (Savieckaja vul., 7, in the courtyard). Visit it to support the unusual collection, as more as a private museum in Belarus - rara avis. Another private museum is the Museum of City Lifestyle (Liermantava vul., 25). You may find it on the road to the Kaložski park. It was opened by a senior dandy, hereditary resident and avid collector Januš Parulis. He collected photos, utensils, 50-year-old restaurant menus, musical instruments, cameras, books, signs, tiles from ancient ovens, bottles of Hrodna beer of the early 1930's, and placed them all in an antebellum house. Mr. Januš is an incredible storyteller, so you won't be bored.
Choosing among state museums, we'd recommend visiting State Museum of Religion history (Zamkavaja vul., 16), which is the only one in the country, and with a very rich collection. You may also visit the New and the Old Castles (Zamkavaja vul., 22), but be ready to observe the unexplainable history mixture of stone age findings, household items of the Great Duchy of Lithuania times, the World War II objects and much more, surrounded by stuffed animals and agricultural history advances. And that was the place where Stefan Bátoryj lived! You may find here a poster with a Red Army soldier kissing a peasant - this one has a howling success among tourists. The Old Castle is worth seeing because soon it would be reconstructed on the very controversial project and the next time you may find a Disneyland on this place. So hurry up!
A couple of more unusual museums you'll find in this guide.
Hrodna is called the capital of Belarusian Catholicism, so you cannot simply pass by the Katedra Jezuitów św. Franciszka Ksawerego (Savieckaja vul., 4). 21-foot carved altar, one of the oldest in Europe clock tower, and a powerful church organ are the things that every tourist learn about this place. But only a few know that the Church has an inconspicuous icon of Japanese Saints, which depicts a young Aliaksandr Milinkievič! Yes, the one who was a presidential candidate in 2006. Locals say that in the late 80 's-early 90 's during the restoration of clocks on the tower this tumbledown icon of the three Japanese Jesuit martyrs of the 17th century was found. The image of one of them virtually had no face so a famous restorer Uladzimir Kisly painted there the face of his good friend.
And in general, it may be worth making a separate tour of religious places to visit. The unique Kaložskaja Church was built in the 12th century! You have to check it out before Belarusian fail squad of restorers gets it. Liuteranskaja kircha (Lutheran Church) is also worth visiting (Akademičnaja vul., 7а): Firstly, the neo-gothic style is beautiful and looks very alike west Belarusian style; secondly, there are regular charitable church organ concerts of European musicians and the organ, that was brought from Germany, may be the reason of envy for many concert halls. Religious places tour won't be complete without mentioning the Vialikaja charaĺnaja sinahoha (the Great Choral Synagogue) (Vialikaja Trajeckaja vul., 59а). A dilapidated building is now restored thanks to the commitment of local businessmen, and prayer hall inside astounds with scale and luxurious moldings. In case you meet Barys Maksovič, the Chairman of the community – ask him about the history of Hrodna Jews and their customs. And in the small museum, you will learn that the Hrodna Jews created Esperanto, the Internet, Las Vegas and the American Mafia.
Staying in the theme of eternity, we advise you to go to the old cemetery down the Antonava vulica. It is the oldest municipal cemetery in Belarus (dated back to the 18th century) and one of three most important in the former Polish-Lithuanian Commonwealth. Thanks to the gorgeous monuments this place looks like a museum. And also many distinguished people are buried here. The most famed tomb is the tomb of a famous writer Eliza Ažeška, who was twice bypassed by her colleagues, Henryk Sienkiewicz and Selma Lagerlöf, in a race for the Nobel prize. If you want a full tour you should remember that only a few guides in the city may offer this option.
What's more, if you're still not soaked enough into the historic ambiance, just sit on the Castle Hill or the Hill of the New Castle. If you meet local old-timers, you would learn how to drink beer here without a fear of being noticed by the police patrols. The view of Neman river from this point makes the heart soar indeed. There's also a quest to complete: climbing up the hill on the promontory from the side of Kaloža vulica, just after the closing of the castle gates. There are some trails paved for you, so you won't slip down, as it happened to Crusaders back in the 14th century. If you finish the quest successfully, you'll appear in the ruins of the castle of Vytautas.
It's absolutely nothing to do on the waterfront, situated at the bottom of the hill – during the day it is completely lifeless, and it the evening the only option is to be happy for provincial owners of second-hand BMWs with extremely loud and bad music.
Hurry up to see the unique neighborhood of wooden villas of the beginning of the 20th century, that is called Novaje Sviatlo. However, it's almost nothing left of this place, but it might be even worse later. You won't find the real wooden Polish constructivism anywhere else, we assure you! Nowadays this district is desolated, but once here lived the city's elite: doctors, engineers, and teachers.
Make sure to stop at the Zamkavaja vulica. Now this narrow street is fulfilled with cars all around, but still, it has all the chances to become the second pedestrians-only street in the city. Check our guide further to find two cool cafes where you can chill for a while on this street. Additionally, Zamkavaja vulica has its own Mona Lisa - take a closer look at the front of the firehouse to find it.
At the highest point of the old town of Hrodna two water towers-twins Kasia and Basia stand. Nobody knows why they are called this way. But they are a must-see place definitely. And in case you have any contact with local artists you should ask them for getting inside – now the towers host studios of Hrodna artists.
Within the city, there are several forts of the WWI, a lot more may be found around the city, not really far away, so you may travel there by bike. Cycling marked routes lead to some of the forts. The majority of forts of the Hrodna Fortress were blown up, but the rest you may visit and enter. And don't even try to enter it without a torch! It's so easy to fall into a dangerously deep hole inside!
There are two theaters in Hrodna: the playhouse and the puppet theater. But it's really hard to tell which one is better to visit. There are plays by Shakespeare, Kupala, some Russian classics, some stories, inspired by the Polish-Lithuanian Commonwealth history, and even Faust by Goethe in Liaĺki theater (Dziaržynskaha vul., 1/1). The hardest quest is to get tickets for the legendary play Tutejšyja with Viktar Šaĺkievič. The trick is that the stage show happens only once a year, or even rarer. By the way, the theater building was built in the 18th century!
The building of the drama theater (Mastavaja vul., 35) regularly tops the most unusual buildings of the Soviet era. That's the reason to check out the spot! In the playbill, there are such plays as Fahrenheit 451, Accidental death of an anarchist, Oscar and the Lady in Pink.
Wanna meet those who make up the cultural part of Hrodna? Then drop in time-cafe Portal (Vialikaja Trajeckaja vul., 31), creative space DOM46 (Lieliavielia vul., 46) or Tretij sector center (Budzionnaha vul., 48а). There's always something going on there.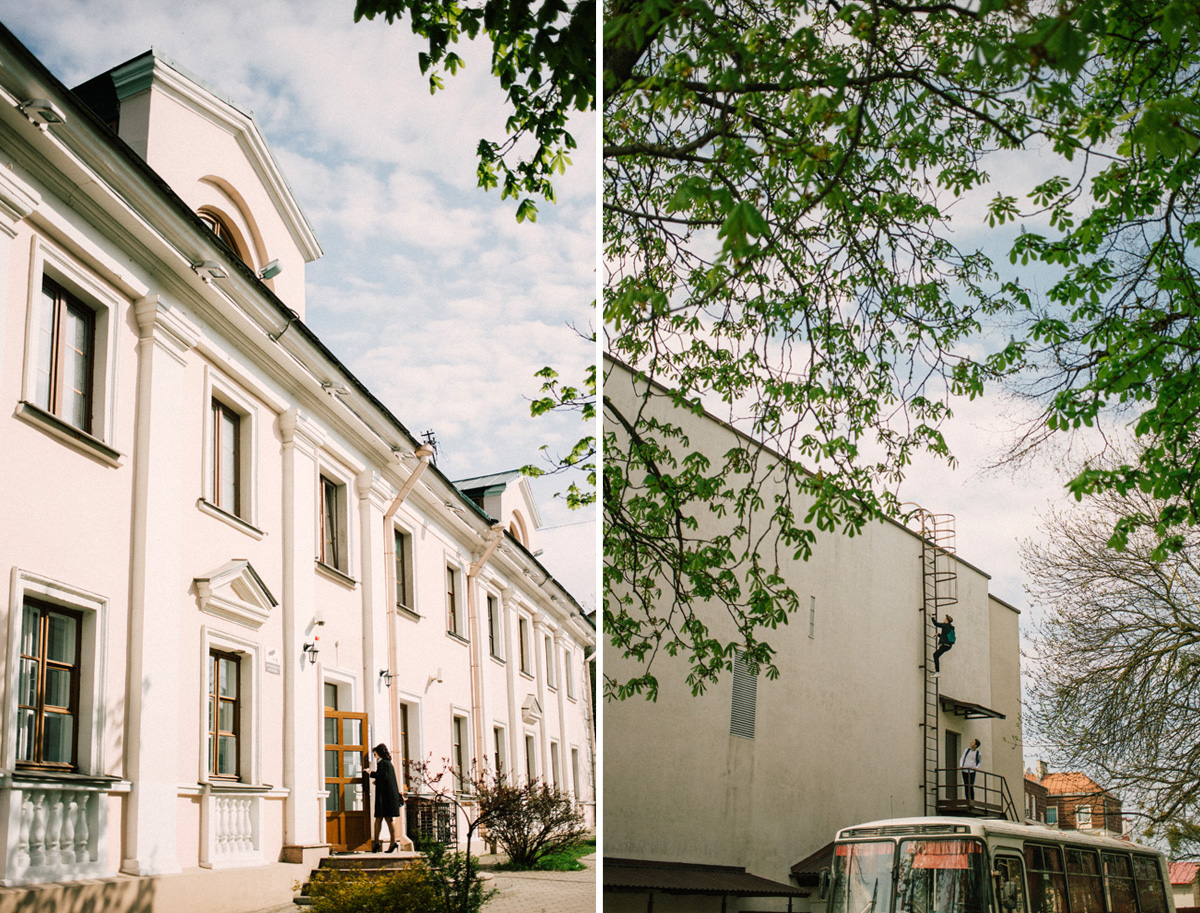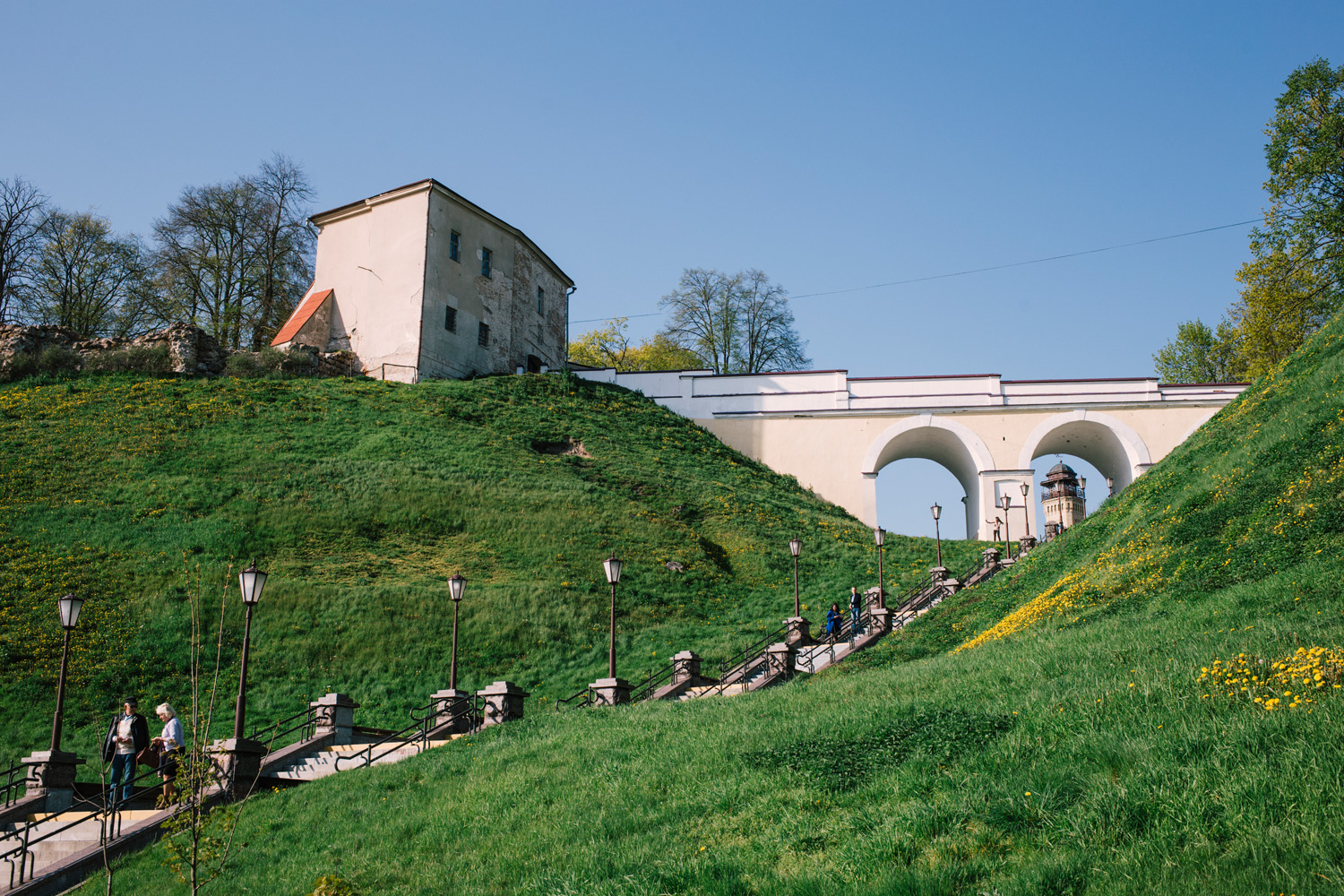 Burger King (Sovetskaya str., 25). Hrodna became the first city after Minsk, where the American fast food appeared. If you appreciate predictability, standards of world brands and stability – you just need to get there.

In a street stall on the entrance to the Park of Gilibert there's a cafe ParKing (vulica Elizy Ažeška). It was the best burger place before Burger King started their business in the city. They are still very cool'n'tasty. The stall works the whole year round, during the winter season they serve mulled wine, there is Wi-Fi, and the staff is very smiley. Also, there's an option for vegans: burgers and rolls. Price range is € 1,5-2.

Order pancakes with a bunch of different topping at the juke joint Kolobki (The Park of Gilibert; Savietskaja vul.; Elizy Ažeška vul., 16; the railway station, and the other places). It is the oldest authentic Hrodna fast food chain, which causes radically different feeling among locals: from adoration to a fierce hatred (like tons of it). The only indisputable plus is that the spot in the Park of Gilibert (Cafe Biarozka) is available 24 hours a day with a short morning break.

Starlight (Zamkavaja vul., 11) is a Hrodna version of Subway with goodish sandwiches. By the way, it's the only place where you can buy pizza parcelwise. A sandwich costs € 1-2, a whole pizza is € 6-7,5.

Čaburečnaja (Elizy Ažeška vul., 1) is a true old-school place from the 90's, where time stands still and nothing changes even if the owner changes. The most reasonable prices attract a motley audience: from the lumpish-proletariat to budget-minded tourists from Western Europe. Price range from € 0,5 to 2,5.

Another place with good ruddy chebureks (coupled with a specific railway station atmosphere) is the picturesque Cafe U staroha mlyna (Cimirazieva vul., 25). The great advantage is the working time from 9 a.m., so you may have a nice breakfast at a reasonable price.

Batoryja (Batoryja vul., 10) is a cafeteria at a popular shop in the city center. There you'll find an interesting combination of pseudohistorical style and an absolutely Soviet service. Piroshki and belyashy remain the same taste over the years. And the prices are dirt-cheap!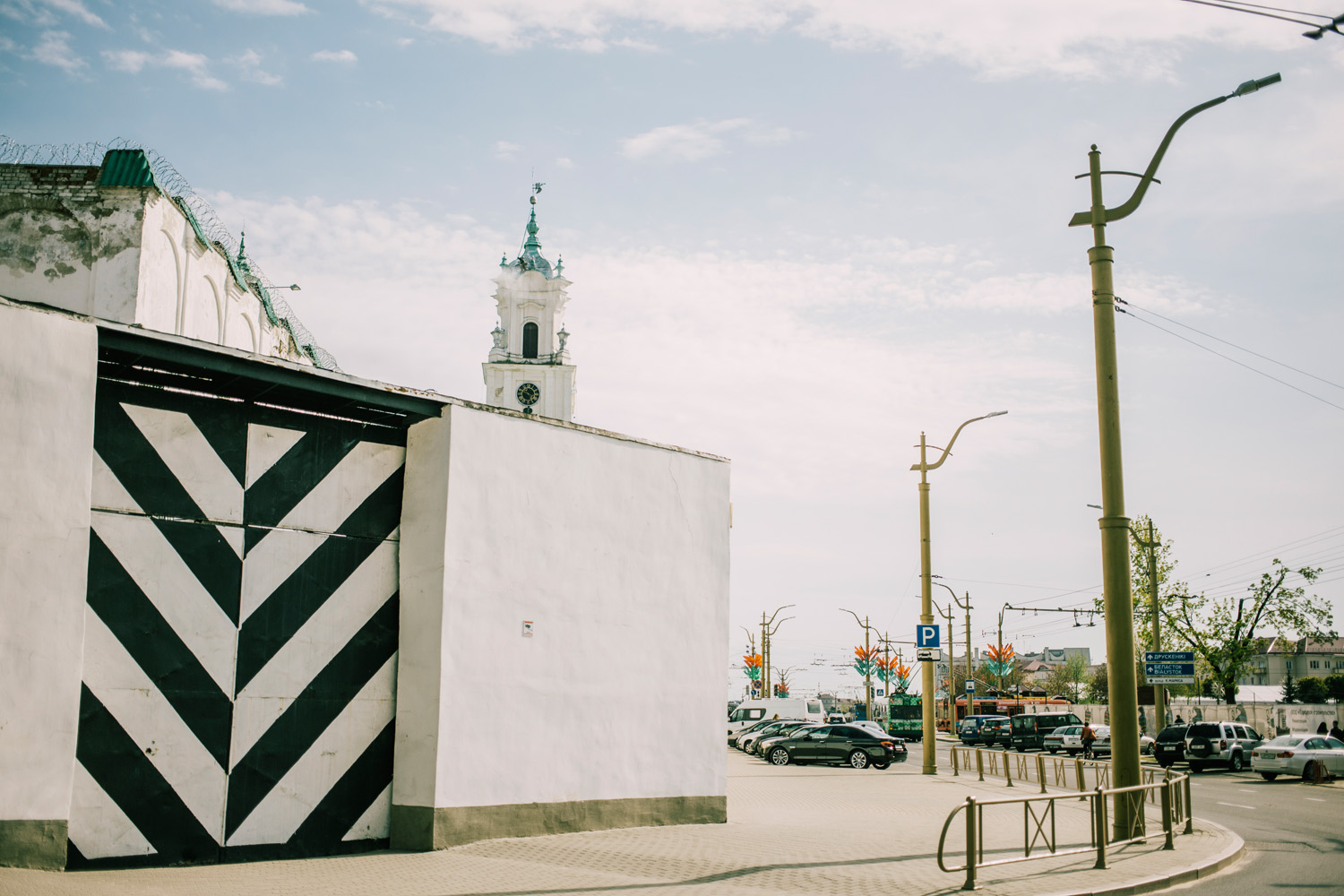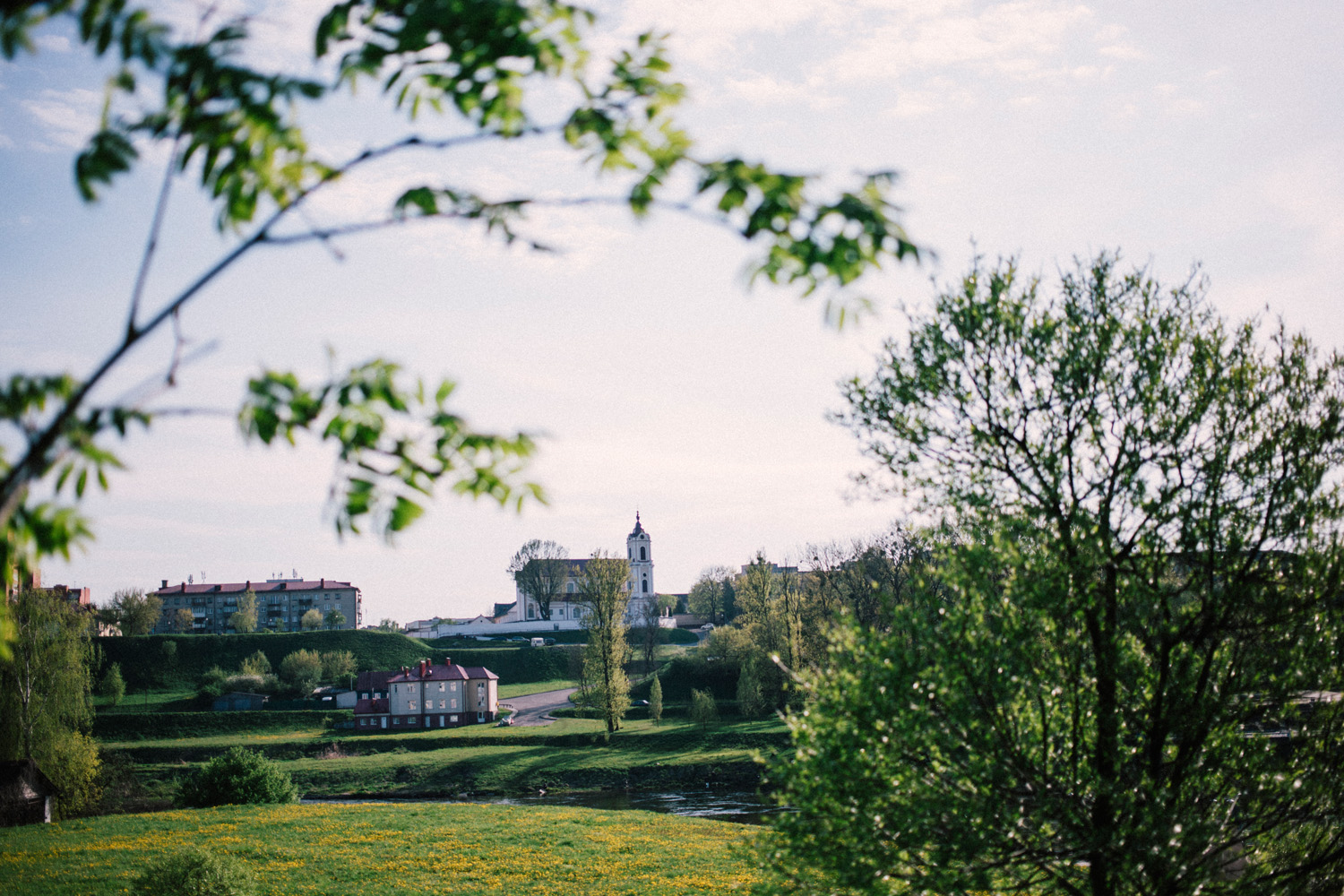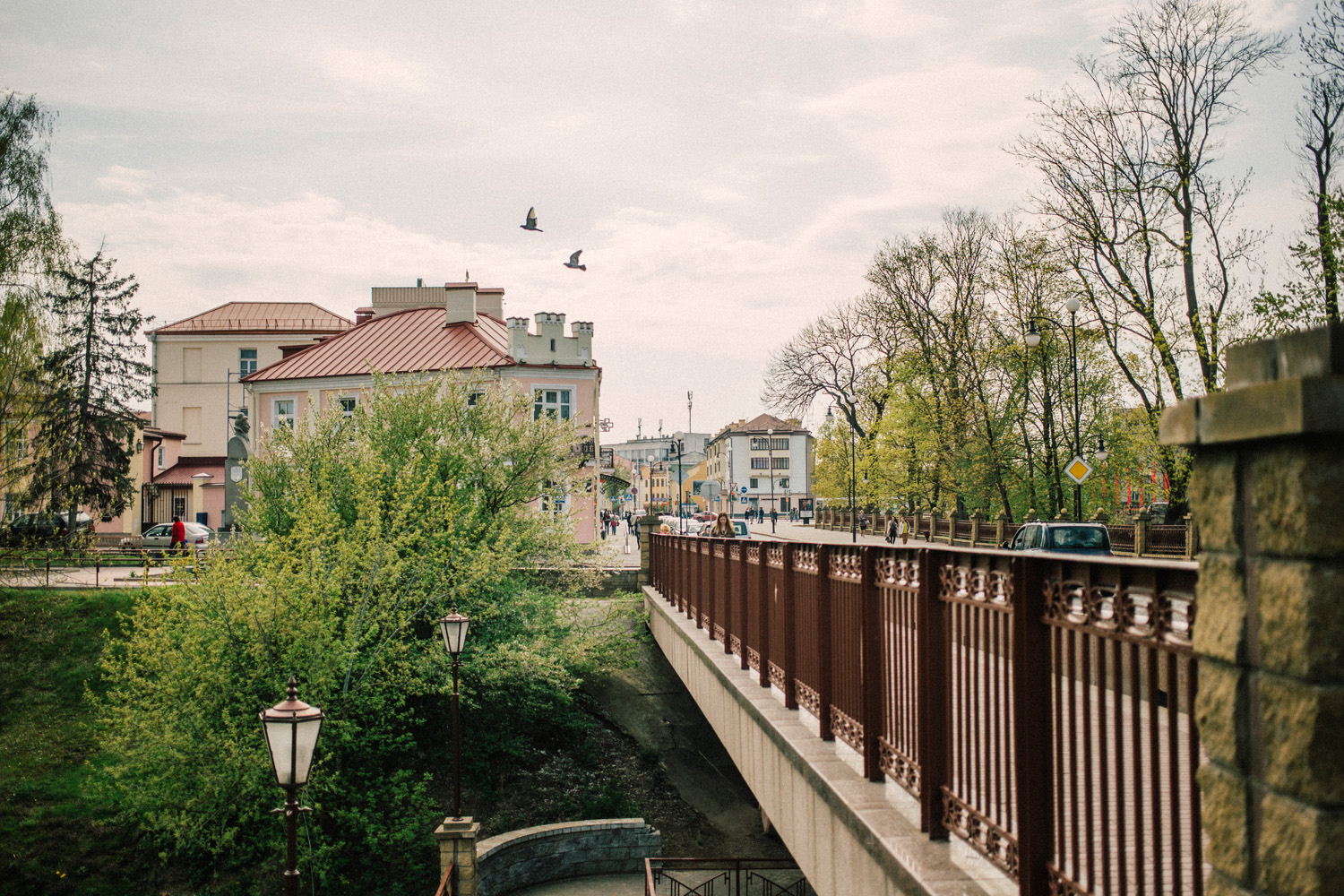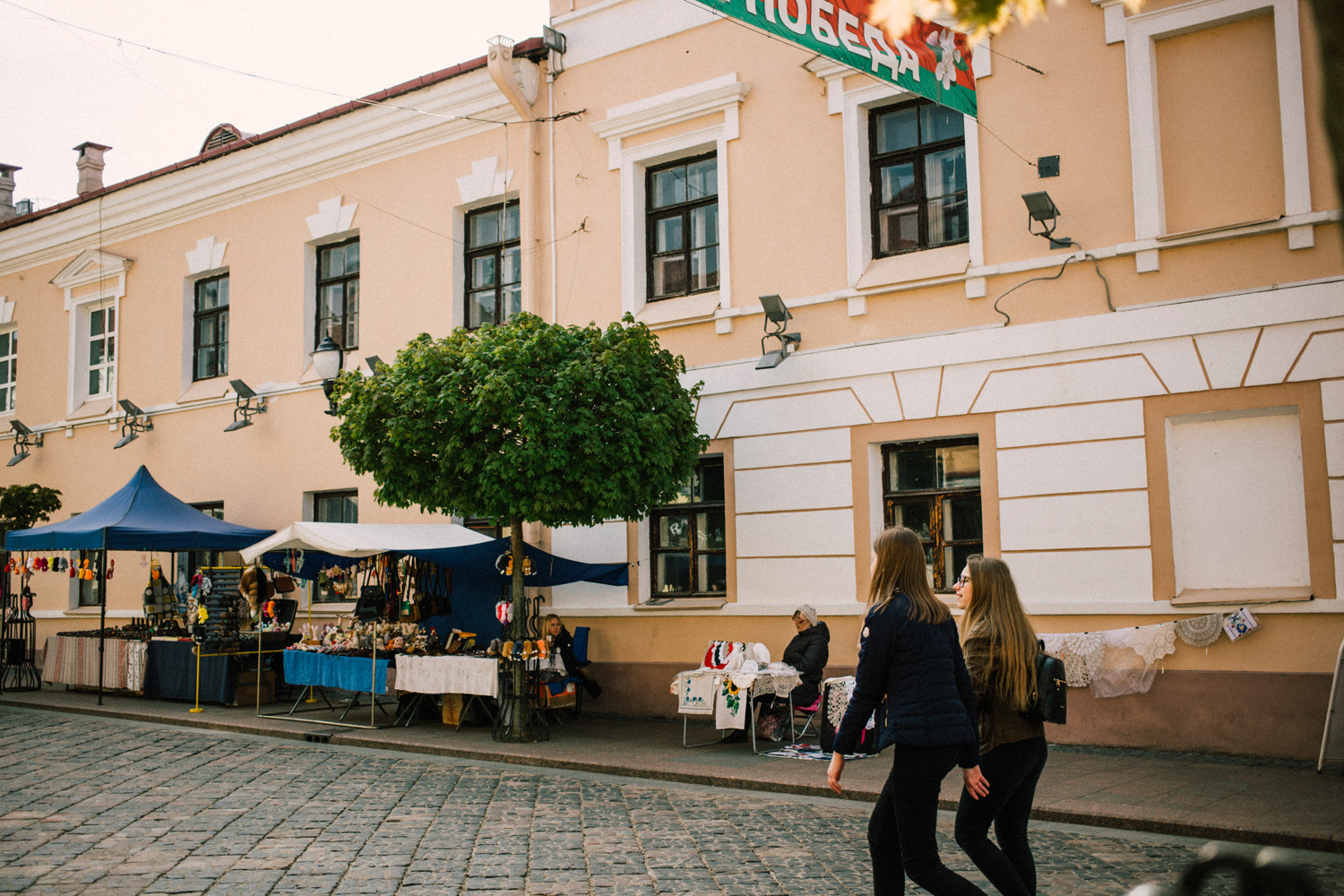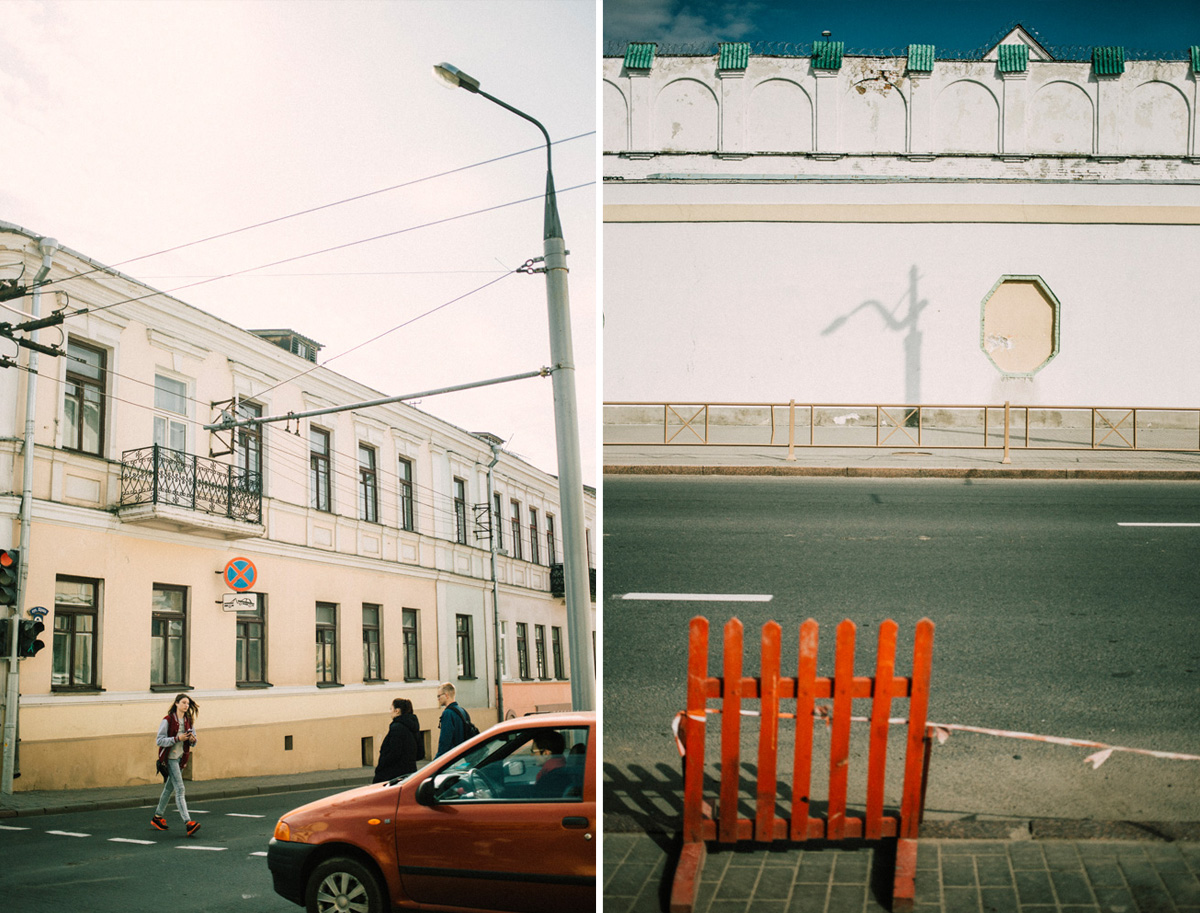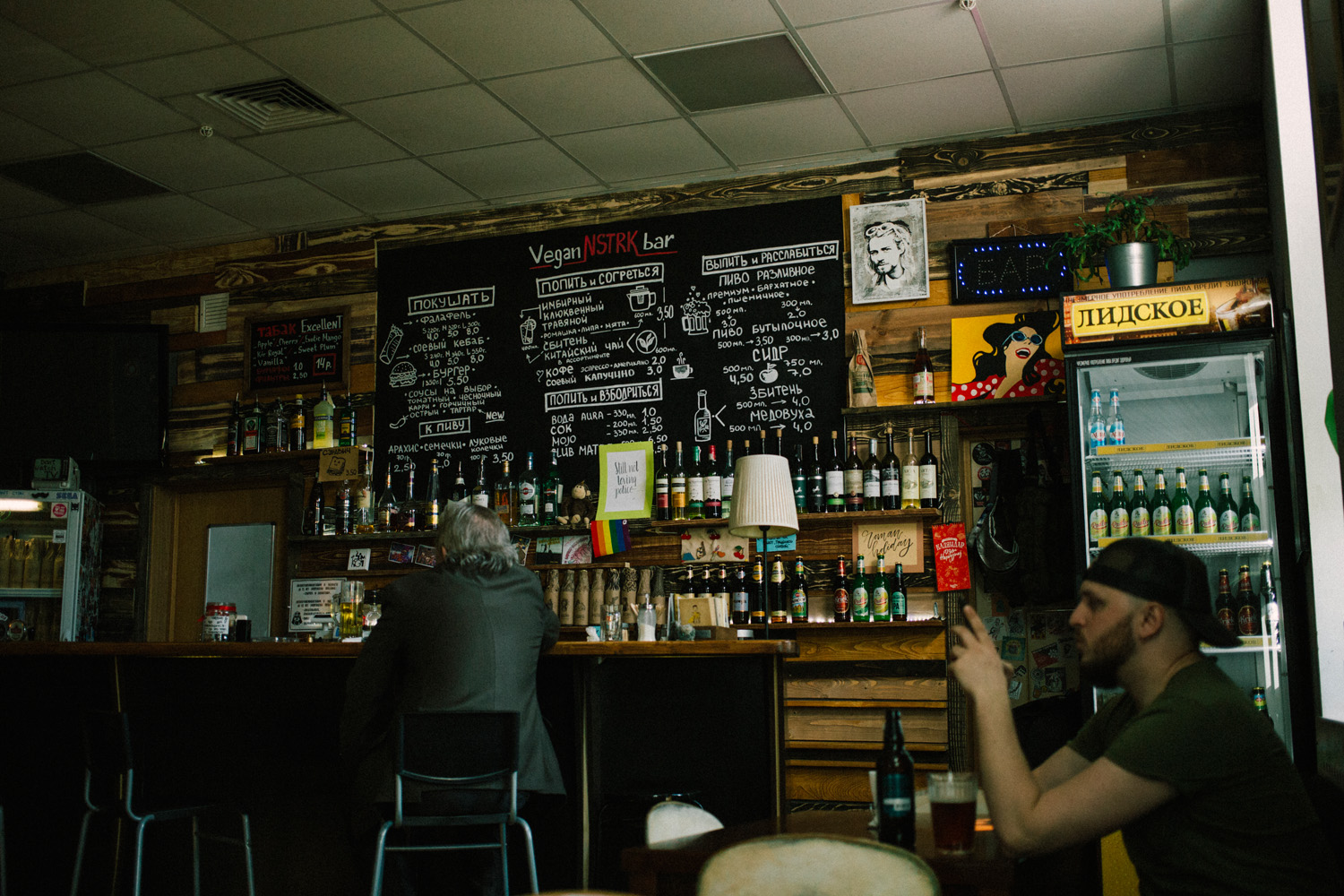 Naša Kava (Zamkavaja vul., 11) has the menu in Belarusian, the owner with a surname of the president of Belarusian People's Republic, and "kava pa-paŭstancku" ("Rebel coffee"). And these are not the only schticks of this place. Bartenders here are the owners themselves, and they may serve you not only the ordinary commercial mixture but also a specialty-coffee, brewed with some unusual method.

Another tiny coffee house with a great coffee and the ascetic interior is Prosto Coffee (Zamkavaja vul., 18). It has a great view out of the window to the Old Castle and the fire-observation tower. And also it has the most minimalistic summer terrace in the city: it's just a bench with coffee cup holders. The only pity is that the street is quite a noisy there. Coffee costs € 1,5-2; French-press coffee costs € 2-3; mono sort is for €4. Desserts cost € 1-2.

I Coffeehouse (Savieckaja vul,, 5) is another tiny coffeehouse, that is situated in the former arch passage of the house, and is also with the owner as a bartender. Oleg, the owner, brews coffee on sand (the only of a kind in the whole Hrodna!), bakes pastries, and prepares desserts himself just in front of you eyes. Coffee on sand will cost you € 2.

Raskosha (Savieckaja vul., 7) is a slightly bombastic place, one among a few places, where you will find a very atmospheric cellar. It has a historic name that was a name of a Hrodna tavern of the late 18th century. Though, it was situated on a different street. Delicious creme-soups cost there € 2-4. Desserts, which Raskosha is famous for, cost € 2-5. Coffee costs € 1,2-7.

A popular among first-year students café Bolshoj Bufet (Savietsckaja vul., 18) has a creative interior. Selection of menu position is not so variable, but this place is famous for being the highest restaurant in the city: the fourth floor of the Department store is like the sixth in a normal house. But for it has no windows and, consequently, there's nowhere to watch. Find delicious Chinese noodles here for € 2,4. And what is more, here you may order Belarusiano – the same as Americano, but with twice as much water added.

Gastro-bar Werden (Mastavaja vulica, 31) was opened by three friends from St. Petersburg, who consolidated by the presence of their grandmothers in Hrodna. It's a stylish place with interesting menu positions, craft beer, and very polite waiters. But the price is above the average in the city. Snacks for € 3-9, soups cost € 3-5, hot meal – € 5-12.

Best steaks are served in the grill bar Honey Kabaney (buĺvar Lieninskaha Kamsamolu 50). A real meat-lovers paradise fleshed out with an eclectic interior. Marble beef is an option for the gourmets. The main minus is the location, which is quite far away from the city center, so you have to go there with a particular reason.

Slightly detached, Veranda still is situated still in the historic center (Padoĺnaja vul., 37). The place on the bank of the Neman river is great, but the view is quite specific: from here you may observe only the strictly guarded railway bridge, where the train to Krakow passes in the lunch time. Oddly enough, but this is probably one of the oldest buildings in Hrodna: once, back in the 17th century, there was a baron palace. And only 100 years ago this place was the most criminal part of the city.

A completely new restaurant overlooking the Old Castle is named in honor of the famous theatrical artist with Hrodna origin – Bakst (Zamkovaja vul., 21). The walls are decorated with pictures of Léon Bakst, and yet visitors lured here with a fashionable term "molecular cuisine". The menu is great, but the price is clearly above the average for the city.

In the building of the former river station on the embankment works the cafe Karčma lia pryčala (Zavodskaya vul., 14). Some time ago it was possible to buy a ticket here and go by diesel boat to Druskininkai. Today, this place is one of the most popular summer evening options for reputable people – there is nowhere else such a great summer terrace in the city. The owners also have three more popular public catering places in the center. There's one thing they all have in common: nothing had changed there since the time they first opened in the mid-2000's, even the menu positions remain the same. On the one hand, this sounds extremely boring, on the other hand, you always know what to expect.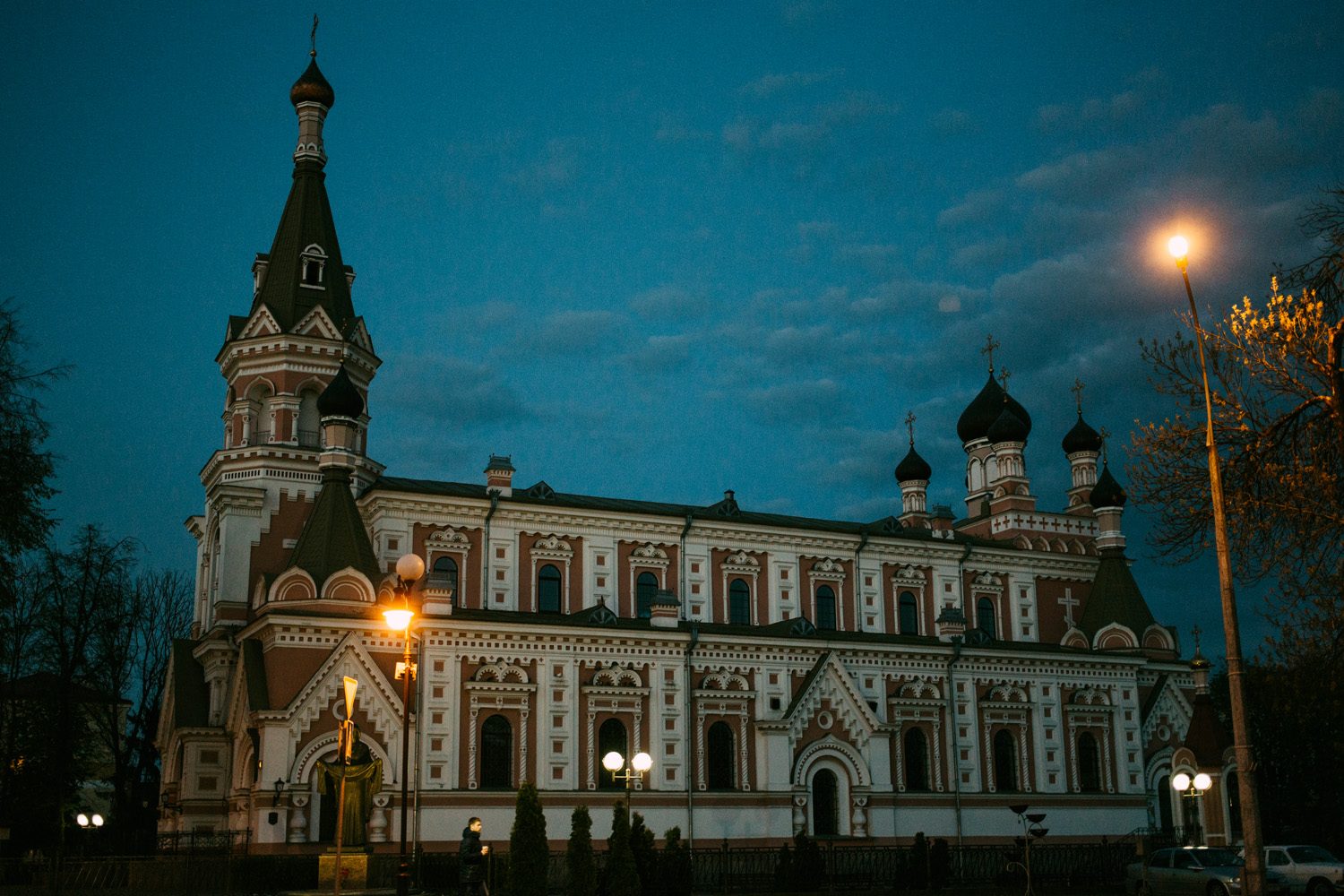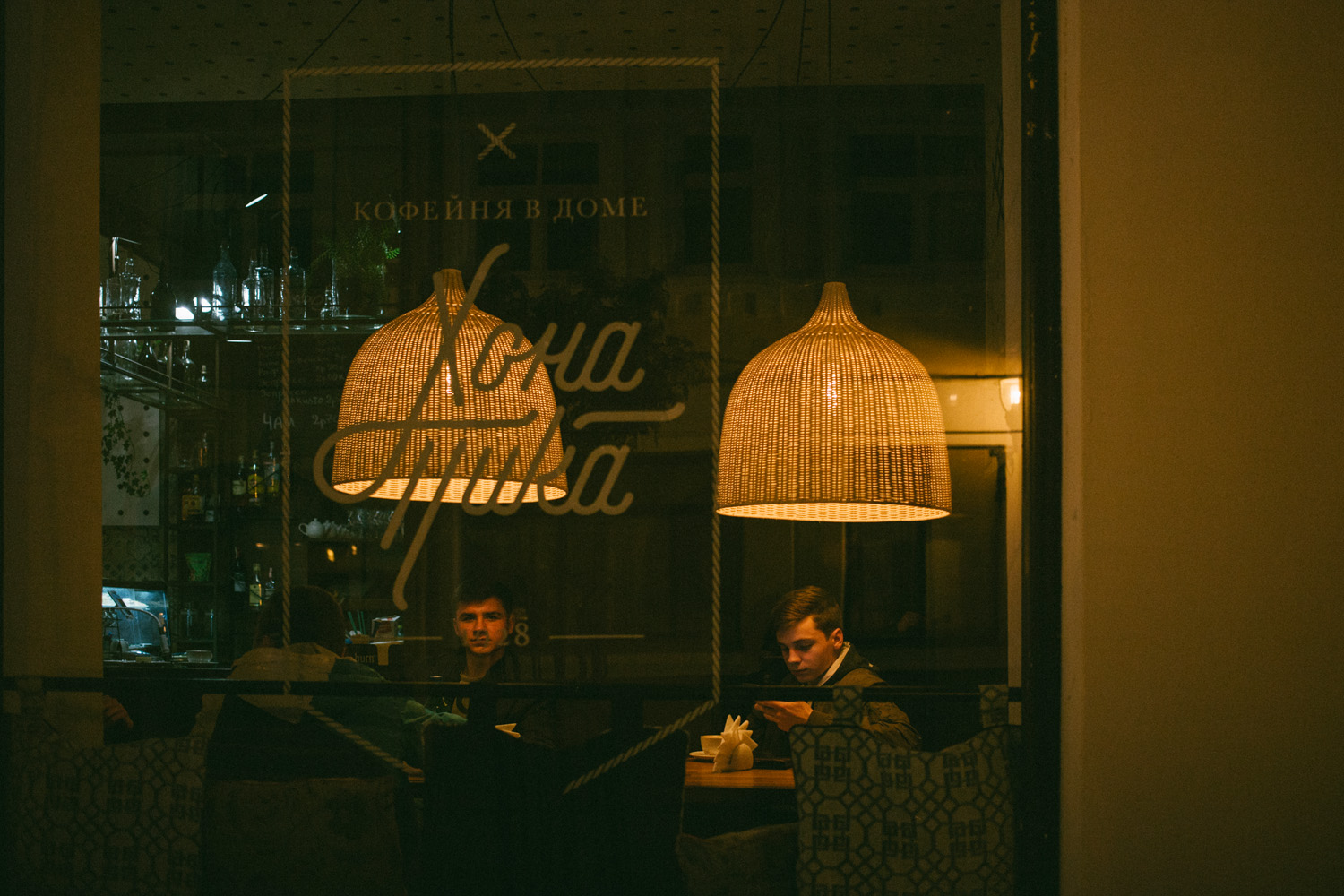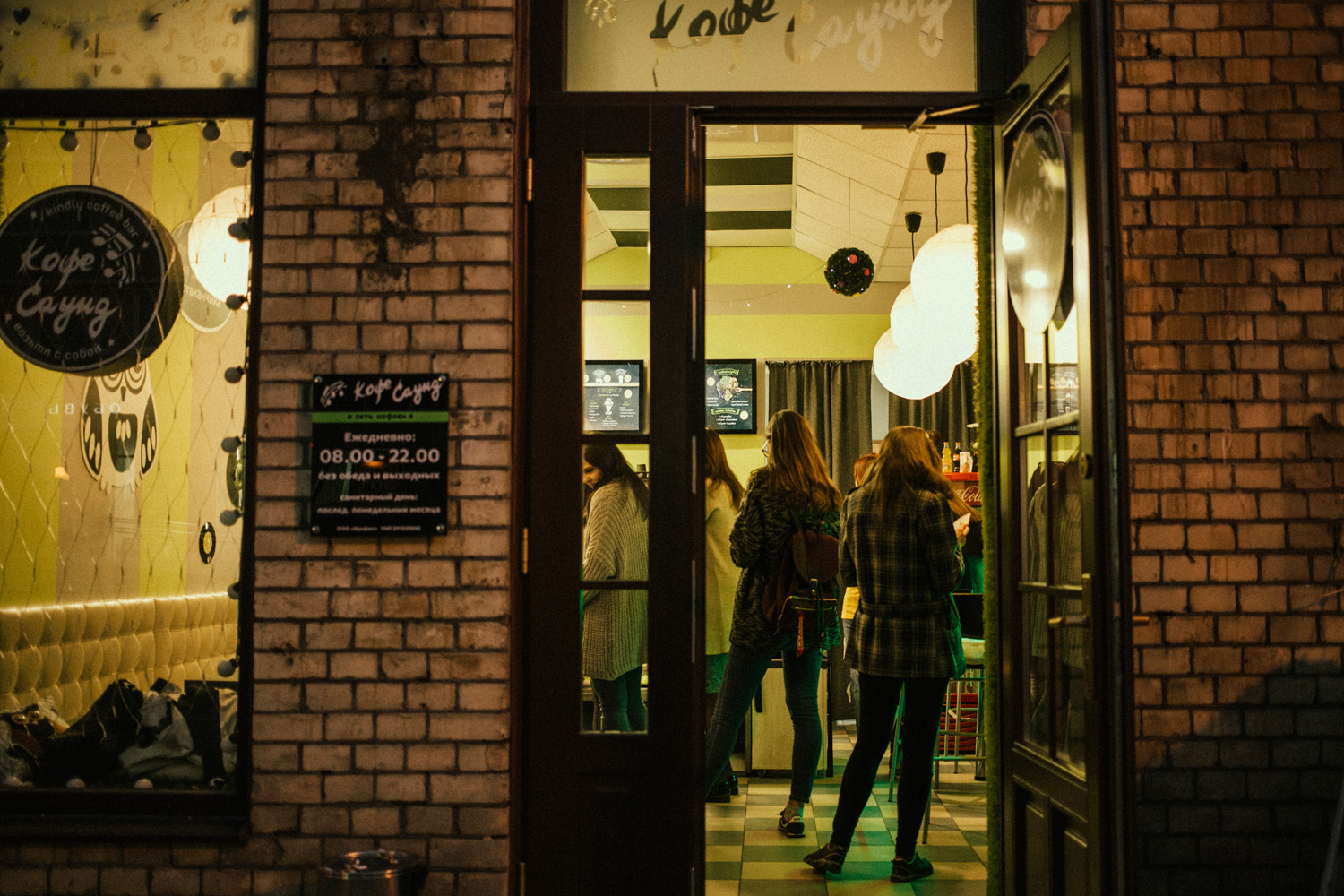 Cuba (Kaliučynskaja vul., 12) is a place that is considered to be the most atmospheric and friendly bar in the whole city. St. Patrick's days, vinyl music from local DJs, draught Guinness, and menus, drawn from the hands of the bartender – all this make the bar outstanding indeed.

In the place of the cult in mid-2000's bar Kuferak today you'll find Korica bar (Vilienskaja vul., 6). Over the years this place earned the fame of a hot spot, but recently changed the owner. The new owner wants to bring back the glory of the place with exhibitions and concerts, that was popular in informal circles. And he makes this: recently the bar hosted a concert of Serbian-German antifolk punk chanson duett Berlinska droha.

The only vegan storefront in whole Hrodna works in the place of a former crush bar. Bar Nesterka (Mastavaja vul., 35) is not only about hummus, falafel, and other scary words for a typical meat-lover, but this place is also about evening music sets from the local and visiting electronic musicians. And yet this is the only place in Hrodna, where you may buy a bottle of Club-Mate or Wostok soft-drinks. Incidentally, there's also one of a few places where you may order cider.

An unusual interior and a huge cocktail list are the pros of the gastro-bar Houdini (Lenina vul., 13). By the way, healthy lifestyle lovers will also find an option in the list after their's heart – there are some cocktails based on natural honey, for instance.

The classic combo "beer and crayfish" you'll find in Beerloga (Voĺhi Solamavaj vul., 137). We suggest ordering a huge and very tasty ham hock. Sometimes there's an opportunity to drop into the Hrodna beer league meeting. During this event, you'll have a chance to taste some rare beers.

Club Baza (Pieramohi vul., 35) is one of the best clubs around. Various concerts, bartender tournaments, and other outstanding events take place there. There are some more clubs around that one: the oldest Hrodna Bowling Club Metro, restaurant Basta Pasta with a real Italian chef, karaoke-bar FanEra and the afterparty-bar Coolbar are situated here. If you have a compulsory to-do checkbox about visiting a club, then there's no need to think about it for a long time.

In disco-bar Africa (Urublieŭskaha vul., 1а) it's possible to meet real Africans, as the medical university dorm is situated nearby. And some themed parties are held there. In addition, here you are the full standard set of Hrodna clubs: retro, techno and Russian parties, hookahs, barman show, and from time to time-BDSM-style closed hangouts.

"State nightclub" sounds absurd, but it works in Hrodna. Club Movie 60 (Savieckaja vul., 9) is placed in the Youth Center Hrodna – the ex-cinema (you'll notice that looking closer at the architecture of the hall). Fear not, there are no inscriptions "BRSM" (Belarusian Republican Youth Union) on the walls there, but a brainy Art Director and really popular parties in the city. And even a mini golf is available there.

You'd better not even get close to the club Yepolet (Elizy Ažeška vul., 30), as its visitors always fall into criminal Chronicle news, traumatology center or even to the dead-house. The lushest, and even legendary to some degree, place in the city. The building owner is looking for an investor, so that, on the other hand, there may be no chance to visit this place anymore?


Trading house Neman (Savieckaja vul., 18) was a Soviet department store previously, but now this is just a number of different shops under one roof. Have a look at the stained glass on the entranceway – it was made by a famous monumental artist Siarhiej Hrynievič. On the roof, a review site with great views of the Old town should appear soon. In sections with branded goods take a closer look at the famous souvenirs by the brand Makej, that are made of leather. In Hrodna, they should be sold at the lowest price.

Shopping center OldCity (Dubko vul., 17) happened to become extremely popular among the elderly tourists. Also, have a look at the old brick wall (bricks for it were brought specially from Poland), and the first country's Euroopt shopping chain, where staff speaks Belarusian.

On the last weekend of the month at a former Palace of textile workers (Savieckaja square, 6) Kirmaš Daŭniny is held, where local collectors show their treasures. Here you can get some great antiques or simply wonder, what only people do NOT collect!

If wearing leather is okay for you, then buy a pair of best Belarusian leather gloves in brand shop Akcent (Mastavaja vul., 33).

Ethno-shop Cudounia (Vialikaja Trajeckaja vul., 14) is a place to find the largest selection of traditional handcrafts, books, magnets, and all the other tourist stuff. You can also order here a cheap, but delicious coffee, connect to Wi-Fi and have a small talk with the owners. During the evening visit a lecture or a cinema club here. Under one roof also works an array made furniture shop 33 Komoda, and a shop of table games Kubik (they are developing their own original games – be sure to ask about them!).

Across the street is another handicraft shop Liolia (Vialikaja Trajeckaja vul., 7). The owners are a family of young and active Belarusians. The cultural program is not yet so rich, but it's a matter of time.

Tkallya (Zamkavaja vul., 15) is a craft shop with a workshop space, where the owner may weave a real embroidery just in front of your eyes. Even just a peek here is interesting as the place is 100% authentic.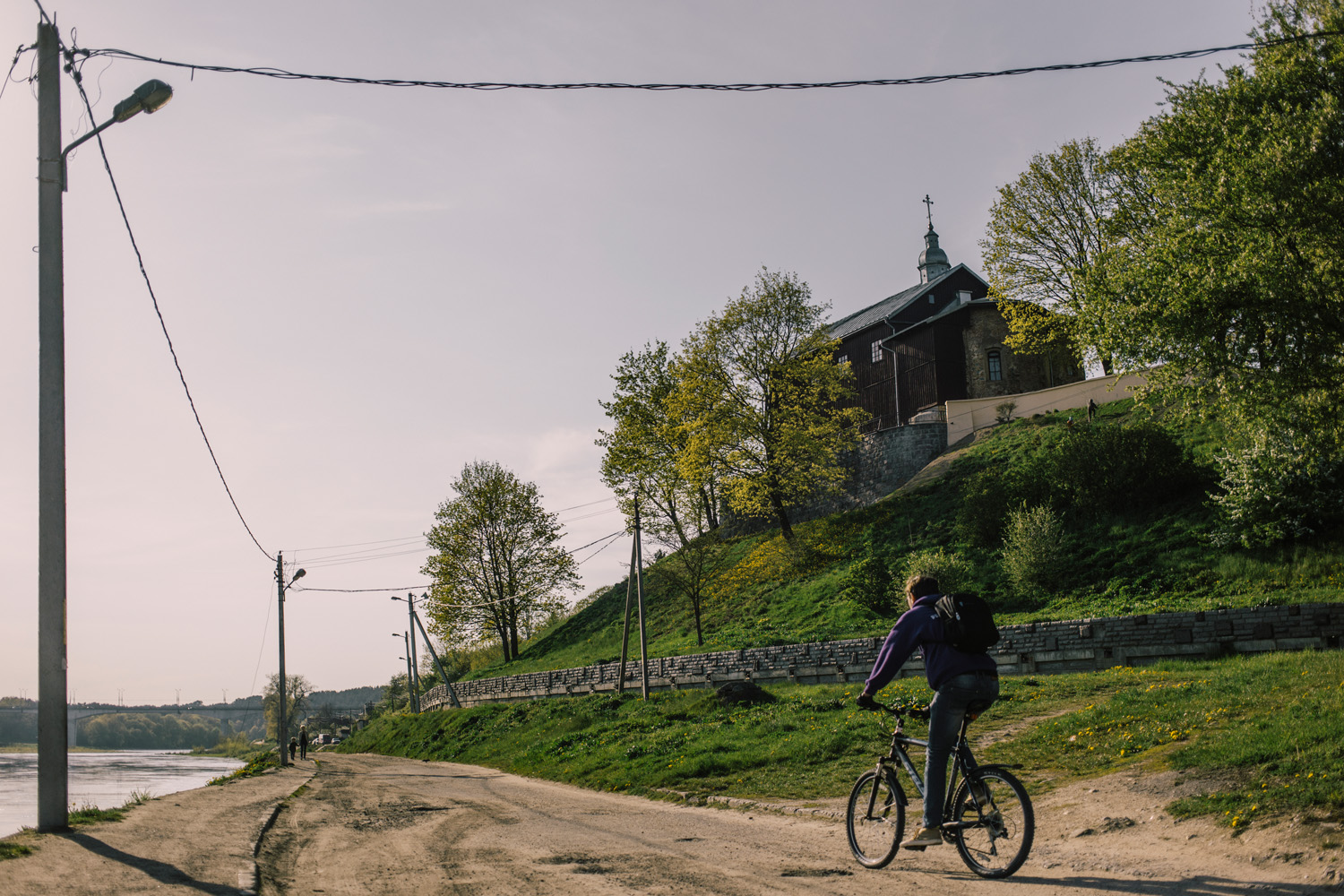 map of hrodna with attractions from the guide


ap1.by – find online bus schedule with GPS tracking here

grodnotu.by – расschedule of trolleybuses (in quite inconvenient xls and pdf formats)

hrodna.life – daily news of Hrodna here

s13.ru – Hrodna news aggregator

grodno.in – reviews site

vk.com/typical_grodno – popular urban public
Text by Lesha Shota, translated by Vlad Sivakov. Photos by palasatka