Best Coffee Shops In Minsk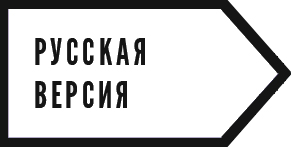 We are exploring Minsk specialty coffee scene. Check out our guide to the best coffee shops in Minsk where you can chill, try a flat white during your business meeting or discuss beans, alternative brewing techniques and tasting notes with baristas.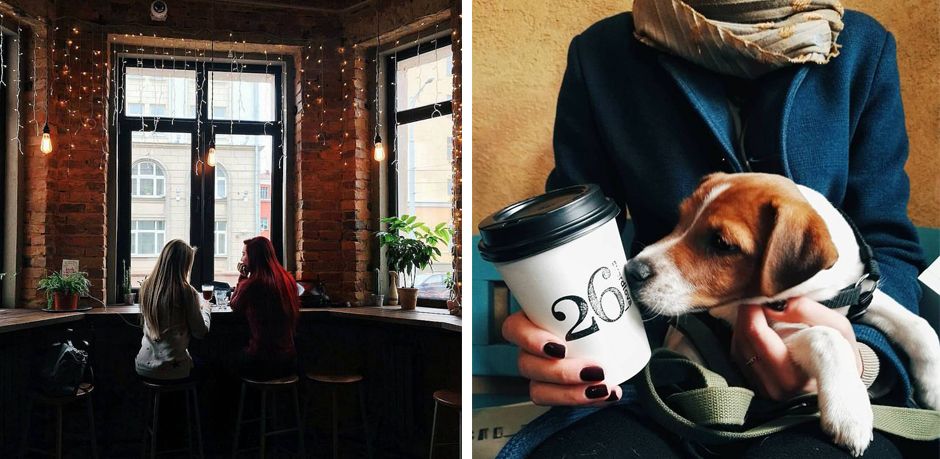 26
26, vulica Sviardłova
Mon-Fri 8:00 a.m.-11:00 p.m.
Sat-Sun: 9:00 a.m.- 11:00 p.m.
A quiet coffee house in a neo-classical Stalin-era building next to the railway station, where one can have a breakfast, work for a while or simply caulk off the bustle. Sorts of coffee are changing frequently here. And also alternative methods of brewing are available so you'll always have a chance to try something unordinary and beautiful. By the way, the local barista Roman Lechnovich had won the Belarussian latte-art championship.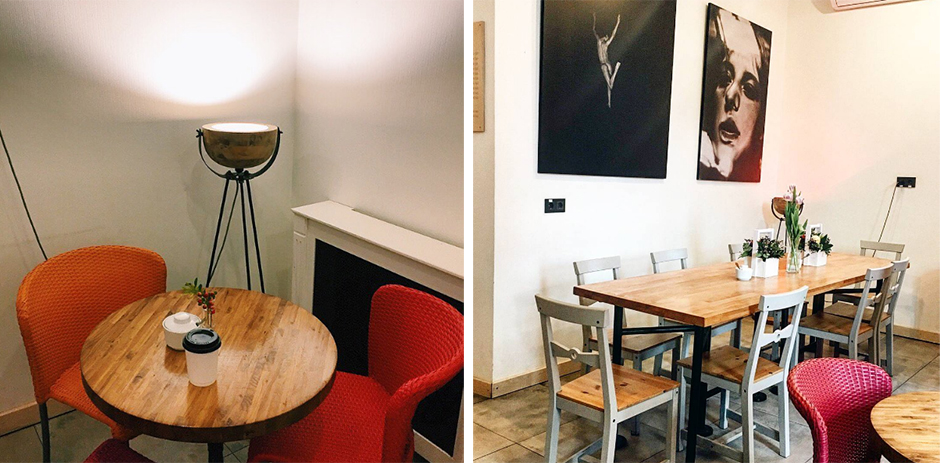 ZERNO
46, praspiekt Niezaležnasci; 6, vulica Kazlova
Mon-Sun 9:00 a.m.-11:00 p.m.
Zerno was one of the pioneers of alternative coffee brewing in Minsk. The first coffee house near Jakub Kolas square was opened back in the year 2012, and within six years became extremely popular among citizens not only for its high quality fresh coffee, but also for the house special spinach pie. On the summer terrace of the coffee shop you can chill out listening to DJ-sets or live music.
TIDEN
vulica Kujbyšava, 31
Mon-Thu 9 a.m.-10 p.m.; Fri 9 a.m.-11 p.m.; Sat 10 a.m.-11 p.m.; Sun 10 a.m.-10 p.m.
Tiden is a cool coffee shop opened recently in Asmaloŭka. It's 100% eco-friendly: there's no single-use plastic glasses and dishes. Also you'll get a nice discount if you buy coffee in your cup. Tiden sells all sorts of useful things like rag bags and glass tubes, and in general, they stand for zero-waste life in every possible way. In the coffee shop, you can have an avocado toast, a croissant or some craft vegan dessert. By the way, the interior in Tiden is also really cute!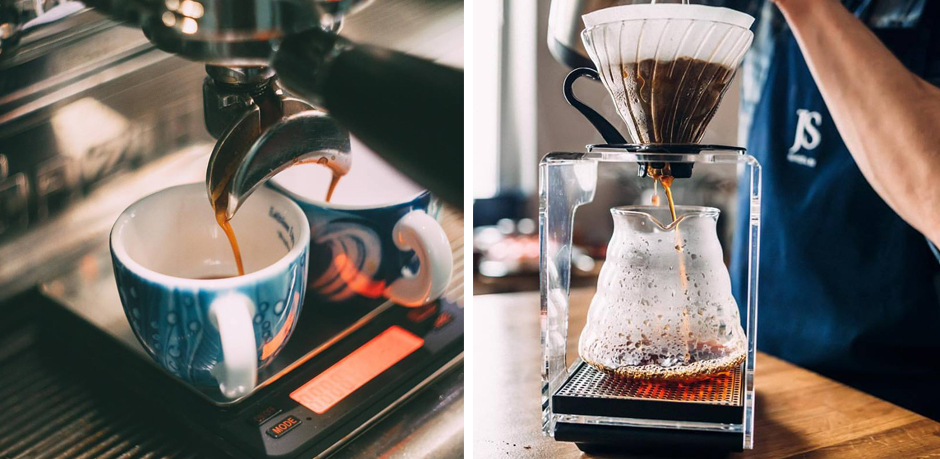 SORSO DI ESPRESSO
111, praspiekt Niezaležnasci
Mon-Fri 8:00 a.m.-11:00 p.m.
Sat-Sun 9:00 a.m.-11:00 p.m.
In this coffee-house, situated not far from the Maskoŭskaja metro station fresh coffee is roasted on the spot. Friendly barista (who are the owners of the place at the same time) will gladly tell you about their coffee and help you find an interesting way to brew it. If you want to upgrade your knowledge about coffee, take a look at their workshops and cuppings. Also literary, musical and movie nights frequently happen here.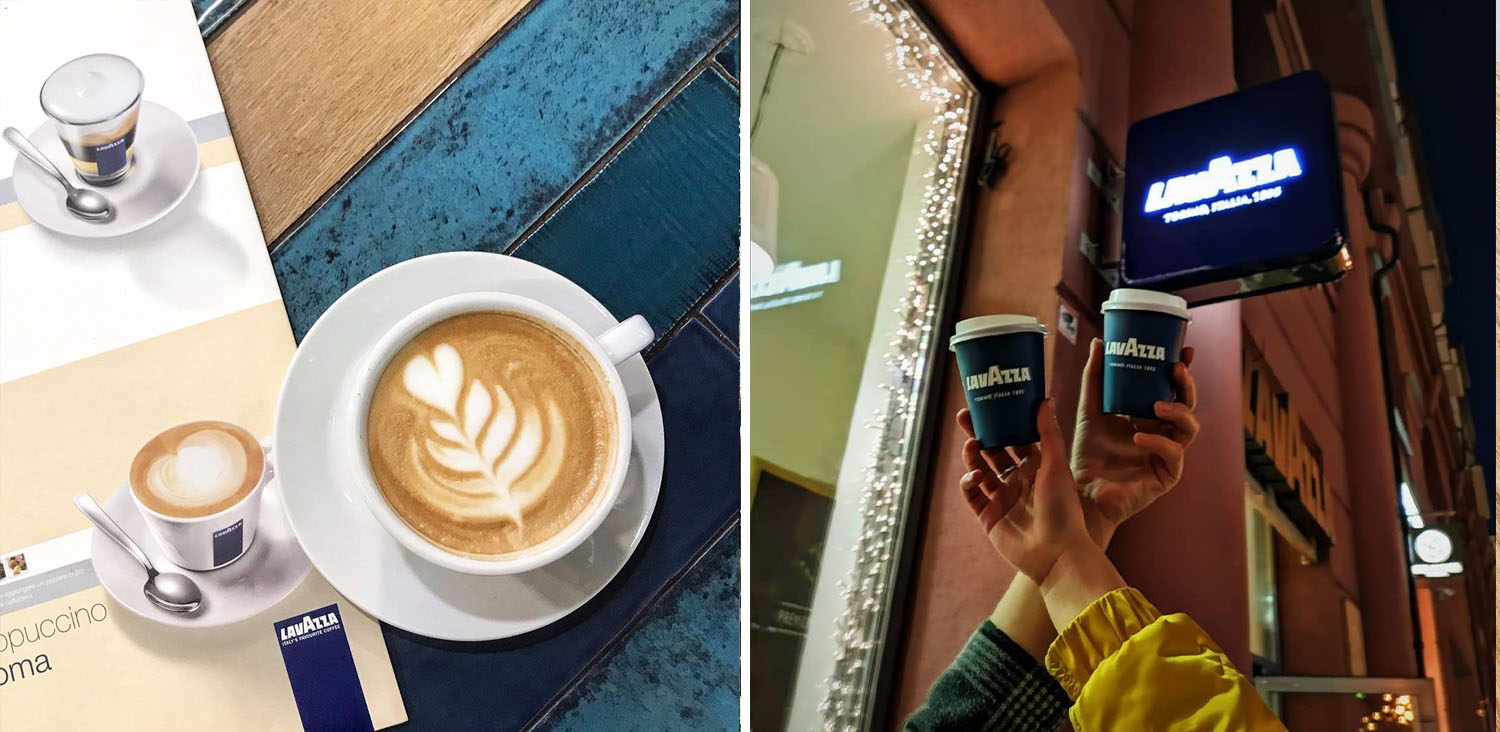 LAVAZZA СLUB
vulica Niamiha, 5; vulica Dzianisaŭskaja, 8 (Korona City Mall), praspiekt Pieramožcaŭ, 65 (Zamok Mall)
Just good coffee and some desserts. LAVAZZA Club on Niamiha is especially good for take-away coffee: it is always nice to drop by for a cup due to its convenient location in the center.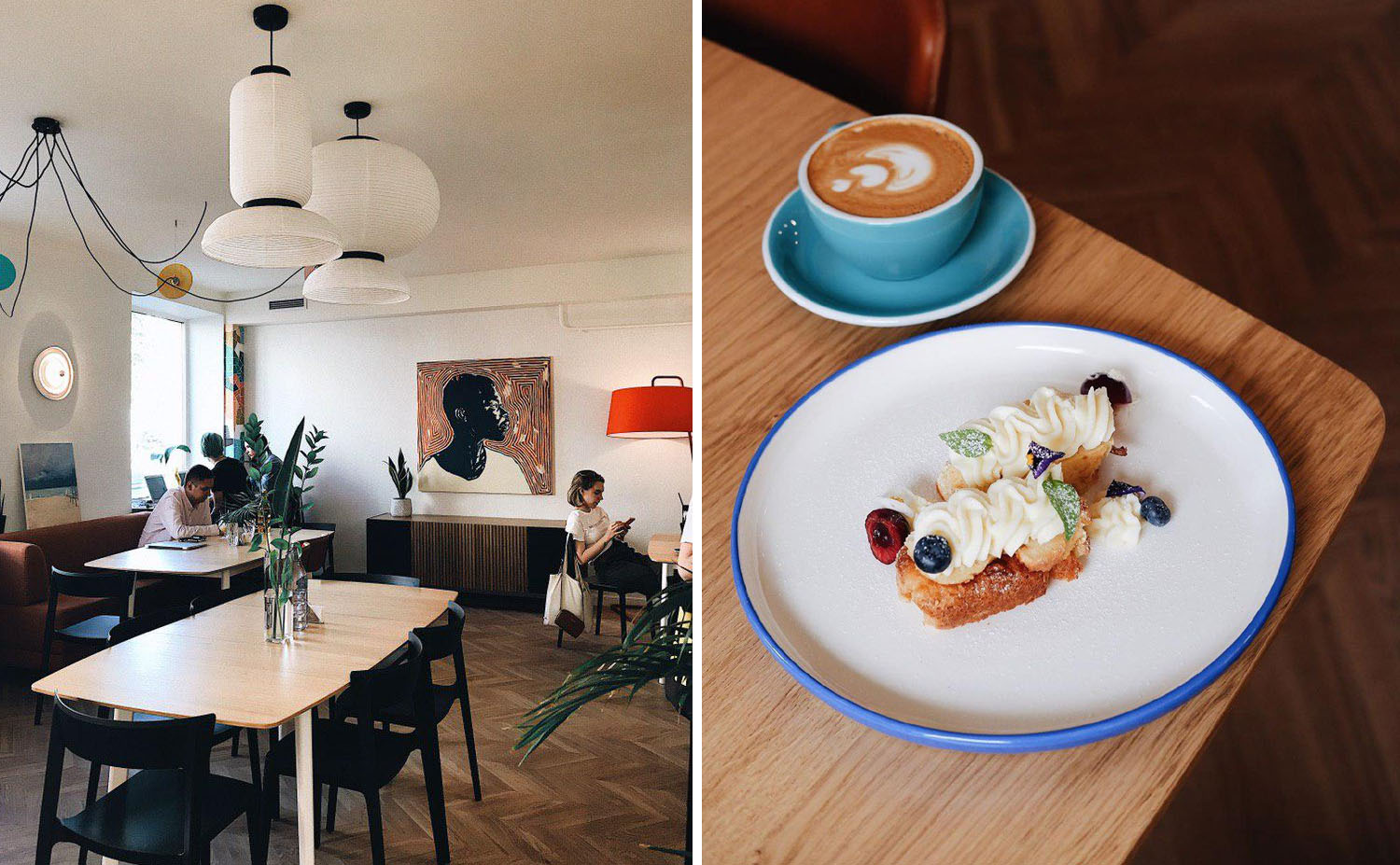 MOBY DICK CAFFE
vulica Kastryčnickaja, 16; vulica Zakharava, 24
Mon-Sun 9:00 a.m.-10:00 p.m.
The first Moby Dick coffee shop appeared a couple of years ago at Kastryčnickaja: it's just a window on the ground floor of a former factory building. And this year, Moby Dick opened at Zakharova, and this is already a full-fledged large coffee shop with a cool interior design and excellent breakfasts. The coffee in both coffee houses is top quality. In addition, the menu has a good selection of tea, masala and mate. And on Zakharava you can also get a glass of sparkling wine.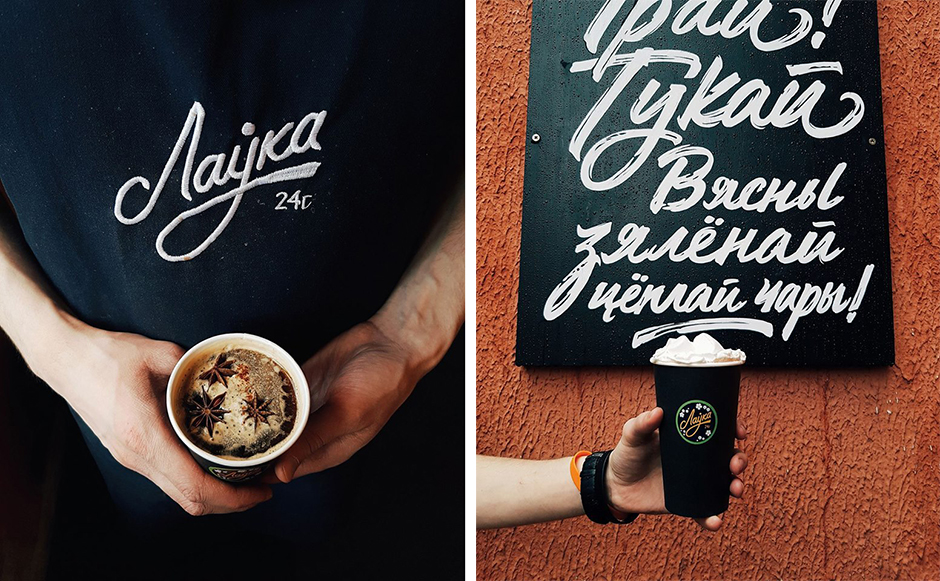 LAUKA
vulica Kastryčnickaja, 23
24/7,
breaks:
8.30 a.m.-9 a.m.
8.30 p.m.-9 p.m.
This place without day offs and breaks creates the atmosphere of all the street. Excellent coffee, various sandwiches and loud summer parties in the yard. If you haven't been to Lauka, you haven't been to Minsk!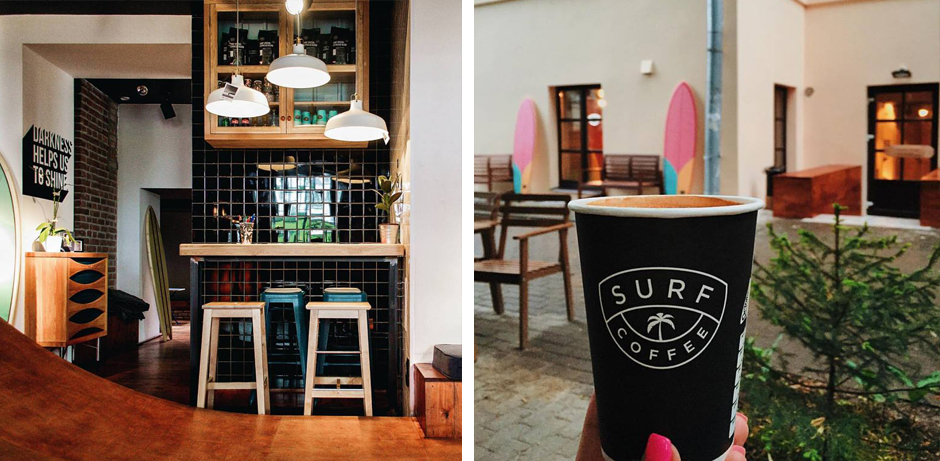 SURF COFFEE
19, vulica Kirava
Mon-Sun 8:00 a.m.-11:00 p.m.
Unlike most coffee shops, this place is not really suitable for a business meeting, but it is better-you can't be serious all the time. Dropping in Surf Cafe, you can briefly experience the atmosphere of a beach bar with surfboards all around, wooden Interior, and a cozy green terrace. Have a coffee, milkshake or homemade lemonade and jump right on ramp or a wide window sill.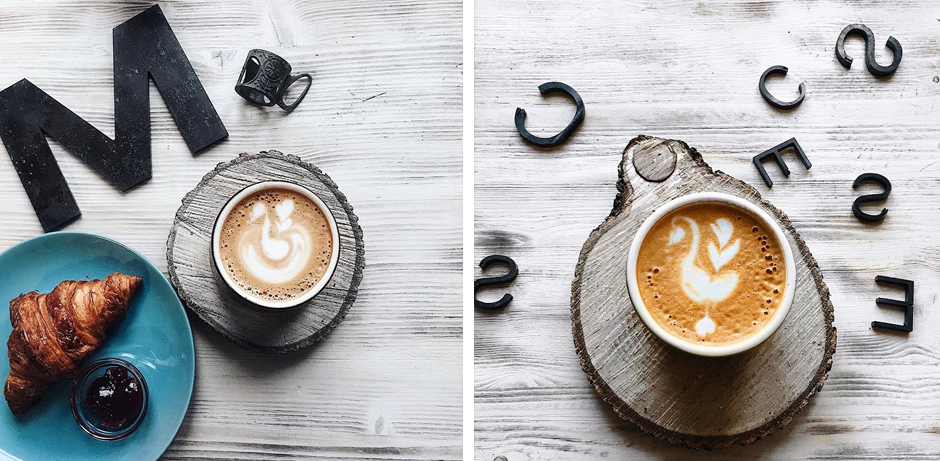 MESTO
43, praspiekt Niezaležnasci
Mon-Fri 8:00 a.m.-11:00 p.m.
Sat-Sun 10:00 a.m.-11:00 p.m.
Mesto is a third wave coffee house – only specialty freshly roasted coffee is served here. Chef-barista and coffee roaster of Mesto is Eugene Pinchukov, double champion of Belarus in his business.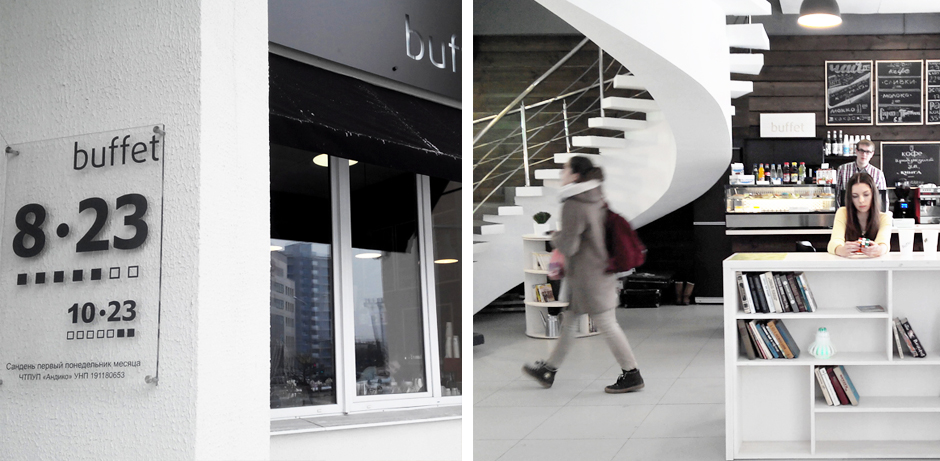 BUFFET
46, vulica Surhanava
Mon-Fri 8:00 a.m.-11:00 p.m.
Sat-Sun 10:00 a.m.-11:00 p.m.
Coffee&books cafe is situated in the bookshop building of the 70's. You can find a place by the window and work, or recline at ease with a book on the comfortable couch on the second floor. Don't forget to ask for a coffee permanent ticket.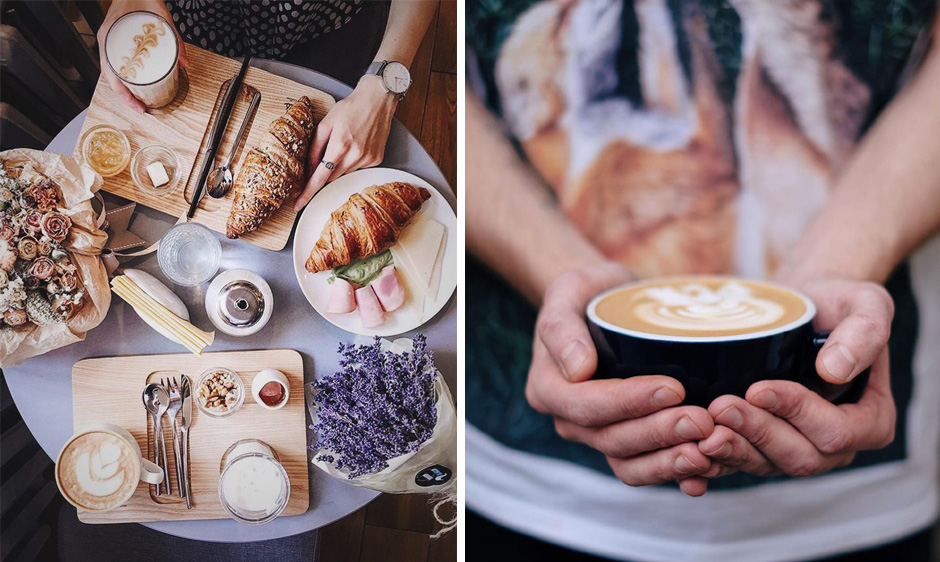 STORIES
14, vulica Internacyjanalnaja
Mon-Fr 8.30 a.m.-10 p.m.
Sat-Sun 10 a.m.-11 p.m.
Stories Coffee Shop is located in quiet city center. Sit by the window to feel a true Parisian vibe. In addition to good quality coffee, perhaps the best croissants in the city are served: with chocolate, blueberry, lemon and other delicious fillings. You can get granola or a rich sandwich in the morning or a decent glass of wine in the evening. All this is accompanied by soft vinyl music.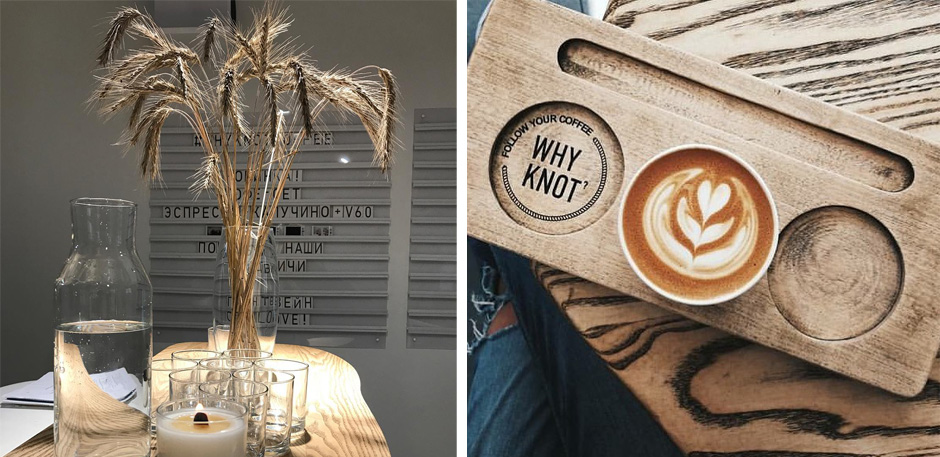 WHY KNOT?
21, vulica Vaładarskaha
Mon-Sun 9 a.m.-11 p.m.
A light coffee house on a cozy street in the city center near the railway station. It's opened by the owners of the Knot coffee, one of the best roasting projects in Minsk. Therefore, coffee here is excellent, no doubt. You can also order a dessert, sandwich or a croissant with a stuffing together with a cup of a favorite drink. Or drop by here for breakfast: in the morning they are cooking delicious porridges. The interior is simple but stylish, with great attention to detail.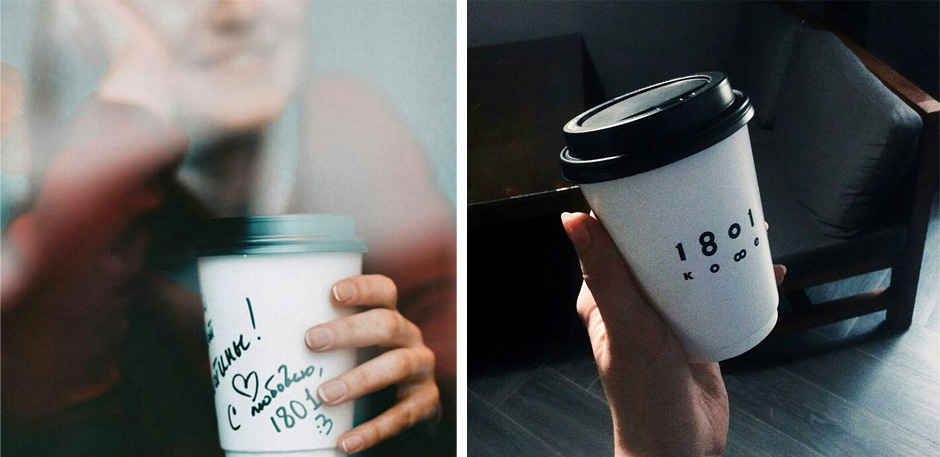 1801
95, praspiekt Niezaležnasci
Mon-Sun 8 a.m.-11 p.m.
This coffee house is a cooperation of the watch factory Luch and local coffee roasters. Tthere are drinks from coffee blends or monosorts or Kopi Luwak for true coffee lovers. Another nice detail: the desserts in the coffee house are handmade, and they are very delicious.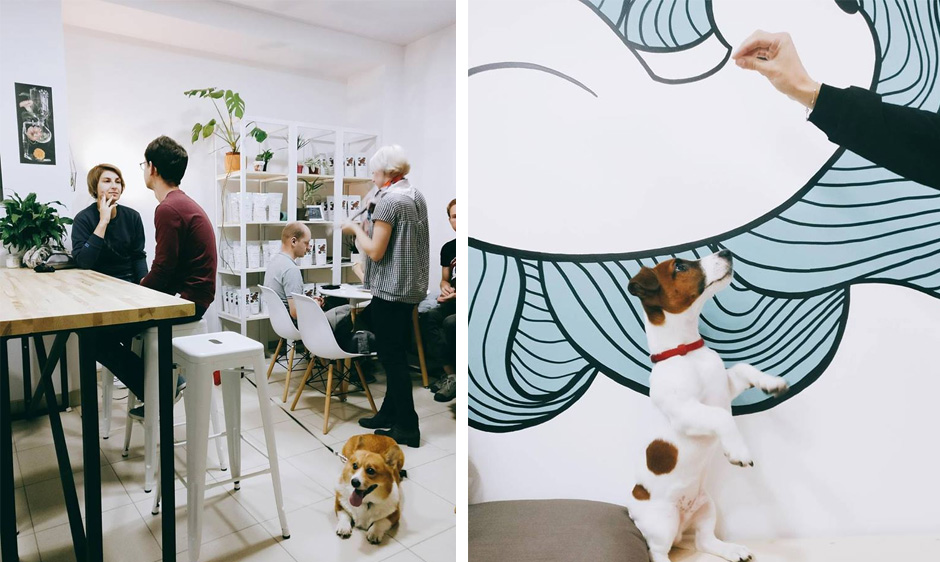 SEADOG&FRIENDS
1, vulica Załataja Horka
Mon-Sun 8 a.m.-10 p.m.
A tiny coffee shop by Seadog Coffee Roasters: 4 tables, white walls and pictures of seals. Get a shu dessert or banana bread to your cup of coffee. By the way, the place is dog-friendly.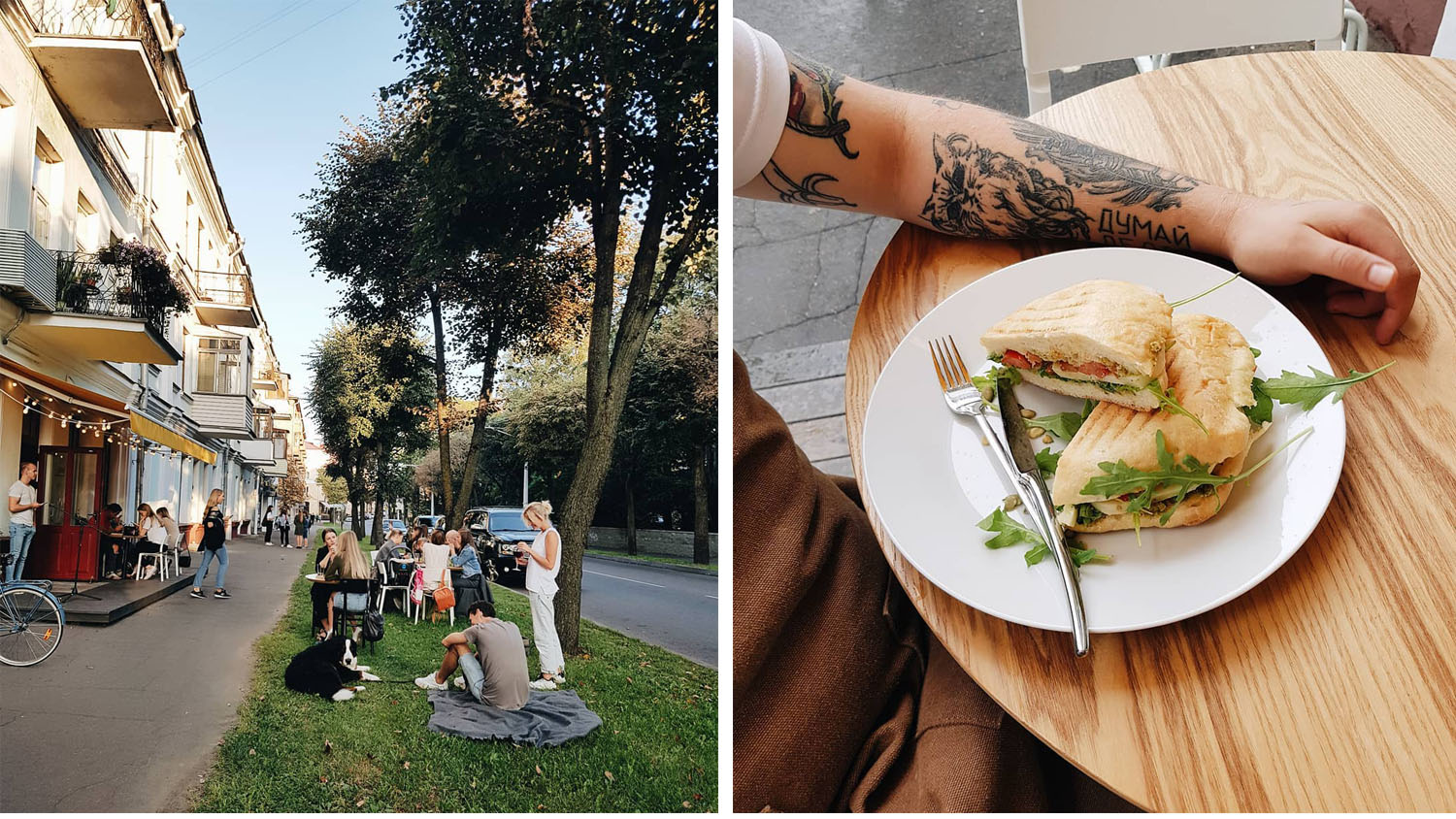 32.08
vulica Kisialyova, 28
Mon-Sun 9 a.m. - 10 p.m.
32.08 is not just random numbers, it's tender dreams of eternal summer. In the brand new coffee house, which is located in a quiet center – Asmaloŭka, you can get not only good coffee but also something stronger. Here you can also have a hearty breakfast, be tempted by a croissant or enjoy a light smoothie-bowl. By the way, these fruit bowls are the specialty of the coffee shop. Give it a try!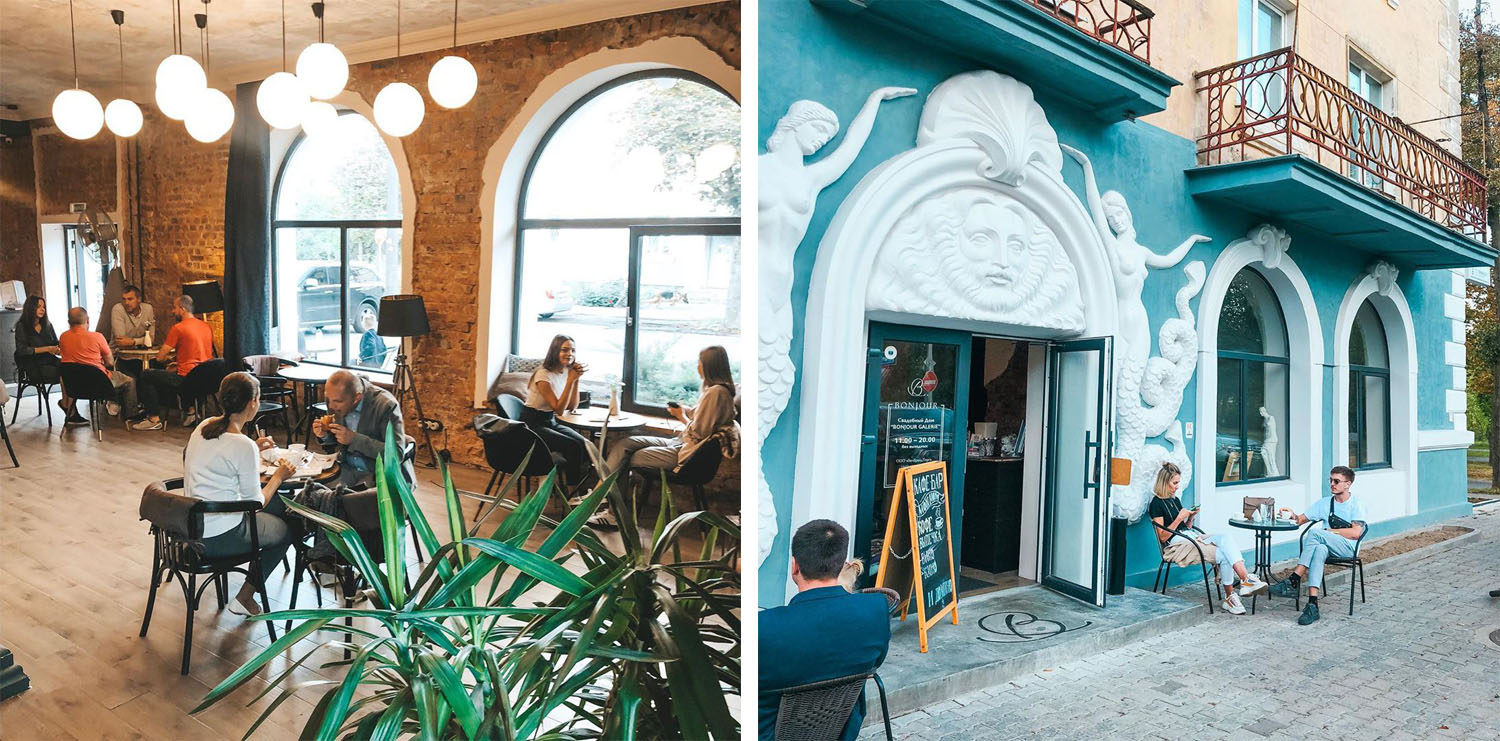 MON NOM
vulica Klumava, 11
Mon-Sun 8 a.m. - 11 p.m.
You have to come here not only for coffee but also for the legendary location. The coffee shop is located in the famous "house with mermaids" in the Tractor Plant neighborhood, which might be demolished any time soon. The place is very authentic, it's exactly what you need if you want to move a little away from the center.
Inside MON NOM is not only a coffee shop: there's also Bonjour bridal shop. By the way, here you can throw yourself a photoshoot: all you need (including the photographer) is already there.



Bonus: the best Minsk coffee-roasters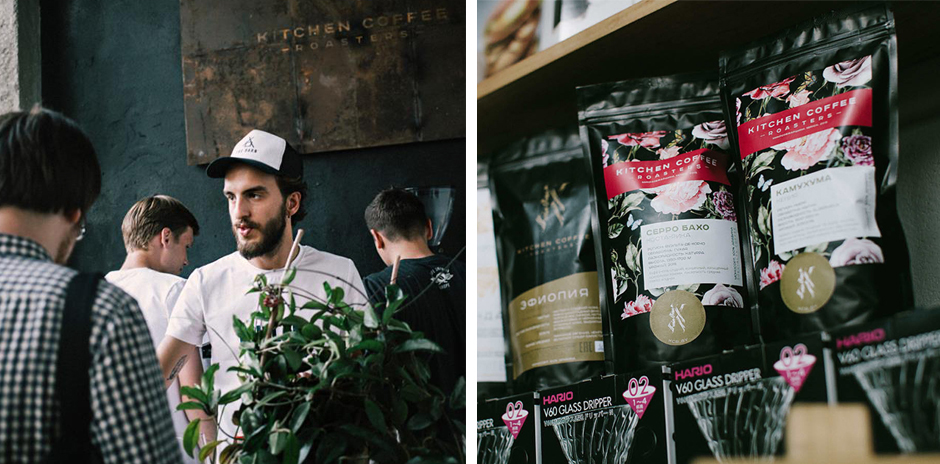 KITCHEN COFFEE ROASTERS
vulica Kastryčnickaja, 16A
Wed-Sat 12:00 p.m. -5:00 p.m.
The very same guys who feel that coffee should not be dark and bitter. If you decide to discover new tastes – do it with them. Order your coffee for home delivery or follow news of roasters on Facebook to get to the tasting.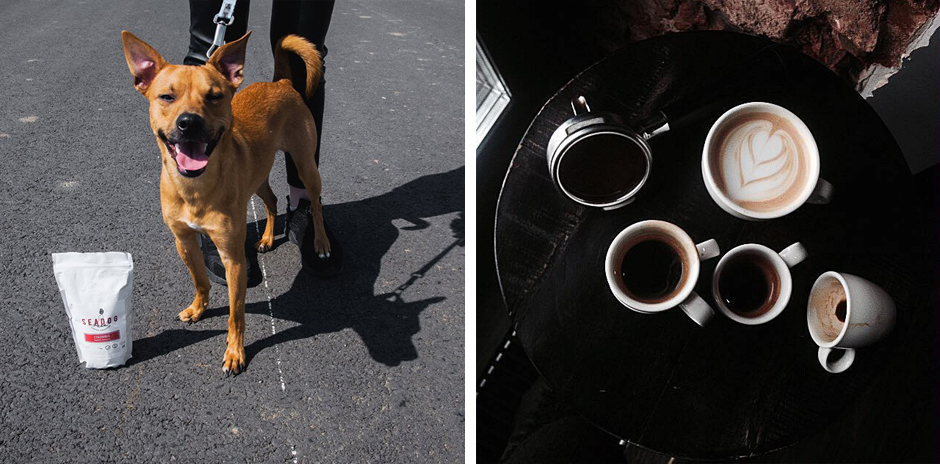 SEADOG COFFEE ROASTERS
Roasters here work with the highest quality Arabica varieties so that to unleash the full complexity of coffee taste and aroma. To learn more about cuppings and master-classes, subscribe to their page.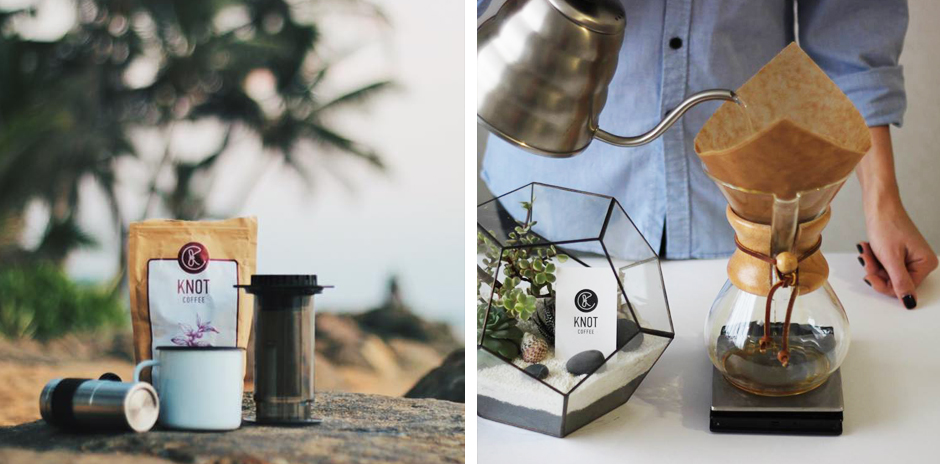 KNOT COFFEE
The project works exclusively with small suppliers who not only purchase coffee berries from farmers, but also invest in new technologies of cultivation and processing of coffee. The team is headed by Vitaly Fil'manovich, the author and co-founder of the Minsk specialty-coffee shops Manufactura and Utopia 60. You may try their coffee in Why Knot coffee house.
Translated by Vlad Sivakov. Photos taken from the places' official pages