How to Come to Belarus on a Budget?
Here is some good news: thanks to the European Games and Slavianski Bazaar Festival, you can enter Belarus without a visa through any border crossing. It means that if you have a ticket to any competition or concert, you don't have to land at the Minsk airport – so you can save money flying to the neighboring capitals with low-cost airlines. The new rules are valid from June 10 to July 20, 2019.

* Even when the generous visa-free rules won't be valid anymore, all these routes will remain relevant. However, you will have to apply for a visa to Belarus to use them. Here we explain how to get a Belerusian visa. Visa-free entry will work for those who land at the Minsk airport or travel through certain border crossings (find all the details here).

Fly to Vilnius

If the prices for direct flights to Minsk don't seem reasonable, consider the neighboring airport. Belarusians sometimes dare to call Vilnius Oro Uostas "Minsk-3 Airport", because it's just 180 km away. There is a bunch of low-cost airlines flying to Vilnius, including Ryanair & Wizz Air.
By train
There are three trains from Vilnius to Minsk every day (at 7.15 a.m., 7.30 p.m. & 8.03 p.m.), another one on Saturday & Sunday (at 9.15 p.m.) and some others that run not that often – here is the full timetable. Pay attention to the travel time: it varies from 2.5 to almost 5 hours on the road. The faster options are nice and new Lithuanian or Belarusian trains, and the unhurried ones are economy class sleeping cars.
The normal price is about € 17, you can buy tickets online here. Do not forget to print out your e-ticket. And come to the station about half an hour in advance, so as to have enough time to pass through the border control.
By bus
Traveling by bus is a little cheaper (€ 10-13) and slower (3-5 hours) than by train. Be ready that in this case the border control can turn into an unpredictable adventure and take an indefinite amount of time (because of the queues). Several companies offer bus rides from Vilnius to Minsk: it's easy to find all of them out here.
If you aren't going to stay in Vilnius for a long time, take into account that Ecolines and a couple of small companies (for example, this one and this one) have routes directly from the Vilnius airport to Minsk.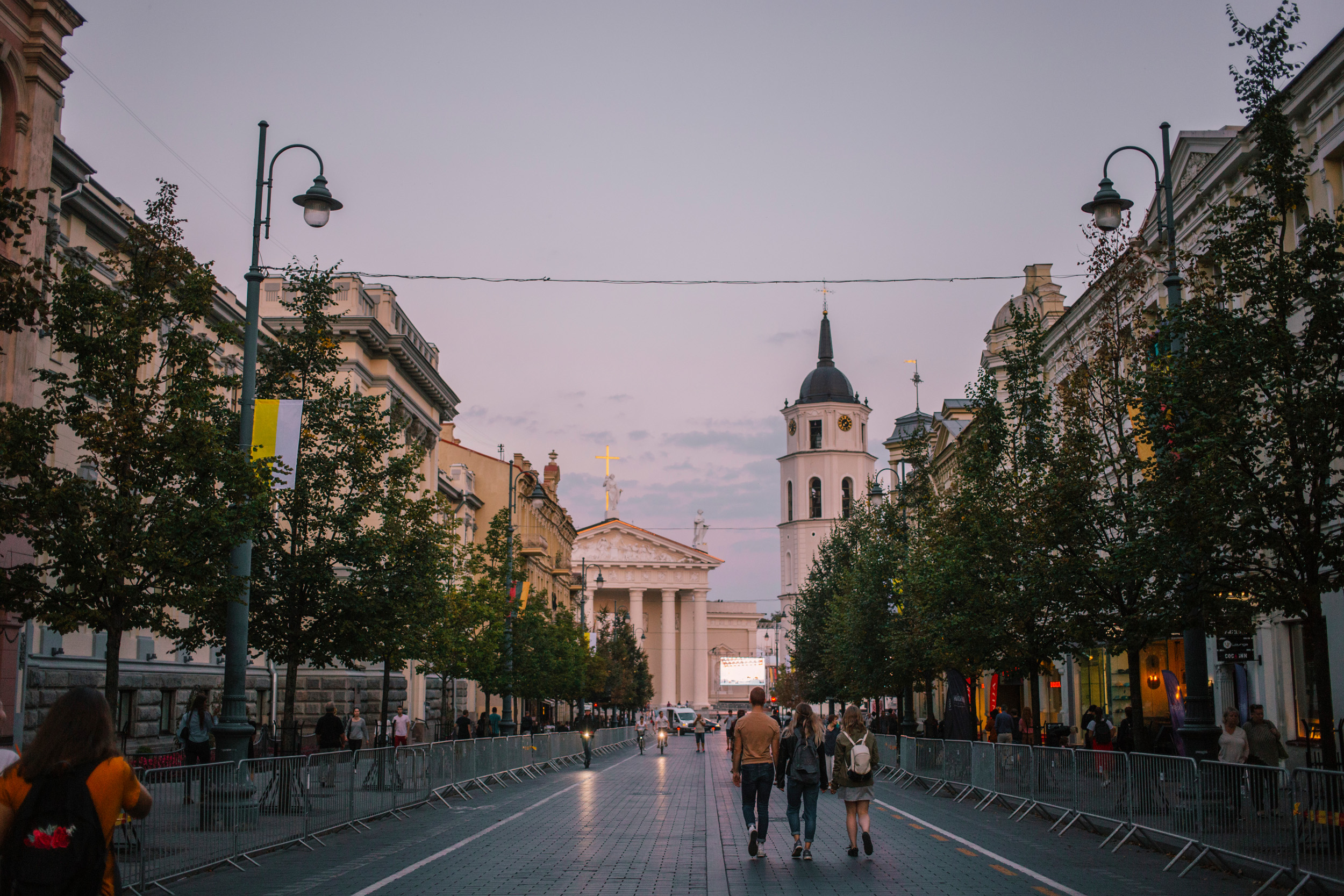 Fly to Warsaw

Another way to come to Belarus on a budget is to choose Warsaw as a transfer city. A lot of low-cost carriers fly there: Ryanair, Wizz Air, easyJet, Alitalia, etc. But remember that it's about 550 km between the capitals, so the trip will take much more time and energy.
By train
The easiest and the most comfortable option is the train Warsaw-Brest-Minsk (you'll have to change in Brest). It leaves every day at 8.15 a.m. and arrives at 6.05 p.m. Don't stress about the transfer too much: it'll take 30 minutes max and you won't even need to change the platform. The ticket costs about € 26, get it online on the Polish Railways website. Besides that, there're some other trains on the route (including the night ones). Check the full timetable here.
By bus
Here is an option for the die-hard: 10-12 hour bus ride. Several carriers offer trips from Warsaw to Minsk (Ecolines, Intercars, Minsktrans), find all of them here. The ticket prices start from € 19 but the average ones are about € 26-28. There are routes from both airports: austere Minsktrans buses run through the Chopin airport (the tickets are sold here, but the website is not that user-friendly as you may wish and in Russian only, so you may need some help there), and Intercars will pick you up at Modlin.

Fly to Kyiv

Last year, low-cost airlines started flying to Ukraine, which means now you can try to elaborate a route, for example, through Kyiv. It will be more time- & energy-consuming than to go through Vilnius, but you will have an opportunity to enjoy everything that Kyiv offers (we love it).

By train
You can take a romantic trip by train: you'll get from Kyiv to Minsk in a day or a night. Here you have the schedule. The best option is to start at 10.12 p.m so that at 9 a.m. you could be drinking your flat white in a nice Minsk coffee shop. Tickets can be bought at poezd.rw.by, a cozy sleeping car costs about € 41.
By bus
Unhurried budget travelers choose the bus: Minsktrans or Ecolines will charge half the train ticket. The usual price for 10-11 hours on the way is about € 19.

Photos by palasatka